Most contemporary pedagogic theories subscribe to the idea that students learn more effectively, at a deeper level, through experiential learning.
One of the key advantages of experiential learning is the notion that students, as independent learners, can take greater responsibility for their progression, whilst collaborating with others – this allows students to reap the benefits of a shared understanding, in which self-initiated ideas are enriched by the thoughts of others. One of the challenges of facilitating experiential learning is providing effective support and guidance to focus learning and provide opportunities to enrich their understanding.
The GuidiGO application for smart devices (phones and tablets) provides the opportunity for students to be guided around an environment and receive relevant learning resources and instructions on their arrival at a specific location. The application can also be used to facilitate a flipped learning approach in which students can explore a location and present their learning and understanding once back within a classroom environment. The application and strategy described below is most clearly relevant to Geography, History or Social Science subjects, however, the strategy can be applied to a range of other curriculums that require an engagement with a specific site for learning purposes – its use within educational visits has obvious advantages for teachers and students. The video below illustrates how the strategy can be used to facilitate learning and offers a guide for generating a GuidoGO tour for your own teaching and learning activities.
Strategy
In the video example above, the GuidiGO application has been used to direct students to different locations in which to address a series of tasks relating to history; at each location students are challenged to engage with objects, buildings and information relevant to their studies. To implement this activity, students have been asked to download the GuidiGO app on their smart phones and search for the GuidiGO tour that has been produced for them to engage with.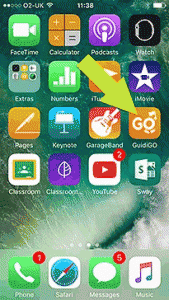 Once the students have downloaded the specified tour, they will be guided to various locations using their phone's GPS (Global Positioning System – the same technology used by car SatNavs) and Google Maps (GuidiGO incorporates Google Maps within its interface).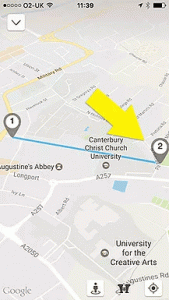 On arriving at each specified location, the students have the opportunity to click in the location symbol within the interface and address a series of relevant learning tasks, questions and resources; there is also an option to watch a video in which the tutor provides differentiated support via audio and visual instruction, information and guidance.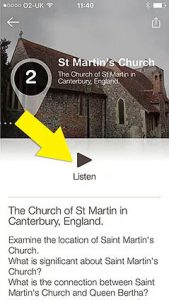 The learning activities and questions given at each location are designed to facilitate independent exploration – the strategy could therefore be used as a flipped learning exercise in which students are required to share their learning and understanding either online or within a classroom environment at a later stage.
By using the benefits of a blended learning approach, this strategy allows students to engage with learning environments in a variety of locations, whilst also receiving tutor instructions, advice and additional resources to aid their understanding and progression. By giving students the opportunity to use their smart phone devices, in which to access a range of learning material at relevant locations, the strategy allows the student to receive appropriate information at relevant points, whilst giving the freedom to learn independently at a pace and time convenient for them. The strategy therefore provides a balance between independent self-directed study and a tutor-led instructional approach.
Benefits
The strategy provides the opportunity to generate focused experiential learning with clear instructions, questions and activities.

The strategy has clear potential to facilitate both self-directed learning and collaboration.

Learning can be clearly differentiated through a variety of modalities – the application incorporates visual, auditory and textual information whilst allowing students to practically engage within a given environment.

The application is simple to use and freely available to anyone with a handheld mobile device.
Resources and support
The following tools and resources offer guidelines for the implementation of the above strategy within your own pedagogic practice.
Click here to create a GuidiGO account that will allow you to start generating an interactive tour.
In addition to the implementation guide contained within the introductory video above, the GuidiGO company also offers a visual guide:
Further support
If you need further support implementing this strategy, or you would like to know more, contact either the Senior Lecturer in Blended Learning, Lee Hazeldine (lee.hazeldine@canterbury.ac.uk), or the Learning Technologist, Sam McFarlane (sam.mcfarlane@canterbury.ac.uk) to arrange a discussion at your convenience.
April 18, 2017 | Dr Lee Hazeldine