This case study explores the use of online discussion boards as part of a module's Learning, Teaching and Assessment strategy. Discussion boards provide opportunities for a blended learning approach, as well as facilitating student centred learning, digital literacy, peer feedback and participatory learning. The discussion boards have been utilised both as a learning tool, but also for purposes of formative feedback and as part of a summative assessment. This case study uses examples of this from a first year module, discussing both benefits and challenges.
The project was led by Dr Katja Hallenberg, Senior Lecturer, from the School of Law, Criminal Justice and Computing.
Rationale
The case study identified how online discussion boards could be used to develop a wide range of understandings and skills, allowing the student to make sense of the complex and constantly changing world. Moreover, students are given an opportunity to develop a 'voice' that is both engaging and challenging within their communities of practice.
The activity/project
Evaluation and Benefits
Key Benefits
Looking at students' outputs and their results, it is clear that there are many benefits to using online discussion boards when students actively engage with them:
Those who engage 'learn to like it' and, more importantly: LEARN
The activity develops research skills, academic writing, argument, giving constructive feedback
Students gain confidence, communication skills and improve their digital literacy
The boards give students a sense of belonging to a learning community and social networks
From a lecturer's perspective, the activity is relatively 'easy' to mark
Key Challenges
Despite all these benefits, students have encountered challenges too:
It can be a hard sell to start with: unfamiliar assessment method, lack of confidence, lack of digital literacy
The take up for practice opportunities for formative feedback is not always great
The discussion part of the discussions is often forgotten/ignored
It can be time-intensive to run
The faster pace semester length delivery – progression and chance to consolidate learning perhaps not as great…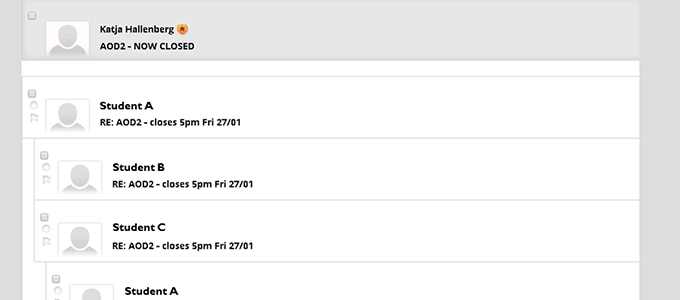 Student Feedback
For those students who found the online discussion board activities to be beneficial, typical comments include:
[symple_testimonial by="" fade_in="false"]The assessments really helped me in terms of confidence, the discussions made me more comfortable about other people reading my work, and at the same time, provided me with different views for me to think about which extended my learning.[/symple_testimonial]
However, for some students, the online discussion board activities can be problematic:
[symple_testimonial by="" fade_in="false"]The module is a little too reliant on the internet. It's not always possible to get to a computer that works adequately and not everyone knows how to use this type of thing.[/symple_testimonial]
Resources and support
If you want to know more about this case study, please contact Katja Hallenberg, School of Law, Criminal Justice and Computing, CCCU, at katja.hallenberg@canterbury.ac.uk.
If you are interested in using discussion boards in to your module or programme, please look at the guidance on Blackboard under the 'Help' tab, or visit the page at http://bit.ly/1ZliBEl.
Biggs. J. (2003) Teaching for Quality Learning at University – What the Student Does. 2nd Edition. Buckingham, England: SRHE / Open University Press.
Biggs, J. (2003) Aligning Teaching for Constructing Learning. York, England: Advance HE. Available at: https://www.heacademy.ac.uk/knowledge-hub/aligning-teaching-constructing-learning.
Biggs, J. (2014) 'Constructive Alignment in University Teaching', HERDSA Review of Higher Education, 1, pp. 5-22. Available at: http://www.herdsa.org.au/herdsa-review-higher-education-vol-1/5-22.