We are living through very interesting times at the moment. Joining the University during the pandemic as the Interim Equality, Diversity and Inclusion (EDI) Manager has given me a real insight into the challenges all organisations are facing. At Canterbury Christ Church University (CCCU) we are continually trying to find ways of becoming more effective, whilst at the same time addressing the very deep inequalities that have been exposed during this crisis.
There has been an abundance of research that has aimed to find causes and solutions to this issue. However, the systemic barriers through which race inequality persists are complex. Most recently, and as reported in the fiercely contested and controversial 'Commission on Race and Ethnic Disparities' report (March 2021), race inequality is seen as not being as "significant on life changes" as "geography, family influence, socio-economic background, culture and religion" (p9).
This view is not shared by many in our sector and indeed Bhopal (Miller and Callender (2019) cited Bhopal 2018:103) describes universities as representative of 'white privilege which fails to cater for the experiences of black and ethnic minority groups, often employing a 'rhetoric of inclusion', but one that is rarely evidenced in practice or outcomes'.
My observations since coming on board as the Interim EDI Manager is that we pride ourselves at the University on being value-driven and, although we still have a way to go, there are many colleagues committed to addressing the issues we have found. So we are moving in the right direction towards addressing some of the race inequities that we have identified but we are not underestimating how much work remains to be done. To support us on this journey we will shortly be committing to joining the growing community of universities that have signed up to the Race Equality Charter (REC)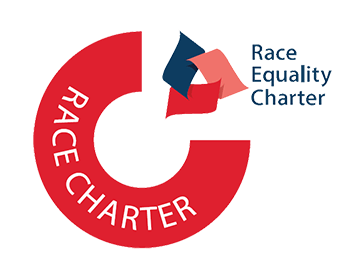 The REC aims to improve the representation, progression, and success of minority ethnic colleagues and students. I am very clear that the last thing we want is a tick box exercise and I believe, by applying for the charter, this will be a helpful vehicle to sustainably address any negative impact of race and other inequalities that still exist in the University. It will also support us with making sure opportunities are not missed to embed equality, diversity and inclusion across the board.
The REC journey will help us to target limited resources to the actions that will make the greatest difference to the needs of our students, colleagues and community partners. Through undertaking a comprehensive self-assessment, the University will be able to further develop specific, targeted actions, including training and development initiatives, to advance race equality.
The University is currently grappling with questions such as:
How has the extended period of working from home impacted on our equality, diversity and inclusion objectives?
If our day-to-day social interactions are limited (which are so important to addressing the Equality, Diversity and Inclusion agenda), how will we be able to build a truly inclusive workplace?
What impact will a 'hybrid' way of working have on how we train and develop colleagues to support race equality?
Signing up the REC will be a key driver to address these important issues, recognising the significant challenges the pandemic continues to pose as we try to deal with the inequalities it has revealed. Over the next few months we want to get people talking about what the REC means to the University and to share ideas about what we need to do differently if we are to achieve the standards it sets out.
Despite the implementation of policies, EDI initiatives and training and development programmes aimed at limiting the negative consequences of racial inequality, we are still faced with the need to address the under-representation and stubborn continuation, as seen across the sector, of diverse leadership at senior levels. I recognise that this is an ongoing, complex issue, which cannot be solved quickly or immediately and it requires structural as well as individual change.
So where do we start? Well, the online environment has given us a great opportunity for a broader range of people to come together and start to have the conversations that matter. The University has created several online development opportunities for colleagues during the pandemic, and we are actively collaborating with departments at a local level to provide relevant EDI programmes and improve our online delivery methods. I'm not pretending everything will get sorted after one development session, but it does seem like a good place to get started. There are a range of virtual classroom events to build awareness about EDI issues and ignite conversations about change.
There is also a great suite of e-learning courses which can be a good way to work out what you already know and, importantly, think through what you can do to make a difference to race equality at the University.
Now is a good time for you to take a moment to review your personal and professional development. Read some of our earlier blogs, and those on the main University blogsite. And check out the Learning and Development Guide to discover what next step you can take to contribute to tackling the inequalities the REC has been set up to address. Let's start the conversation and work together to dismantle race inequalities at CCCU.
If you'd like to know more about the University's REC journey and want to get involved in spreading the word, please get in touch.
Dr Helen A Deane, Interim Equality, Diversity & Inclusion Manager
---
References:
Commission on Race and Ethnic Disparities: The Report (2021)
Miller, P., and Callender, C. (2019) Race, education and educational leadership in England: An integrated analysis. Bloomsbury Publishing Plc