This year's theme for this week's Mental Health Awareness Week is loneliness and its effect on our mental health.
When we think about feeling lonely, it can often be misbelieved that being lonely must mean that you are alone, but that's not always the case.  Our day to day lives are busy! We are constantly balancing commitments such as work and family. This can leave us little time to actually connect, and leads to increased feelings of isolation. In a world of increased virtual interactions, human connection is more important than ever.
Loneliness is less about being alone, and more about feeling alone. There is no doubt that Covid-19 did have – and continues to have – a severe impact on loneliness, so this is a key time for us to talk about feelings of being lonely, and how it might affect us at work.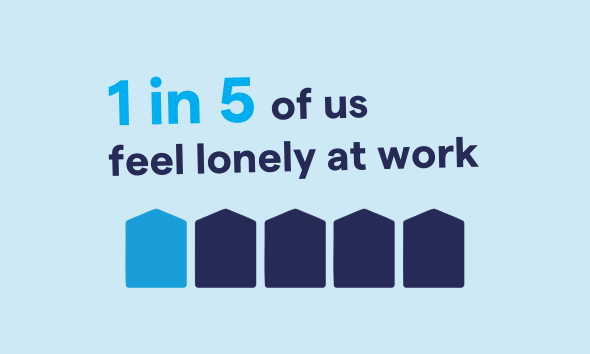 What the pandemic did show us, is the value of supporting connection. Research professor and author Brene Brown says:
It is known that building connections helps lower anxiety and depression, regulate our emotions, and leads to higher self-esteem and empathy. It improves our health and overall well-being.
However, more people than you think experience feelings of isolation or 'aloneness' at some point in their lives which might seem strange in a world where we are more connected than ever before. These feelings can come in 'waves'. It is a shame that something so common is also rarely talked about.
I am happy to share that I can struggle with working from home. I am someone that really enjoys company and being social, and I found it difficult when the change in working habits became the norm. Keeping connected with my friends and colleagues became harder. Despite using social media, I felt more disconnected that I ever had, and often had waves of feeling very lonely and isolated.
I think I focused a lot on what was missing, instead of what I could control and what I already had. Now, on days I feel particularly lonely, I leave the radio on, meet a friend for lunch or take walks. Or I choose to refocus, and spend time painting and illustrating as a way of looking after my wellbeing, and it easily passes the time and I feel so much better after.
We can all play our part in reducing loneliness by taking the time to connect and be with each other in person. That includes in the workplace, with your immediate colleagues, and also with those you interact with across the university community including our students.
During this week and beyond, why don't you pick a day to connect with your colleagues and your team, and you can do this in a variety of ways. Find a day to all go on campus together as a team, take time to go for a walk, or join each other for lunch.
This may not be easy for everyone, so if you can't get on campus or connect in person then why not try a virtual conversation together, or simply just reach out to a colleague and check in with them. Don't wait for someone to say they are lonely, reach out first.
There are many other ways to connect with the wider University community. Why not find out about Sport and Active Health activities, including the Moves App, you could link up with one of our staff networks, or join in with Potter and Prune, Christ Church Creatives, the Book Club, Chaplaincy's Tea at Three, to name just a few things happening
Don't forget our Employee Assistant Partner, CiC offer 24/7 support for all colleagues, do reach out to them if you are feeling lonely and want some support. They also have a webinar recording about loneliness.
Anna Candy, Human Resources Advisor