Improving your library… In an unprecedented year – Part 1: Resources
All the Library and Learning Resources team have a strong belief in asking for your feedback. On any normal year we would ask you to come to a Shape Our Library event, write a love or let down letter on Valentine's Day or simply fill in a feedback form. For the past nine months a lot of the changes we've made have been driven by the COVID-19 pandemic. In the case of resources this meant making more available online so you could access the resources you needed from home whilst the library was closed during the first period of lockdown. We are still prioritising Your Digital Library when buying new learning resources. We are purchasing more e-books, online databases and toolkits; we are also moving more of our journal subscriptions online.
Let's look at more changes we made last year to help you through the COVID-19 pandemic starting with resources.
e-books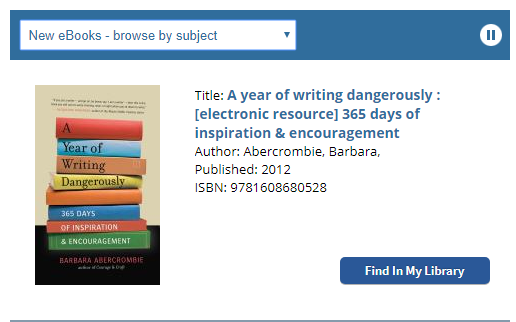 Improving the range and access to e-books was a vital way we could support you. We promoted where e-books were available and how to access them through the library blog. We also made a change to the LibrarySearch homepage, you can see our newest e-book arrivals broken down by subject area.
We knew one of the best people to ask on what e-books would be needed was you! That's why we launched a suggest an e-book campaign. We ordered hundreds of e-books based on your suggestions. In fact, it was so popular we brought the campaign back in November. You can still suggest an e-book for purchase today! Read about it on the student blog or make your suggestion now on our request form.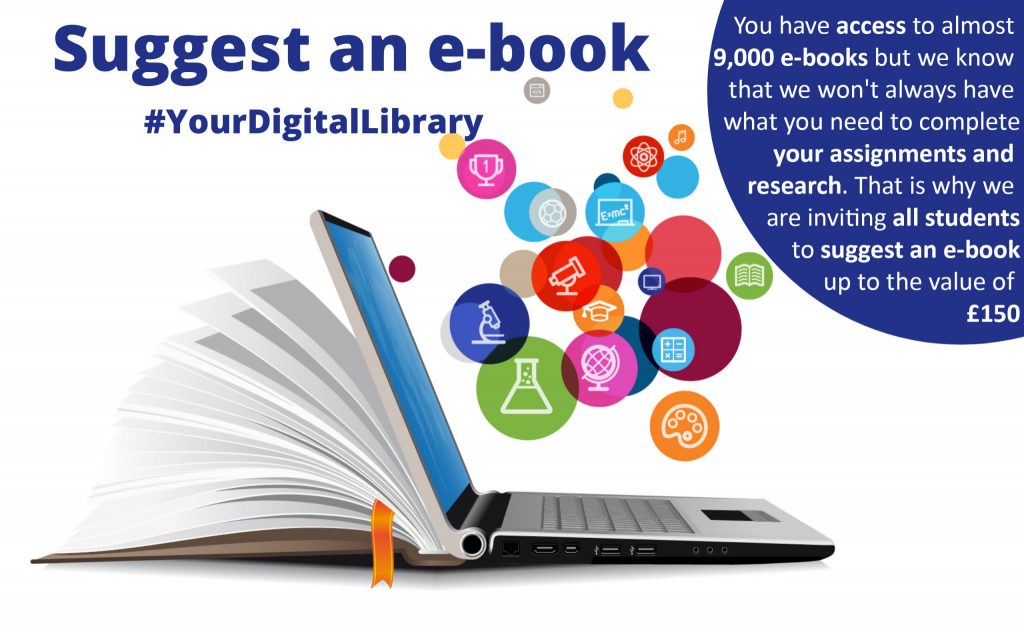 The work doesn't stop here though. We are working with publishers to agree on new licencing models so that we can provide more e-books. For some of these, you will be able to make and share notes and even keep the book! Watch this space!
LibrarySearch Improvements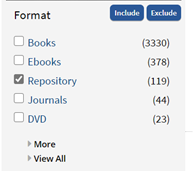 Canterbury Christ Church University research publications that are held in the repository, Research Space, are now included in the results in LibrarySearch, making these publications discoverable whilst you are carrying out your research in LibrarySearch. You can also use the format filter to restrict the results to those only included in the repository.
We have improved LibrarySearch to show the 'availability' of both physical and online items.

Scan and Deliver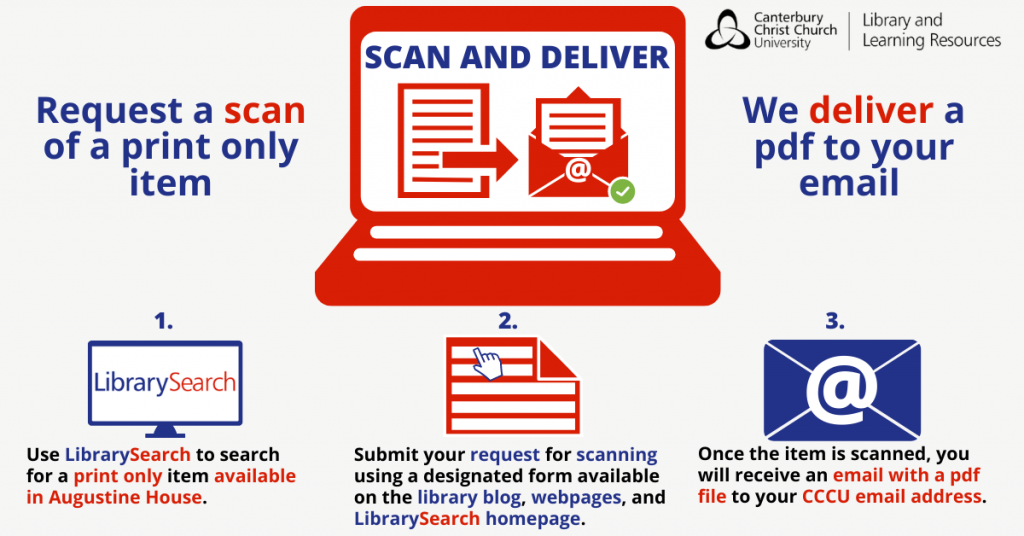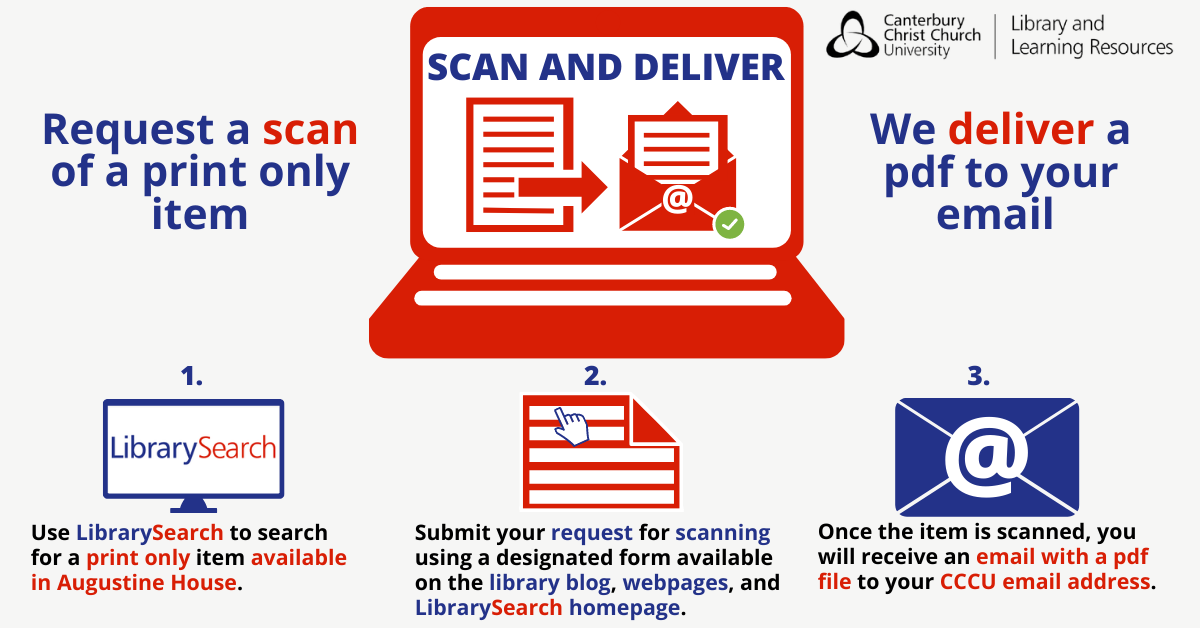 In July we launched our Scan and Deliver service. This makes the print only books and journals, which we only hold in the Augustine House or Salomons Institute libraries, available for essential work, research or study. You can request:
One article from any one issue of a journal of which we only hold a print subscription
Book chapter or 10% of a work which we only hold in printed form
One article of a UK national newspaper which we only hold in printed form (You can check on LexisLibrary Newspapers UK to see if the article is available online https://www.lexisnexis.com/uk/legal/news/)
Use LibrarySearch to locate the item you need and, if it is showing as available, submit your request for scanning using this form.
To read more about the Scan and Deliver service visit the library webpage.
Document Delivery
The document delivery service usually costs £2.00 per request for undergraduate students, however to support you during the current Covid-19 measures, we removed all charges from this service for all of the 20/21 academic year! The restrictions on the number of document delivery requests you can make each year remain the same.
Document delivery requests can be made through LibrarySearch.
Visit the document delivery page for more information
Blackboard
Another way we've been able to support access to print only materials is through Blackboard. We are working with your lecturers to get scanned copy of your readings in Blackboard more quickly by streamlining the process. We've also taken advantage of some COVID-19 response copyright changes to make additional resources available there too.
The Salomons library team have been working with the Admin team at the Institute to make academic work held in print in the library available through Blackboard instead.
Alternative / Accessible formats
We've been listening to your feedback and making our alternative format offer easier to use. You no longer have to be registered with the Student Disability Service to make use of the service. If you've had any disability or medical condition for twelve months or more, that makes using print books difficult for you, then you're automatically eligible. We've also improved our form. You can find it here. We have also streamlined our process so that you can now sign up for an RNIB bookshare account as part of the service.
Black History 365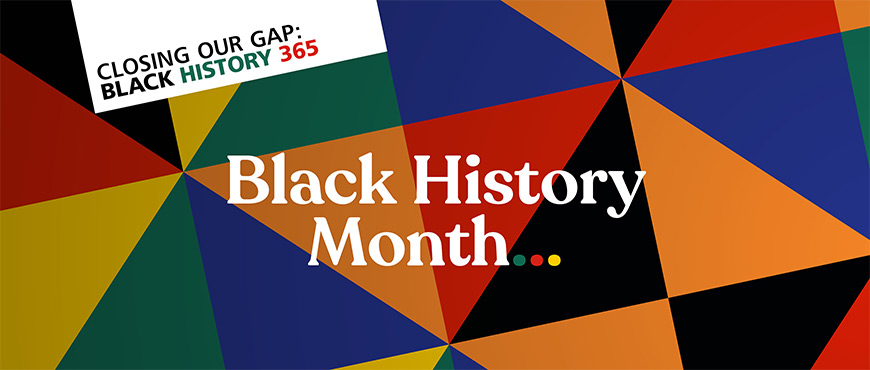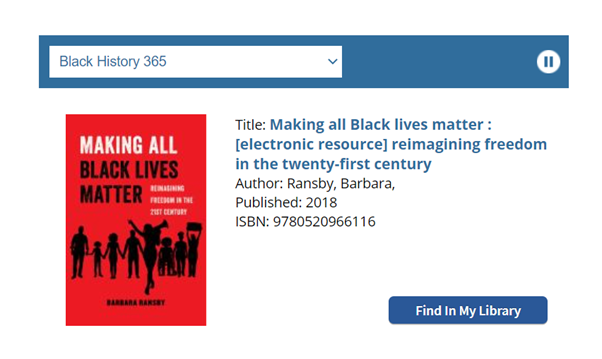 To support Closing Our Gap: Black History 365, we bought a range of e-books covering subjects surrounding the black lives matter movement, anti-racism, allyship, black British history and more. All the e-books are accessible through LibrarySearch. We've added a permanent Black History 365 drop-down on the e-book discovery tool on LibrarySearch, so you keep up to date with our most recent e-book acquisitions.
We have also created a list of recommended black lives matter resources to explore and a Box of Broadcast playlist of Black History resources.
Awareness Campaigns across the year
We have also been celebrating LGBT+ History Month, Women's History Month, The World Health Organisations Year of the Nurse and Midwife and more! Highlighting resources, writing blog posts, and creating displays at Augustine House and Salomons Library.
Check out our blogs that help celebrate important awareness days, weeks, and months by clicking on Awareness Campaigns.
Improving the Fiction Collection
We always have a steady stream on new books coming into the library but each year we take a closer look at a specific area. of the library. This year we've spent a lot of time reviewing the Fiction collection, withdrawing those which are damage and replacing them with brand new titles and copies of existing titles.
Come back next week when for our look at how the Library Spaces have changed