Mark Ashton – The Embodiment of Pride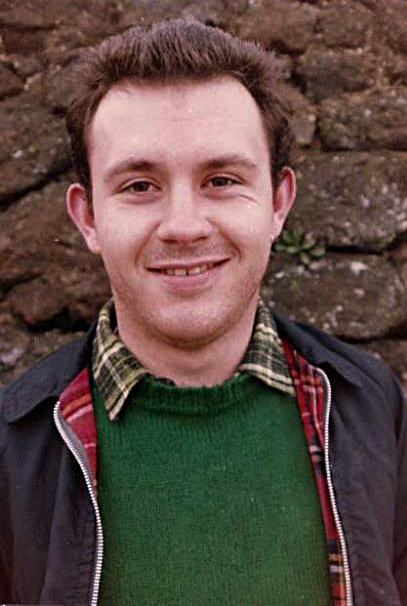 In 2014, I went to the cinema (those were the days!) to see a film called Pride. I knew only a handful of details about the true story and the figures it portrayed but by the time the closing credits scrolled, I was left with the realisation that, though a fictionalized version of events, I had watched something very important. The events explored in Pride, which is available to watch on Box of Broadcasts, the story of a group of LGBT activists who threw their support behind the cause of the 1984-85 national miners' strike and raised thousands of pounds in funds for a small mining village in Wales, is not taught on any school curriculum but is a vital part of British history, culture, and society, and a story that everyone should know. At the centre of the group, named 'Lesbians and Gays Support the Miners' (LGSM), was its co-founder Mark Ashton, a dynamic and impassioned activist who dedicated much of his tragically short life to improving the lives of others.
Summer comes and I remember how we'd march
We'd march for love and peace, together arm in arm
Born in Oldham, Greater Manchester, and raised in County Antrim, Northern Ireland, Ashton moved to London in 1978, where he formed firm friendships and connections with members of the LGBT community, among them the musicians Richard Coles and Jimmy Somerville. Ashton, Somerville and Coles were involved with and appear in an award-winning 1983 documentary, made by the London Lesbian and Gay Youth Video Project, entitled Framed Youth: Revenge of the Teenage Perverts. The film, which includes interviews conducted with straight people about their views on homosexuality and gay and lesbian people talking about their own lives and experiences, is available to watch on YouTube. While there are no explicit images within the film, there are frank discussions of sex and of homophobic violence and abuse encountered by the film's participants, making for an enlightening but at times uncomfortably confronting and heart-aching watch. During the closing credits, Ashton describes his former naivety regarding the police, an institution he had grown up believing would protect him from harm, and his eye-opening experiences of vilification and mistreatment at their hands. Like so many of his LGBT friends and acquaintances, he had watched the police either ignore homophobic violence or actively engage in it, and his words are a damning indictment.
Politically and socially active, Ashton was a member of the Communist Party of Great Britain, a staunch supporter of nuclear disarmament, and a volunteer at Switchboard, a helpline providing invaluable support and information for LGBT people. During the year-long strike by miners against coal mine closures in 1984-85, whereby prime minister Margaret Thatcher's Conservative government withheld the funds of the National Union of Mineworkers (NUM), Ashton and his friend Mike Jackson saw an opportunity to reach out and uplift a community devastated by the conditions created by Thatcher and the industrial action the NUM had been forced to take. As a gay man, Ashton knew only too well the feeling of vulnerability and stigma attached to being someone ostracised and criticised on both a national governmental and societal level, and he used these shared experiences and feelings to show that LGBT people and miners had much more in common than one might initially think.
In his article 'Solidarity and Sexuality: Lesbians and Gays Support the Miners 1984-5', which is available to read through LibrarySearch, Diarmaid Kelliher describes how Ashton was inspired to create a support group after meeting a striking miner at the 1984 London Pride march. He was struck by the common ground they shared and questioned his previous misgivings about trade unions as being full of 'macho het bully boys', realising that they contained members with thoughts, ideals and visions not so dissimilar to his own, and that a connection ought to be bridged with intersectional politics at its heart.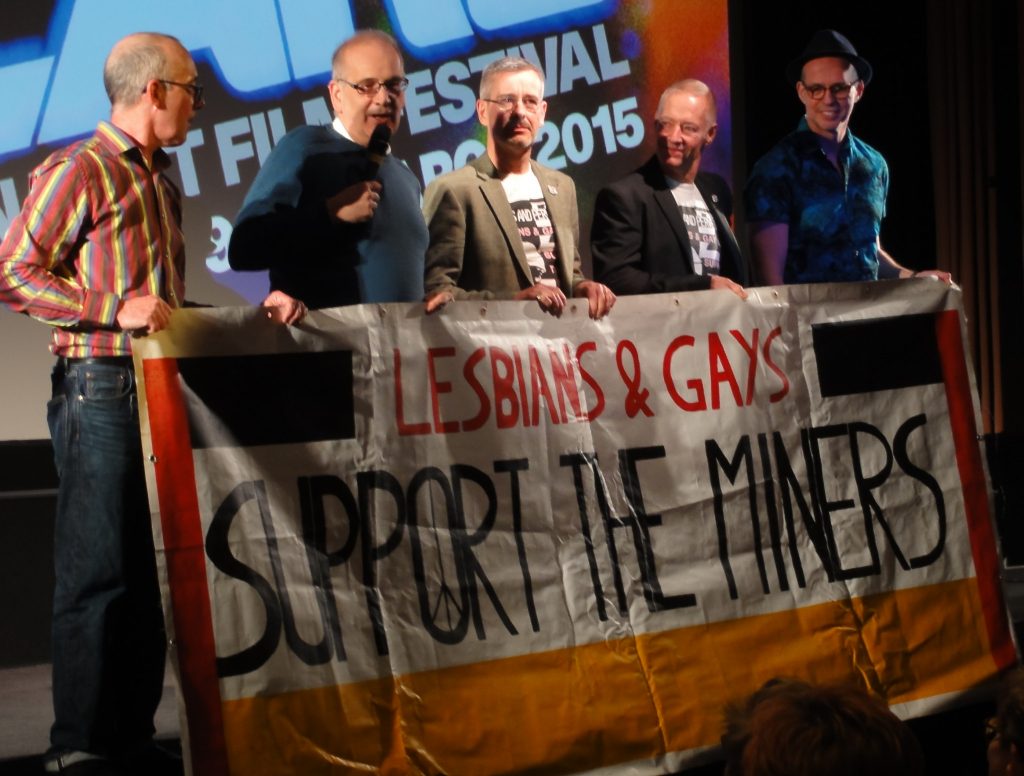 I'll never let you down, a battle I have found
And all the dreams we had, I will carry on
Initially meeting at Gay's the Word bookshop in London before moving to Islington pub The Fallen Angel as the group grew in size, LGSM organised and mobilised, largely collecting donations through rattling buckets, although the single biggest fundraising event of the campaign was a benefit concert headlined by Bronski Beat and brilliantly entitled Pits and Perverts. The group travelled to South Wales to present the funds to the inhabitants of the mining village of Onllwyn in the Dulais Valley and caused quite a stir. LGSM made a film documenting their efforts on behalf of Welsh miners and the relationship forged between the communities, which can also be found on YouTube. All Out! Dancing in Dulais is an incredibly heartening watch and I found it extremely moving to hear the sentiments of appreciation and support from those real-life figures involved in the struggle against Thatcher's determination to break down the union and its workers. At one point Ashton, after stating that it would be nonsensical to only care about one's own community, is asked why gay people should care so much about miners when the feeling most likely wouldn't be mutual, and he answers that people should appreciate those doing a job essential to daily life, particularly a job so physically demanding that most wouldn't volunteer for.
Mark Ashton recognised that when witnessing and experiencing oppression, true liberation can only be achieved through people uniting in struggle. His politics enabled him to extend solidarity to the mining community and in doing so he initiated an exchange of ideals and respect. A number of people in Dulais, including Sian James who went on to become the first woman MP to represent Swansea East in 2005, appear in the film to speak about their regard for LGSM, how their eyes had been opened to the fact that their oppression at the hands of the state was the same oppression experienced by the LGBT community, and their heartfelt appreciation of this support from the seemingly most unlikely of places.
A lasting connection was formed between LGSM, which by the end of the strike had grown to eleven groups across the country, with other LGBT activists forming their own collectives such as Lesbians Against Pit Closures, and the Welsh mining community, who revere Ashton to this day and have honoured his memory with a plaque in Onllwyn Miners Welfare Hall. This solidarity was confirmed at the 1985 Labour Party conference when lesbian and gay rights were incorporated into the party programme as a result of block voting from the NUM, and in the NUM's vocal opposition of the disastrous and enormously harmful Section 28 legislation introduced by Thatcher's government in 1988.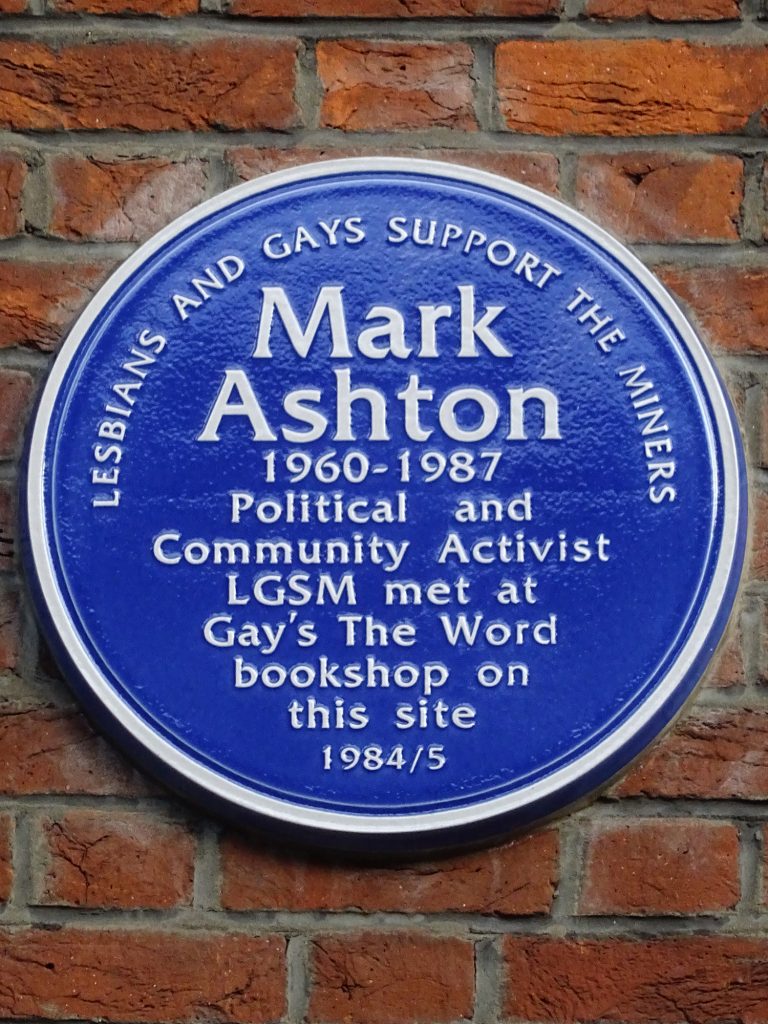 As I watch the sun go down, watching the world fade away
All the memories of you come rushing back to me
Mark Ashton did not live to see Section 28 and campaign against it. Tragically he passed away in 1987 after developing pneumonia as a complication of AIDS, just twelve days after his diagnosis, and his death was keenly felt by all those who knew him and knew of his commitment to helping others. His friend Chris Birch, who created a panel of the UK AIDS Quilt dedicated to Ashton, describes how after learning of his death he did not smile for the following three months. There is a garden in Paris named after Ashton, which has become a site of remembrance and dedication to the memory of all those lost to AIDS, and in 2017, on what would have been Ashton's 57th birthday, a blue plaque in his honour was unveiled above Gay's the Word. Jimmy Somerville and Richard Coles paid tribute to him as the pop duo The Communards in their impassioned ballad For a Friend, released in 1988.
For anyone wishing to read and learn more about the history and politics around LGSM I would highly recommend Daryl Leeworthy's article 'For Our Common Cause: Sexuality and Left Politics in South Wales, 1967–1985'. Leeworthy has also written an in-depth study of Ashton's life and significance as a gay, Irish man in his article Rainbow Crossings: Gay Irish Migrants and LGBT Politics in 1980s London' and both of these can be accessed through LibrarySearch. Mark Ashton lived a short life but one in which he burned bright and achieved so much. I wonder if he could have imagined that his actions would be immortalised in an award-winning smash hit film, that there would be an archive dedicated to LGSM at the People's History Museum in Manchester, and that people would be learning his name decades after his death. Mark Ashton is the embodiment of LGBT pride and all it represents and this February, we celebrate and remember him.
References
Birch, C. (1994) 'Mark Ashton – Panel No: 69', The UK AIDS Quilt Memorial Site. Available at: https://web.archive.org/web/20120210200529/http://www.aidsquilt.org.uk/gallery.asp?quilt=13&panel=69.
Doward, J. (2014) 'The Real-Life Triumphs of the Gay Communist Behind Hit Movie Pride', The Guardian, 21 September. Available at: https://www.theguardian.com/uk-news/2014/sep/21/mark-ashton-gay-pride-film.
Kellaway, K. (2014) 'When Miners and Gay Activists United: The Real Story of the Film Pride', The Observer, 31 August. Available at: https://www.theguardian.com/film/2014/aug/31/pride-film-gay-activists-miners-strike-interview.
Kelliher, D. (2014) 'Solidarity and Sexuality: Lesbians and Gays Support the Miners 1984-5', History Workshop Journal, Vol. 77, pp. 240-262.
Leeworthy, D. (2016) 'For Our Common Cause: Sexuality and Left Politics in South Wales, 1967-1985', Contemporary British History, Vol. 30, No. 2, pp. 260-280.
Leeworthy, D. (2020) 'Rainbow Crossings: Gay Irish Migrants and LGBT Politics in 1980s London', Studi Irlandesi, Vol. 10, No. 10, pp. 79-99.