Improving your library… in an unprecedented year – Part 2: library spaces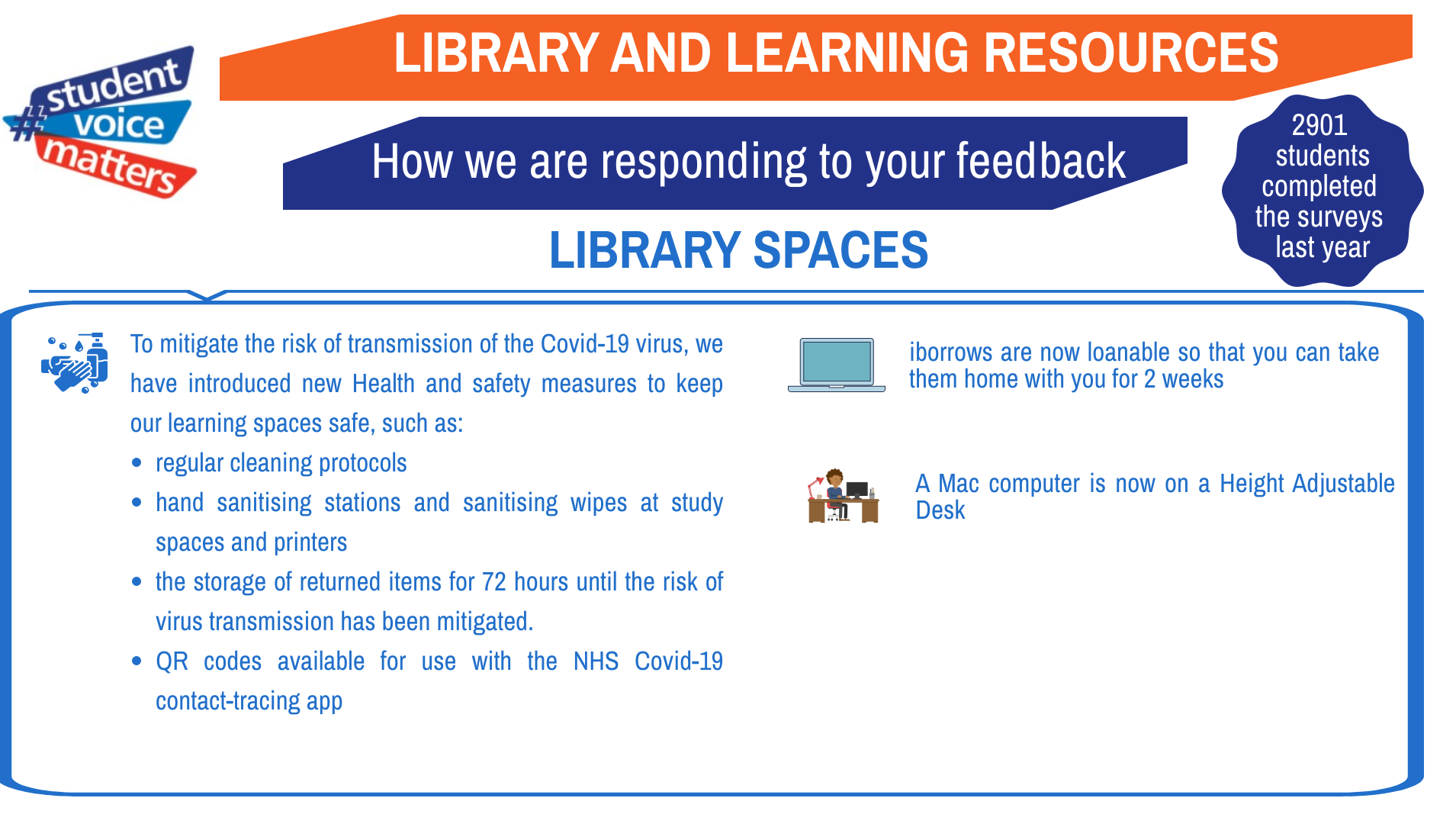 Continuing our weekly look at the changes made in the library in the last year. Part 1 focussed on the changes to the resources the Library has made available. This week we come to the changes to the Library spaces themselves.
Keeping you safe
Much has been done to mitigate the risk of the COVID-19 virus. Before reopening our libraries, we introduced a range of new Health and safety measures. Some are obvious and you see them immediately, whereas some are going on in the background and you might not even be aware what is happening to help keep you safe.
We have installed hand sanitiser stations around our libraries and sanitising wipes are available for you to clean your study space, mouse and keyboard or printer. In the background new cleaning protocols were put in place to keep the study spaces clean and ready to use. Careful attention to all those high risk-touchpoints like banisters and buttons. I think we can all agree that our housekeeping team are doing an amazing job in Augustine House and Salomons Library.
One-way systems are in place to prevent crowding in walkways. We have monitored and adjusted as we have gone along, making more spaces two-way where we could. We relocated our reservation pick up point to avoid crowding and ensuring you could pick up your reserved books safely.
Our self-service machines were customised so you no longer had to use the touch screen to borrow or return books eliminating one of the main touchpoints where COVID-19 could have easily been passed from person to person.
72 hours
The current government guidelines ask us to quarantine all items that have been used for 72 hours to mitigate the risk of virus transmission. That has sometimes been a massive challenge. The trolleys and boxes of books certainly mount up until we can re-shelve them! This is a little peak at what the returns room in Augustine House looked like on Friday 25 September.
Once we introduced Browse and Borrow giving bookable access to the shelves we had to find a way to safely store books that you wanted to consult in the library but not take out on loan. That's when the green boxes arrived! You've probably seen them dotted around our libraries near doorways or by the moving shelves in Augustine House. Whenever you've used a book but don't want to borrow it, please place the book in one of the boxes, so we can safely store it for 72 hours.
Bookable services
To keep numbers safe in our libraries we introduced bookable services.
The Click and Study service allows you to book study spaces in our libraries. Not all our study spaces are available at the same time to allow cleaning to safely take place, but you're welcome to book multiple slots if you need to study for longer.
Book a study space in Augustine House
Book a study space in Salomons library
If you want to browse and borrow items, return items or pick up reservations but you aren't planning on studying in the library you can use our form to book a fifteen minute slot in our libraries instead.
Book a fifteen minute slot at Augustine House
Book a fifteen minute slot at Salomons library
For more information about our COVID-19 safe services watch our Phase 3 re-opening video
NHS COVID-19 contact tracing app
Within Augustine House you will see the NHS contact-tracing QR codes throughout the building. We have a different QR code to scan on each floor of the Library. You only need to scan a code on the floor where you will be mostly based during your visit. If you are using a study desk or computer via the Click and Study service this means using the QR code on the floor you're studying on. If you're visiting Augustine House to get help from one of the support desks or borrow items via Browse and Borrow, just scan a QR code on the ground floor.
All catering venues require their own QR code, so you will need to use a QR code sited within the Atrium café when you are there.
If you visit the Salomons Institute library you will need to scan one of the QR codes available throughout the Library. If for any reason you are unable to use the NHS Covid-19 app, please use our online form instead. On the online form you can select the appropriate floor of Augustine House Library, Augustine House Atrium café or Salomons Library.
i-borrow loan service
In January 2020 we worked with the IT department to launch the i-borrow loan service, making laptops loanable so those who needed one, could take one home to support their studies. We started small with about 10 laptops and we only had 2-3 people regularly using the service.
Little could we predict how important this service would become by March. As the seriousness of the pandemic made it clear that University's would have to close, IT ramped up the reconfiguration of laptops. We relaunched the service in September with some newer model laptops. We changed the length of time the laptops could be loaned for to two weeks. Based on your feedback we've added the ability to check their availability in LibrarySearch.
The University also launched a long-term laptop loan scheme for students who are unable to access the right IT equipment for them to digitally engage with their programme.
Find out more about the Library short-term iborrow laptop scheme
Find out more about Students Support and Wellbeing long-term loan laptop scheme
Accessible Mac provision
We have increased our accessible Mac provision you will now find more Macs available on height adjustable desks.
Playing Your Part
We can only keep library spaces open if everyone plays their part. Any outbreak linked back to the library would inevitably lead to at least partial closure of the building. More importantly we need to keep each other safe. Please follow the guidelines which are in place, including:
Unless you are medically exempt you must wear a face covering when you are in the library, even when seated at a study space.
Use the wipes provided to wipe down your study space, keyboard, mouse or printer before and after use.
Regularly clean your hands using soap at the sinks or the gel from the dispensers.
Maintain social distancing:

Adhere to the signposted room capacity. Group study rooms are currently for single occupancy only.

Do not rearrange the furniture.

Only sit at a study space with a green tick.

Ensure you only use a study space if you have booked to do so. Booking allows us to maintain a safe number of people in each area of the library.

Place handled library items in the green boxes provided, so that they can be safely stored for 72 hours. Please do not leave books lying around on desks.
Please be kind to staff if they remind you of these rules. The rules are in place to keep us all safe.
---
Come back next week when we'll take a look at the changes made to Study Support.