Improving your library… In an unprecedented year – Part 3: Study support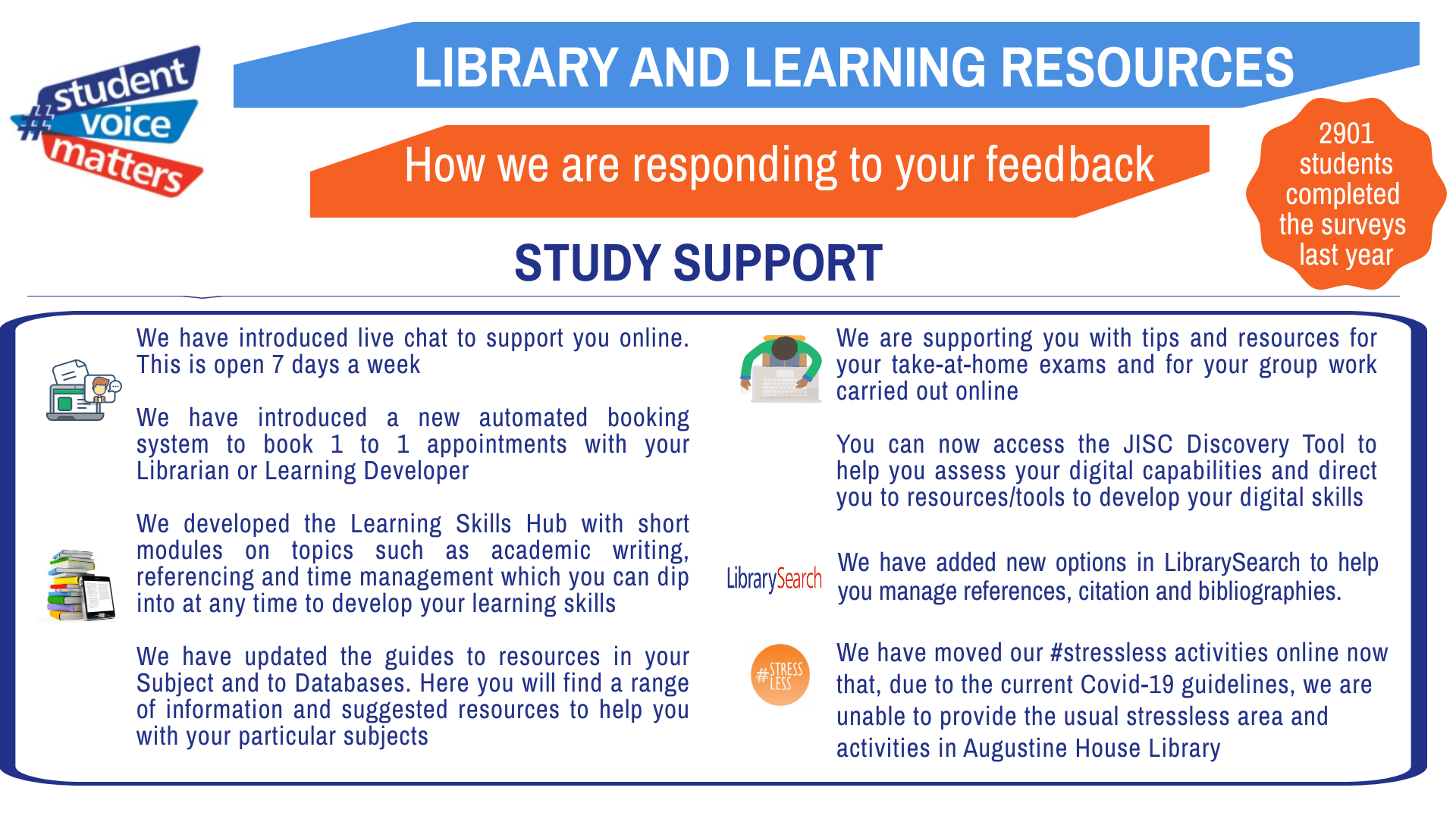 Our final stop in our review of 2020. Today we are looking at how we've adapted and improved our Study support across last year.
If you missed the previous blogs in this series, you can catch up with them here:
Live Chat
To increase the ways in which you could get in touch remotely, we have introduced live chat. You can use live chat from the student webpages. You will have the choice of speaking to the i-zone or the library. Live chat is available:
Monday – Friday – 9am – 8pm
Saturday – Sunday – 11am – 4pm
Learning Skills Hub
In response to your feedback and our close connections with academic staff, the Learning Skills team created the new Learning Skills Hub, released in September 2020.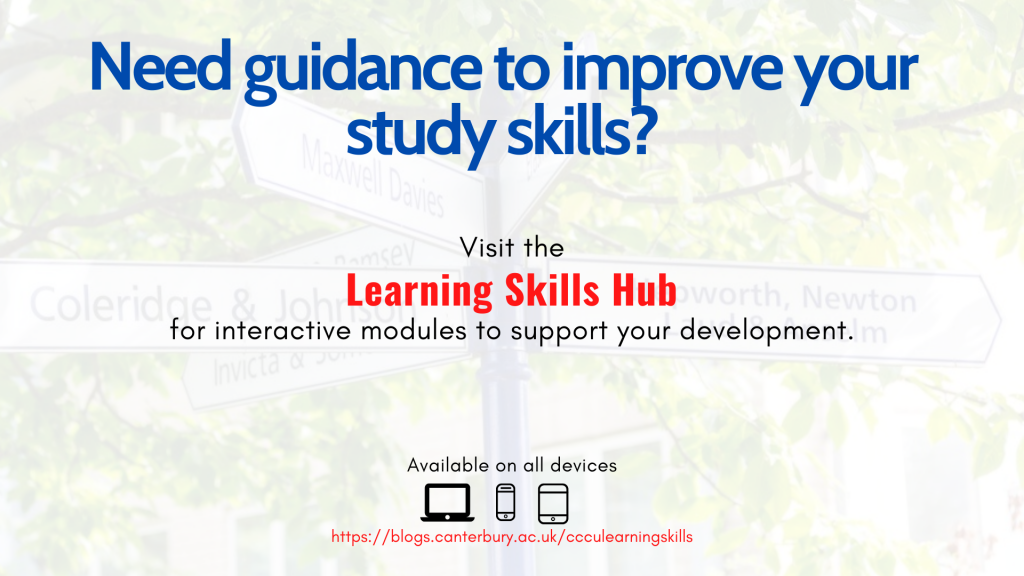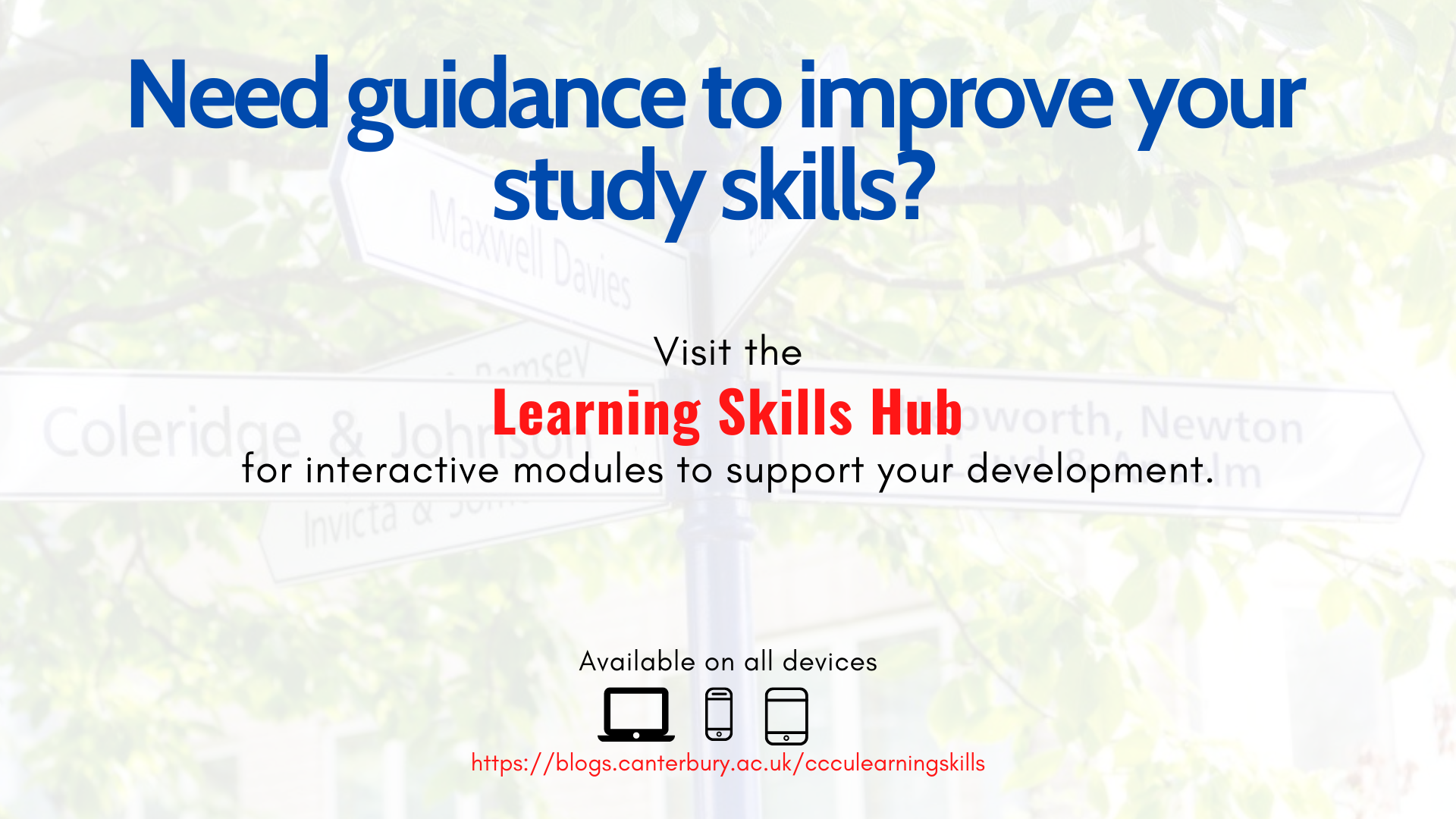 The hub contains a collection of short and interactive modules on the topics students often book tutorials for, such as academic writing, critical thinking, referencing and time management. The modules are made with you in mind and are easy to dip into at any time to develop your skills and you can assess your learning at the end of each module to check you are on track. You can even access modules on your smart device whilst travelling or waiting for a seminar.
You will find we have organised our modules by your year of study, but you will find useful information and guidance across each section, no matter what year you are in. we recommend you watch the home page introduction video and explore what is on offer.
If you do not know where to start, we have an introductory blog here.
Booking a 1:2:1 appointment
With the Launch on the Learning Skills Hub, we have improved how to book a 1:2:1 appointment with our Learning & Research Librarians and Learning Developers.
Learning & Research Librarians can work with you to develop your research – finding, evaluating and effectively using appropriate information for your studies. They can also advise you on ways to make referencing easier.
Learning Developers can work with you to develop your study skills such as academic reading, writing and presentations as well as managing your time and workload at university. They can also work with you to develop your academic English language.
You can book a tutorial or email the team through the Learning Skills Hub here.
Subject and Database Guides
We have updated our subject and database guides. Our subject guides will help get you started in finding the best online resources in your subject area. Whereas our database guides will take you through how to use the main databases you can access through LibrarySearch. Both will help you take advantage of the wealth of online resources available in #YourDigitalLibrary.
Supporting your remote learning
We have been on hand to help support your remote learning during the lockdown periods. We provided tips and resources on take-at-home exams and got you started on using Blackboard Collaborate Ultra. We gave you tips on staying productive and motivated during lockdown and how to use a growth mindset to succeed academically.
We have also added a Skills tab to this blog to make them easier to find and made a new Your Study Skills to introduce you to the resources and support available.
LibrarySearch Improvements
We have added an 'Export to RefWorks' button to LibrarySearch, which enables users to send details of selected items directly to the reference management tool. RefWorks. The button appears both in the search results and full details displays. With this button users are able to export one item at a time directly to RefWorks.

We have also added an 'Export to RIS' option to the dropdown menus. This option enables users to export multiple items to an RIS file, which can then be imported into their chosen reference manager, including RefWorks. Users can select items with the checkboxes to the left of the book cover as seen above, before clicking on the 'Export to RIS' option.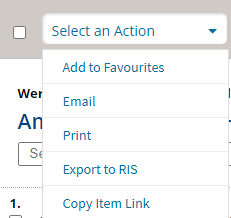 If you'd like to know more about organising your references with RefWorks, read the learning skills module on reference management or book a 1:2:1 appointment with your Learning and Research Librarian.
Assess your digital capabilities
You can now access the JISC Discovery Tool. It will allow you to assess your digital capabilities and gives you access to a wealth of resources and advice that will accelerate your digital know how.
Learn what digital capability is all about by watching the video below:
#StressLess moves online
We were very sad not to be able to provide the StressLess zone and activities in 2020. StresLess zone setup has always been a day we really look forward to. We moved our #StressLess campaign online, with suggestions on what to do in your break time and links to resources to support your study.
For a rundown of what took place, take a look at the introductory blog.
---
Thank you for reading our 2020 review. We hope you've enjoyed finding about the changes we've introduced across this three blog series. If you have any feedback on the changes we've made please let us know via our online feedback form.
In the meantime please take care. We're looking forward to the time that we can see more of you in our libraries and remember, if there's anything the library can do to help please Just ASK.