To start this week, I want to draw your attention to this great opportunity for someone to gain a MA by Research. Suitable for either full-time or part-time study, through the Ian Coulson Memorial Postgraduate Award Fund, we at the Centre for Kent History and Heritage at Canterbury Christ Church University have some funding for a historical landscape project based on east Kent.
Are you interested in Kent's early medieval history?
Have you ever wondered how the different estates in the countryside came into being during the time of the Kingdom of Kent and beyond, and how they developed either side of the Norman Conquest as the pressure of the Norman presence came to bear on the Kentish countryside?
If so, then this project may be just right for you! Called 'The Evolution of a Downland Landscape: Nonington 700–1400' we know there is a good corpus of charter and other documentary materials, as well as evidence from archaeological and topographical work. For preliminary enquiries, please contact me at sheila.sweetinburgh@canterbury.ac.uk and we can discuss your ideas.
Secondly, Dr Gillian Draper, Research Associate in CKHH, will be speaking at the Medieval Settlement Research Group spring conference on Saturday 21 May. This year the conference is again online and is entitled 'Coastal settlement and landscape: exploring relationships between land and sea' and Gill's paper is entitled 'How much did it matter? The sea and settlement on the south-east coast of England'. If this sounds interesting, please do book this free event at: https://medieval-settlement.com/events/upcoming-events/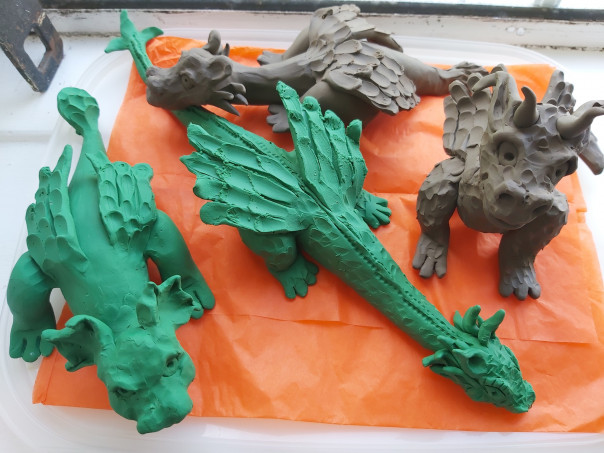 As people involved in Higher Education will know, the 2021 REF results came out towards the end of last week. Both Canterbury-based universities are pleased with the results, and we joined the vice-chancellor's celebration at CCCU on Tuesday. This also gave us a chance to admire the view over the ruins of St Augustine's Abbey to Canterbury Cathedral and then north to the University of Kent and St Edmund's School up on the hill towards Blean.
We in CKHH were involved in a small part of CCCU's submission for 2021, including research publications and the impact case study which had been led initially by Professor Louise Wilkinson on Magna Carta and its legacy before she went to the University of Lincoln. This meant that as well as Louise, we had worked with Helen Wright, the Faculty Impact Research Officer.
Of course, we are now starting a new cycle and the CKHH is already busy working with Helen again on several projects, including Dr Diane Heath's Lottery-funded 'Medieval Animals Heritage' and Dr Claire Bartram and my engagement with 'Kent's Maritime Communities', which includes funded doctoral projects and a 3-year funded research project in partnership with the University of Southampton.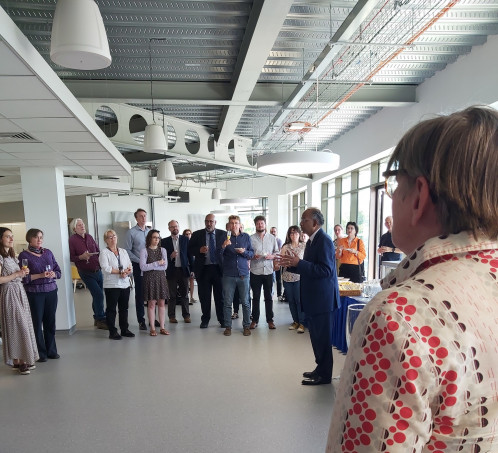 Not that these are the only projects we are doing but they are the biggest. For example, from a Green Heritage perspective Diane and Penny will be marking out their Green Dragon next week preparatory to the digging and setting him/her out on the grass between Anselm and Becket buildings. In addition, soon it is hoped work will be able to start on another dragon at the Franciscan Gardens, as designed by a team of architect students from the University of Kent, as reported a few weeks ago: https://blogs.canterbury.ac.uk/kenthistory/canterbury-lossenham-and-lenham-crossing-boundaries/ Indeed, Diane and I met Dr Ambrose Gillick, (Kent's School of Architecture) this week to discuss how the necessary materials to construct the dragon can be purchased once permission has been granted by Historic England – the dragon will be nestling within probably the Lady Chapel and thus not on below ground archaeological remains.
Regarding working with groups and people from outside CCCU, Kent's Maritime Communities similarly will combine research in the archives and working with others, especially Martin Crowther and his volunteers at the Dover Maison Dieu. Additionally, I am hoping to get over to Sandwich soon and extend links there, while at Faversham next week will be the opening event for the Magna Carta and other town charters exhibition. This has been a great collaboration involving the Faversham Town Council, the local Police Museum, Kent County Archives, Dr Justin Croft, one of my contemporaries at UKC back in the mid-1990s when we were both doctoral students, and CKHH.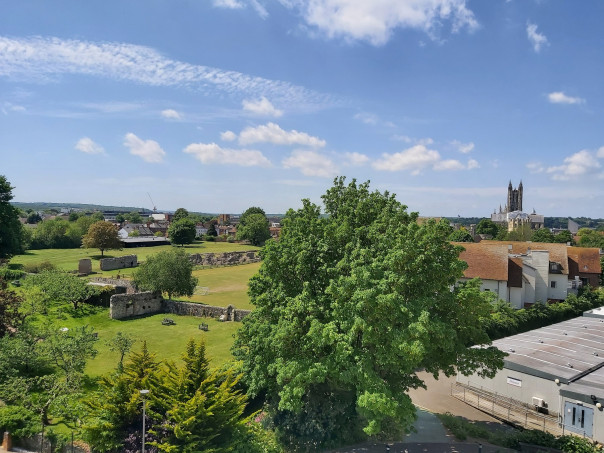 This week marked the first Medieval Animals Heritage Project board meeting and it was great to hear from Diane and Penny about their achievements so far on behalf of disabled children using visits, crafts, quizzes and much, much more. They also outlined how they have been working with other organisations in east Kent, the successes and challenges and how they are hoping to help places become more inclusive for such children and their families. This is all incredibly exciting and is already changes lives for the better.
In a very different way, I'll be hoping far more modestly to enhance the research skills of people from KAS and others through the new series of evening online palaeography workshops starting this week. Being able to read old handwriting is vital for those who want to delve into archival sources for a whole range of reasons – family and house histories, exploring what it was like in the past in their village/town, taking part in communal projects. Thinking about the latter, I am hoping to recruit a few more people for the Lossenham Project wills group, not least because we have literally thousands of wills from 'our' parishes and working as part of a collaborative project is a great way to get involved for a first time.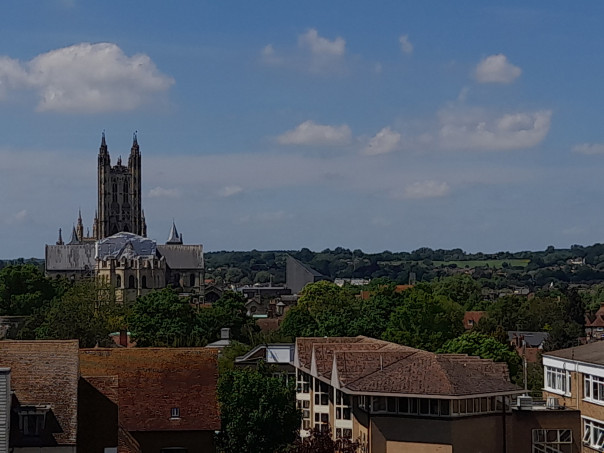 Currently, as well as Jane a doctoral history student from CCCU, this group includes people from a variety of backgrounds who having done these workshops last year are now busily working on transcribing and putting onto a database information from both PCC and lower court wills from the diocese of Canterbury. What might be termed our first public output will be the Lossenham Priory Study Day in early September to an invited audience of people from local history and similar groups. This is an exciting opportunity and will showcase the potential of such documentary sources to shine considerable light on how 'ordinary' people lived in the medieval and early modern periods in the parishes of the Rother Levels as uncovered by people studying wills for the first time – hopefully an empowering experience for all concerned.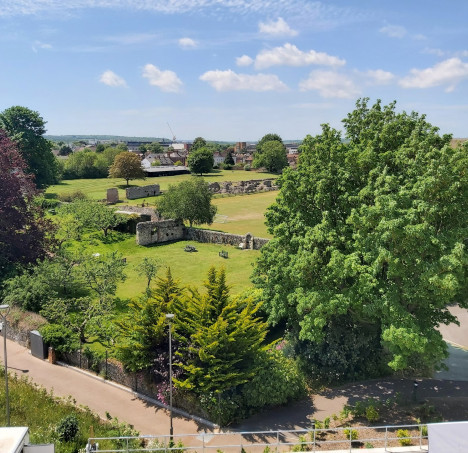 Very different but another way of making connections is through media and an opportunity presented itself this week through BBC Radio Kent. Next week on 26 May Radio Kent will be celebrating the county of Kent as the Historic Counties Day and thus is focusing on the county's history. Why this day you might ask? And the answer is because this was the day St Augustine of Canterbury (not Hippo) is said to have died in 604. The person who noted this 'fact' is the Venerable Bede who recorded in his Ecclesiastical History of the English People that this date was on the stone over Augustine's tomb in the abbey church of St Peter and St Paul (later St Augustine's Abbey). Consequently, as the feast day (an act of commemoration among other things) of St Augustine there would have been special services in addition to the normal liturgical round undertaken daily in the monastery church. Furthermore the saint's bones were later translated in the post Conquest period to a new shrine in the abbey church in the eastern-most axial chapel, becoming a place of pilgrimage for those coming to Canterbury even before its greatest saint – St Thomas, and his growing cult from the late 12th century. As the history books will tell you, this shrine was destroyed when St Augustine's Abbey was dissolved as part of the Henrician Reformation. Yet there is a tantalising entry in the depositions (witness statements) collected for Archbishop Cranmer which noted that the shrine (or perhaps part of it?) had been taken to the church at Chilham.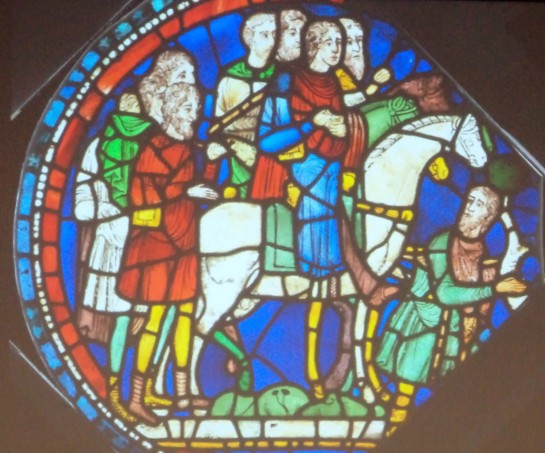 We also explored why Kent is called 'Kent' – see derivatives from Welsh, Breton and thus links to the Celts of Britain; Julius Caesar and Latin naming practices, as well as those from the post-Roman/early medieval period and the Cantwara or the people of Kent. All of these going back to the idea that the region was 'the land on the edge', the 'corner land'. This took us on to the White Horse motif for the county, the myths concerning Hengist and more especially Horsa, and then to the motto of Invicta – undefeated. Such ideas are fascinating because they say much more about the times that constructed these ideas than they say about the times when such events were said to have happened. Moreover, this is similarly the case concerning a great deal of the county's early history and if you are interested in what might be said to be Kent's formative past, I would recommend the two earliest volumes chronologically of the Kent History project: The Archaeology of Kent to AD 800 and Early Modern Kent, 800–1220, as well as Maritime Kent through the Ages, the latter available from amongst other places the CCCU Bookshop and the former from Boydell or the Kent Archives Service at Maidstone.
And next week we can look forward to the beginnings of the Green Dragon, a meeting of the Kent History Postgraduates and the opening of the Faversham Magna Carta exhibition.