It is possible some of you may have seen the 'Kent Day' article published online on Thursday 26 May https://www.canterbury.ac.uk/news/celebrating-kents-history-and-heritage which, as noted in the CKHH blog last week, is the feast day of St Augustine of Canterbury.
Initially he had the day to himself, but these days shares it with St Philip Neri, who was born in Florence in the 16th century, and whose path following a religious conversion as a young man has echoes of St Francis of Assisi. Moreover, what I especially like about him is that he is the patron saint of laughter, humour and joy.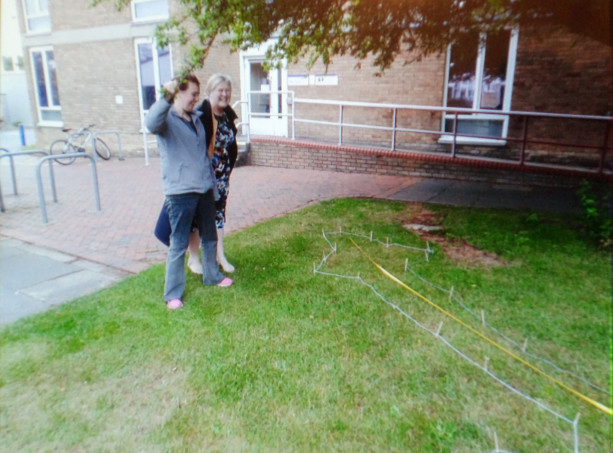 Such matters were in evidence yesterday when I caught up with Drs Pip Gregory and Diane Heath while they were marking out the outline of the 'Green Dragon' that hopefully will be occupying part of the lawn outside the Becket building in the next couple of months. In addition, Diane hopes to provide him/her with some 'companions' across the university campus as well which will mark a route moving through the UNESCO World Heritage Site from Canterbury Cathedral to St Martin's by way of St Augustine's Abbey, and specifically the abbey's outer precincts.
Of course, these dragons are not the only ones Diane is working on. Last Saturday while I was at a conference at the University of Kent organised by the Centre for Anglican History and Theology under the title 'Contesting the Church in England c.1640–c.1670', she Penny Bernard and their volunteers were at Wildwood. This time the creative activity for the SEND children who took part in the Lottery-funded 'Medieval Animals Heritage' workshop involved making animal tiles, as you can see here.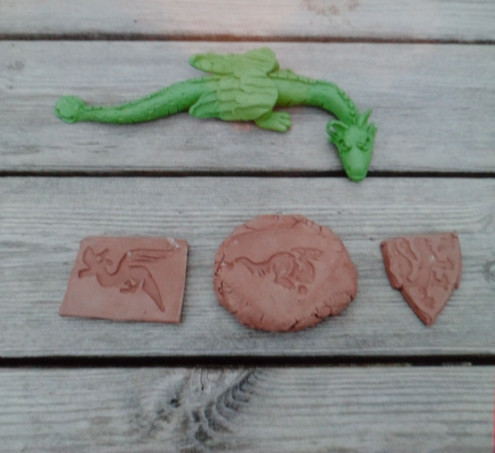 Such collaboration between these two Canterbury-based universities will also be in evidence for Diane's Eco-Heritage Learning Space at the Franciscan Gardens, again scheduled for this summer. As mentioned last week, Diane has been working with Dr Ambrose Gillick and his colleagues in the School of Architecture and Ambrose believes the winning student team are keen to get involved in the construction of their 'Dragon of Greyfriars'. Consequently, Diane is back in discussions with Louise Knight and others at the Franciscan Gardens to ensure matters go smoothly and that all Historic England's requirements are met about the deployment of this scheduled place within the footprint of what had been the friary church. Such an imaginative use of this space for wellbeing and other benefits for some of the most disadvantaged in society is a great achievement, and hopefully will act as a blueprint for similar projects, thereby enhancing and making more inclusive these historic sites.
Although very different, texts can also offer ways of seeing places and spaces in new ways and on Wednesday we had the second palaeography workshop in this present series. As with all these voluntary activities the personnel may change from week to week and while a couple of people from last week couldn't attend this week, two new people joined the online group which meant that we kept a spread across the county. Some, hopefully, will join the Lossenham Project wills group as we look for new recruits to this friendly, co-operative band of keen volunteers, while others within KAS are looking to work in their own local history groups, thereby enhancing such communal research using the skills they had acquired.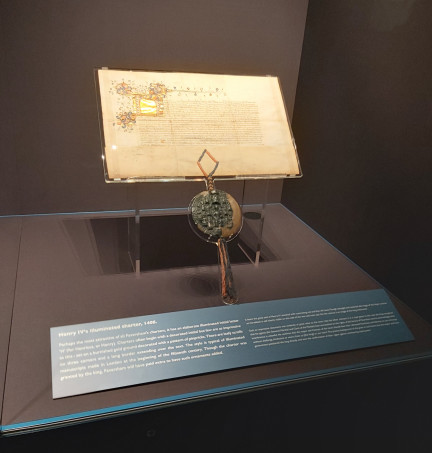 Consequently, we spent just over half the time working through more of Canterbury's 1470s paving charter that offers great insights into what the mayor and aldermen considered to be their key thoroughfares. As those who know Canterbury would expect, these streets included the High Street from Westgate to Newengate (ie St Peter's Street, High Street, The Parade and St George's Street), Burgate Street and the street from outside Christ Church Gate down Mercery Lane and extending onwards along St Margaret's Street to the 'Iron Crosse' (next to The Three Tuns pub), 'Iron' a corruption of 'Tierne' and the aldermanic family of that name, but interestingly no further and thus not to the castle. Rather the other street to be paved was that from Christ Church Gate round to the gate of the Black Friars (Sun Street and Orange Street), a much less obvious choice.
A sense of place and special spaces was similarly in evidence at the official opening of the 'Faversham Charters and Magna Carta' exhibition this week. For those who cannot visit or would like to see images of all the towns 25 or so special items, the accompanying website was also launched this week at https://favershamcharters.org/exhibition/ and the town council would be delighted to hear what you think. Having worked with Dr Justin Croft as the lead on the project, always a pleasure, Diane and I were delighted to join other project team members, the mayors of Faversham and Swale, members of Faversham Town Council, Louise Bareham the town clerk and a host of others who had been involved in bringing it to fruition in various ways. Thus, it was great to see Sarah Stanley from the Kent Archives Service and Paul Upton from the Faversham Police Museum as well as others we had only seen on Zoom meetings and people from earlier projects we had been involved in such as 'Medieval Faversham'.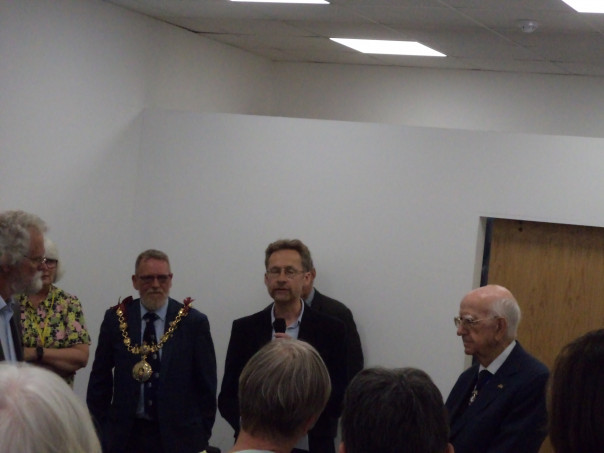 The last time I had seen the mayor in person was at the launch of Maritime Kent back in October, and it was lovely to see him again as well as his predecessor. As befitting the occasion, he gave a short speech, followed by pieces from other dignitaries, but the main speech was given by Justin, who, having thanked those who had been members of the working party and the local enterprises involved, went on to illustrate just how and why the exhibition had been created in this way. As he said, the 1300 form of Magna Carta is the jewel in Faversham's civic crown but the other charters are similarly impressive and the sheer number for a town of Faversham's size is amazing. But it was not quantity that the working party wanted to highlight, rather the small number on display were chosen very carefully for each has a 'wow factor' as well as providing a different way to think about a theme. For example, the penmanship is fantastic, and this offers a way in to offer ideas about parchment, ink, illumination and how the scribe would have gone about producing such a charter. This, it is hoped, will offer opportunities to hold workshops for adults, as well as children, to try out their writing skills.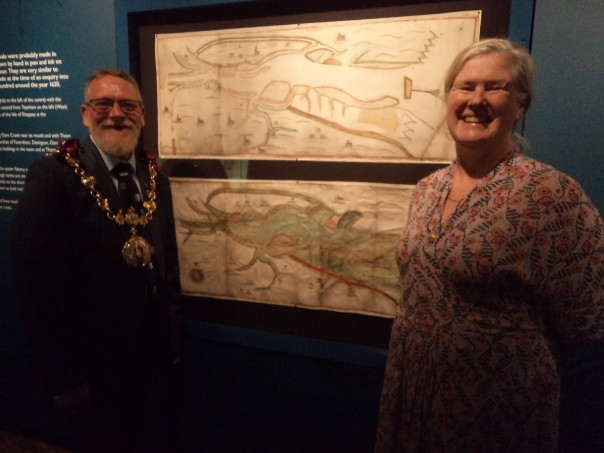 Engaging with items as material culture offers other ways of exploring charters, but equally this can be applied to the artefacts on display. As Justin said, this too is something the team considered carefully, and what might be said to be the most obvious artefact is the common horn, but such an idea could be applied to the original 14th-century book binding for the town's custumal. The Cinque Port custumals are very special, not least because they are early and reflect common ideas across the Ports, something that Justin discussed in his doctoral thesis.
A means of linking horn and custumal is the idea of civic elections, the horn blown at the traditional places around the town as a means to call the barons or freemen to the place of election. This placing of an aural boundary around the town is, I think, deliberate, a way of drawing the community together sound travelling beyond the immediate streets.
It was then time to take a first look at the completed exhibition rather than the computer mock-up that we had discussed online. Diane and I were in the first group who ventured in and it was great to see how things had worked out. Moreover, the mayor and his colleagues are delighted with the result and in the coming days it is hoped that many more people, from seven to seventy, will enjoy the exhibition and hopefully use it as a springboard to want to find out more. The exhibition is in Faversham's market area, opposite the Guildhall and in the building that also houses the Tourist Information Centre.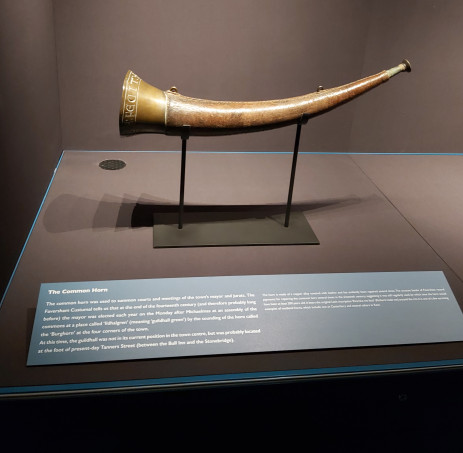 For next week, I am looking to include a report on the workshop for volunteers that Justin is running, and I'll be along to help. Moreover, Dr Claire Bartram's 'Imagining Dover' project will have exciting new opportunities for people to contribute to – watch out for that! Also, both Diane and I will have been on special visits with groups to the Maison Dieu at Dover, meeting Martin Crowther there, while the Kent History Postgraduates will have enjoyed Peter's presentation on his new doctoral project.