Next week I'm intending to report on Dr Diane Heath's second set of 'Magna Carta: Women, Children and Family' workshops at The Royal Harbour Academy in Ramsgate (this week she is at a conference in Prague on 'Medieval Animals'), so today I'll just draw attention to three events that will be happening in September involving the Centre in some way.
Two of these events concern the importance of primary sources that relate to the Church – from the parish right the way up to the archbishop/bishop, while sandwiched between these two conferences is the Michael Nightingale Memorial Lecture. This year the joint lecture with the Agricultural Museum Brook will be held on Tuesday 24 September in Old Sessions House at 7pm, with a wine reception there from 6.30pm. All are welcome, so please do come along, the lecture is free and booking is not required, there will be a voluntary retiring collection.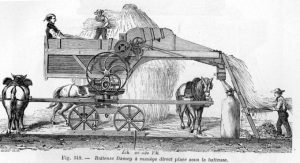 Horse-powered threshing machine: https://en.wikipedia.org/wiki/Swing_Riots#/media/File:Batteuse_1881.jpg
Our speaker will be Professor Carl Griffin (Professor of Historical Geography, University of Sussex) and his title is 'Retribution, performing passivity and protest anew: social and political relations in Kent after the Swing Riots'. As Professor Griffin says, "In studies of rural social conflict, two themes have dominated: on the one hand, there have been studies of the major outbreaks of rural protest, and, on the other, various analyses of everyday conflict and social relations." Consequently, he will attempt to bring the two together by asking a rather different question: what happens to and in rural communities after major episodes of protest? To address his question, Professor Griffin will focus on the Swing Riots of 1830 and the years that ensued up until the implementation of the New Poor Law starting in the early months of 1835.
We are fortunate to have him as our guest lecturer because he has worked extensively on the geographies of popular protest and capitalist transformations in eighteenth- and early nineteenth-century England. Moreover, his current foci include examinations of the quasi-insurrectionary Swing Riots – for which a monograph is forthcoming with Manchester University Press, as well as cultures of unemployment, the political ecologies of agrarian capitalism, and the human/non-human technologies of forests and chases. In addition, he passionately believes that quality research builds directly upon quality teaching. As he says, his students continue to inspire – and provoke – him into thinking about his interests in new, innovative ways.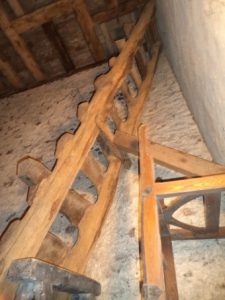 Ladder up to the belfry at Luddesdown
Before the Lecture it is hoped that recipients of Ian Coulson Award funds will be present to receive their certificates. Since its inception in 2016, ten postgraduates have benefitted financially and this has also helped to build up the great Kent History Postgraduates Group, as regular readers will have seen from the reports about their presentations and conference papers.
To the two conferences, the first of which is entitled 'Revisiting sources and themes in parish histories' and is due to take place on Saturday 21 September. For ticketing purposes, the conference is in two parts which will allow those wishing to attend more flexibility, ie those wanting to come to the exhibition AND the lectures and plenary panel will need to book both, whereas those wanting to come to one and not the other need buy only the relevant ticket. Booking is now available at: www.canterbury.ac.uk/parish-histories
The special exhibition for the conference featuring a wide range of parish documents will be provided by Cressida Williams at Canterbury Cathedral Archives and Library between 9.30am and 10.45am on that Saturday. The Archives are fortunate that they hold churchwardens' accounts for a number of east Kent parishes from the later Middle Ages and later, as well as other fascinating parish materials.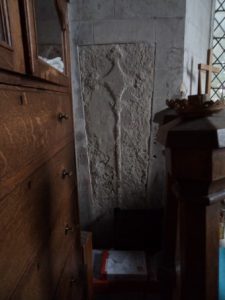 Grave marker – Rolvenden
For those attending the lectures and plenary panel, this will take place at CCCU in Old Sessions House, beginning with coffee and registration between 11.00am and 11.30am. Topics to be covered during the rest of the day include a major project on parish records, a Kent case study based on a period that sees the loss of many parish records and the introduction of some new sources. There will be an opportunity to revisit debates about the taking of communion in the early modern period and to celebrate the achievement of Dr Valerie Hitchman on the launch of her Database of Churchwardens' Accounts hosted by the Warwick Network for Parish Research. Among the experts contributing to this exciting conference will be Professor John Craig (Simon Fraser University), Professor Beat Kümin (University of Warwick), and the Centre's Professor Jackie Eales.
The second conference will take place on Saturday 28 September, entitled '"Lucit in tenebris veritas": researching the archives of Kent's Anglican diocese' and will be at the Kent History and Library Centre at Maidstone. As those who work on the diocesan collections in Kent will know, these records for both the dioceses of Canterbury and Rochester are now under one roof at the Kent History and Library Centre, and the conference is intended to celebrate this development. Like the parish collections, these collections represent a wide range of records, and speakers at the conference will show what types of records survive and how historians may wish to use these sources for a wide variety of purposes.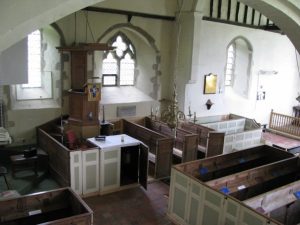 Interior – Stelling Minnis
For, as the Latin conference title says, 'the truth shines in the darkness', the text coming from the sign manual of William Somner snr, Registrar of the Diocese of Canterbury and notary public, which the conference organisers hope their speakers will produce by exploring some of the rich diversity of material in these collections. By so doing, the organisers hope that this 'light' – where perhaps there was previously darkness – will be of relevance to people interested in different sorts of history, including family, local, social, cultural, and ecclesiastical. Furthermore, several of the speakers are from the University of Kent or Canterbury Christ Church University, thereby bringing together Canterbury, Rochester and Maidstone. For example, Professor Kenneth Fincham (University of Kent) will discuss the Clergy of the Church of England Database, which he was instrumental in creating, while Professor Catherine Richardson (University of Kent) will explore how these archives can 'bring to life' the early modern household, a key feature of her new AHRC-funded project, 'The Cultural Lives of the Middling Sort: writing and material culture 1560–1660'. Going back in time, I'll be examining how useful wills are for revealing lay piety in late medieval Kent, and Dr Paula Simpson (Wren Library, Trinity College Cambridge), whom some of you may remember from the 'Tithe through the Ages' conference at CCCU in 2017 [ please see: https://blogs.canterbury.ac.uk/kenthistory/celebrating-canterbury-conferences-and-paul-bennett-mbe/ ], will be investigating 'Women and tithe in the ecclesiastical court records for the Diocese of Canterbury, 1501–1600'.
If this all sounds interesting and you would like to book, please call: 03000 420673, or alternatively email: archives@kent.gov.uk or visit the Kent History and Library Centre because I think it will be a fascinating day.