I'm going to concentrate on the Medieval Pageant this week because it has now become a major day in Canterbury's calendar, and once again Professor Louise Wilkinson led a team of staff and students from CCCU to bring family-friendly activities to those on the city trail, but first I want to bring other matters to your attention.
However, before I mention these, I just want to say that I have had great reports about all the CCCU medieval historians who have been at the International Medieval Congress in Leeds this week. I hope I haven't missed anyone out of this list of Louise and Dr Diane Heath, with Drs Harriet Kersey and Abby Armstrong, as well as Dean Irwin, Rebecca Jarvis and Lily Hawker-Yates, who have given papers on a whole range of topics – from jewels to Jews, oysters, noble women and prehistoric burial mounds.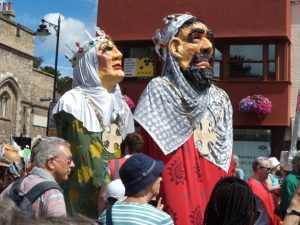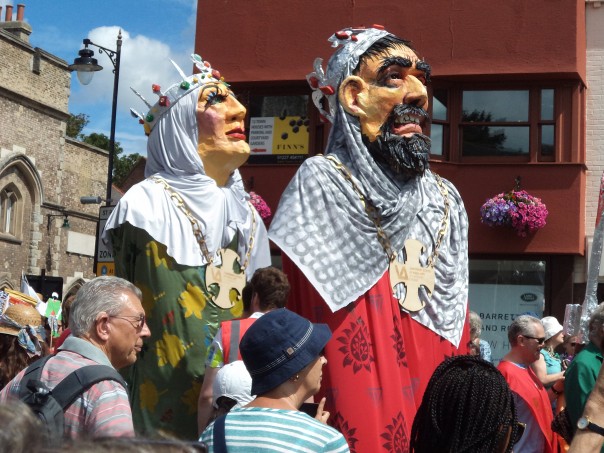 Giants seen in Canterbury
For the Centre, local history is an important aspect of our remit, and we are fortunate that Dr Gilliam Draper is a Visiting Research Fellow at CCCU, because Gillian is also the education officer for The British Association for Local History [BALH]. Over the last few months since Mari Taylor of Deptford Working Histories [DWH] contacted us, Gillian has been in correspondence with Mari about the feasibility of working in some way with this Deptford group that has held several events for the local community to empower them through knowledge of the area's history and development. As Mari indicated, this keen, small group have expertise on a range of topics concerning this Thames estuary community, which has had a long association with maritime, naval and industrial industries, as well as witnessing the arrival of people from many parts of the world. Also involved with Gill in this fledgling relationship between these local historians at Deptford and other organisations is Professor David Killingray, chairman of BALH and a retired modern historian from Goldsmiths who has worked extensively on Black History, as well as local history; and Professor Jackie Eales as joint director of the Centre.
Consequently, we all met this week to see if we could work out the best way forward. After an interesting discussion about what is known about Deptford already, what sources might be available and for what period of history, as well as what may be of particular interest to local people, the consensus was that it made most sense to work backwards from the recent past. At the close of the meeting, it was agreed that Mari and Gillian would have further discussions about the next steps, while Jackie and David thought they might be able to help through their various contacts, including at the University of London.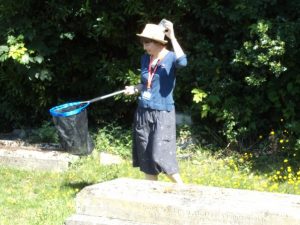 Ellie after ellusive butterflies
As mentioned last time, Drs Ellie Williams and Lesley Hardy (Archaeology and History) were due to hold their churchyard exploration days at St Martin's church in Canterbury this week. On Friday and Saturday (yesterday) Professor Peter Vujakovic (Geography) joined them. I caught up with them on the Friday, when Ellie was in hot pursuit of butterflies that had become especially active in the very warm weather. The team of students, former students and other volunteers, including from other departments at CCCU, had already caught a meadow brown and several other insects, but the white butterflies were proving tricky to catch.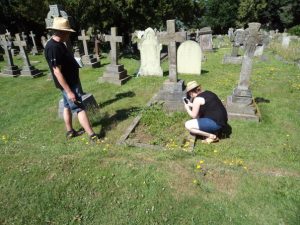 Peter and Alex identify an English plantain
Peter and Alex Walker (Hampshire Cultural Trust) were concentrating on the plants because one part of the survey was to assess the biodiversity to be found at the different graves. When I saw them, they were working out which plantains were present.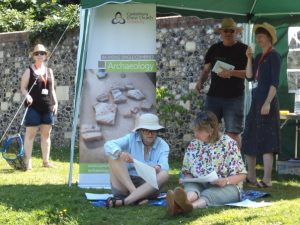 Lesley discussing the team's findings
There was also a board at the team's HQ by the churchyard wall to record birds seen and heard, and when I was there blackbirds and blue tits were the only species, although when I saw Peter yesterday he said he had seen a robin and others had heard a wren. So, all in all this had been a very worthwhile couple of days, and Lesley said that several visitors had asked the team whether they would consider doing something similar at other parish churchyards.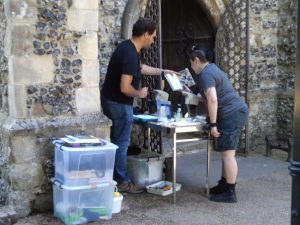 Identifying the hoverfly Episyrphus Balteatus – such species becoming very important as bee numbers decline
This brings me to the Medieval Pageant held yesterday, which included a sizeable 'medieval encampment' in the Westgate Gardens featuring knights, blacksmiths, and musicians, as well as 'medieval' activities at different venues across the city and beyond, from St Dunstan's in the west to St Martin's in the east. The majority of the CCCU team were based in St Paul's church with Canterbury Archaeological Trust [CAT], although Dean and Josh (postgraduates) had volunteered to help at the Westgate Towers and Michael (final year undergraduate) was at St Thomas's church in Burgate.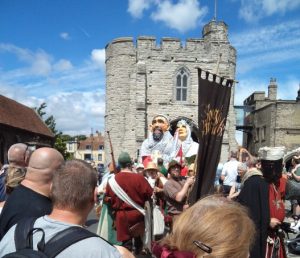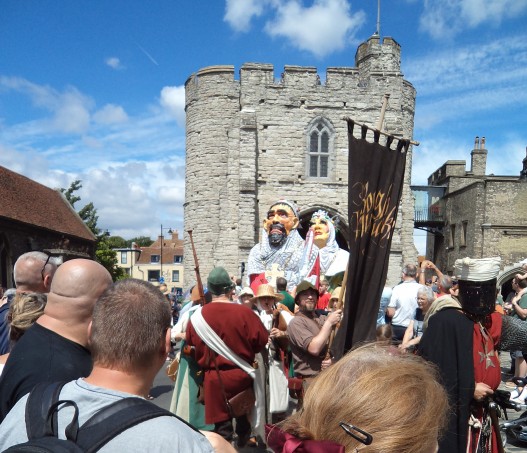 Emerging through the Westgate and on down the High Street
Having helped with the finishing touches to the display on St Paul's church and parish organised by Louise, with assistance from Cressida Williams (Canterbury Cathedral Archives and Library), I left Louise at the church and went to see the start of the Pageant as it emerged from the Westgate and headed into the city. I happened to be standing next to two people from Yorkshire, which shows that knowledge about this Canterbury event is reaching across the country. Leading the Pageant were the two 'knights', and interestingly this year the giant 'Henry II' was ahead of his 'queen', perhaps because the first action in the Westgate Gardens had featured Henry in the ascendancy (whereas the final scene back at the Gardens saw Queen Eleanor trump her forceful husband).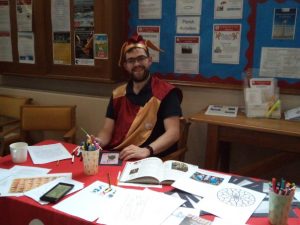 Dean getting into the spirit of the day
Leaving the Pageant to make its noisy way down the High Street, I returned to St Paul's church to join Louise and her team of student helpers (Hollie, Dan, Lesley and Alisha) who were offering 'young medievalists' (and the not so young) the chance to create their own 'stained glass window'. As you can see, among the not so young later in the day was Dean, whose choice of subject was a surprise to no-one who knows him! For those interested in the history of the church and parish, the exhibition proved a considerable draw, and this was complemented by CAT's display of old maps of Canterbury and a plan of the church produced during the archaeological investigation when the pews were removed and other developments took place.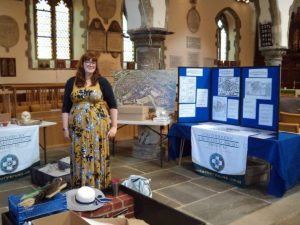 Annie all ready to welcome visitors
Annie Partridge, as CAT's Education Officer, had also brought along 'The Little Dig' which proved to be extremely popular and by the end of the afternoon all the 'finds' had been found and placed into the 'finds tray' ready to be examined by the various specialists. The stratigraphical wheelie bin was similarly investigated by 'young medievalists', an educational tool that made its debut almost a decade ago at the Heritage Lottery Funded project exhibition 'Canterbury England's Crucible' that also produced a booklet which is still on sale at bookshops today.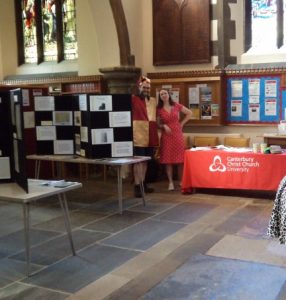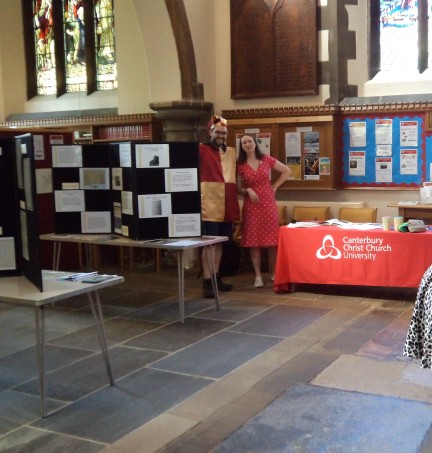 Louise and the CCCU exhibition on St Paul's
Among the over 150 people who visited St Paul's to get their City Trail map stamped and/or to look at the exhibits etc were Katie, Louise's daughter (her elder sister was showing rabbits at the Kent Show on behalf of their school), and Lee, Louise's husband, another stalwart of these Pageant days. Indeed, Katie was so organised this year that she visited every point on the City Trail and was still the first to claim her chocolate 'gold' coin – a remarkable achievement! Moreover, from the various comments and the expressions of interest, the Pageant would seem to have had another successful year, and, of course, next year is the big one because it will be Becket 2020.