Centre for Kent History and Heritage – looking back
As in 2016, probably the high point this year for the Centre was the History Weekend in early April, which in 2017 featured the Tudors and Stuarts and was a joint venture with the Canterbury Cathedral Archives and Library.
Running from Friday evening to Sunday lunch time, there were in total 20 'events', and, in addition to the various talks by eminent and well-known historians and the guided tours, there was a 'meet the object' workshop at the Beaney. This latter format was successful and Dr Jayne Wackett heroically enthused her audience about 'The Beast and the Beauty' while nursing a broken ankle. The events were coded under four themes and again those attending had booked using a pick-and-mix system. In total about 1200 tickets were sold, people coming from even further afield including Scotland, Ireland and the United States to hear speakers such as Dr David Starkey and Dr Janina Ramirez – in exceedingly packed lecture theatres. Other highlights included Dr Glenn Richardson's analysis of the 'Field of the Cloth of Gold', Imogen Corrigan's assessment of the life and works of Albrecht Durer and Dr Amy Blakeway's discussion on 'The Making of Britain'. If you missed this wonderful History Weekend, you can still gain a flavour of what occurred at: https://www.canterbury.ac.uk/arts-and-humanities/school-of-humanities/tudors-and-stuarts-weekend/tudors-and-stuarts-weekend.aspx
As before, the Centre was again able to make a substantial contribution to the Ian Coulson Memorial Postgraduate Award fund from the surplus generated by the Weekend, which is being used to help postgraduates studying Kent history topics – but more on that later.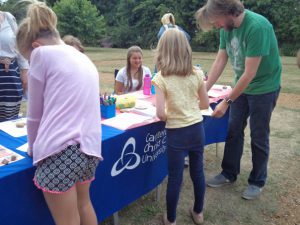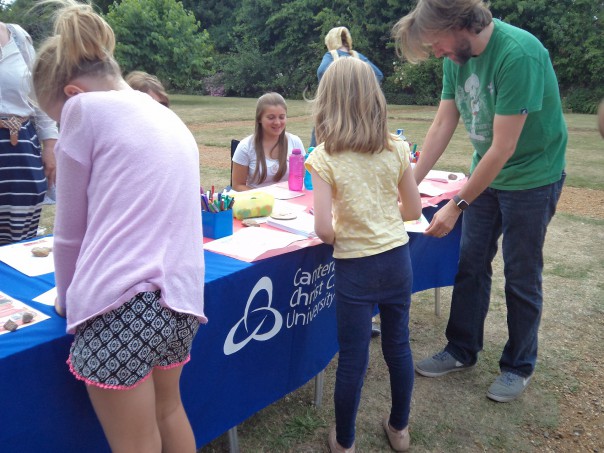 Inspiring the new generation of historians.
However, to go back to January 2017, the first event in the Centre's calendar was an international conference organised by Dr Diane Heath under the theme 'Gender, Place, Space and Thresholds'. This nomadic annual gathering of Gender and Medieval Studies scholars was highly successful and extremely varied in terms of the topics covered by speakers from as far away as Colorado University (Carla Cannalte), Tel Aviv University (Elnet Klafter) and the University of Tampere in Finland (Sari Katajala-Peltomaa). All the presentations I heard were very interesting but for me the highlight was Dr Daisy Black's one-woman dramatization of the Bayeux Tapestry: https://blogs.canterbury.ac.uk/kenthistory/gender-conference-at-canterbury/
Diane and Victoria Blud are in the process of editing a collection of essays from the conference proceedings and I believe they now have everything in except for the Afterword that Dr Leonie Hicks (CCCU), one of the keynote speakers, will be providing. This is a brilliant achievement and I shall look forward to its publication, hopefully in about a year's time.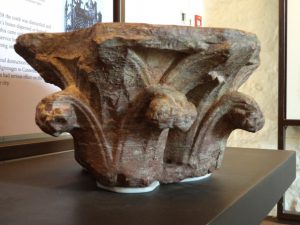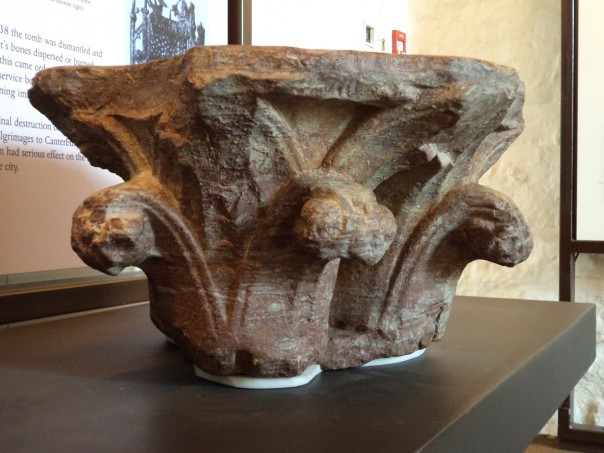 Probably from Becket's shrine – previously in the Canterbury Heritage Museum, but where now?
Another conference that attracted international scholars was one organised by two of Professor Louise Wilkinson's postgraduates, Harriet Kersey and Amy Armstrong. Their conference on 'Family and Power in the Middle Ages' was similarly highly successful and featured a very wide-ranging programme of sessions and keynote speakers. For those of you who missed it, here is a short report: https://blogs.canterbury.ac.uk/kenthistory/canterbury-and-huddersfield-medieval-family-power-and-religious-material-culture/
It is hoped that other postgraduates will follow their example and some of those involved in researching Kent history topics are considering the possibility. In part, this is in response to the ongoing series of seminars that I have been holding with the postgraduates throughout the year that look at shared theoretical and practical issues surrounding research approaches into Kent history. Some within this group have received financial help under the Ian Coulson Memorial Postgraduate Award fund, including a new Masters student who has been a student helper at many of the Centre's events over the last two years while an undergraduate. Andrew Leach is a very good example of the attempt to attract potential postgraduates to the study of Kent history. As in 2016, the Award winners received their certificate and financial support from Dr Keith McLay, the Dean of the Faculty of Arts and Humanities, at the Michael Nightingale Memorial Lecture. This lecture took place at the start of the autumn term and was given by Tony Redsell OBE, an expert on hop farming and production from Faversham. As a joint venture between the Centre and the Agricultural Museum, Brook, it attracted a sizeable audience who heard Tony explain in considerable depth the development of hops: past, present and future: https://blogs.canterbury.ac.uk/kenthistory/hops-in-history-nightingale-lecture-and-ian-coulson-awards/
Looking at other joint ventures, 2017 saw a further cementing of the relationship between the Centre and the Friends of Canterbury Archaeological Trust because Dr Ellie Williams joined me on the FCAT committee. Ellie is an expert on osteoarchaeology, and, as well as being a member of the 'Finding Eanswythe' Heritage Lottery funded project with Dr Lesley Hardy and Dr Mike Bintley from CCCU and Dr Andrew Richardson and Annie Partridge from CAT, she will be working with the Centre next April [see next week's blog for more details].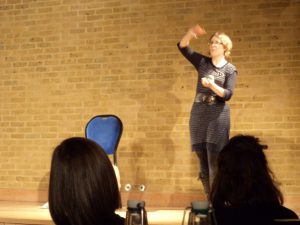 Dr Daisy Black's one-woman dramatization – brilliant!
To return to this year and last Spring, the Centre with FCAT held a monthly series of evening lectures, including an evening symposium in March on 'Normans in the Landscape' that featured three speakers from CCCU: Richard Eales, Dr Paul Dalton and Dr Leonie Hicks. Thereafter, Diane and I also gave lectures in this series, Diane on the bestiary, while I explored what it was probably like for those arriving on pilgrimage in late medieval Canterbury. Since then there have been talks on various topics, including the archaeology of the Augustine House (CCCU's library) and adjoining sites by Dr Richard Helm (CAT) and Clive Bowley's assessment of Canterbury medieval timber-framed buildings.
Moreover, following financial support from CCCU organised by Professor Jackie Eales, Dr Jake Weekes demonstrated the Trust's new digital mapping project that will eventually cover 'Twenty Centuries' of the city's history to historians and archaeologists from CCCU and members of the Trust and FCAT in March. Then in the autumn Jake was again heavily involved in an archaeological staff-student seminar at CCCU that, as well as Jake, featured Lisa Duffy, a Masters student at the University of Nevada, Las Vegas, who like Jake is working on and extremely interested in the funerary landscape of late Roman/early Anglo-Saxon Canterbury. To give you an idea about their collaboration, do have a look at this earlier blog: https://blogs.canterbury.ac.uk/kenthistory/roman-canterbury-and-the-american-southwest-similarities-and-differences/
Keeping with the idea of collaboration, the Centre has been working with a growing number of organisations in Canterbury and across Kent. Louise Wilkinson again led the Centre's contribution to the Medieval Pageant in Canterbury last July, and, rather than being in the castle grounds, this year we were based in the Greyfriars Garden with a troop of re-enactors. This was another very successful day, recognised in the late autumn when the Medieval Pageant received a Kent Tourism Award, and this city attraction is likely to grow and grow, especially as we head towards 2020. Indeed, Louise is very heavily involved in the organising and co-ordinating of the 2020 Thomas Becket celebrations involving the city that are likely to include working with Lincoln – an exciting prospect! For those who missed the Medieval Pageant, here is a taster: https://blogs.canterbury.ac.uk/kenthistory/medieval-pageant-and-centres-future-events/
Other collaborative projects (see a whole range of Centre blogs from 2017) have involved Centre staff giving lectures for the Kent History Federation's 1 day conference; for the Guild of One-Name Studies' day conference; for various colloquia organised by the London Medieval Society; for Faversham Town Council with respect to its new medieval history centre near to the market square (the venture has also received a CCCU funding award); for a Chatham Historic Dockyard conference; for Medieval and Early Modern Studies at Kent University in collaboration with Rochester Cathedral Library; another collaboration with MEMS but this time with Canterbury Cathedral Archives and Library for 'Picture this …', and for 'The Canterbury Journey' team based at Canterbury Cathedral. This last venture is very close to Diane Heath's heart because it involves the 'Crypt Creatures' – fabulous beasts and other stone carvings in the crypt that were the subject of a lecture by Professor Sandy Heslop (UEA), and then guided tours of these stone carvings led by Diane, Dr Emily Guerry from Kent University and me. To an extent Diane reprised these crypt tours during The Black Prince conference organised by 'The Canterbury Journey' team in November, while I chaired one of the conference sessions.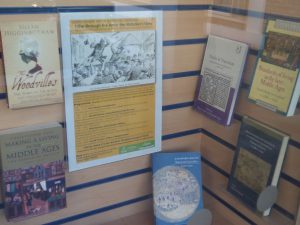 Book display at the CCCU bookshop for the Tithe conference.
Getting back to conferences and other events organised by the Centre to bring recent research to an audience beyond the university, June was a particularly busy month. Firstly, Dr Martin Watts organised a half-day conference followed by a guided walk through Canterbury to mark the 75th anniversary of the June Baedeker Raid on the city. Among the speakers were Professor Kevin Ruane (CCCU) and Jordan Newton, a 3rd year undergraduate from CCCU. This was a joint venture with Canterbury Cathedral Archives and Library who provided an exhibition of photographs from the archives showing the aftermath of the raid. The afternoon walk took place on a very hot day, but Paul Bennett (CAT) kept his audience enthralled by his detailed knowledge of the damaged inflicted and the archaeological excavations that took place among the ruins. For some evocative images: https://blogs.canterbury.ac.uk/kenthistory/remembering-the-baedeker-raid-on-canterbury/
At the end of June, the Centre held a one-day conference on 'Tithe through the Ages: the Historian's View'. This included eminent historians such as Professor Christopher Dyer (University of Leicester), CCCU's Dr John Bulaitis, Dr Paul Simpson (Trinity College, Cambridge) and Dr Ben Dodds (University of Durham) and Elizabeth Finn (Kent History and Library Centre archivist), who all highlighted the new research that is being conducted in this field and the variation of approaches that historians' can apply to these sources. For a round-up of the day, please refer to: https://blogs.canterbury.ac.uk/kenthistory/celebrating-canterbury-conferences-and-paul-bennett-mbe/
In the autumn, as well as the 'Crypt Creatures' evening and workshop on the following day, the Centre joined forces with Professor Peter Vujakovic (Geography) and Dr Alec Forsyth (Botany) to hold a 1-day Garden History workshop. This bringing together of people from different subject areas at CCCU was extremely popular with those attending, as was the mix of lectures and workshops, which involved people either designing an Elizabethan garden or grafting their own plant (either tomato on to potato or vice versa). The audience was also treated to a 17th-century detective story by Dr Barrie Juniper from Oxford University and if you want to see more about this, here it is: https://blogs.canterbury.ac.uk/kenthistory/tradescants-canterbury-and-garden-history/
The Centre's final event of 2017 was Paul Bennett's second part of his inaugural professorial lecture in December that he dedicated to Lawrence and Marjorie Lyle, two stalwarts of the CAT and major friends of the Centre. As always, Paul provided fascinating insights into the archaeology of Canterbury and Kent, but he also looked in some detail at north Africa where over the decades he has undertaken a great deal of archaeological work.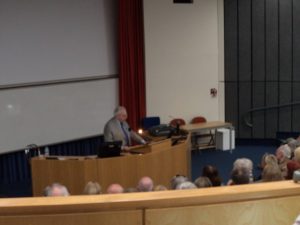 Dr David Starkey at the Tudors and Stuarts History Weekend.
In addition, the Centre has been represented at meetings involving heritage at Maidstone, Brogdale near Faversham, Whitstable, Ramsgate, Sandwich, Dover and Folkestone, as well as Canterbury. Even though this should sound a note of optimism in the state of the county's history and heritage, it has not all been positive and Canterbury City Council's appointment of a Heritage Champion, while to be applauded, was very 'interestingly' timed to coincide with the Council going public on its intention to shut the only museum in the city dedicated to telling Canterbury's story, the Canterbury Heritage Museum in the Poor Priests' Hospital. Quite where this is going to end is still far from clear because the Marlowe Theatre has now taken over use of the building, but this loss of a dedicated Canterbury Museum was hardly auspicious in the year that the highly regarded, academically important 68th International Sachsenymposion came to Canterbury – indeed almost to the week of the Museum finally closing its doors! Please see: https://blogs.canterbury.ac.uk/kenthistory/saxon-history-linking-canterbury-to-continental-europe/
And with this I'll close my round-up of the Centre's activities in 2017 and next week I'll review where next.