In 2018, we will be heading back to the Middle Ages for our Medieval Canterbury Weekend from the 6 to 8 April. Regarding the lectures and tours, we will start on the Friday evening as usual with a lecture by a leading expert in his/her field.
This time it will be Leonie Seliger, an authority on medieval stained glass and its conservation who leads the stained glass team at Canterbury Cathedral. She is a truly excellent speaker whose passion for stained glass is infectious and I'm sure her audience will have a fantastic evening. The subject of her talk is 'Conserving Canterbury's medieval windows in the 21st century', and she will look at how our approaches to preserving the ancient glass have changed over time as we learn more about the original production process and how the glass 'ages'. Leonie will discuss various modern and traditional techniques, and the materials that are helping Canterbury Cathedral's conservators with their task.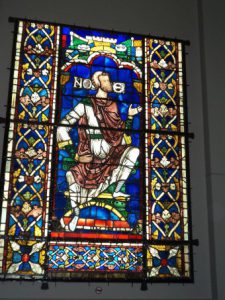 Noah – Canterbury Cathedral.
For those who are interested in medieval books and manuscripts, they are in for a major treat. As well as Professor Richard Gameson's assessment of the pigments used by Canterbury's illustrators, including lapis lazuli and the even more exotic Egyptian blue, they can watch as Professor Michelle Brown explores the role played by Canterbury and the South East in shaping the artistic and cultural development of Britain from the Celtic Iron Age to the Norman Conquest. Michelle Brown's talk begins at 11.30 am and Richard Gameson's lecture is after lunch at 1.30 pm. And if you want something different there are plenty of other speakers, including Dr David Starkey, Dr Helen Castor and Dr Marc Morris
On Sunday there will be further treats. Among these will be Dr Janina Ramirez who will consider the power of particular early medieval saints' cults in the context of Canterbury. Keeping with saints, Dr Emily Guerry will take us to Paris and the Sainte-Chapelle where she will explore the visual culture of this royal chapel in Paris commissioned by King Louis IX to house the Crown of Thorns relic and completed in 1248. The Weekend will conclude on the Sunday afternoon where the choice will be between Professor Carenza Lewis' examination of the way the public are helping to shine new light on the impact of the Black Death through archaeological excavations, and Dr Michael Jones' re-evaluation of the character of the Black Prince – wholly appropriate for Canterbury!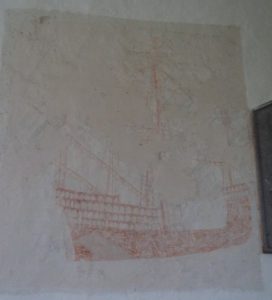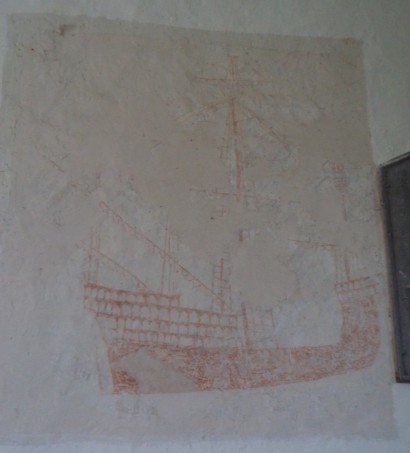 Ship wall painting – Snargate church
As a way of engaging younger historians, the Dr Diane Heath and I are working with Waterstones and The Canterbury Tales visitor experience to provide events during Friday 6 April. These have yet to be finalised but it is envisaged that on the Friday morning Saturn's Fury', a puppet show involving a poor dragon who has lost his roar and his mission to recover his voice, will be in residence at Waterstones. Then in the afternoon there will be medieval story-telling, including daring knights, wandering pilgrims and maybe even a visiting elephant – exciting episodes about medieval life, with a Canterbury twist. To complete these young-people centred events, on the following Saturday 14 April Dr Ellie Williams is intending to run a workshop on skeletons at Canterbury Christ Church. More details will be available soon, hopefully by early February and for those interested in the Medieval Canterbury Weekend, please do look at the website: www.canterbury.ac.uk/medieval-canterbury
However before early April there will be several talks taking place in Canterbury involving the Centre and its staff. Among these is the Annual Becket Lecture which will take place on Tuesday 23 January at 6pm in Powell Lecture Theatre. This year the speaker will be Dr Marie-Pierre Gelin (University College London) who will be examining 'Thomas Becket and his Predecessors at Canterbury'. This promises to be a fascinating talk, do come along and the lecture is free.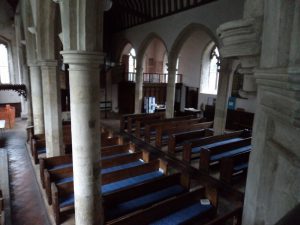 Nave – Rolvenden church in the Weald
There are also several joint Centre and Friends of Canterbury Archaeological Trust [FCAT] talks scheduled for the next few months. These include Ross Lane (CAT) on 25 January when he will be discussing the Trust's excavations in the precincts of St Alban's Cathedral, and Paul Bennett's annual Frank Jenkins Lecture on the work of the Trust in the last year will be on Saturday 25 February. March will bring Alison Hicks' assessment of the Trust's exciting new excavation on the site of Slatter's Hotel not far from Canterbury city centre and in May Dr Lesley Hardy and Dr Ellie Williams (both of CCCU) will provide insights into their findings during the first phase of the 'Finding Eanswythe' project. In addition, I will be exploring mayor-making and other civic rituals at the Kentish Cinque Ports on Wednesday 10 January for the Canterbury Historical and Archaeological Society [CHAS] at Canterbury Christ Church. If any of these look interesting, please refer to the Centre's 'Future Events' website: http://www.canterbury.ac.uk/arts-and-humanities/research-kent-history-and-archaeology/events.aspx or that of CHAS.
Dr Andy Seaman will be bringing the Spring 2018 symposium of the Medieval Settlement Research Group to Canterbury Christ Church for the weekend of 21-22 April. The theme will be 'Woodland and Settlement' and among the speakers will be Dr Gillian Draper whom some of you may remember (and know) from Early Medieval Kent, 800–1220 – the book and the conference. Gillian will be discussing settlement in the Weald, that great tract of forest that stretches from Kent in the east to Hampshire in the west.
May and June will bring further Centre events. On Saturday 12 May the Centre will be hosting the Kent History Federation 1-day conference on 'Tudor and Stuart Canterbury'. The programme will feature talks given by amongst others Professor Catherine Richardson on 'Everyday life in Elizabethan Christchurch Yard'. She has just published with Dr Tara Hamling a book that provides fascinating insights into the homes of the 'middling sort' in early modern England. One of the other speakers will look beyond the city, for Professor Jackie Eales will consider 'Canterbury and the wider world, 1600–1700'. After lunch and Avril Leach's consideration of William Somner, Canterbury's amazing 17th-century antiquarian, participants will go on one of six guided tours to explore aspects of Tudor and Stuart Canterbury before returning to Old Sessions to have tea and cake – an important tradition!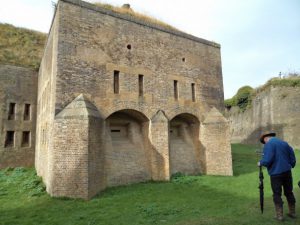 Keith Parfitt (CAT) discusses the Western Heights defences at Dover
In June the Centre will turn its attention to 'Maritime Kent through the Ages' with an open lecture and wine reception on the evening of Friday 23 June, to be followed by a 1-day conference on the Saturday. Arrangements are still being worked on but among the speakers for the Saturday who have confirmed are Dr Gillian Draper (University of Kent), Professor Maryanne Kowaleski (Fordham University, New York), Dr Christopher Ware (University of Greenwich) and Dr Martin Watts (CCCU). This is another joint venture involving the Centre, this time with the Royal Museums Greenwich (Stuart Bligh) and Kent Archaeological Society (Dr Elizabeth Edwards), and the intention is to produce a book under the same title in the next year or so. More details will be available by early February and I'll keep you posted regarding progress.
The programme of events for the second half of 2018 is still in its infancy but there are a couple of dates in the diary so far. The first is building on the successful collaboration in 2016 because the Place Name committee of the Kent Archaeological Society will hold a joint conference with the Centre on Saturday 3 November at Canterbury Christ Church. Dr Paul Cullen, that well-known expert on Kentish place and surnames will again give two talks, but the rest of the day has yet to be finalised.
Of course, 2018 marks the centenary of the ending of the First World War and Dr Martin Watts is busy organising a day of events to commemorate this momentous event. He will be enlisting the assistance of staff members from across the Faculty of Arts and Humanities, as well as a number of student volunteers. This is scheduled to take place on Friday 9 November and will focus on St Gregory's as a case study because the deconsecrated church is now Christ Church's Music Centre.
More information on these and other lectures and presentations will be available over the next couple of months, and some of these events look especially exciting.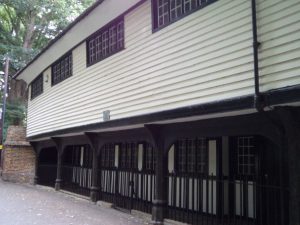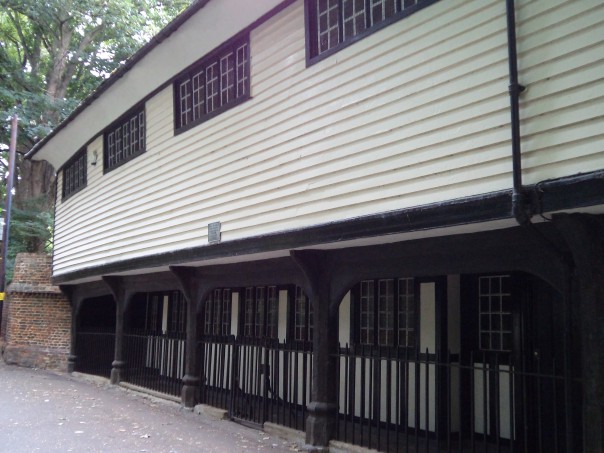 Faversham's first grammar school
Nevertheless, the Centre does not just organise public events, although this is very important and valuable, and in addition we are involved in a growing number of history and heritage projects across the county. I mentioned some of these last week, and 2018 may bring some to fruition. I'll just mention a few here but as we go through the next year others will get their share of the limelight. The largest of these, at least in the short-term, is the production of a 'Medieval Faversham' exhibition for Faversham Town Council in their new exhibition space. Having received an award from the university, we have sufficient money to conduct the necessary research and to produce the exhibition displays. We at the Centre: Professor Louise Wilkinson, Dr Diane Heath, Harriet Kersey and I, are hoping to meet those at Faversham next week so that we can get started. Although partly dependant on when the building work at the Council's exhibition hall is completed, we are still hoping to have the exhibition up for the Easter school holidays.
Keeping with the Middle Ages, I am also involved in the designing of a set of information boards at Eastbridge Hospital in Canterbury. Diane Heath is similarly keen to develop the dissemination of knowledge about other medieval features in Canterbury and Rochester to a wider audience, and such projects look very exciting. Collaboration with the King's School has increased over the last year or so and over the next couple of months I'll be working with staff at the school and at Canterbury Cathedral Archives and Library to hold three workshops for various groups of sixth-formers.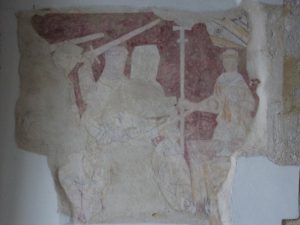 Murder of Thomas Becket – Brookland church
Finally, on a larger scale Louise Wilkinson is chairing a committee that is planning a series of events to mark the 850th anniversary of the murder of Thomas Becket, and the 800th anniversary of the Translation of his relics to the new shrine in the Trinity Chapel. These events will take place in 2020, but in the mean time she is heavily involved in the annual 'Medieval Pageant', the Centre's contribution in 2018 is likely to be centred on the Greyfriars Gardens again.
Thus, I hope you can see that the Centre is not resting on its laurels but is gearing up for a packed year which I hope you will come and share with us in 2018.