Hops in history – Nightingale Lecture and Ian Coulson Awards
This week has brought the start of the academic year, I hope the final touches to the Medieval Canterbury Weekend 2018 webpages so that they can go live next week and the Nightingale Lecture. This year was the sixth and the third to be held jointly by the Centre and the Agricultural Museum, Brook at Canterbury Christ Church.
Additionally, the evening now marks the presentation of certificates to Ian Coulson Memorial Postgraduate Award winners and this year there were three winners. The first Awards were presented last year at the Nightingale Lecture and it feels as though this is now set to be an annual occurrence because the Centre's events in 2016-17 have added to the fund, a situation that I feel Ian would be delighted about if he hadn't died at the tragically young age of sixty (if you want to know more about Ian and the Award do look at the Centre's website). The three winners this September are Jacie Cole, Lily Hawker-Yates and Andrew Leach and, as well as receiving their Award from Dr Keith McLay, the Dean of the Faculty of Arts and Humanities, they also met the Lord Mayor of Canterbury at the wine reception before the Lecture. I'll just provide you with an idea of what they are doing for their research because all have very interesting topics. Jacie is exploring the impact of food and rationing on rural communities in Kent during the Second World War. Food rationing was a key element in the Home Front story. However, this was mainly concentrated around areas of dense population rather than the countryside. Jacie's research is focused on the rural farming communities of Kent and will include oral history interviews as an important element of her study.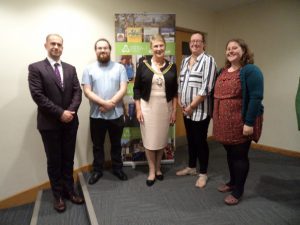 The Lord Mayor, the Dean and the 3 Award winners.
Lily's doctoral research explores interpretations of burial mounds in medieval and early modern England. Recently she has been focusing on the 1100s to 1300s, looking at amongst other things the burials of Hengist and Horse, and discoveries of treasure, fairies and even Christian saints buried in barrows. Her research aims to show that medieval people were interested in these monuments and engaging with them in a more nuanced and diverse way than they have previously been given credit for.
Both Jacie and Lily are continuing doctoral students, but Andrew has only recently started his Masters where his project will focus on the dynastic fortunes of the aristocracy from the outbreak of the Anarchy until the closing of the second barons' war, and how their fortunes were linked to their involvement in local and national political life. One of his case studies will be the Crevequer family, whose members were heavily involved in Kent, holding lands and titles including Leeds Castle and the office of Warden of the Cinque Ports. And in terms of local interest, Hamo de Crevequer was heavily involved as a benefactor of Eastbridge Hospital, his influence spreading down the hierarchical pyramid to include several grants from his tenants in the Blean area.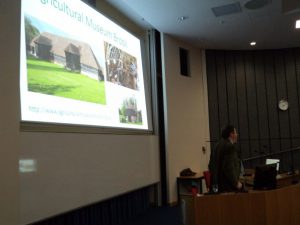 John Nightingale and the Agricultural Museum, Brook
To return to the main event of the evening, after the Awards Dr John Bulaitis (CCCU), who chaired the proceedings, called on Dr John Nightingale to give a brief explanation about why it is called the 'Nightingale Lecture'. As John explained, Michael his father had been a student at Wye College after WWII and while there had become very interested in agricultural history. He had moved on to other things during his career but when he heard that the College's magnificent collection of horse-drawn agricultural machinery was in danger of being broken up, in addition to other changes, he was pivotal in the formation of the Wye Museum Trust to keep the collection together and to house it in the great late 14th century barn at Brook. Much of this work was completed while he was extremely ill and it is fantastic that this gem of an agricultural museum is still an important part of Kent's heritage. However, being somewhat off the beaten track such events as the Nightingale Lecture provide publicity and a wider profile for the museum, and, as it happened, other Trustees had been promoting the museum at the annual Kent ploughing match. For those interested in more information about the museum, please look at the website: http://www.agriculturalmuseumbrook.org.uk/ which includes a gallery of stunning photos.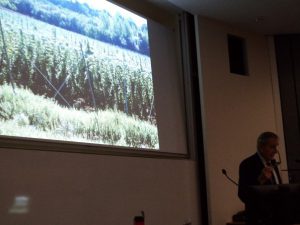 Tony Redsell and a Kent hop field.
Having thanked John Nightingale, John Bulaitis introduced Tony Redsell to the expectant audience, comprising students, staff, most of the Trustees and members of the public, including people from Deal, Thanet and Faversham, and numbering in total well over a hundred. This turnout was probably not surprising because, as John said, Tony is one of Britain's leading hop growers. His contribution to hop growing and to the industry is legendary because in the early 1980s he was instrumental in the creation of the British Hop Association, and he remained its chairman for four decades, finally retiring in 2012. He farms extensively in Faversham, Canterbury and Thanet and has seen the Association through many guises and changes including the significant and protracted withdrawal of public funding for scientific hop development and research. As a result, Tony was instrumental in saving the hop development and research programme in 2006 when DEFRA withdrew all funding, and, alongside Peter Darby, Tony developed a grower-funded unit Wye Hops, which means that today there are now twenty-seven commercially-grown British hop varieties whereas in 1998 there were only thirteen.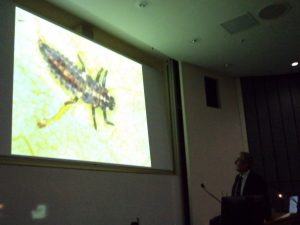 Ladybird nymph – one of the 'good guys'!
After warm applause, Tony began his lecture noting that hop residues have been found in the 9th-century Graveney boat but what is not known is whether the hops were being brought in to Kent, were going out or whether hop bines were being used for something unrelated to their later use. For in the Middle Ages England was the home of ale drinkers, albeit beer appears to have been brought in from the continental mainland by the end of the 14th century. In the following century enterprising brewers did turn to beer production but drinkers remained relatively conservative and ale was still being brewed well into the 16th century. However for the brewers, beer offered considerable advantages, most particularly the much greater keeping capacity compared to ale which goes off fast – so needs to be drunk! This meant they could brew larger batches, moving towards a much more commercially viable business model. Kent was at the forefront in many ways due to the prevalent agricultural system of small enclosed fields; access to expertise, especially from the Low Countries; suitable soils, and wood – for hop poles and charcoal. Thus, it is perhaps not surprising that the first hop garden in the early 1520s was in Kent.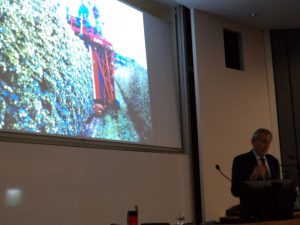 Low level trellis hops – aids mechanization
Moving on in time, Tony mentioned that Daniel Defoe had reported in 1730 the very large acreage of hops grown around Canterbury and this had been repeated across many parts of the county, and the country because at its peak hop growing was taking place in forty English counties. Nevertheless, such boom times did not last and among the issues facing the industry were pasteurization, the hop tax and changes in fashion among drinkers, who turned to lighter beers such as Indian Pale Ale. Consequently, by the late 19th century a depressed market and competition had badly hit growers and things didn't improve with vast acreages of hops ploughed up in succeeding decades. This depression had knock-on effects well beyond growers because a considerable number of allied industries – including bin makers, basket makers, hop pole makers – relied on hop production for much of their income.
Nor did the mid 20th century see a resurgence of the industry because in 1950 Germany and Britain were each growing about 20,000 acres but while the British Hop Marketing Board was very organised, it was also 'very gentlemanly' rather than commercially savvy. This allowed the Germans to seize export opportunities leading to a marked increase in their acreage down to hops, whereas the acreage has fallen away in Britain. As Tony also explained in some detail, British hop growers have also had to contend with serious pest infestations (including red spider, aphids and flea beetles) and fungal infections, verticillium wilt being the most devastating.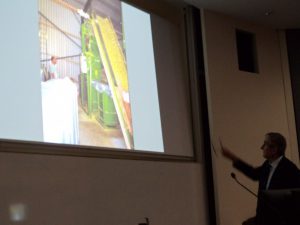 Tony pointing out modern hop packing
As Tony said, the use of pesticides and fungicides is one way but another weapon against such problems is the breeding of tolerant hop varieties. Wye College started a breeding programme in 1906 but a hundred years later with no government money the growers took the matter in hand and Dr Peter Derby has spear-headed the programme of hop breeding under the Association. Another spur to such breeding programmes has been the rise of microbreweries and the desire for new beer flavours which respond to and create changes in fashion. A further impetus has come from the desire to increase mechanization, especially for the labour-intensive harvesting (and stringing), albeit hop bine selection is still done as it was 500 years ago. Yet trying to find varieties that fulfil all these criteria continues to pose challenges because some low trellis hops are not to the brewers' taste and some varieties do not stay resistant for very long.
Interestingly, Tony said he still grows two 19th-century varieties East Kent Golding and Fuggle, and these go for export, a measure of the international nature of the trade in hops. For like the growing, mechanization has brought major changes to the ways hops are dried, stored and sold on to merchants who then supply the few remaining breweries. These great multinational combines source their hops worldwide thereby dominating the industry, and below them the family brewers such as Faversham's Shepherd Neame are an amazing survival of an earlier era, and below again are the generally very small microbreweries. Yet, as Tony concluded, the market is exceedingly bullish today, but as he has found since he started working in 1948, the over-riding characteristic of the hop market is volatility – makes forward planning very precarious!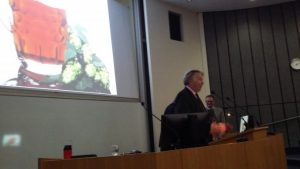 George thanks Tony for his splendid lecture (photo Diane Heath)
The audience gave Tony a rapturous round of applause and he then took several questions before John Bulaitis called on George Jessel, a Trustee who also farms a large acreage in east Kent (and is currently High Sheriff of Kent) to give the vote of thanks. Drawing the event to a close, John said it was excellent to see such a large audience not only to enjoy Tony's lecture but to see the immergence of new scholars interested in the county's history who are being supported by Awards at Christ Church. This sentiment was seemingly echoed by the audience who gave generously in support of the Agricultural Museum, Brook and the Centre, and next week will be a report on the Centre's next event, the Garden History Study Day.