The Gothic Novel Then and Now: An Undying Love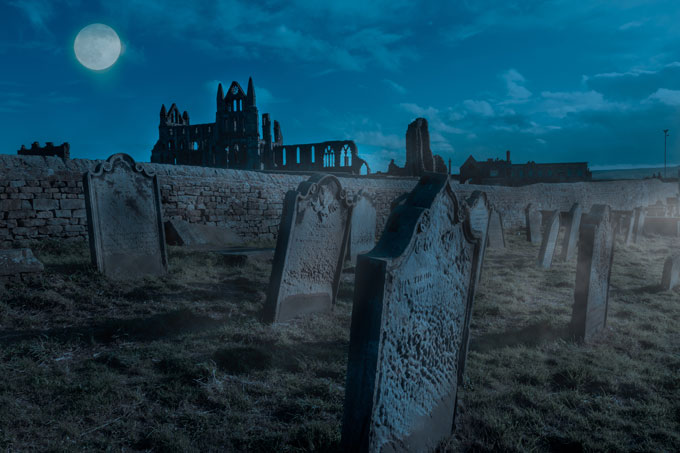 Dr Susan Civale, Senior Lecturer in English Literature, explores Gothic fiction through the years as we approach the Halloween holiday.
If you have a soft spot for ghost stories, haunted houses, and dark secrets, then you're not alone. Not only does the readership of gothic fiction (as well as its screen and stage counterparts) span generations, genders, and geographical locations, but the craze for gothic has been going strong for over 250 years. Ever since Horace Walpole's The Castle of Otranto – the first English novel to tag itself as 'gothic' – appeared in 1764, gothic novels have proved as popular as they are profitable.
Gothic literature owes its longevity, in part, to its ability to tap into our deepest human fears and fantasies, both at the personal and political levels. The gothic fictions of Walpole and his eighteenth-century successors took place in antiquated buildings (gothic originally meant, simply, 'medieval'), such as mansions, castles or crypts, in which were hidden secrets of the past. The characters entering these spaces were then haunted, psychologically or physically, perhaps by supernatural beings, as the unresolved crimes, conflicts, or curses of a previous generation threatened order and safety in the present. As such, early gothic pits an irrational, primitive, or corrupt past against a rational, intelligible, and morally sound present. Embedded in this form can be found the personal (later Freudian) quest to overthrow the father, and the revolutionary urge to overturn an unjust system, along with the guilt and doubt that often accompany our greatest desires. As women began to write gothic, too, they adapted this structure to describe heroines who strove to liberate themselves from, but also placate, oppressive patriarchal powers.
Though the gothic novels of Horace Walpole, Ann Radcliffe, and Matthew Lewis were the bestsellers of the eighteenth-century literary marketplace, this mode has developed far beyond its earliest incarnations. Still, many modern gothic narratives bear traces of their predecessors. This Halloween, if you're in the mood for something spooky, why not reach for a classic? The following comparisons will point you in the right direction.
If you like Stephenie Meyer's Twilight (2005), try Emily Brontë's Wuthering Heights (1847).  It's no coincidence that Bella Swan keeps mentioning this Victorian masterpiece – she must have recognised herself in Catherine Earnshaw, another passionate young woman who has to negotiate a 'forbidden' love.  Both novels tell a coming-of-age story in which the heroine must choose between conformity to social norms and an all-consuming romantic attachment.
If you like Susan Hill's The Woman in Black (1983), try Mary Wollstonecraft's The Wrongs of Woman (1798).  Hill's novel finds its natural precursor in Wollstonecraft's politically-inspired fiction, both of which revolve around the horrific consequences of separating a mother from her child.
If you like Robert Louis Stevenson's Strange Case of Dr Jekyll and Mr Hyde (1886), try James Hogg's The Private Memoirs and Confessions of a Justified Sinner (1824).  Hogg's use of the gothic trope of 'the double' to explore the duality of good and evil became a major influence on Stevenson's late Victorian classic.  Establishing a tradition of Scottish gothic, Hogg and Stevenson portray characters in competition with an alter ego who represents their dark side, and in doing so they raise perplexing questions about morality, selfhood, and social legitimacy.
If you like Bram Stoker's Dracula (1897), try Joseph Sheridan Le Fanu's Carmilla (1871-2).  Dracula may be the most famous vampire novel, but it wasn't the first.  As the lesbian revenant Carmilla preys upon the unsuspecting narrator, Laura, the two women develop an intimacy in which fear, pain, and attraction combine powerfully.  Stoker incorporates some of these themes into his gruesome tale of the ruthless vampire Count and the team who fight his undead curse.
If you like Sarah Waters's Fingersmith (2002), try Wilkie Collins's The Woman in White (1859).  The trope of the double resurfaces in these novels, in which two young women are linked in appearance, and eventually switch places.  Collins's hit crime fiction, the first of the so-called Victorian 'sensation' novels, and Waters's imaginative reinvention of it, explore female identity, sanity, and sexuality.