We hope you have had a good Summer break and are looking forward to the new academic year. To help you prepare, here is an update on all the changes that have taken place and what's new within our campus libraries over summer months.
Keeping each other COVID safe in the new academic year
You'll notice big changes to the physical appearance of our libraries and a relaxation of the Covid-19 measures that were in place before the summer. One-way systems have been removed, relaxation of social distancing measures means all the PCs and study spaces are accessible. It also means you no longer need to book in advance of your visit to the library.
We have removed the 72-hour quarantine period on returned and handled items. It means items will be returning to our shelves quicker without the three-day delay. The green boxes for handled items have been removed and you'll simply be able to place books you don't want to borrow back on the shelves.
That's not all self-service machines, lockers, most things are back to how they were before the pandemic. For more information on the relaxation of Covid-19 measures you can read blogs about Augustine House or Salomons Library.
Show you care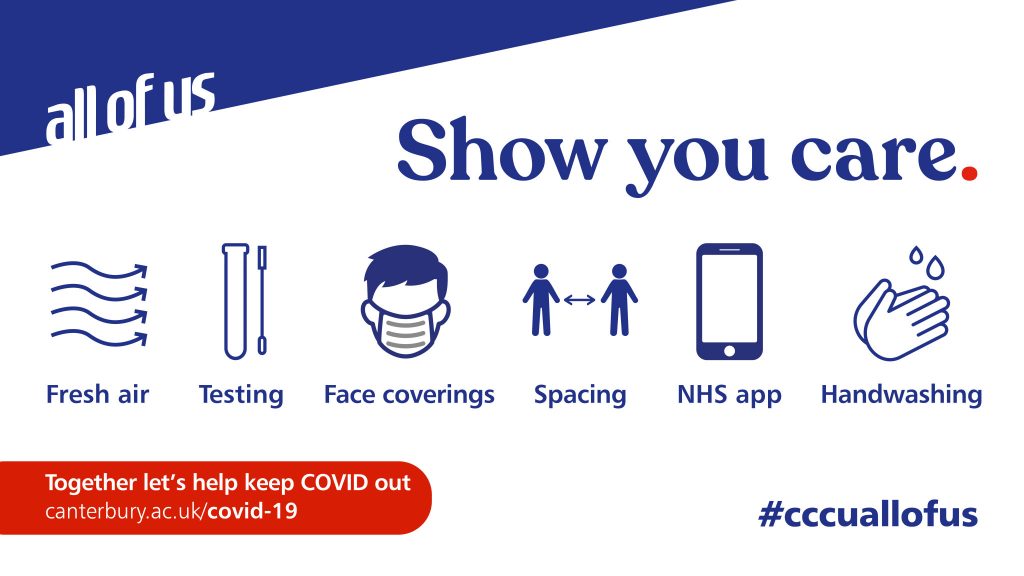 You should read the University's latest Covid-19 guidance and keep to the eight main principals when using the library. These include
Keep your distance and respect each other's space where you can.
Face coverings are no longer mandatory, except where required in specific areas or for certain activities, but remain highly recommended when moving through our libraries, especially in busy areas. Face coverings help protect you and others.
Wash and sanitise your hands regularly and use the available wipes to clean down any shared equipment before and after use. Housekeeping will continue to clean frequently touched surfaces during the day and buildings overnight
At Salomons Library please keep the windows open. The University has reviewed room ventilation quality when seated, and maximum room occupancies are now based on these ventilation assessments, in line with Health and Safety Executive guidance.
At Augustine House keep the floor ventilation vents free from bags and other obstructions.
We've introduced new unique QR codes into each of our group study rooms to compliment the unique codes we had on each floor of Augustine House. It's important to use the app to check in where you're studying and help keep Covid out. Read contact tracing in our libraries for further details.
Learning Skills Hub
The Learning Skills Hub, which was launched last year and has been very popular, as a great way to support your continuous learning journey before, during and after your studies.
Following feedback, we are delighted to relaunch the Learning Skills Hub making it easier to access and navigate, with more modules than ever before! We even have a module specifically for returning students, so you can make a successful start to the new academic year.
Find out about the refresh in the video below:
Group study rooms
We've improved the way you can book the group study rooms in Augustine House. You can now book a group study room through MyBookings. Once you've logged in, click on our new "Book a group study room" tile. Choose a room from the list available and then use the calendar to choose a day and time. This new service has only just gone live, so please let us know if you have any feedback on our feedback form.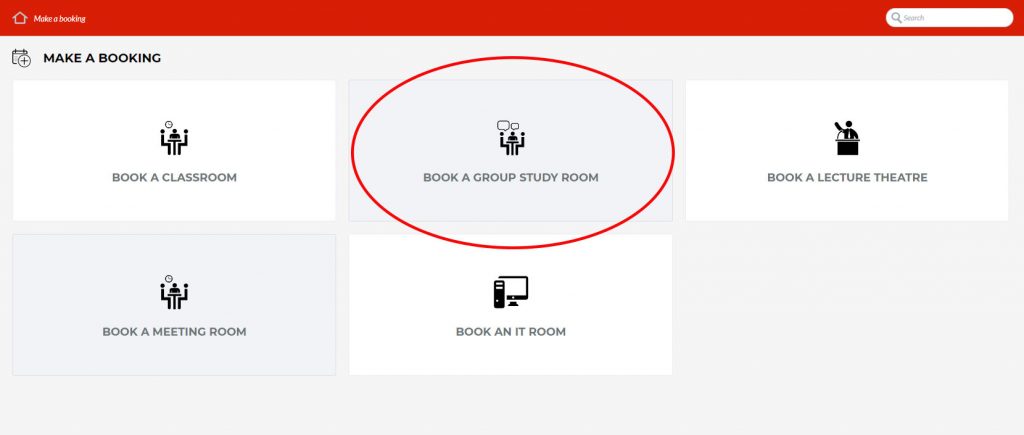 The current Covid-19 safe capacity for the group study rooms is 5 people. We have wipes available for you to sanitise the study room equipment before and after use.
You can use MyBookings to edit your existing booking, or if you need to change the time or cancel it completely if you no longer need it.
Document Delivery
The document delivery service allows you to request items from other libraries when they aren't available through LibrarySearch. The document delivery service usually costs £2.00 per request for undergraduate students but since the beginning of the pandemic we have been offering this service to all students for free.
We previously advertised that this free provision would end on 31 August 2021 but we are pleased to announce that we are extending it to Friday 21 January 2022.
The restrictions on the number of document delivery requests you can make each year remains the same. Document delivery requests can be made through LibrarySearch.
Find out more on the Library blog.
LibrarySearch Improvements
No more scouring the results screen for a hyperlink to grant you access. We've added a new "Link to CCCU e-book" button for each e-book listing. Access to your e-book is now a simple button click away. Just make sure you're logged into LibrarySearch to easily gain access. Find out more on the library blog.

OverDrive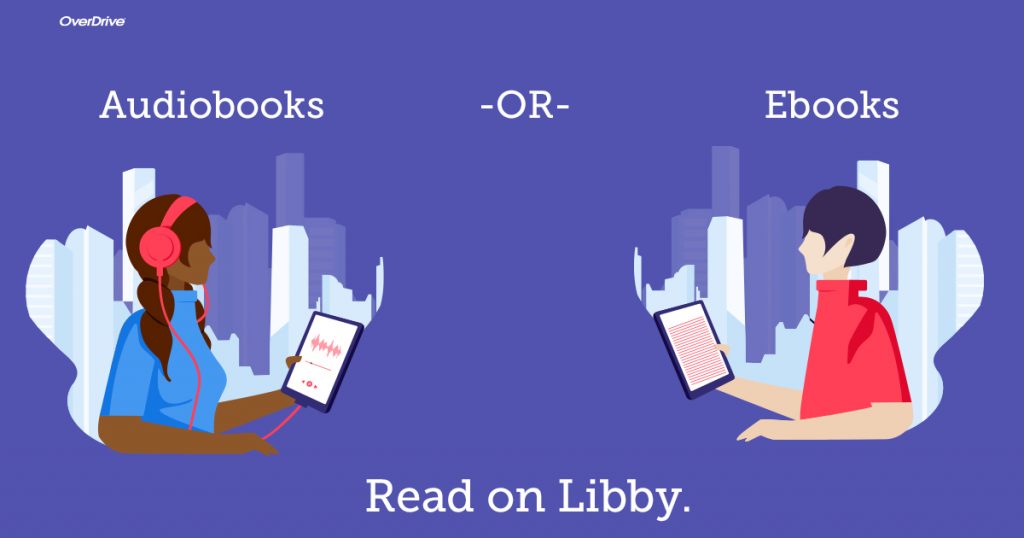 We now have access to OverDrive an e-book and audiobook platform. You can read e-books or listen to audibooks from OverDrive using your computer or you can download the Libby app to your phone or tablet.
The Libby app is available here for Android and here for iOS. Using Libby, you can do everything you can on the OverDrive website: browse, borrow, return and reserve items, as well as downloading them to read or listen to. When you first download Libby, you'll need to sign in with your CCCU account using the "Sign in with a library card" option. Once you're signed in, you'll have full access to all our OverDrive resources.
We have a brief guide to using OverDrive, or can get more help from the official OverDrive help pages or for more help with Libby, please see the official Libby help pages..
We've been asking students what they think of OverDrive and the Libby app and you can discover the thoughts of Leanne Holmes or Rhiannon Limbert on the Library blog.
Suggest an e-book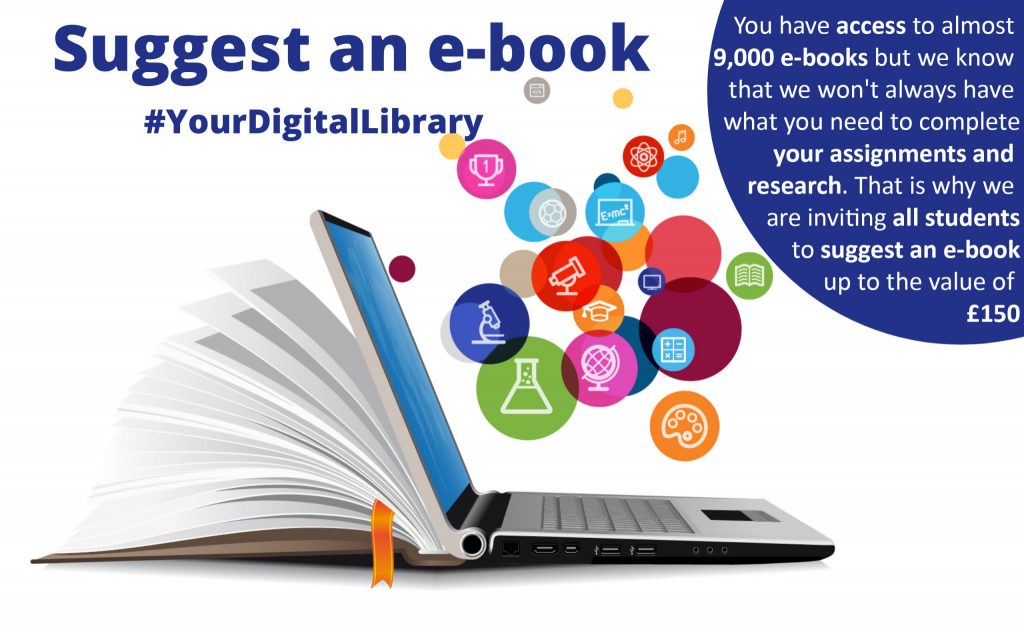 Suggest an e-book will be returning on the w/c 4 October. Suggest an e-book is our annual stock suggestion service where we ask you to contribute suggestions of e-books to add to our collection. We will consider all suggestions, bearing in mind their suitability for our collections as well as any budget constraints that may be in place. It is worth noting that prices for educational user licences for e-books are usually more expensive than the prices you'll find listed for commercial e-books such as those available on Amazon Kindle. We'll accept e-book suggestions up to the value of £150 that will support your studies.
The suggest an e-book form will go live the week of the 4 October. You'll find a link on LibrarySearch and the Library collections page.