George Macdonald, Scottish minister, author and poet, is often regarded as the father of modern fantasy literature. In this blog post, Tihomir Gankov, third year creative writing student, and Michelle Crowther, Learning and Research Librarian, explore some of the George Macdonald books held in the Library's Special Collections.
When Tiho asked if he could volunteer with the university's literary archives and special collections, I asked him if he would consider curating an exhibition on George Macdonald. I was fascinated with the idea that a Scottish Christian minister with a reputation for writing 'goody goody literature' had been the inspiration for iconic fantasy writers such as C.S. Lewis and J.R.R. Tolkien and had encouraged Lewis Carroll to publish Alice in Wonderland. The illustration that we chose for the exhibition comes from Cartoon portraits and biographical sketches of men published by Tinsley Bros. with drawings by Frederick Waddy. The biographical sketches had originally appeared in "Once a Week" New Series, Volume 9, January to June 1872, and presented a negative view of Macdonald.
Mr. Macdonald's first books displayed considerable originality of thought; the characters were strongly marked and life-like, and they had a good Scotch savour about them. Since then, however, their author has been on the decline; his books have grown dull, and he has taken to favouring his readers with long and troublesome sermons in every other chapter of what he is pleased to style new novels.

Cartoon portraits and biographical sketches of men, 1873.
This view of Macdonald was to change with the publication of his next novel The Princess and the Goblin (1872) and although his adult reviewers may "very much regret he ever devoted himself to goody-goody literature" (Cartoon portraits, 1873, p.145), children seemed to love him.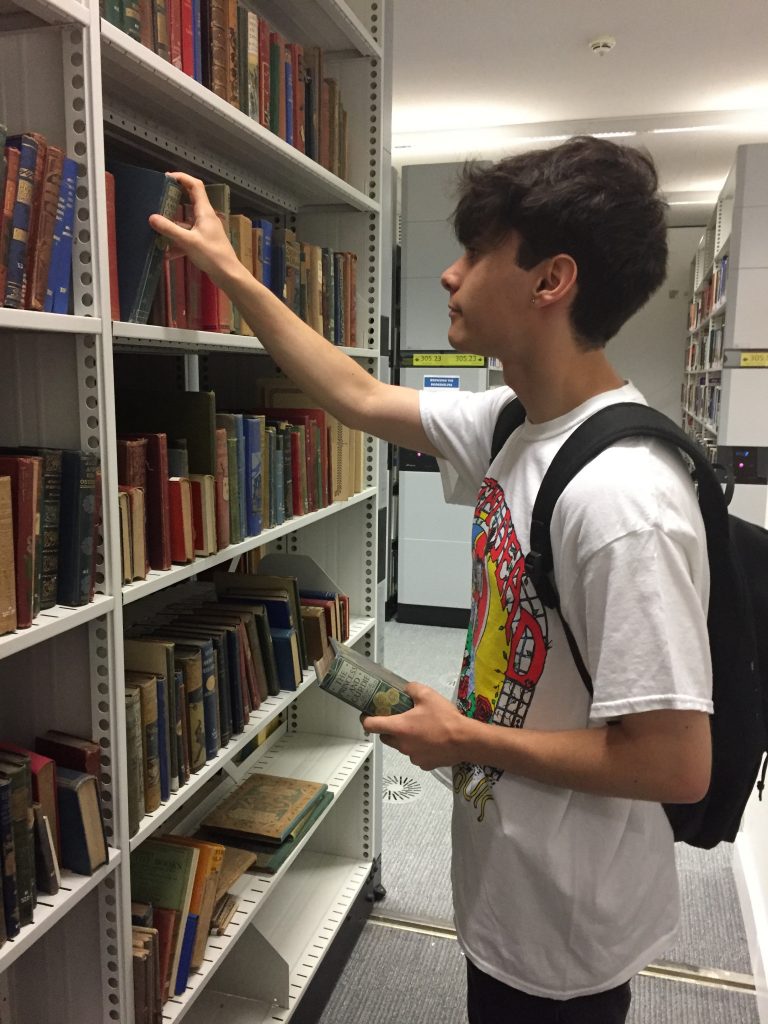 As Tiho and I walked to the shelves with me burbling excitedly about the books, I asked Tiho if he had read The Hobbit or The Lord of the Rings as my knowledge of Tolkien was somewhat rusty. I wanted to spot the influences on Tolkien's work from Macdonald's writing, but needed someone with a deeper knowledge of the books to confirm some of my suspicions. Tiho admitted that he found Tolstoy's Anna Karenina an easier read than the Lord of the Rings and we laughed as we discovered that we both love Russian literature but knew little about fantasy writing. I apologised for dragging him into my crazy scheme, but I was convinced that the Tolkien link was a crowd-pleaser and would be perfect for our first exhibition of the historical children's fiction collection.
When Tiho arrived at the shelves, he was impressed by the beautifully decorated covers of some of the books. We were both particularly drawn to The Princess and the Goblin and its sequel The Princess and Curdie. I had seen this type of decoration at Hill House, Helensborough, the home of publisher Walter Blackie and so it came as no surprise that the 1911 editions were published by Blackie and Son and that the art director at this time was Talwyn Morris. The copies contained both the original black and white illustrations from the 1872 edition as well as 12 new colour illustrations. A reviewer from the Westminster Gazette wrote: "The Princess and the Goblin is like the Irishman's apple pie made of quinces, for it contains all the old original illustrations and twelve full-page coloured pictures as well. The only disadvantage of this glorious abundance is that we have two princesses instead of one."
The Princess and the Goblin
Glancing at the table of contents of The Princess and the Goblin, we felt that chapters seven, eight and nine which described the goblins and their palace, would answer my question about how Macdonald had influenced Tolkien. I asked Tiho if he could do some research. We had less than a week to get the exhibition ready and he agreed to investigate and write labels for this and the other six books we decided to display. I too could not resist digging a little deeper, so this is what we discovered.
Both The Princess and the Goblin and The Hobbit contain cave-dwelling goblins who tunnel and mine beneath the mountains. Macdonald introduces them with the words: "in these subterranean caverns lived a strange race of beings, called by some gnomes, by some kobolds, by some goblins." However, was this unusual? We decided to do a look up in the Oxford English Dictionary and discovered that goblins often live in caves or mines. W. Collins (1747) in Odes had written: 'And Gobblins haunt from Fire, or Fen, Or Mine or Flood, the Walks of Men'. Clearly both Macdonald and Tolkien could have read earlier sources. We realised that we needed more evidence if we were going to establish any connections between the two authors.
We learned that Tolkien in a letter to Naomi Mitchison in 1954 said that he: "owe, I suppose, a good deal to the goblin tradition…especially how it appears in George MacDonald" (Tolkien, 1988, p. 108). However later in life he was keen to shake off the comparisons with Macdonald, saying: "I am not as warm an admirer of George MacDonald as C.S. Lewis was" (quoted in Barnett, 2006, n.p.), furthermore he argued that "a highly selective memory had retained only a few impressions of things that moved me, and re-reading G[eorge] M[acDonald] critically filled with me distaste" (quoted in Hammond and Scull, 2006, pp.570-1). I felt a little disappointed that Tolkien was so keen to reject what had been a childhood favourite.

The copies of Macdonalds works held at CCCU hold their own stories. The beautiful images by Helen Stratton, the dedications to former owners. However, if I told you everything, you wouldn't come to Tiho's exhibition.
The university has 13 books by George Macdonald in its Historical Children's Fiction Collection . Tiho Gankov has chosen six for the display which is located on the second floor of Augustine House near the lifts. This display can be seen from 20 September through to the 19 November.
References
Barnett, Catherine (2006) "Tolkien, MacDonald, and the Cauldron of Story," Inklings Forever 5. Available at: https://pillars.taylor.edu/inklings_forever/vol5/iss1/22
Hammond, W. G. and Scull, C. (2006) The J.R.R. Tolkien Companion and Guide: Reader's Guide, Boston: Houghton Mifflin Harcourt.
Tolkien, J.R.R. (1988) The Annotated Hobbit. Boston: Houghton Mifflin Harcourt.
Westminster Gazette – Saturday 26 November 1910.