Not many people know this, but we have a great collection of children's books in the special collections and archives shelves in Augustine House. The collection contains some beautiful examples of adventure stories, mystery stories, annuals and school stories (among other things) – mostly from the late 19th-early 20th centuries. It's well-worth a look for anyone interested in the history of books, publishing, children's books/fiction, book art/making or illustration, as well as people looking at how children used to live, and of course what they read!
Why was the collection established?
The collection was first established shortly after the founding of the Canterbury Christ Church College (which later became CCCU) in 1962. In those days, the college was purely for teacher training. In a publication from 1976, the college's then Librarian, Tony Edwards, tells us why the collected was started:
To show the development of the teaching of a subject
To shows the change in social concepts that led many 19th century children's books to "give a large place to death and drink compared with the almost total absence of these subjects amongst children's reading today" [1976]
For the interesting typography, in particular the 19th century woodcuts.
While fiction for children and young adults possibly now contains more "death and drink" than in 1976, the study of historical children's and young adult fiction is still very relevant, especially in terms of trying to improve diversity in works for children (and adults). Similarly, the artwork in children's and young adult fiction is well worth looking at in terms of appreciating the art itself, but also as a study of how people, places and events have been and are represented in fiction and other publications for children and young adults over time.
What's in the collection?
The collection is richest in books from the late 19th century (post-1880), and the most recent publication (that I've found so far) is a book from 1972. The collection can be divided up into several areas (although they are in purely alphabetical order of author's surname on the shelves):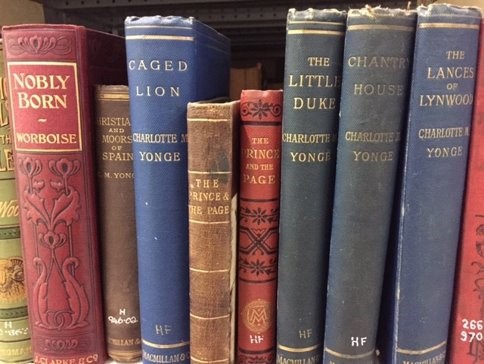 Children's historical fiction from the Victorian era
From the tales of Charlotte Yonge, to Captain Frederick Marryat's novel The Children of the New Forest set in the English Civil War, children's historical fiction was burgeoning during the Victorian era. Inspired by the past, writers sought to educate as well as entertain, with sometimes turgid or moralistic accounts of the heroic deeds of our forebears. Unlike modern children's authors such as Terry Deary who have focused on the humorous and sometimes grisly events of the past, the Victorian writers delighted or dismayed their readers with the derring-dos of knights, captains and adventurers, and there are plenty of examples of this type of fiction in the collection.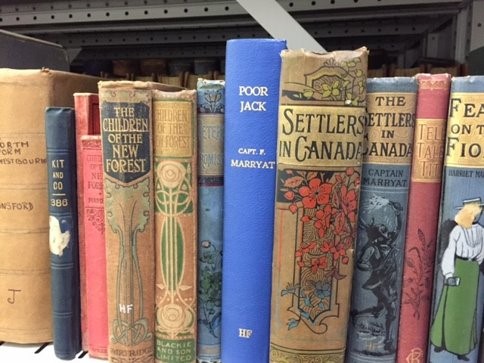 Victorian/early-20th century fantasy novels for children and young adults
There are several works by early fantasy fiction writers, such as George MacDonald (1824-1905) in the collection. He was a Scottish author, poet and Christian minister, and apart from being well-known in his own right, is famous for his influence on later writers such as C. S. Lewis, W. H. Auden, and J. R. R. Tolkien.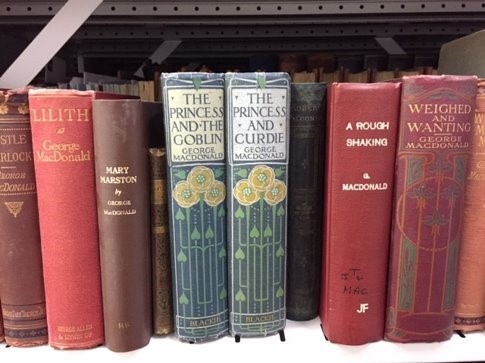 G. K. Chesterton, author of the Father Brown mystery stories said:
"The Princess and the Goblin is a book that had "made a difference to my whole existence"
Early 20th century children's annuals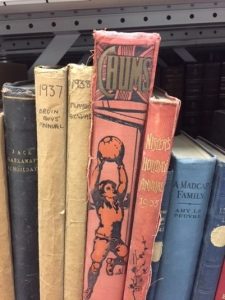 The popularity of children's annuals as a means of educating and entertaining was at its height in the 1930s, although many declined as a result of wartime rationing of paper in the 1940s. The Boy's Own Paper was introduced in 1879 to encourage children to read but also to instil Christian values. Contributors included Sir Arthur Conan-Doyle, Lord Robert Baden-Powell, Jules Verne and occasional contributors such as Sir Patrick Moore.
Annuals were often gendered. Boys read stories about motor-racing, cowboys, finding treasures and exploration alongside non-fiction articles about ice hockey, football, tennis and small-boat sailing. Girls read stories about princesses, shopping and school life as well as instructional pieces on how to make almond cake, clean an ivory fan, remove grease from a book and clean alabaster. Thank goodness times have changed!
School Stories
The collection includes some late nineteenth century and early twentieth century school stories which make interesting reading. Bracebridge Hemyng's Jack Harkaway's School-days (1880) in which the eponymous hero challenges his class mate with the words : "I'll take on a thrashing. If you want to give me one, you'd better try" contrasts sharply with the later novel by Mrs G. Forsyth Grant's 'The Boys at Penrohn' (1893) which depicts an idealized view of boys' boarding schools and was heavily criticised in the press. The Spectator wrote: "Mrs. Grant's boys irresistibly remind us of those elegant creations of the artist in wax which adorn shop-windows" (9 December, 1893). Stories about girls' schools include: 'Three girls from school' (1907) by L.T. Meade.
Mystery and adventure stories
As you would expect there are many books in the collection that deal with the lives of children and young people in the late 19th century through to the 1930s. These are usually adventure and/or mystery stories, and could be seen as the precursors to series such as Enid Blyton's Famous Five stories, which began to appear in the early 1940s. There are also several examples of books from series of school stories, such as those by Angela Brazil and Elsie J. Oxenham.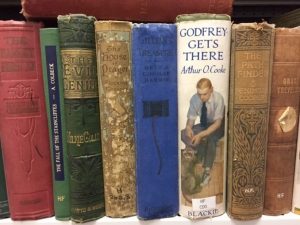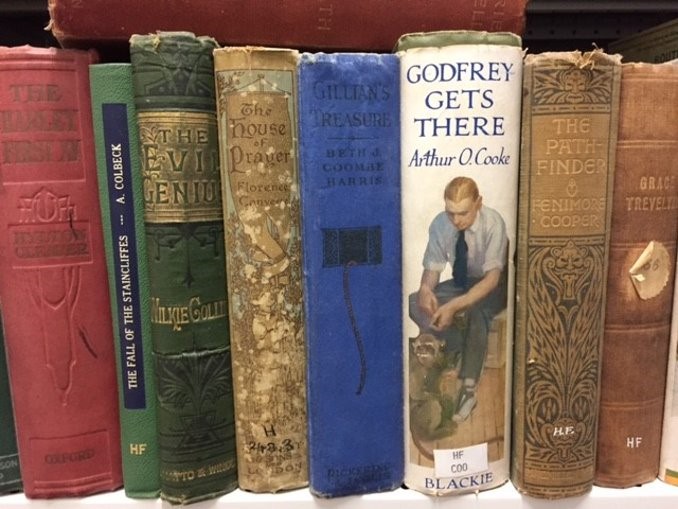 "The sublimity connected with vastness is familiar to every eye. The most abstruse, the most far-reaching, perhaps the most chastened of the poet's thoughts, crowd on the imagination as he gazes into the depths of the illimitable void. The expanse of the ocean is seldom seen by the novice with indifference; and the mind, even in the obscurity of night, finds a parallel to that grandeur, which seems inseparable from images that the senses cannot compass." – The Pathfinder, Fennimore Cooper
What a cracking bit of prose!
How can I access the collection?
If you are interested in looking at the collection, please contact library.canterbury@canterbury.ac.uk and we can arrange a time to let you into the mysterious locked shelves. You're welcome to use items from these collections in the library. Unfortunately, they are not allowed out of the building as they are a bit mischievous.
Michelle Crowther and Claire Choong, Learning & Research Librarians