Introducing Scan and Deliver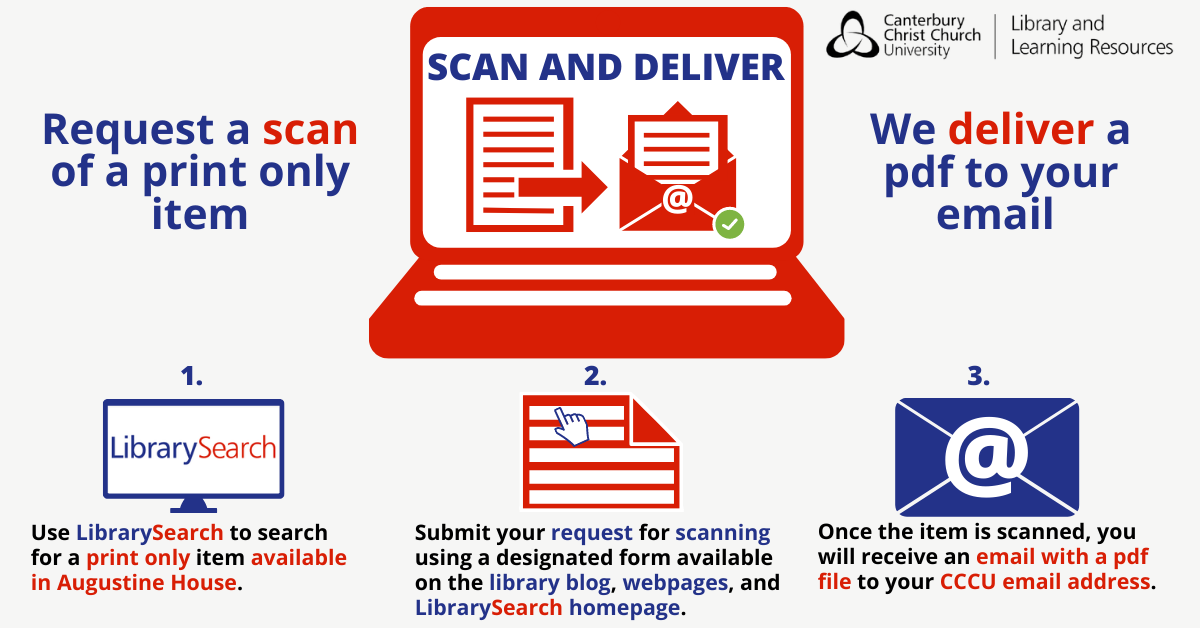 On Monday 20 July, we launched our Scan and Deliver service. This makes the print only books and journals, which we only hold in the Augustine House Library, available for essential work, research or study. 
You can get journal articles or 10% of a work sent straight to your email.
The Drill Hall Library is not currently providing this scanning service.
The Salomons Institute Library at Tunbridge Wells is currently closed so you won't be able to request material from that stock.
What can be requested?
One article from any one issue of a journal of which we only hold a print subscription
Book chapter or 10% of a work which we only hold in printed form
One article of a UK national newspaper which we only hold in printed form (You can check on LexisLibrary Newspapers UK to see if the article is available online https://www.lexisnexis.com/uk/legal/news/)
What if I need more than one chapter from a book?
Due to copyright restrictions, we can only scan one chapter from a book. If you need to read more than one chapter, please consider using the Click and Collect service.
How do I use the Scan and Deliver service?
Use LibrarySearch to locate the item you need and, if it is showing as available, submit your request for scanning using this form.
On the form you will need to input your details, add the relevant course and module code and the link to the item you need. Make sure you have read and understood the copyright declaration before submitting your request.
We regret that it is not possible to request material which is currently on loan or which has been recently returned since this will be stored away for 72 hours until risks of virus transmission has been mitigated.
Once the requested item has been digitised, you will receive an email with a copy of the scan.
When will my request be available?
We will aim to make items available for collection within 5 working days of your request being made. If you place a request on a Friday or at the weekend, there may be a short delay if we have a backlog of requests to deal with.
Demand is likely to be high in the first days of this service being made available. We know you will appreciate reopening the libraries is a significant challenge under current circumstances and with fewer members of the library team on site. We would ask for your patience and understanding if we can't meet your request as quickly as we would like.
Should there be any issues with your request (e.g. the item is not available or is in too poor conditions to scan or your request contravenes the copyright legislation), we will contact you to let you know.
Who can use the Service?
The service is available to all staff and students.
The service aims to support users who are not able to visit the Library in person to collect a reservation or need access to a print journal article which cannot be reserved on LibrarySearch.
Can I share my scan with my classmates/students?
No, the scanned material can only be used for your personal and private study and research only. If the chapter/article or book chapter is required for teaching or is in a reading list, then the academic staff member should make a Library Scanning Service for academic staff request.
Can I request a thesis or dissertation to be scanned?
We are unable to scan theses or dissertations as part of the Scan and Deliver service. Over 500,000 theses are available digitally through the British Library EThOS (e-theses online service).
What should I do if the material I need isn't available on LibrarySearch?
You will need to request the material via the Document Delivery service. Information about this service and how to make a request can be found here:
What if I need material in an alternative format?
Alternative formats, also known as accessible formats, are ways of presenting printed, written material so that people who do not read print or have difficulty reading print can access it. The library can arrange for materials to be made available in a range of formats including including: large print, Rich Text Format, PDF. Items can also be converted into braille or audio versions. Students must be registered with Student Support to access this service. You can also contact them for advice about what alternative format to choose.
For students wanting more information about alternative formats please visit the borrowing, returning and reservations page and read the information under Are alternative formats available?.
For staff wanting more information about alternative format please visit our staff pages and read the information under Are alternative formats available?
What if I need access to a resource only available in print and held at the Salomons library?
Email the Salomons Library team to discuss options and alternatives.