Introducing Browse and Borrow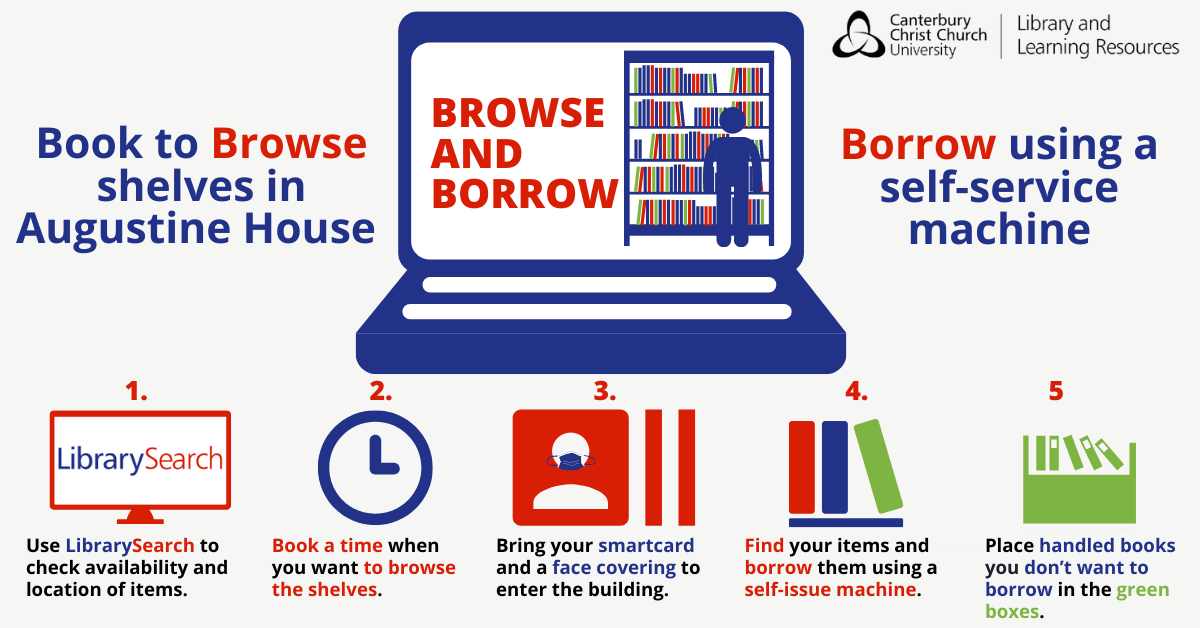 The Browse and Borrow service allows you to book a 15 minute slot to browse shelves in Augustine House or Salomons Institute library and borrow items via the self-service machines. The service is available throughout the opening times of our libraries. 
If you're collecting a lot of books from around the library, fifteen minutes might not be enough time. If that's the case, you can book two or more slots back to back to give yourself the time you need to find the books your looking for.
If you have booked a Click and Study slot, you will be able to access the shelves whenever you need to. You won't need to book a separate slot to browse the shelves.
Not all the LibrarySearch terminals are not currently available in our libraries so you may want to use LibrarySearch to check the availability and location of items before your arrival. Read our Discover Your Library – How to find your Library books for details. 
COVID-19 – Keeping you safe
If you have used an item from the shelves but do not wish to borrow it please place the item in the green boxes provided. These will be located near to exit doors and the moving shelves. In accordance with current Government guidelines these items will then be safely stored for 72 hours to mitigate the risk of virus transmission. To help us keep all users safe please do not leave them on desks or shelves. Compliance with this measure allows us to continue offering access to the shelves.
We ask you to follow the current Health and Safety guidance:
Please wash your hands or use the hand sanitiser gel provided before browsing the shelves.
Please adhere to the one-way directions around the shelves.
Maintain social distancing whilst browsing.
From Monday 9 November, new guidance for the lockdown period requires face coverings to be worn at all times when in our Library buildings, even when seated and 2m apart. If you wish to indicate that you are exempt, face covering exemption cards for lanyards are available from Anselm security lodge and Medway and Salomons receptions. As a University, we also recognise the Hidden Disability sunflower lanyard. See Your campus during lockdown for details.
Please use the NHS contact-tracing app to scan the QR codes located in our libraries. Please read contact-tracing in our libraries for details.
To prevent the spread of COVID-19 and reduce the potential risk of exposure to the virus, consider the following questions:
Have you returned from any overseas country within the last 14 days which would require you to self-isolate?
Have you had close contact with or cared for someone diagnosed with COVID-19 within the last 14 days?
Have you been in close contact with anyone who has travelled within the last 14 days to any overseas country, which would require them to self-isolate?
Have you experienced any cold or flu-like symptoms in the last 14 days (to include fever, anosmia, cough, sore throat, respiratory illness, difficulty breathing?
If you answer yes to any of the above questions, then please do not leave home. Please ensure you follow the gov.uk guidance on self-isolation.
Book Fetching
We offer a fetching service for books and other physical items on our open shelves. The service is available at both Augustine House and Salomons Institute Library and is available for anyone who may have difficulty accessing the shelves themselves.
You can only have a maximum of 10 items reserved on your account at any time.
Book fetching requests are processed Monday – Friday. We will endeavour to make the material available as soon as possible, but due to current high demand please allow up to five days for your request to be fulfilled.
You will receive an email to advise you that an item is ready to collect from the reservations pick-up point.
Once you have received your email you will need to book a slot to visit the library where your reservation is held.
You will need to collect the item from the reservation pick up point and issue the item on the self-issue machine.
If all copies of an item are on loan or only available at another campus library, you can place a reservation for the item yourself through LibrarySearch.
Fill in the form to make a book fetching request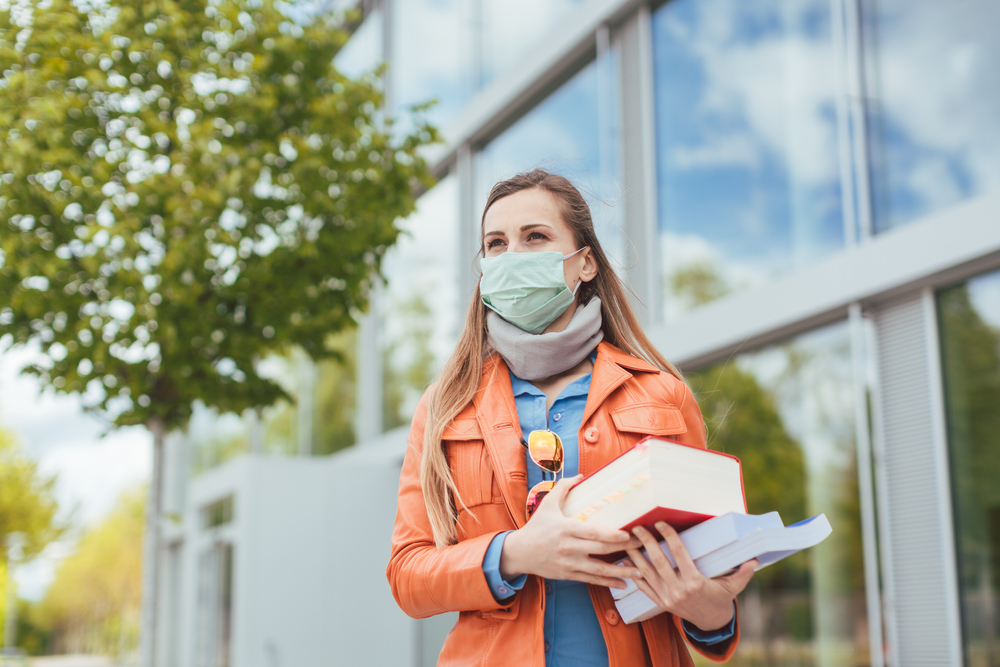 Scan and Deliver
We also offer a Scan and Deliver service. Through this service you can get a journal article or 10% of a book that we only hold in print sent straight to your email as a .pdf. See Introducing Scan and Deliver for details.
Reservations
From Monday 12 October LibrarySearch reservations will be returned to how they were before the Covid-19 lockdown. March was quite some time ago and this will be new to some, so let's review what this means.
Placing Reservations
You will only be able to place reservations on LibrarySearch if
all the copies of the item are out on loan at your home library.
the copy is only held at another campus library and not at your home library. It can then be reserved and sent to your chosen pick up library.
You will be able to:
Place reservations on 4-week and 7-day items.
Request a maximum of 10 items at a time.
Check your reservations by logging into your LibrarySearch account. To cancel any reservations that are no longer required go in to the "holds" tab, check the relevant item and press the "Cancel Hold(s)" button.
Notification and collection
Notification is sent to your university e-mail address when an item is ready for collection.
Once you've received your notification you can book a slot to collect your item in.
The item will be held for one week for you to collect.
Items are collected from your campus library reservations pick-up point.
Your items will be indicated by a paper slip with your surname and held in alphabetical order.
If you are unable to place a reservation on an item please  contact us  for assistance.