Phased reopening of Salomons Institute Library – Updated for phase 3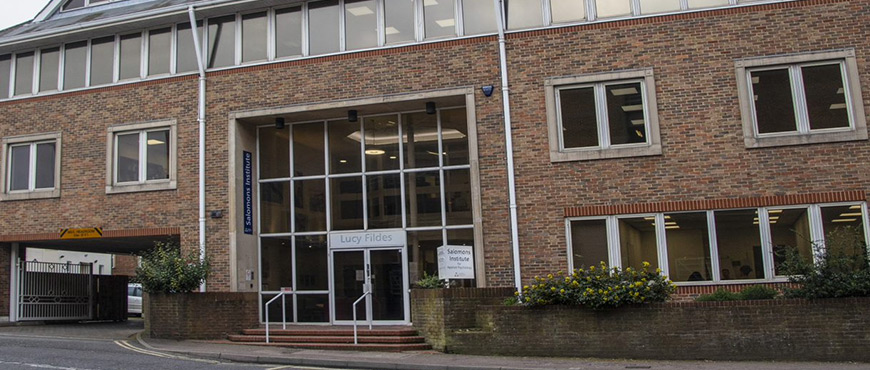 In line with Government advice and University guidance, we are planning how we can best reopen the Salomons Institute Library and what services we can offer while adhering to social distancing and health and safety guidelines. Key to our plans is ensuring the safety of all our users and our staff. Our strategy is to start small and safe, build confidence, test processes, and expand our services.
Remember if you are using services that require you to access Salomons Institute that you will need to bring your Smartcard to enter the building and an appropriate face covering. Please read the University's guidelines on face coverings on the student blog.
Please use the NHS COVID-19 app to signify you're visiting the Library. Read contact-tracing in our libraries for details.
What services will be available in the third phase of reopening?
(1) Click and Study
The Click and Study service makes provision for a number of bookable computer desks and study spaces in Salomons Institute Library available for essential work, research or study to CCCU students. A range of study spaces will be available across the library. You can book:
A PC in the IT suite: This is the perfect place to book if you need a space to work where online collaboration is required.
A PC Desk in the Library: a PC in a quiet study area
A Height adjustable desk with PC
A study desk with no PC.
Social distancing will be in place throughout. Computer desks and study spaces can initially be booked for 4.5 hour slots:
You can book both a morning and afternoon slot but spaces will be unavailable between 1:00 and 1:30 for cleaning.
Study spaces can be booked up to two weeks in advance. You will require your smartcard to access the building. Face masks or coverings are to be worn where appropriate. Read the University's guidance on face coverings on the student blog.
If you are already booked into the Library through Click and Study, you do not need to make any additional bookings to browse and borrow, collect reservations or return books.
(2) Return items
If you want to return items, you will be able to book a slot to return your books at the Salomons Institute during our opening hours. Please remember to bring your Smartcard and a face covering to access the building.
A book return box has been located in the Library. Simply place your items in the box as directed by the signage. To reduced the risk of virus transmission, returned items will be safely stored for 72 hours and then returned from your account.
We have contacted final year students who may not not be returning to the University in September with an option to send their books back to us using Freepost. Please email us at library.salomons@canterbury.ac.uk so we can check eligibility and send the details through to you.
(3) Browse and Borrow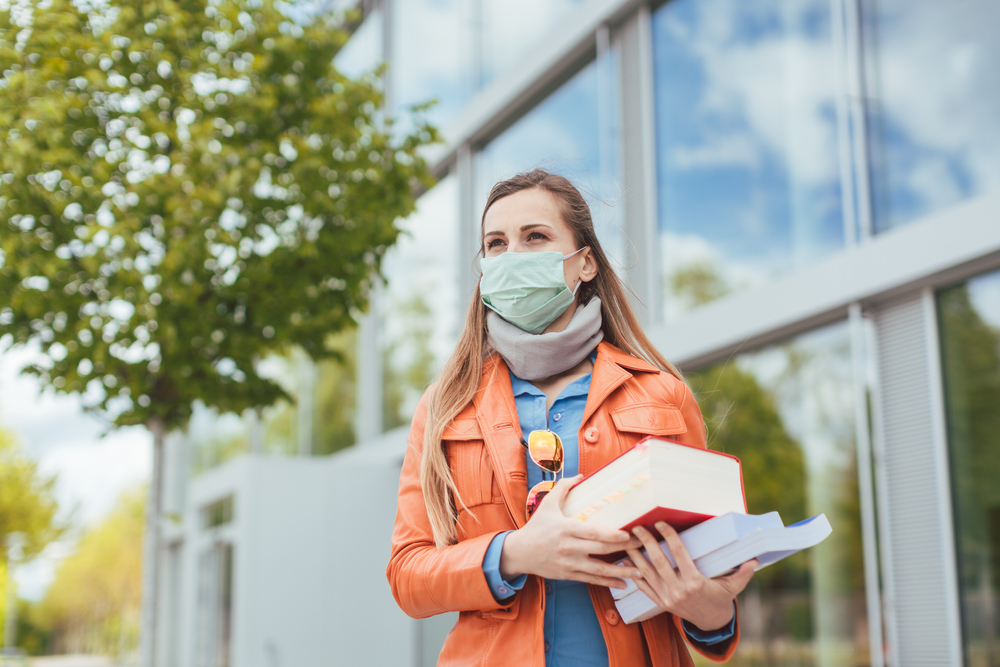 Browse and Borrow allowa you to book a 15 minute slot to browse shelves in Salomons Library. and borrow items via the self-service machines. See our opening times page for details of when the service is available. You can use the same slot to return items or collect reservations.
If you have booked a Click and Study slot, you will be able to access the shelves whenever you need to. You won't need to book a separate slot to browse the shelves.
LibrarySearch terminals are not currently available in our libraries so you may want to use LibrarySearch to check the availability and location of items before your arrival.
If you have used an item from the shelves but do not wish to borrow it please place the item in the green boxes provided. These will be located near to the exit. In accordance with current Government guidelines these items will then be safely stored for 72 hours to mitigate the risk of virus transmission. To help us keep all users safe please do not leave them on desks or shelves. Compliance with this measure allows us to continue offering access to the shelves.
Unless you have also pre-booked a study space through the Click and Study service, you will not be permitted to stay in the library after collecting your books.
(4) Scan and Deliver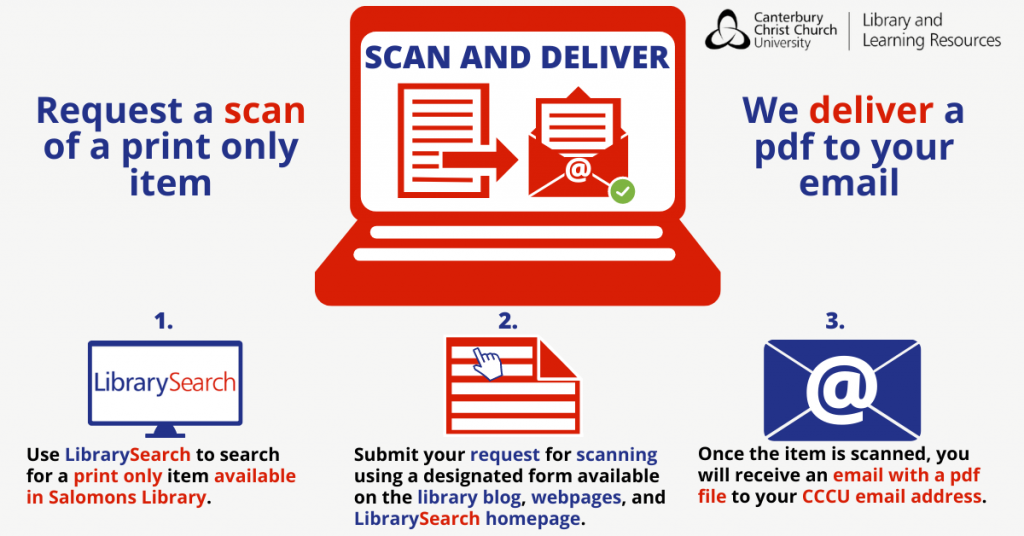 This new service will enable the ordering of digitised scans of journal articles and book chapters from the Salomons Institute Library print collection where copyright rules allow.
You can request:
One article from any one issue of a journal of which we only hold a print subscription
Book chapter or 10% of a work which we only hold in printed form
One article of a UK national newspaper which we only hold in printed form (You can check on LexisLibrary Newspapers UK to see if the article is available online https://www.lexisnexis.com/uk/legal/news/)
(5) Library Point
For those looking for help whilst in Salomons Institute Library, the Library Point is open Monday – Friday (10:00 – 15:00). If you need help Just ASK.
You can also contact us by phone on 01227 927126 or email library.salomons@canterbury.ac.uk.
Read our blog Need help… Just ASK to find out all the ways we can support you.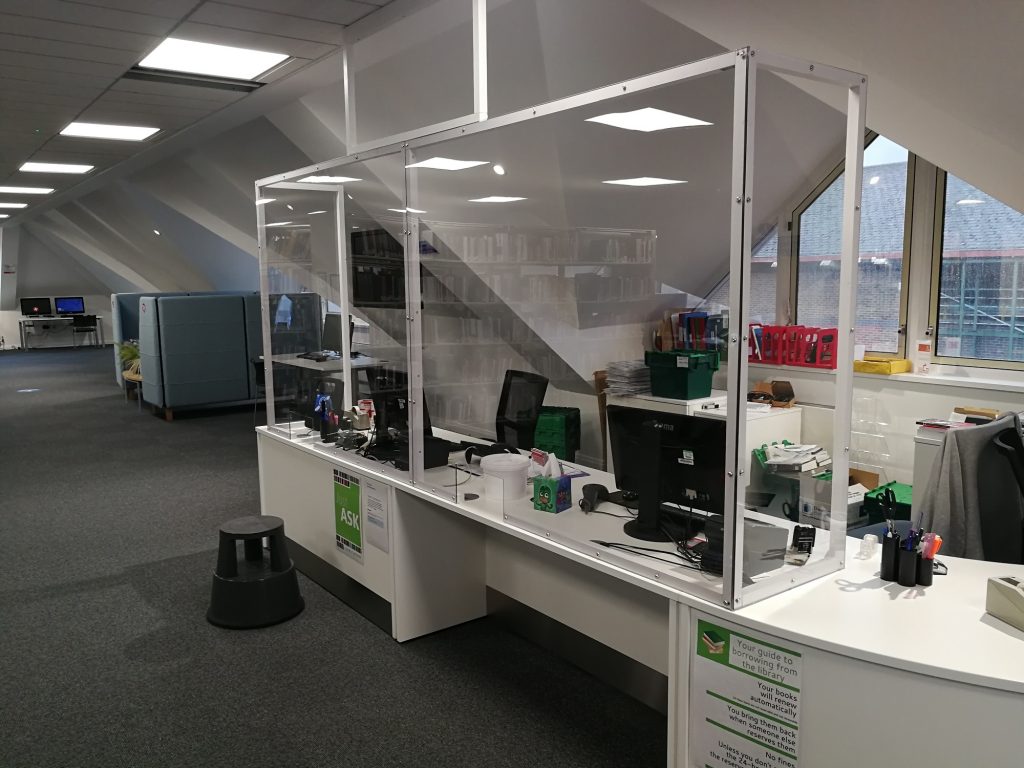 Frequently Asked Questions
What hours will the building be open?
The library is available by appointment only from 8:30- 18:00, Monday to Friday​. Check our opening hours page for details.  On arrival, you may need to join a queue to comply with physical distancing measures. To help us safely manage the number of visitors to the building at one time, the entrance and exit will be carefully managed and you will be asked to follow directional signage to support the one-way flow of users.
Can I park at Lucy Fildes House?
If you're using the Click and Collect, Browse and Borrow or returns service you are welcome to make use of the car park for your fifteen minute drop off/pick up period.
If you're coming for a longer Click and Study booking, the usual parking restrictions apply. Please remember to display your parking permit.
What safety and hygiene measures are in place?
The health and safety of our users and staff is our top priority.
The site requirements needed before we can launch these services include:
Certification that the building is safe to reopen for agreed, controlled activity within safe occupancy levels for a small core of staff.
Risk assessment and safety tests sign-off for the proposed activities (including arrangements for physical distancing, physical protection including Perspex, cleaning and hygiene regimes, digital infrastructure set-up, and book quarantine measures).
Consultation with required staff about their return to work (to ensure they can travel safely to work premises; have caring arrangements in place for dependants; to take account of shielding arrangements etc.)
We are working closely with the University Health and Safety Officers to ensure we are providing a safe space. 
These will include a number of health and physical distancing measures, including:
regular cleaning protocols, with all surfaces, including the self-service borrowing and returning facilities, thoroughly and regularly cleaned.
providing hand sanitising stations.
hand soap in toilets, with posters showing how to wash hands thoroughly.
physical distancing measures with signage indicating safe spacing in queues.
face coverings should be worn when walking around the building. Please see the face covering guidelines on the student blog.
all returned items stored away for 72 hours until risks of virus transmission has been mitigated. We have green boxes situated at library exits to place books you have used but do not want to borrow.
make QR codes available for use with the NHS COVID-19 contact-tracing app. Read contact-tracing in our libraries for details.
To prevent the spread of COVID-19 and reduce the potential risk of exposure to the virus, consider the following questions:
Have you returned from any overseas country within the last 14 days that would require you to self-isolate.
Have you had close contact with or cared for someone diagnosed with COVID-19 within the last 14 days?
Have you been in close contact with anyone who has travelled within the last 14 days to any overseas country that would require them to self-isolate?
Have you experienced any cold or flu-like symptoms in the last 14 days (to include fever, anosmia, cough, sore throat, respiratory illness, difficulty breathing?
If you answer yes to any of the above questions, then please do not leave home. Please ensure you follow the gov.uk guidance on self-isolation.
What if I need support when I am in the library?
You can contact us between 10:00 – 15:00 by:
Visiting the library Point
Phone: 01227 927126
What are the next phases of re-opening the Salomons Institute Library?
Our phased re-opening plans are:
Phase 1: Limited opening hours. Click and Collect and Scan and Deliver services to help you get hold of printed items held in the Augustine House Library and Drill Hall Library. Self-service book returning facilities available. You cannot come into the library to browse the books, use the printers/photocopiers/scanners, use the study spaces and computers. Library staff working on increasing provision of digitised material for the start of the new academic year.
Phase 2: Study spaces and PCs available with appropriate physical distancing measures in place – for example, prescribed routes, reduced seating. We are developing a Click and Study booking system for study spaces. Re-open our face-to-face Library Point.
Phase 3: Increase study spaces, if possible. Access to book shelves, if safe to do so.
We aim to have this in place before the start of the new academic year.
We will provide more updates as we move forward. Demand is likely to be high in the first days of re-opening. We know you will appreciate reopening the library is a significant challenge under current circumstances and with fewer members of the library team on site. We appreciate your understanding and patience while we adapt to the changes we need to make.