Today we reached 'Y' in the Heritage A – Z so if you would like to find out about the difference between Irish and English yews, then check this out: https://medium.com/the-christ-church-heritage-a-to-z/y-is-for-yew-9f06b2fb5dca  and you can see what I have written for our penultimate letter.
This week has been very busy, what with the CCCU PGRA conference under the title 'Transformations' which was organised by Lily Hawker-Yates and two of her colleagues; the monthly Kent History Postgraduate meeting featuring Dean Irwin; the St Augustine's Feast Day service and procession, and finally the 2-day Canterbury UNESCO conference which finished this afternoon. The latter had a packed programme, so I'll only mention things briefly, but before that I'm going to turn to the CCCU postgraduates. Among the postgraduates giving presentations at the 'Transformations' conference were two holders of Ian Coulson Awards. A few readers of the blog may remember Lisa Duffy who gave a joint presentation with Dr Jake Weekes (Canterbury Archaeological Trust) https://blogs.canterbury.ac.uk/kenthistory/roman-canterbury-and-the-american-southwest-similarities-and-differences/  when she was working in Canterbury during her MA studies at the University of Nevada. Having successfully completed her degree, she is now studying for her doctorate at CCCU and for her paper this week she discussed her analysis of the skeletal remains from Canterbury's late Roman cemeteries. She is seeking to uncover ideas about life in Roman Canterbury from these remains, looking to explore this at both the level of the population as a whole and on an individual basis as a means to transform the bare bones into living persons using a multi-scalar, bioarchaeological approach.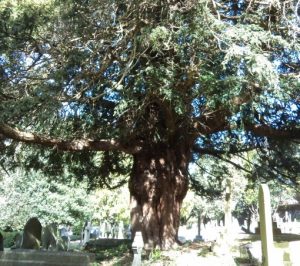 An English yew in St Martin's churchyard
The other Award holder at the conference was Jacie Cole whom more of you may remember from February this year and just to jog your memories: https://blogs.canterbury.ac.uk/kenthistory/challenging-times-throughout-the-centuries/  in which Jacie discussed her use of oral history. This week she again focused on the value of this research method for exploring modern social history, and in particular she drew on a recorded interview of the memories of a child living on the Kent/London boundary to demonstrate how the smallest details can contribute to our knowledge of civilian life during World War Two.
Next I want to turn to Dean Irwin's talk where he drew on material that he will be presenting at two conferences in the next month, one of these being 'Rebellion in Medieval Europe' at CCCU that is being organised by Professor Louise Wilkinson and Drs Paul Dalton and Adrian Jobson; the other will be at Birkbeck in London. If medieval rebellion sounds interesting, the details can be found at: https://www.canterbury.ac.uk/arts-and-humanities/events/arts-and-humanities/ckhh/rebellion-in-medieval-europe.aspx and the conference will take place on Friday 21 and Saturday 22 June.
This week Dean wanted to try out some ideas about Simon de Montfort's attitudes towards the Jews and whether he was 'a man of his time' and in no way especially anti-Sematic. Thus, he concentrated on the period when de Montfort was in power between the battles of Lewes and Evesham, ie for a short period in 1264–5. Dean wanted to point out that, yes, Gilbert de Clare was a major ally of Simon's at the battle of Northampton but that de Clare's subsequent raid on the Jewry in Canterbury soon after 7 April (the last dated document in the spring of 1264) was less directed at the Jews per se and instead was instigated to capture the archae. At Canterbury this chest that contained the documentary records of financial transactions involving the local Jews was in the house of Simon Payable, a former and future bailiff of the city, and thus the residence of one of Canterbury senior civic officials. The chest was carried off to Dover Castle and neither it nor the records were destroyed, and even more telling it was apparently reinstated in Canterbury by late December in the same year because Dean has found that the next document is dated 23 December 1264.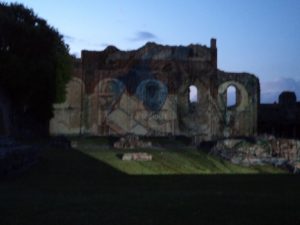 From Howard and Jane's light show at St Augustine's
Although events did not unfold in quite the same way in London during the same period, again it was the archae which was the target, and in both Canterbury and London the archae system did function for much of the time de Montfort was in power before his fall at Evesham. Moreover, it was post Evesham that the Lincoln Jewry was attacked and set on fire. In addition, as Dean was keen to point out, the frequent accusation that de Montfort was responsible for the cancellation of many of these debts to the Jews, thereby making him especially anti-Sematic, is actually unhelpful. For his brother-in-law Henry III, and later the Lord Edward, did exactly the same thing, while those who were in debt did at times take the law into their own hands when the opportunity came by pulling off the seal to cancel the debt.
Dean's presentation sparked considerable discussion, moving to consider wider issues regarding the role of the Jews in the 13th-century English economy. Indeed, we had a very interesting debate about fishing and the involvement of Jews in the herring trade linked to the great fairs of eastern England.
Keeping with the idea of the foreigner and because Rebecca had been unable to give the second presentation due to work commitments, I took the opportunity to give a short piece on my current project. As some of you may know, the AHRC funded the 'England's Immigrants 1330–1550: Resident Aliens in the Late Middle Ages' database project from 2012–2015 and has subsequently funded a 'Resources for Teachers' project. The information collected from national records such as the alien subsidy rolls is very useful, and the project team has demonstrated this in several articles, looking at the national picture, and at the level of counties and individual cities. However, for the latter it is feasible where local records exist to gain better ideas about these immigrants and Canterbury is one such place. Consequently, that is what I am doing for the 15th century and it has been possible with a reasonable degree of certainty in a surprisingly large number of cases to match up individuals listed in the database with those in the city's intrants lists. Moreover, because the alien subsidies were collected sporadically in the 15th century, whereas the intrants were listed annually, it is feasible to expand Canterbury's alien population quite considerably, not least because the common clerk sometimes noted this in the chamberlains' book. Like Dean, I wanted to test out a few ideas with the group on Wednesday as I move towards giving 2 papers this summer, one next month and the other in September.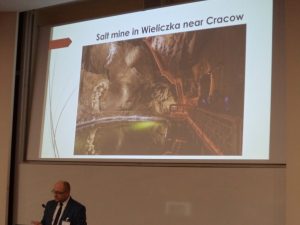 Robert discusses the Wieliczka salt mine
I now want to come to the 'Celebrating Thirty Years of the Canterbury UNESCO World Heritage Site' conference that ran yesterday and today. Before I get down to a digest of some of the papers, I thought I would mention those involved in its organisation. Firstly, as the Vice-Chancellor and Principal said at the reception last night (also attended buy the Lord Mayor and Lady Mayoress) and Mike Butler repeated at the end today, great thanks should be given to Professor Jackie Eales for working tirelessly to organise the conference. Furthermore, Professor Rama Thirunamachandran had very generously given this drinks reception, while his deputy, Professor David Shepherd, had provided the conference dinner for the speakers, organisers and student helpers. Of the latter Ethan, studying ancient history at the University of Kent, was in charge of the roving mic for questions to the speakers over the two days and had manned the Reception Desk today (Nicky Marshall had looked after Reception yesterday), while Poppy, Josh, Brad and Sharon had helped Howard Griffin (University of Kent) and Dr Jane Lovell (CCCU) at their light show yesterday evening at St Augustine's Abbey, and Dean had worked with Mike Butler, the conference's 'Rapporteur'. In addition, the catering team in Hospitality did a fantastic job over the two days – many thanks, and also to Facilities for arranging the tables and to AV for support. As well as the several speakers who had also chaired sessions, it is important to note that Jackie's co-director of the Centre, Professor Louise Wilkinson chaired Cressida Williams' (Head of Canterbury Cathedral Archives and Library) presentation on 'Protecting written Heritage: the UNESCO Memory of the World programme', which highlighted the importance of Canterbury's manuscript treasures that was an interesting counter to the general focus on Canterbury's architectural and archaeological heritage.
For the nineteen speakers, I cannot do justice to all of them so I will group them together and pick out a few features from each. Thinking about definitions, designations and how these had been, are and may be understood in the future on the world and national stage, Chris Blandford President of World Heritage UK took his audience through the history of UNESCO World Heritage sites. He pointed out how such sites could come about and the necessity of demonstrating 'outstanding universal value' whether we are looking at, for example, iconic buildings or cultural landscapes. He drew attention to the need for flexible and dynamic management plans for each site and that in an increasingly difficult environment at all levels, sourcing funds and skills to bring relevance to today's and future generations was something all sites would need to confront head-on to survive.
Although taking a more legal perspective, especially regarding matters of planning and how such systems function within a bureaucratic society like England, Dr Sophie Vigneron (University of Kent) demonstrated the various structures and mechanisms in place to protect such sites, but that equally things were not clear-cut and that in the present climate the balance had seemingly shifted away from heritage in favour of what some would see as the greater common good in terms of housing and other developments.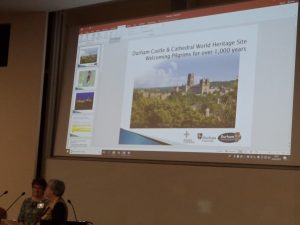 Jackie introduces Jane Gibson
Having set up these views of where we would appear to be generally, the next three speakers: Jonathan Truillet, Professor Robert Bubczyk and Jane Gibson took us respectively to specific sites in France, Poland and England to showcase the successes and problems they have encountered. All of these were fascinating, but I'll just pick out one feature at each. At Reims, as at Canterbury, the site comprises three separate locations – cathedral, former abbey, palace, and they have spent a considerable time and creative effort thinking of ways to relate one to another as a way of bringing more balance and enhancing the whole for the benefit of visitor experience and education. At the 'Wieliczka' royal salt mine in Poland, one of the challenges is to make this great site accessible and enjoyable to all groups, as well as accommodating vast numbers of visitors. To this end a wide range of routes have been created within the mine, from especially demanding ways to those suitable for disabled persons, as well as introducing an underground playground and a means to deploy the mine's healthy atmosphere to help those with respiratory issues. Durham, too, is a multiple location site, but the point I want to take from Jane's presentation is the way there they are seeking to balance the needs and desires of visitors and the communities at the castle (university students) and cathedral. Again, resonating with Canterbury, I was especially struck by her deployment of the Northern Saints Trails – Pilgrimage 2020 and how this is intended to bring the parishes and cathedral together.
Coming to Canterbury, it was great to hear from Neil McCollum (Head of Historic Properties Kent for English Heritage) who has recently taken over as chair of the Canterbury World Heritage Management Committee. He, too, used his presentation to look forward as well as back over the last thirty years, and he stressed the need to try to get a paid co-ordinator because of the sheer number of stakeholders in Canterbury, the disparity between the locations, and the seeming lack of genuine community engagement. Consequently, Neil wants to build meaningful partnerships, to bring a sense of pride and ownership, and to initiate a single, unifying agenda that has the backing of all those involved.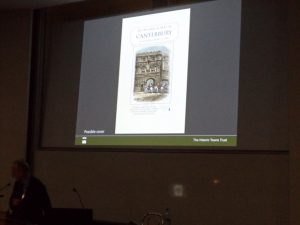 What the Historical Map of Canterbury may look like
One potential partner which might be said to move between these three locations, as well as the city more widely, is Canterbury Archaeological Trust. Represented at the conference by Dr Jake Weekes, he gave a presentation on 'Canterbury's Archaeological Heritage in the 21st Century', including the Trust's 'Twenty Centuries of Canterbury' mapping project. This he sees as a means to move towards a use of archaeology to inform a sense of place within a time-depth framework that will help visitors and residents to learn about and enjoy the city more fully. Moreover, Jake and Jackie Eales are involved in a complementary mapping project with the Historic Towns Trust to produce a historical map of Canterbury. Giles Darkes, the Trust's cartographer, demonstrated what has been done for other historic towns such as York and Winchester before outlining ideas regarding what is intended for Canterbury.
So what of the three locations with the World Heritage Site? I have already mentioned the written heritage of the cathedral and the complementary presentation was given by Heather Newton (Head of Conservation) and Sarah Turner (Collections Manager). Together they outlined what the 'Canterbury Journey' is about and how they are seeking to match the needs of the cathedral's fabric, visitors, and the spiritual and communal life of the church. Furthermore, they have had to contend with the challenges of differing attitudes to specific cathedral spaces over time and they described what is happening within the crypt, especially the western exhibition space, to illustrate this.
For St Martin's church, as part of his presentation Dr Charles Insley (University of Manchester) considered briefly what may have been the early history of the church, while Jackie Eales introduced the audience to Mabella, Lady Finch through her instigation of a funeral monument in the church porch to her husband Sir John Finch. For as well as outlining Lord Finch's long and at times troubled career, Jackie was able to highlight the importance of this royalist wife and clerical daughter in Civil War Canterbury.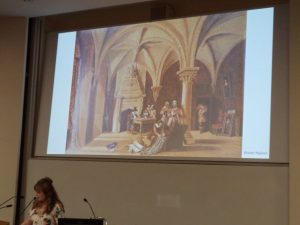 A depiction of sequestration, a fate suffered by Lady Wootton
Turning finally to St Augustine's Abbey, the audience were treated to presentations on the foundation and development of the abbey from 597 to the Norman Conquest by Charles, the local benefactors of Lady Wootton's extreme difficulties between 1643 and 1649 by Dr Charlotte Young (VCH Northampton), while Dr Ralph Norman (CCCU) discussed what the foundation and architecture of St Augustine's Missionary College can tell us about the political, religious and social upheavals of the mid-1840s. These were all fascinating, but I was especially struck by the potential of Charlotte's project to unlock exciting discoveries about attitudes towards domestic furniture and furnishings among the 'middling-sort' in mid-17th century provincial society.
However, it was not solely historians who considered St Augustine's, and Howard Griffin and Jane Lovell provided ideas about how historic buildings have been employed through lighting spectacles as a way to interpret their histories in innovative and affective ways. Later yesterday evening they demonstrated this using the ruins at St Augustine's.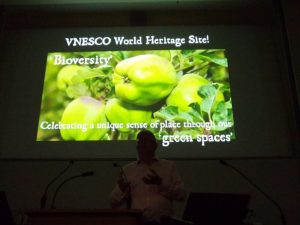 Peter and the CCCU orchard
As a geographer, Professor Peter Vujakovic similarly took a different approach and he treated the audience to a great presentation on 'linking the global to the local through biodiversity'. Reflected in some of the A – Z entries, Peter took us through how the sustainability agenda and the desire to engage life scientists and geographers with heritage has meant that there is now an orchard on the North Holmes (UNESCO site) campus with rare varieties of apples and Kentish cob nuts. There is also a hop garden, the hops used to brew a 'heritage ale' at The Foundry micro-brewery in Canterbury. Furthermore, Peter and his team celebrate the plants – ivy, valerian, that grow on the campus' ancient walls – urban cliffs, the ivy, in particular, providing a microhabitat for hover flies, honey bees, spiders, hornets and the ivy bee.
To round up the conference (and the blog), Mike Butler drew out what he and Dean had seen as the key points and common ground, but perhaps the most valuable part of the conference was communication, for conversations had been started among those present which hopefully will bear fruit for Canterbury UNESCO World Heritage site long before another thirty years have passed.