Professor Peter Vujakovic's brainchild, the Heritage A – Z, has now reached 'Q' is for Queen Eleanor of Provence, and you can read a fascinating piece by Professor Louise Wilkinson, with some lovely illustrations at: https://medium.com/the-christ-church-heritage-a-to-z
For those who have only just come across the blog (and obviously everyone else), there are still some places available for Peter's and Professor Jackie Eales' conference on Friday 24 and Saturday 25 May on 'Celebrating Thirty Years of the Canterbury UNESCO World Heritage Site'. For programme details and how to book, see: https://www.canterbury.ac.uk/unesco-canterbury or call 01227 78299.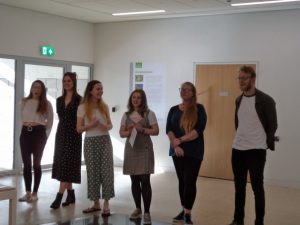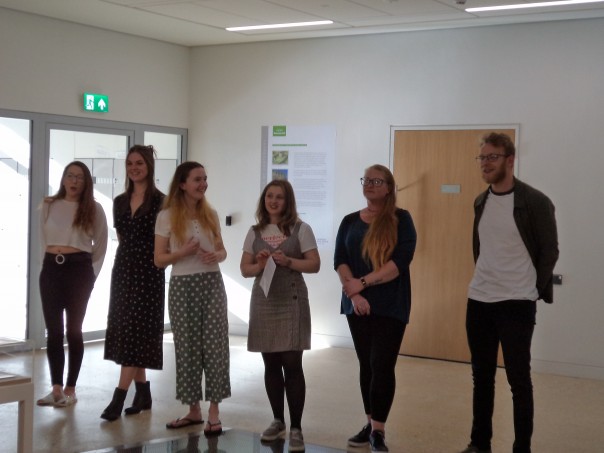 The MA students after giving their presenations
Linked to these events, last night I attended the opening of the MA students' exhibition in the new Arts building at CCCU on different aspects of Canterbury fascinating and exciting history. As Jackie said in her introduction, this is the first year History has had taught MA courses and, in addition to the students' regular coursework, six had volunteered as part of the employability element to undertake individual projects following a brief composed by Jackie and Louise. This required them to research and create an exhibition poster on a prescribed Canterbury history topic, and finally to give a presentation to staff, their peers and family, which is what I witnessed yesterday. Talking to the students beforehand, and even more after the presentations, they all agreed that it had been a rewarding and enjoyable experience, and it is likely this will become an annual event, thereby gradually building up a comprehensive history of Canterbury.
Both the poster display in the Daphne Oram building and the students' presentations followed Canterbury's history chronologically and I'll do the same here. Consequently, our first speaker was Josh Rhodes whose poster features the history of Canterbury's second castle built in the late 11th century. As Josh explained, he loves castles which meant this was an ideal topic from his perspective especially because he has found that many people living in and around Canterbury are often unaware of its existence. For even though it is now a shadow of its former self – the top floor having been destroyed when the city authorities tried to blow it up before turning it into a coke store for the city's gas works – it was once on a par with The White Tower in London.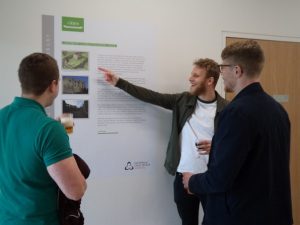 Josh explaining the early castle to his fellow postgrads
For his presentation, Josh decided to concentrate of the castle's use as a prison for the county (which had included the city and liberty of Canterbury until the city became a county in its own right through Edward IV's charter, thereafter the city's Westgate prison holding those tried at the city's own quarter sessions as well as continuing to be used for those involved in Canterbury's petty sessions) and he gave examples of several 'colourful' 14th-century prisoners, including a particularly nasty felon called William from Dartford whose crimes involved robbery, abduction, grievous bodily harm, and who seemed to have a personal vendetta against Strood. Others he mentioned were murders and horse thieves, as well as the Master of the Knights Templar at a time when the Order was under critical scrutiny in England and abroad.
Having worked as Louise's research assistant on this project, Josh believes this history, as well as the castle's others uses means that it should have a far more central place in Canterbury's story. Jackie reiterated this view and said that she, Louise and Connie Nolan (CCCU Business School) are working with the city council to see if something can be done both to conserve the ruins and to open them again to the public.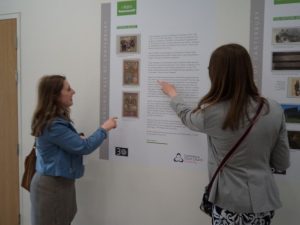 Poppy and Louise Wilkinson discuss royal pilgrims
After the applause for Josh had died down, Jackie introduced Poppy Osborne whose poster featured Thomas Becket – life, death and afterlife as the premier medieval English saint. Poppy mentioned the early years of the cult following the murder in 1170 and canonisation in 1173, then, after the fire in 1174, the programme of major rebuilding of the Trinity Chapel with its great miracle windows and culminating in 1220 with the Translation of St Thomas of Canterbury to the new shrine. Concentrating firstly on the many royal pilgrims who visited the shrine or who facilitated this for foreign monarchs, Poppy highlighted the many and expensive gifts these royal devotees offered, including vast numbers of beeswax candles. Nor, of course, were these the only pilgrims, and Poppy noted how Chaucer's Canterbury Tales provides ideas about the sheer variety of people who came to St Thomas seeking healing miracles but also for many other reasons. This was a nice coincidence because in Peter's A – Z yesterday it had been 'P' for Pilgrims. Nevertheless, as Poppy concluded, this had come to an end in 1538 when Thomas Cromwell, as Henry VIII's leading officer, saw to the destruction of the shrine and the carting away of its valuables to the king's storehouses in London.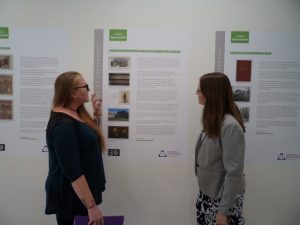 Sharon points out how the college developed to Louise Wilkinson
Poppy similarly received great applause and our third speaker, Sharon Ardley, took us across the road from Canterbury Cathedral to another part of the UNESCO World Heritage Site: St Augustine's Abbey. To provide the context for her poster on St Augustine's Missionary College, Sharon offered a short summary of how St Augustine's Abbey came into being, some of the abbey's early benefactors, its dissolution as part of Henry VIII's Reformation, the buildings' use as a minor royal palace – Henry VIII and Anne of Cleves; Charles I and Henrietta Maria stayed there, later residents including the Hales family, its decline to become a dubious place of recreation, including cock fighting, and finally its rehabilitation once it had been bought in 1844. Its 'saviours' were Alexander James Beresford Hope, William Butterfield and the Rev. Edward Coleridge, and through their efforts the buildings were restored and it became a missionary college that sent out trained clergymen to all parts of the British Empire and beyond. Often these students went back to the lands they had come from to spread world-wide Anglicanism, and, as Sharon said, she had greatly appreciated the opportunity Jackie had given her to see the plaques at the former college which provide biographical details about many of these individuals.
For even though the college was revived after the Second World War (it had had to shut following enemy bombing in 1942), it finally closed its doors as a training college in 1967 and the site was taken over by the King's School, and today Fyndon Gate is a highway for King's students going between St Augustine's and the cathedral precincts' main school site.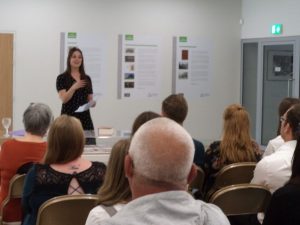 Jessica discusses why the Baedeker Raid took place
After another great round of applause, Jackie thanked Sharon for filling in the gaps between the Reformation and WWII because the final three presenters had looked at different aspects of the Baedeker Raid in early June 1942 and its aftermath. Jessica Newberry's poster explores the context of the raid and why Canterbury was seen as an appropriate target by the Nazis. She elaborated on this for her presentation, pointing out that Canterbury was one of several historic cities hit in this way, others include Exeter and Bath, why this had happened, the reason for the term 'Baedeker Raids' and the level of damage and loss of life that occurred in Canterbury. As she said, this could have been far worse but for the bravery of the voluntary fire watchers and others, albeit in some areas such as Burgate and St George's a sizeable proportion of the buildings were destroyed or severely damaged.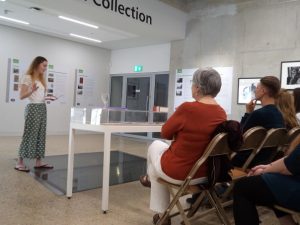 The audience listens intently to Phoebe's presentation
The audience having thanked Jessica, her presentation nicely dovetailed with Phoebe Neyton's because she has researched the community's response during and immediately after the raid. Bob Richards, who was in the audience, has very kindly let the students use his extensive archive of photographs of Canterbury from this time, and several of these are reproduced on Phoebe's poster. For her presentation, she outlined the defensive preparations for such a raid that had begun over a year beforehand. These had involved the setting up of the Citizens Fire Patrol and teaching residents what they should do in the event of a raid, as well as preparations concerning emergency accommodation, the provision of food and water, and other utilities. In part this was necessary because there were considerable numbers of empty buildings, especially in the commercial sector, and these posed potentially a great fire risk. Thus, in many ways the city was ready when the raid occurred and there was also a tremendous spirit to ensure things got back to normal as quickly as possible. In this Canterbury was remarkably successful, and, as Phoebe said, only just over 2 working days were lost, people returning to work almost immediately. This spirit was also recognised at the time, on Phoebe's poster there is a quote from Dean Hewlett Johnson which typifies this contemporary reaction.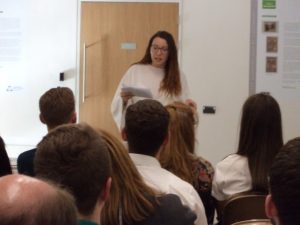 Megan outlines the post-WWII plan for Canterbury
Again, the audience showed its appreciation, which brought us to the final speaker. Megan Sharpe has similarly made excellent use of Bob's photographic archive, looking at what came next in the aftermath of WWII when the city, at least in part, was rebuilt and then rebuilt again, as in the case of the Whitefriars development. Indeed, the war to a degree gave the city council an opportunity to continue its earlier policy of what it saw as modernising the city, even though the city was not a governmental priority. Even though the cathedral had survived due largely to the bravery of the fire watchers on the roof, who have now been honoured with a memorial in Canterbury Cathedral, other areas were less fortunate. Among the casualties were the almonry hall at Lady Wootton's Green, St George's church and the Guildhall. Prefabs were needed to house those who had lost theirs, some of these continuing to serve as homes for well over half a century and an ambitious plan of regeneration for the area up to and just beyond the city walls was hotly debated in the 1950s and 1960s. Some of this was carried through but in the end only part of the ring road was established.
After thanking Megan for her fine presentation, Jackie asked for questions to all six speakers, and after a short discussion and final round of applause, everyone went back to looking at the posters, talking to the presenters and drinking the beer and wine provided. Thus concluded a splendid event, and the posters will remain on display next week if people want to view them.