Women's History Month – gender matters in the workplace
Now that it is just a week away, I thought I would highlight Paul Bennett's annual Frank Jenkins Memorial Lecture on Saturday 23 February at 6pm in Old Sessions House. As Visiting Professor in the Centre and Director of Canterbury Archaeological Trust, it is always excellent to hear about the work of the Trust, and this year I expect two of the key sites will be in Canterbury: Slatters Hotel and Canterbury Cathedral. This event is another joint enterprise involving the Centre, the Friends of Canterbury Archaeological Trust and the Canterbury Historical and Archaeological Society. All welcome to attend, so please come along.
Rather than any particular events this week, it has been more a time of exploratory discussions and planning. I believe Professor Jackie Eales has been working on the UNESCO conference details and the programme is now up, with tickets going on sale from 18 February www.canterbury.ac.uk/unesco-conference . The dates of the conference are Friday 24 and Saturday 25 May, and there are other events taking place around that time too. In addition, there will be an online A – Z released Advent-calendar style, which will feature aspects associated with the three parts of Canterbury's World Heritage site. Contributors are busy putting together their short articles and sending them to Professor Peter Vujakovic (Geography).
Professor Louise Wilkinson, as well as fitting in finishing her book and teaching, is also working with those in London and other cathedral cities on preparations for Becket 2020, including a public event with Dan Jones and possibly the BBC, as well as a celebration of pilgrimage and English cathedral saints more broadly, not least because there are important anniversaries in 2020 for Hugh of Lincoln and Thomas Cantilupe of Hereford, too.
Interestingly, two medieval hospital projects may be on the cards at Canterbury and Dover, and I have been at exploratory talks for both, which is potentially very exciting; while Dr Diane Heath is making good progress regarding getting a funding bid together for her medieval animals' project. Then on Tuesday she and I met up with Maxine Owen regarding putting on an event as part of the Women's History Month celebrations at Canterbury Christ Church. Indeed, we may stage two events, a book launch of Gender in Medieval Places, Spaces, and Thresholds, which I featured in the blog a couple of weeks ago: https://blogs.canterbury.ac.uk/kenthistory/medieval-gender-studies-book-launch-and-canterbury-castle/ and a workshop. We don't yet have a date for the book launch, but the workshop will be on Wednesday 20 March between 1.00 pm and 2.00 pm because I'm a great believer in using primary documents whenever possible. Consequently, the workshop will provide an opportunity for staff and students to examine and explore ideas about 'Women in the workplace in medieval times' using sources from Canterbury, and perhaps Kent, I haven't yet finalised the selection.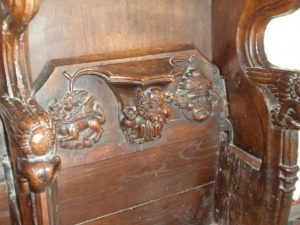 Woman with distaff, Minster in Thanet
Among the documents will be wills, so today I thought I would give you just a flavour of what I might have chosen if I had been focusing on later 16th century Canterbury for the workshop. These snippets illustrate some of the work activities women undertook when we are thinking about employment in today's terms, but it should not be forgotten that organising the domestic side of the household was equally valued, as anyone who has read/seen the Townley Second Shepherds Play will know!
Generally, I'm working chronologically, and my first extract comes from the will of John Whytehed of St Mary Northgate parish in 1553. He mentions a son who was an apprentice in London, as well as Alice Richard 'my maiden [servant] and apprentice' who received a bequest of 26s 8d and 'convenient' clothes provided she finished her apprenticeship.
Probably at the other end of her working life was a woman mentioned in Richard Hewes' will. Although from St Paul's parish, in 1555 he wished to be buried in St Mary Magdalene's church at the head of Margaret his late wife, while Owen his son was to see to the poor woman who had looked after Richard, presumably as his nurse, and recompense her honestly for her pains.
Not the King's Mill, but probably Westgate Mill
Keeping with the idea of working within what we would now call the medical professions, and important in the current emphasis on STEM, Rafe Prescott the parson at St Mildred's left all his books of 'phisic' and surgery to Joan Raynforde his cousin, and she was also to receive all the items in a specific chest, as well as a gallon of honey.
Honey, of course would have been valued beyond its medicinal purposes, and keeping with the victualling trades, Thomas Dodson of All Saints parish intended that his wife should have his lease of the King's Mill from the civic authorities, thereby allowing her to continue the family business of milling at the most prestigious mill in the city.
As you might expect, women, especially widows, were often inn keepers, and among these during this period were Agnes Swyfte of Holy Cross who had The White Harte and Mistress Fysshar 'of The Lyon'. I haven't checked, but this might be the inn owned by the city which it leased out. It was sited next to the Guildhall [today Costa coffee shop], the inn itself occupying pretty well the full length of Guildhall Street.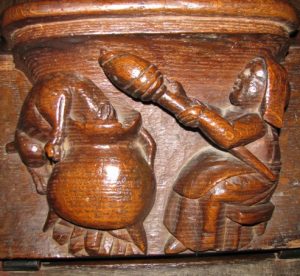 Another medieval misericord showing woman with a distaff, Fairford [photo Imogen Corrigan]
Spinning has been linked to women for centuries, indeed Eve was often portrayed with her distaff as Adam has his spade. Although this as a work occupation is far less tied to a specific workplace – spinning was one of those flexible tasks that could be done in conjunction with household or other activities, as Gill in The Second Shepherds' Play reminds her husband. However, equally it was for some women a vital and probably full-time occupation. Among those who remembered his spinners was John Heathe, a prosperous clothier in St Paul's parish, who wanted his executors to give each of his spinners then working for him a yard and a quarter of russet cloth.
The relationship between some of Canterbury's wealthy widows and their poor 'sisters' was acknowledged by some, including Elizabeth Bassacke of the central parish of St Andrew's. She was a stationer by occupation and among her charity bequests was 4 frieze gowns ready made to be given to 4 named poor women, including Mother Liverocke. Others helped by remitting part of a debt owed, as in the case of another widow. Jane Grene of St John's hospital, who seems to have continued working from inside the hospital, wished her executors to forgive Richard Brodes' wife most of the 4s she owed for a new sheet provided she paid 16d towards Jane's burial.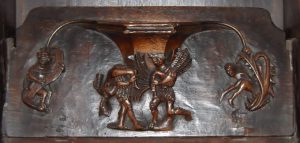 The dishonest ale-wife – Ludlow misericord [photo Imogen Corrigan]
Finally, some women sought to help the next generation of workers. For example, Margaret Gilbert of St Mildred's parish was concerned that the two children she 'kept to school' should receive cash bequests, and the very unusual thing about this was that they were girls – Mary and Elizabeth Duffield were each to receive 10s. Also from the same parish, Katherine Benchkin included a bequest of £300 to her stepson James, but this was a reversionary gift and in the event of his early death the money was to be in the mayor's hands to help entrepreneurs in the cloth trade. Consequently, the civic authorities were to lend out up to a maximum of £50 at any one time, the recipient receiving this interest-free loan for 4 years provided he [although it does not say women were ineligible] could fine 2 sureties for the debt. The borrower, having established himself in Canterbury among those engaged in woollen cloth enterprises, would repay the sum after 4 years and thereafter another recipient would be found. Such philanthropy within a business scenario was good for these individuals, but, equally as a Canterbury businesswoman in her widowhood, Katherine can be seen as aiding the city's economy, which demonstrates an awareness well beyond the domestic sphere.
If this sounds intriguing and you are at Christ Church, do come along to the Centre's two events, as well as others that Maxine is organising as part of Women's History Month, we will be delighted to see you.