First of all – advance notice that on 3 January 2019 the essay collection edited by Drs Diane Heath, Victoria Blud and Einat Klafter on Gender in Medieval Places, Spaces and Thresholds will be available 'in all good bookshops', or you can pre-order now at: https://www.sas.ac.uk/publication/gender-medieval-places-spaces-and-thresholds . Published by the Institute for Historical Research, it will also be available to download at: http://humanities-digital-library.org/index.php/hdl . To celebrate this excellent event, the book will be launched at the Gender and History conference at Durham in January, with a follow up launch at Canterbury Christ Church because of the involvement of CCCU historians and that the book comes out of the Gender and History conference held here in 2017.
For the remainder of what I hope will be a shortish blog, I'm going to 'remember' a few of the Centre's highlights from 2018. This is just the tip of the iceberg, but before I get to it I want to mention as many people as possible who have contributed to the Centre's 2018 successes, and apologies if I miss anyone out – just get in touch and I'll amend the report accordingly. Firstly, the Centre's two directors: Professors Jackie Eales and Louise Wilkinson, with the sterling efforts of Dr Diane Heath, and the work of Matthew Crockatt (website), Ruth Duckworth (box office) and Craig Dadds and his team (CCCU Bookshop), as well as Dr Harriet Kersey and Dr Martin Watts, – all of you have been splendid. In addition, several of the Associate Lecturers have been major helpers, especially chairing various conference sessions: soon-to-be Dr Abby Armstrong, Drs Seb Browne, David Budgen, and Pip Gregory, as well as her sister Nikki (used to work in CCCU library), as well as several staff members: Drs John Bulaitis, Paul Dalton, David Grummitt, David Hitchcock and Ellie Williams. From outside CCCU, the efforts of the Centre's regular conference reception manager, Mary-jane Pamphilon; additionally, Professor Paul Bennett (Canterbury Archaeological Trust), Karen Brayshaw (University of Kent), Imogen Corrigan (author and professional lecturer, and one-woman publicity distributor), Lyndsay Ridley (The Canterbury Tales) and Cressida Williams (Canterbury Cathedral Archives and Library) all deserve major thanks for their considerable contributions during the year. Also, I have been very fortunate to have had the help of several present and past CCCU undergraduates – Michael Byrne, Fleur Eden, Victoria Mitchell and Edward Younger, as well as some of the Kent History postgraduates who have assisted at the Centre's outreach events in 2018. Moreover, before I conclude this section, I want to mention by name these postgraduates who have voluntarily formed a seminar group to discuss their individual Kent History projects in a great spirit of collective discovery – Janet Clayton, Jacie Cole, Kevin Field, Lily Hawker-Yates, Dean Irwin, Rebecca Jarvis, Peter Joyce, Andrew Leach, Maureen McLeod, and Jane Richardson.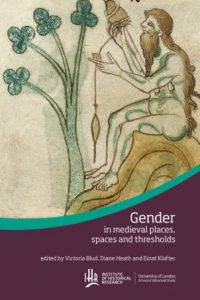 A splendid book cover!
Ok, so these are my top seven highlights and in no particular order, although I think it is only right to start with the Medieval Canterbury Weekend 2018 because we sold not far short of 2000 tickets, it generated the largest surplus of the year that went to the Ian Coulson Memorial Postgraduate Award fund, and the buzz around Old Sessions throughout the Weekend was palpable. As organiser you don't really hear (m)any of the talks, but as before the feedback from the public was exceedingly positive for a very varied programme – plenty of opportunities to 'pick-and-mix' within and across topic areas, and I greatly enjoyed showing people around St John's medieval hospital and, as a first, the two surviving buildings of Canterbury's Dominican (Blackfriars) friary. For those of you new to the blog, or who would like a reminder, this is the blog report: https://blogs.canterbury.ac.uk/kenthistory/the-medieval-canterbury-weekend-comes-to-town/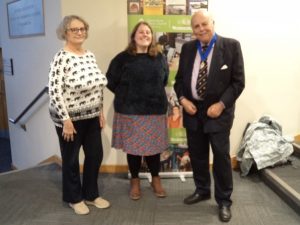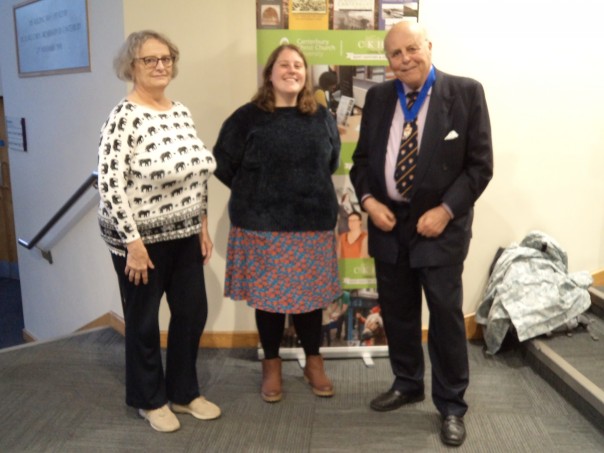 Two of the Ian Coulson Award winners this year
My next, and here I'm going to cheat, is the Centre's engagement in educational activity workshops for young people, which means I'm going to mention several under the one type of event. For we have had story-telling, some of which involved dragons and other animals, 'Anglo-Saxon brooch' making, 'medieval tile' making and working with skeletons. The latter involved Ellie Williams and also allowed us to get to know the Young Archaeologists' Clubs of Kent, which was an added bonus. To find out more, check out these posts:
https://blogs.canterbury.ac.uk/kenthistory/young-archaeologists-as-part-of-mcw2018/
https://blogs.canterbury.ac.uk/kenthistory/medieval-canterbury-weekend-2018-is-almost-here/
https://blogs.canterbury.ac.uk/kenthistory/showcasing-medieval-faversham-and-beckets-miracle-windows/
https://blogs.canterbury.ac.uk/kenthistory/young-medievalists-and-medieval-animals-in-canterbury/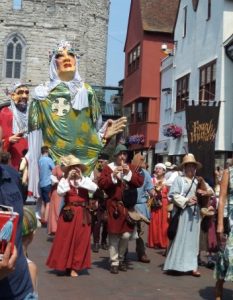 Giants at the Medieval Pageant in Canterbury – the Centre was involved in that too!
Moreover, as well as the 'Young Medievalists' Corner' that was a feature of the Centre's collaboration with Faversham Town Council and funded by a Heritage Grant from Swale Borough Council, I want to mention the 'Medieval Faversham' exhibition at 12 Market Place in the centre of Faversham, the Town Council's new 'Heritage Hub'. Creating and producing the exhibition was great fun, not least because it was a 3-person project involving Diane Heath, Harriet Kersey and me. It was also nice to 'get back' to Faversham again having worked on the medieval town records fairly briefly when I was researching late medieval devotion in terms of the 'painted pillar' in St Mary's church there. The exhibition on Medieval Faversham has been on display for much of the time between July and today, and we are very grateful for all the assistance of Cllr Nigel Kay, Louise Bareham, Town Clark, and Dr Pat Reid of Faversham Society Archaeological Research Group who has master-minded the archaeology display at the exhibition. I'm not sure what is due to happen to the exhibition in 2019, but hopefully it will continue to be on show between temporary special exhibitions. Again to give you a flavour:
https://blogs.canterbury.ac.uk/kenthistory/humans-and-animals-in-faversham-and-margate/
My next is the 'Maritime Kent through the Ages' conference which was a major hit with the public last June. This was a collaborative venture, something the Centre likes doing and, even though I say it myself, is good at! On this occasion we were working with the Royal Museums Greenwich and Kent Archaeological Society. We had a stunning array of speakers, including international experts on all thing maritime in the Middle Ages in Distinguished Professor Maryanne Kowaleski, but perhaps the greatest highlight was Dr Christopher Young's fantastically clear and detailed assessment of the changing coastal topography and environment of Kent from post the last Ice Age until the present day. The success of the day has meant that we are now organising a volume of essays under the same title and all the potential contributors are now in place – watch this space! In the meantime:
https://blogs.canterbury.ac.uk/kenthistory/canterbury-postgraduates-and-maritime-kent-conference/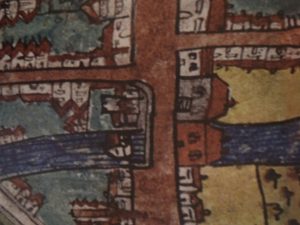 A section of Canterbury Cathedral archives & Library Map 123 [dated c.1642]
While it would be great to mention other one-day conferences, such as the joint 'Tudor and Stuart Canterbury' conference with the Kent History Federation or the 'Exploring Kentish Naming Practices' with the Kent Archaeological Society, I want to record the Centre's role in another type of event – a stand-alone lecture where the Centre welcomed staff, students and the public. Again, I'm spoilt for choice, from Professor Michael Wood to Professor Peter Vujakovic, but I'm going to go with the Annual Becket Lecture given by Dr Rachel Koopmans (York University, Toronto). Rachel's and Leonie Seliger's (Canterbury Cathedral Stained Glass Workshop) work on the Becket Miracle Windows is ground breaking, and, moreover, this is only the early stage of what is an amazing project that will vastly enhance our understanding of medieval ideas about saints, relics and pilgrimage:
https://blogs.canterbury.ac.uk/kenthistory/canterbury-pilgrims-and-anglo-saxon-cemeteries/
My sixth involves a different sort of collaboration. For the future, Diane Heath is working with Dr Alison Youd in Education here as they create a 'Medieval Animals' project with Penny Bernard, based around Diane's doctoral and post-doctoral work on the medieval bestiary. However for now, I want to mention the Centre's involvement with the 'Being Human' Festival this autumn under Professor Carolyn Oulton's overall management. The particular aspect that the Centre contributed to was to the 'Walk through the Walls' tour for an audience of students, staff and public. For this I worked with Drs David Hitchcock (History) and Chris Price (Music), who brought along some of his talented choral musicians. I understand from Carolyn that the film of these and other Festival events organised by Humanities will be available soon, but for the time being here is the report:
https://blogs.canterbury.ac.uk/kenthistory/being-human-in-canterbury-with-the-becket-lecture-next-week/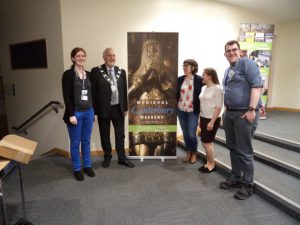 The Sheriff of Canterbury and CCCU's great History students
Now being a medievalist, I have to use the number seven, and my seventh is the master classes provided by Dr David Starkey this autumn. I know I have said it before, but it was great watching how he took a mixed group of postgraduates – from those who are in the final year of their doctoral studies on medieval history to newly-started students doing a taught Master's degree, including one young man who is working on modern history but who has an interest in the Tudors – through the different research processes. Thus he took them through how you devise a research project, how you explore the documentary sources, how you analyse what you find without letting your preconceptions cloud your judgement, and how you take those findings to write history – moving beyond 'so what' to answering meaningful research questions, as well as throwing up more questions at the same time, all through his case study of Henry VII's chamber finances – fantastic:
https://blogs.canterbury.ac.uk/kenthistory/michael-wood-on-canterburys-anglo-saxon-treasures/
Finally, I cannot sign off for this year without thanks all our various lecturers – too numerous to mention by name, and our audiences – who have helped to form the Centre's vibrant community of people interested in and excited about history. And now it only remains for me to wish you all a very Happy Christmas wherever you are and whatever your ideology and beliefs. I hope you will continue to read the Centre's blog over the coming months and we wish you all the very best for 2019.