I must admit I thought the Centre was busy in October, but things really move up a gear in November. Starting with the event in the Powell Building next Friday to mark the centenary of the signing of the Armistice that Dr Martin Watts is heavily involved in. For details of the talks, readings and music, please call 01227 922994. The following week will see Professor Louise Wilkinson speaking to Canterbury Historical and Archaeological Society on 'Women and chivalry' in Newton, Ng03 at 7pm on the Wednesday and then on Saturday 17 November will be the 'Exploring Kentish Naming Practices' conference (with Kent Archaeology Society) www.canterbury.ac.uk/kent-names .
With hardly a moment to draw breath, the week after will see the Centre working with Dr David Hitchcock as part of the 'Being Human Festival' to deliver a guided walk on Tuesday 20 November through Canterbury highlighting matters of 'vagrancy, revolt and treason' in the city's past – see David's tweets: @Hitchcockian with further events at Folkestone and Margate – check out @BeingHumanFest The last week of November brings a further two events, Dr Rachel Koopman's 'Becket Lecture' on Tuesday 27 November at 6.30pm in Powell Lecture Theatre, where she will discuss her and Leonie Seliger's exciting, new discoveries in one of the Becket Windows. Two days later, the Centre will join the Friends of Canterbury Archaeological Trust to bring to staff, students and the public Keith Parfitt's (Canterbury Archaeological Trust) resolution of the mystery of a lost Anglo-Saxon cemetery at Old Park Hill, Dover. Please do book (if required) and come along to these events if they look interesting to you, we would be delighted to see you.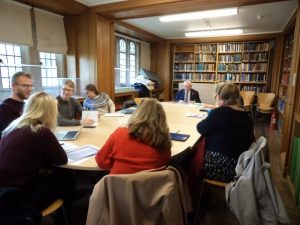 David Starkey's second master class
Before I return to the theme of Anglo-Saxons, I just want to draw attention to the second very successful master class that the Centre organised this week that was led by Dr David Starkey. As I said last week, Cressida Williams at the Canterbury Cathedral Archives and Library kindly hosted the seminar and a similar number, albeit not all the same people, gathered in the Archives seminar room on Monday. The previous week David had taken the CCCU History postgraduates through the intricacies of the historiography concerning Henry VII and this week he worked through a series of documents, primarily from The National Archives, that opened up a narrative surrounding the workings of Tudor royal finance. For, as he explained at the beginning of the session, he wanted the postgraduates to understand the narrative – the 'real' time sequence of events. For these were taking place both at Westminster where Sir John Heron was treasurer of the Chamber, and with his clerks, who accompanied the king for several weeks, if not months, as he went on his progress (mainly to enjoy good days of hunting). David showed the students how the various accounts were arranged into individual day expenditure, weekly gatherings and weekly totals, monthly totals, and most importantly for his purposes, the quarter day royal audits when Henry and his treasurer met to undertake a grand general checking of everything that had occurred during the previous three months. Moreover, having worked out how this 'paper trail' functioned, as well as the scale of the physical movement of large amounts of coin, David discussed why Henry was doing all of this (the crucial "so what?" question). For it had allowed the king to play an active role in the world of mainland European politics, in particular his strategy to try to bolster the Hapsburg family against the French monarchy of Louise XII.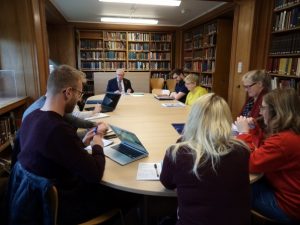 Getting to grips with Tudor handwriting
As David said after the session, it was great to see the 'penny dropping' among the individual postgraduates as they realised both the nature of the narrative, and, most importantly, why it mattered. Thus, his master classes have been very enjoyable, as well as successful, as one of the students said to me afterwards when I met her to discuss post-Reformation wills. Furthermore, David is happy to do the same again for other students, and for those who could only manage one of the master classes this time around.
The second event this week, although no longer a Centre lecture, did involve another celebrated historian. Michael Wood is well known as an expert on Anglo-Saxon history, as well as being a broadcaster and Professor of Public History at the University of Manchester. Furthermore, with the very recent opening of the 'Anglo-Saxon Kingdoms' exhibition at the British Library, it was an opportune moment for him to speak in Canterbury.
There was a packed hall in Augustine House on Tuesday evening when the university's Vice-Chancellor introduced Michael Wood. Michael began by explaining his involvement in the exhibition's creation with other historians and curators from the British Library, although not all the items he had wanted actually made it to the final selection! Consequently, he took the opportunity to highlight his 'top ten' to discuss pivotal moments and developments in the Anglo-Saxon past. Two of these related directly to Canterbury and others had links to the city (in the broadest sense). Now I'm not going to go through all ten, but I will explore these two to give you a flavour of the event.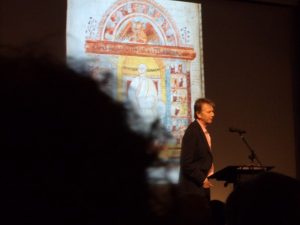 Michael introduces the St Augustine Gospels
His first was the St Augustine Gospels that are at Corpus Christi College, Cambridge due to Archbishop Parker's activities. For it is thought that there is a good chance these were brought by Augustine when he travelled to Kent at the behest of Pope Gregory in 597 or were provided for the second mission in 601. Now we know some of the details from Bede, although it should not be forgotten that he was writing more than a century after these events and from Northumbria. Indeed, more recent scholarship has questioned where the impetus for these missions came from, not least because King Ethelbert's Frankish wife was a Christian in the Roman tradition and she and her bishop were said to have worshiped at St Martin's church. Hence, as Dr Andrew Richardson has discussed, 'the Augustinian mission could be viewed as being the result of developing political maturity amongst the Anglo-Saxon polities, and in particular a late-sixth-century Kentish political agenda, as much as the cause of subsequent social change during the seventh century.' ['The Kingdom of Kent to 800', in Early Medieval Kent 800-1220, ed. S. Sweetinburgh (2016)]
But to return to this fabulous late-sixth-century Italian book, it gave those in Canterbury and more broadly a Mediterranean exemplar for the production of texts using this form of writing and illustration. Although not much of the latter now survives, there are still two full pages which give a flavour of what had been there. Of these one shows St Luke seated on a throne with his gospel book in one hand resting on his knee, while he strokes his beard with his other hand, the saint seated between two marble columns and scenes of Christ's adult life. As you would expect the saint's emblem is present, Luke's winged calf similarly has a gospel book, although this time closed resting under its hooves as it gazes out from near the top of the illustration.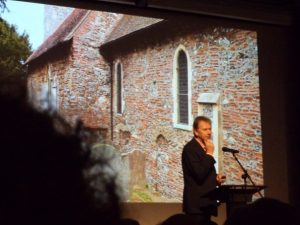 Michael considers the importance of St Martin's church, Canterbury
The second Canterbury-linked topic Michael explored was the formation of the Canterbury School and the flowering of monastic culture due to the arrival and work of Theodore of Tarsus, who was sent to Canterbury from Rome as archbishop in 668. Among his companions was Hadrian, an equally cultured churchmen who had been in Naples having fled from Cyrenaica in north Africa. Hadrian became abbot of the Canterbury monastery, at this time still solely dedicated to SS Peter and Paul, and their partnership, amongst other things, introduced Greek scholarship and greatly enhanced the training of clerics – producing a dynasty of scholars who had studied under them or their pupils.
In many ways it is this human legacy that is the most important, and among these successor churchmen were Bede and Aldhelm, who was first abbot of Malmesbury and later bishop of Sherborne – demonstrating Canterbury's influence in Northumbria and Wessex. This importance of Theodore and Hadrian to England's story is indeed fascinating, and hopefully Michael will return to Canterbury in 2020 to focus on these men and their Canterbury School at the Medieval Canterbury Weekend (Friday 3 April to Sunday 5 April 2020).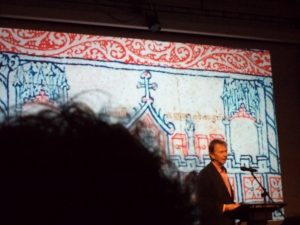 Michael discusses Historia Monasterii S. Augustini Cantauriensis, byThomas of Elmham – shows books on the altar, possibly including the St Augustine Gospels
Like the exhibition, Michael's final selection was the Domesday Book, which is, as he said, a truly remarkable fiscal survey and a fitting climax to the question 'Why did the Anglo-Saxons matter?' because without the work of generations of shepherds and cowherds who tended the flocks and herds of the many great early monastic and minster church communities, such great manuscript treasures could never have been produced.
There was rapturous applause from the audience after Michael's fascinating and beautifully illustrated lecture and following several questions, many members of the audience took the opportunity to have their newly purchased books signed. Thus ended an excellent Canterbury Christ Church event, which brought in people to one of these lectures for the first time – a great success!