The Centre's blog is back! Even though it might have been more of a busman's holiday than a complete break, it was an enjoyable change. For this week, I'm going to bring you up-to-date on the 'Becket mazer' and head over to Lossenham for a spot of digging, but first I want to reiterate information about the 'Kentish Saints and Martyrs' lecture series, as well as mention the Michael Nightingale Memorial Lecture, the pre-Canterbury Festival talk and that the 'medieval Dover' blog for Dr Claire Bartram's IHR Centenary Event is done and ready to go.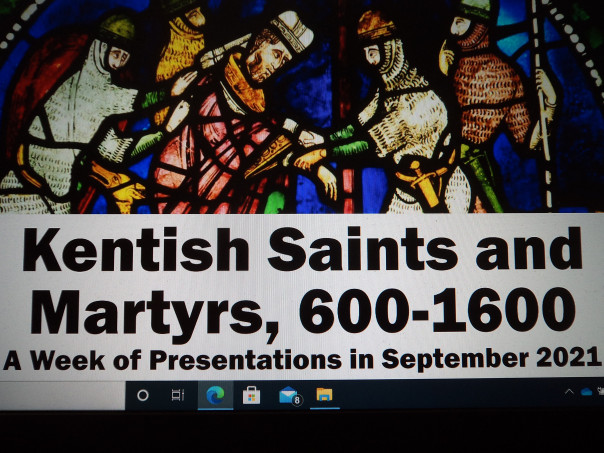 Additionally, Dr Sam Vale's Rambles about Blean Woods is done and has gone off to the publisher. More on that in due course but it is great that the CKHH has made three contributions: Claire's ''Wholly overgrown with woode': County Identity and Environmental Fragility in Elizabethan Kent'; Dr Diane Heath's 'Bears and Ants', and my 'Forest Feasting', all accompanying Sam's gorgeous photographs. While on another note, I don't want to pre-empt some very good news on several fronts which I'm hoping can be released over the next couple of weeks. However, that's all I'm saying right now, so do keep following the Centre's blog!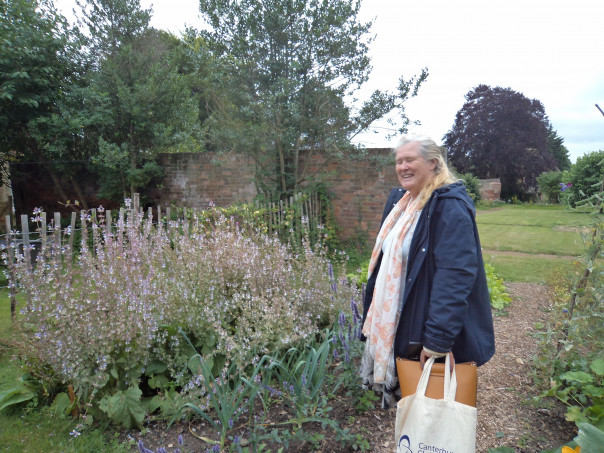 For those in and around Canterbury it was fantastic to see that Joshua Rhodes, a Christ Church MEMS MA graduate from a couple of years ago is managing the Franciscan Gardens as a heritage attraction in the city over the summer. For those of you who don't know the Gardens next to Eastbridge Hospital just behind St Peter's Street (continuation of Canterbury High Street), they comprise a fascinating, mostly newly planted garden that showcases many of the plants that may have been there when Franciscan friars walked around their kitchen gardens and herbarium, gathering flowers, leaves, roots, fruits and whole plants for medicinal and similar purposes. Well done Josh, this is an excellent opportunity for you!
Returning to events involving CKHH staff and working in order through September, do feel free to check out the pre-Festival History Day on Thursday 16 September in St Peter's Methodist church, details at: https://canterburyfestival.co.uk/whats-on/  I'm off to do a bit of extra research for it this Thursday, so many thanks to Imogen Corrigan, an expert on medieval churches including foliate heads, because it is always a pleasure, as well as instructive, to discuss such features with her.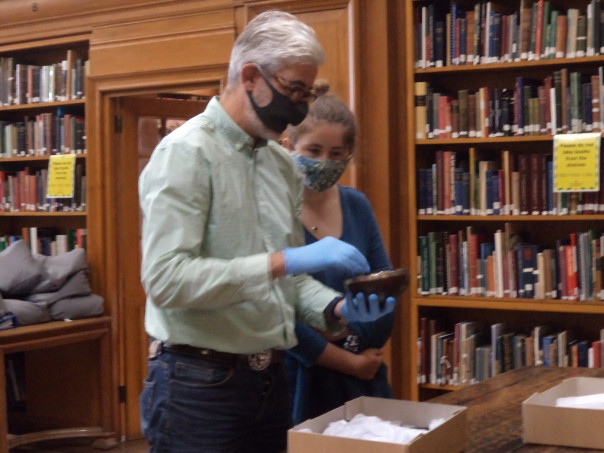 The 'Kentish Saints and Martyrs' public, free talks begin at St Paul's church with Dr Sarah James on Saturday 18 September at 7.30pm and conclude the following Saturday at St Thomas' RC church with Dr Rachel Koopmans. This is a brilliant opportunity for the CKHH to work with Canterbury's churches and to showcase some fascinating features of these saints and their cults. There are posters around Canterbury and please also see the previous blog at: https://blogs.canterbury.ac.uk/kenthistory/kent-history-in-the-news-talks-exhibitions-and-other-events/
Equally great for the Centre is our annual collaboration with the Agricultural Museum, Brook for the Michael Nightingale Memorial Lecture, which also offers a chance to give out Ian Coulson Postgraduate Awards to those studying Kent history. For those who didn't know him and are interested, I suggest you check this out: https://blogs.canterbury.ac.uk/kenthistory/ian-coulson-and-kent/ . As reported Professor Catherine Richardson (University of Kent) will be giving this year's lecture and her title is: 'Bringing historic buildings to life: Working with the Weald and Downland Museum', which is a brilliant topic. I have heard Catherine speak on her work with the Museum before and the insights this immersive research brings are fascinating, not least because Catherine is a leading specialist on early modern material culture of the 'middling sort'. For booking to attend in person this public lecture at the CCCU St Gregory's Centre on Tuesday 28 September at 6.45pm, please contact artsandculture@canterbury.ac.uk and we are hoping to live stream the lecture too. More details soon.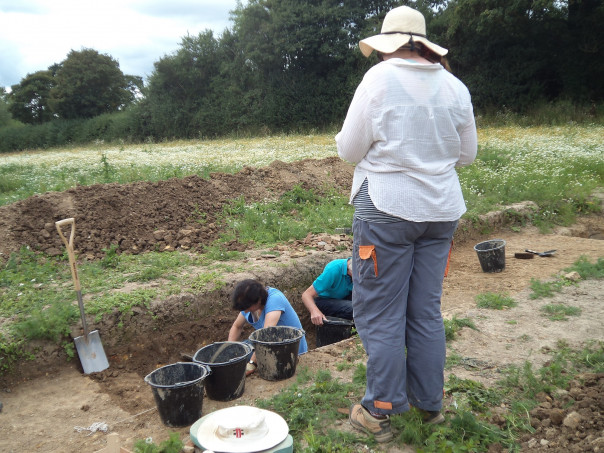 This brings me to the 'Becket mazer' and last week Justin Richardson, a highly acclaimed jeweller and silversmith who became a Freeman of The Worshipful Company of Goldsmiths in 2001 where he has won many craftsmanship and design awards, came round from his workshop in Sun Street, Canterbury to Canterbury Cathedral Archives to cast his expert eye over it. As those who attended the virtual Becket conference in late April this year may remember, in my presentation I was putting forward the proposition that it may have been altered during Victorian times. Consequently, I was keen to know what Justin thought about it, especially the gilded mount for the rock crystal and anything else that might offer clues about when and how this was done. To cut a long story short, not least because it will be in the article I'm presently writing, certain clues do point to this being a feasible proposition, which is very exciting and thanks to Sarah Turner of The Canterbury Journey for allowing this to happen.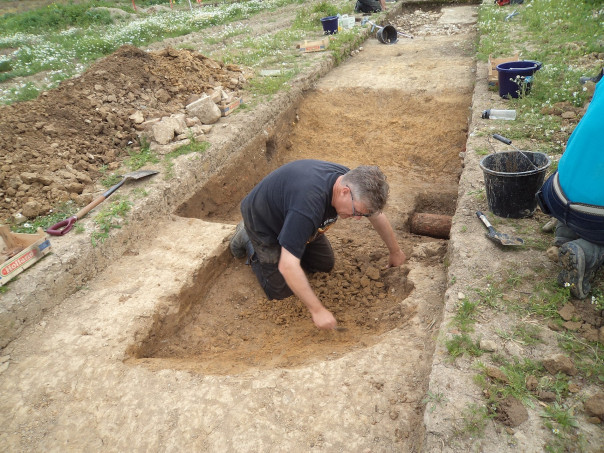 Another exciting development last week was a further period of work on the community archaeological excavation at Lossenham under the leadership of Dr Andrew Richardson and Annie Partridge. Among those taking part were several from the Project's wills group, including Maeve, Sue and Rebecca. Some of you may remember Dr Rebecca Warren from the Tudors and Stuarts History Weekend in 2019 when she very kindly stepped in as a speaker at the 11th hour. Moreover, Rebecca has worked on other excavations in Yorkshire, so it was great from my perspective to have her advice because I'm a total novice – thanks Rebecca. I just spent two days on the dig but because that was near the beginning and towards the end, I was able to see the sort of finds that were coming out of the various trenches. These included glazed tile, pottery and animal bone, which is hardly surprising for a medieval site, but nevertheless good to know.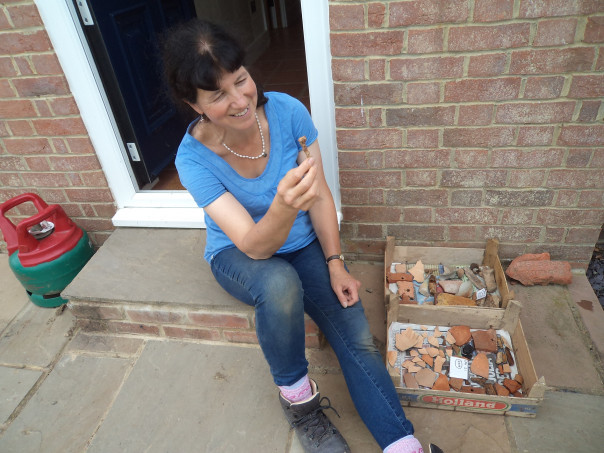 From my perspective, it was also good to meet the other volunteers, these included people from Newenden and the surrounding area as well as from various archaeological groups. Furthermore, as a way of introducing the dig to the community Annie had a stall at the annual Newenden Dog Show and Fun Day last Saturday, which was an excellent idea. The finds on display were the ones that had come out of Rebecca's trench – see photo.
The team will be back on site in September but before then the Project wills group will have met online to take stock of how things are progressing, so please watch out for this in a fortnight's time.