As this is the last blog from the Centre before a three-week break, I thought I would mention some events that will be taking place across the county before turning to short notices on what has happened this week, including the last Kent History Postgraduates group meeting of this academic year.
Following on from Dr Ben Marsh's lecture last week, his co-author in Maritime Kent through the Ages Professor David Killingray will be speaking at the online BALH event this Thursday 29th July at 7pm. This is the website for further details on 'Marginalised Lives in Localities'and how to book: https://www.balh.org.uk/event-balh-balh-local-history-hour-marginalised-lives-in-localities-2021-07-29 and it promises to be a fascinating hour.
You can also learn more about Black history in Kent from David's forthcoming article: 'The presence of Black people in Sevenoaks, 1600-1950', which will be in the October edition of The Local Historian.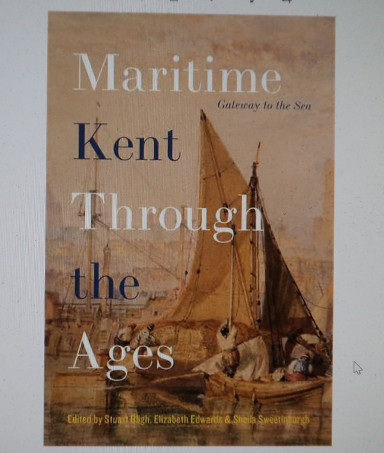 Moving to September, I have been asked to pass this on because it may be of interest to people in Canterbury. The Canterbury Festival is having a pre-Festival History Day with two talks on very different topics. These will be taking place on Thursday 16 September in St Peter's Methodist church, one in the morning the other in the afternoon. So you can come and find out about ''To move the mind': Reading Salvation in the Late Medieval Parish Church' from me in the morning, and then 'move' to Ancient Egypt to learn about 'Nefertiti, Queen and Pharaoh of Egypt: Her Life and Afterlife' from Professor Aidan Dodson, honorary Professor of Egyptologist at the University of Bristol. More details and how to book are available here: https://canterburyfestival.co.uk/whats-on/
September will be a busy month because we also have the Centre in collaboration with Canterbury's churches for the series of seven presentations on 'Kentish Saints and Martyrs' that had to be cancelled in 2020. I am very excited and this is the proposed programme that we hope will take place in person in various Canterbury churches for at least some of the talks. Those that cannot, will be online through CCCU and we will let people know nearer the time – please do check the blog and church websites.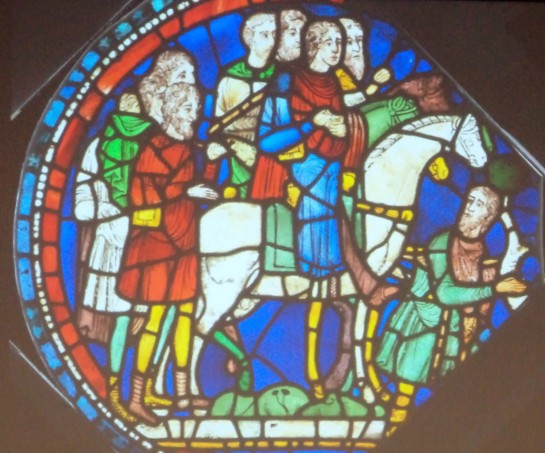 Starting on 7.30pm (the same time each evening) on Saturday 18 September, Dr Sarah James will speak on 'An Introduction to the Cult of Saints'. She will offer answers to many of the questions the topic raises by ranging across theology, topography, material culture and even bodily dismemberment, using examples from the cults of Kentish saints, as well as some from further afield. Then on Monday 20 September Dr Diane Heath's lecture is entitled 'Ox jawbones and Blacksmith's tongs: Saintly Bishops in Early Medieval Kent' where she will explore why and how early medieval archbishops of Canterbury had a better than even chance of becoming a saint. Our third speaker on Tuesday 21 September is Dr Ralph Norman who will concentrate on a single saintly archbishop to examine 'St Anselm's philosophical legacy' and why Anselm's ideas have an enduring life today – not just as an intellectual artefact of the medieval mind, but as a perennial element of philosophical argument. On Wednesday 22 September, I'll consider 'The Importance of Locality and Identity in the Cults of Kent's Early Medieval Female Saints' including the 11th-century and later history of St Mildred's relics which offers a fascinating case study of how Canterbury's religious houses fashioned their institutional identity through "imaginative memory". For Thursday 23 September, Dr Doreen Rosman will turn to 'Conflicting Convictions:  Martyrs of the Sixteenth Century' to discuss those martyred during the reigns of Henry VIII and his daughters, as well as how attitudes have changed towards these men and women in modern times. I'll be returning on Friday 24 September to investigate 'In Becket's shadow: late medieval Kentish minor and failed cults', and how some of these cults may not always have developed quite in the way their initiators intended. Finally, on Saturday 25 September Dr Rachel Koopmans will examine 'The Role of Clothing in Thomas Becket's Life and Cult' to assess the critical role of clothing in Becket's cult, both in terms of how Becket's dress was viewed during his life and how his clothing was utilized as relics after his death. These talks will be open to the public and offer a way to support their work for Canterbury and its community.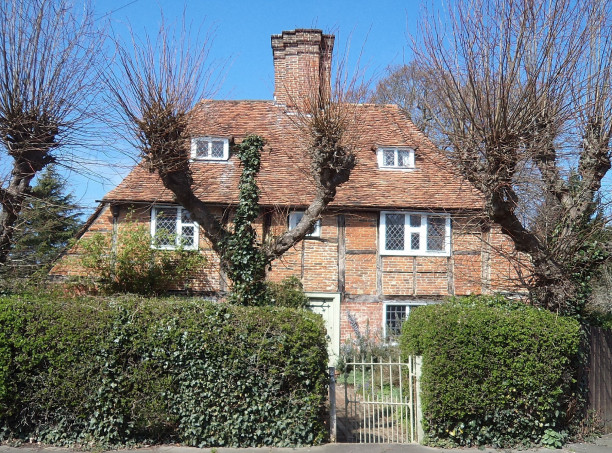 As the final public and free Centre event in September, the Annual Michael Nightingale Memorial Lecture will be back in 2021 on Tuesday 28 September at 7pm (in person at CCCU or online tbc). This is a joint event with Brook Agricultural Museum and our speaker this year is Professor Catherine Richardson (University of Kent) who will discuss the early modern rural household, using Kentish and other evidence. As a foremost expert on Tudor and Stuart material culture in the households of the 'middling sort', this promises to be a fascinating evening.
Turning to what has been happening since last Thursday, Diane Heath and I attended an all-day workshop on Friday run by Drs Peter Rands and Nicola Kemp who head CCCU's 'The Academy for Sustainable Futures'. Those attending included geographers, lawyers, with colleagues from politics, education and sustainability and the resulting discussions uncovered several points of contact and overlap regarding how we might develop research topics under the overarching theme of 'Building Resilient Communities'. From our perspective at CKHH, this was interesting not least because our own overarching project on 'Maritime Communities' would seem to have common goals, so more on this as things develop.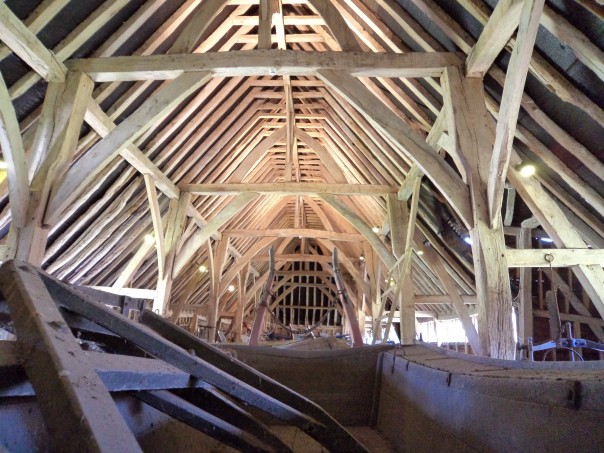 Then on Monday I attended a trustees' meeting for Brook Agricultural Museum. This is a great rural museum not far from Wye and even though visitor numbers have suffered over the last fifteen months, the time has been well spent enhancing the displays and starting to develop a bid for Heritage Lottery money to make the Museum more resilient as well as seeking ways to offer more to our volunteers and visitors alike. If you don't know the Museum, this is the website: https://www.agriculturalmuseumbrook.org.uk/
Returning to a more 'maritime' theme, Diane and I were at Faversham's Magna Carta Advisory Group meeting this week which is working towards a permanent exhibition showcasing the town's exceptional charters and other artefacts. We are making good progress towards opening the exhibition by Easter 2022 and the exhibition will have a complementary website which will allow us to feature all of the town's wonderful collection of charters, the Faversham custumal, and the civic regalia and other interesting artefacts. Furthermore, these can be placed in the context of the town's relationships in the Middle Ages with the abbey, the crown, the Cinque Ports and the local community. Among the objects that will feature in this display are the moot horn and the mayor's wand of office. For Kentish moot horns, please see: https://blogs.canterbury.ac.uk/kenthistory/arden-moot-horns-and-a-dragon-plays-and-playing-in-faversham-and-canterbury/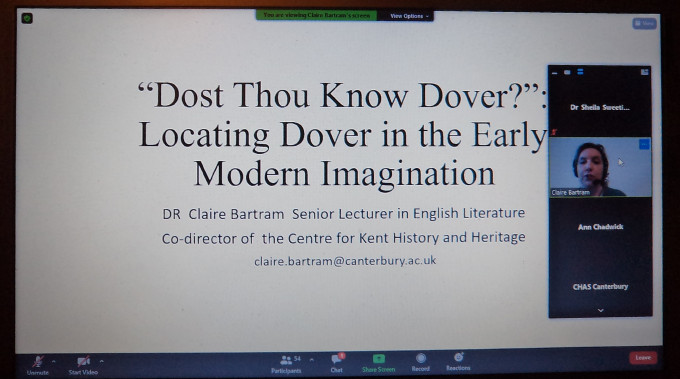 Finally for this academic year, the Kent History Postgraduates met for a catch up on Teams. Although several members are away or busy elsewhere, we had an interesting discussion and it is great to report that people are still managing to find ways to continue with their chosen topics, even though archives remain difficult to access. Moreover, certain members have found ways to branch out into allied areas, including the Lossenham project and the Wealden Iron Research Group. There will be more on the Lossenham project  https://lossenham.org.uk/ in future weeks when the blog returns and hopefully by then Diane will have had good news about her 'Medieval Animals Heritage' project and we will be engaged in Dr Claire Bartram's IHR Centenary Event on Dover, so please watch out for this.