This week, I am going to highlight two Centre events that showcase the Centre's commitment to student experience beyond the seminar room, working with others inside and outside academia, and the value of research, knowledge exchange and impact of the humanities, specifically history, to audiences locally, regionally and nationally. Moreover, these events have been led and organised by the three key members of the Centre – see below.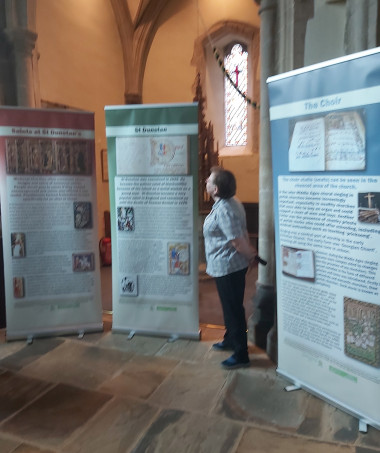 The first of these was the delivery this week to St Dunstan's church just outside Canterbury of seven pop-up banners that will provide the church – parishioners, residents and visitors, with information and ideas regarding parish life and worship during the Middle Ages and over the Tudor Reformation. These banners are the result of a 2nd year undergraduate module called Applied Humanities which is convened by Dr Claire Bartram, one of the Centre's co-directors, and provides opportunities for students across the Humanities to gain work experience in heritage and similar environments. In this case, I was supervising Beth Woljung, who is thinking about a career in the heritage sector, to research, write up and design several history banners on the history of St Dunstan's church. Unfortunately due to Covid restrictions, we were not able to visit the cathedral archives or the church, but she was able to deploy online resources and the materials provided for her.
After her very successful placement that she enjoyed immensely and felt she learnt a great deal, Dr Diane Heath and I took her draft banners and modified them slightly to fit the necessary requirement, as well as adding a seventh banner on the Tudor Reformation. Diane is an excellent designer and the Centre is very fortunate to be able to draw on her creative talents, as well as her expertise on medieval culture, most specifically her work on the medieval bestiary.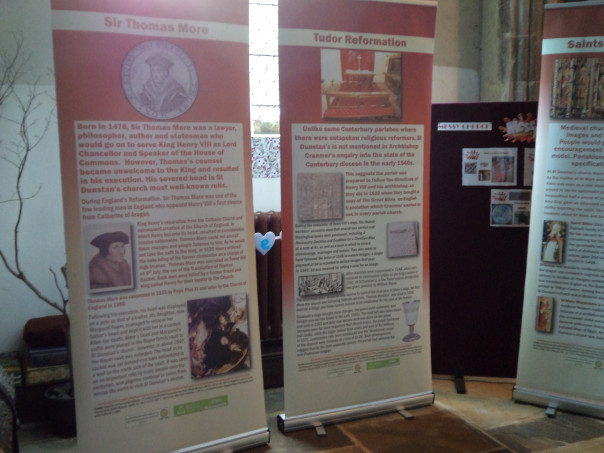 Regarding printing of the banners, the Centre had in 2020 received a grant from the Canterbury Historical and Archaeological Society towards such costs for the planned 'Kentish Saints and Martyrs' exhibition that had had to be cancelled due to Covid, and the CHAS research and publication grants' committee had agreed that the funding could go towards the St Dunstan's church banners. This was very fortunate because that covered the cost of six banners. Consequently, you can see the CHAS logo on the banners next to that of the Centre and we are very grateful to the committee.
Thus when Diane and I met Susan Palmer one of the St Dunstan's churchwardens on Tuesday afternoon, we were able to put up all the banners near to the church baptistry for her to see and were delighted to learn that she likes them and thinks others will too. As seven banners is a large number to stay up all the time, Sue decided on those she thought would be best kept out and which could come out when the church will be doing special events. The four that was staying up, and they are now arranged at two locations, are those on 'St Dunstan', the 'Roper Chantry', 'Sir Thomas More' and the 'Tudor Reformation'. Those put away for the time being are on 'The Rood Screen', 'The Choir' and 'Saints at St Dunstan's'.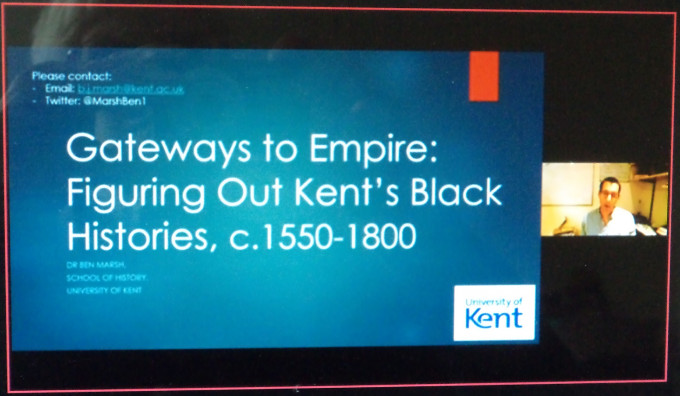 I appreciate only Canterbury people and visitors will have a chance to see the four in the first instance, but I thought for today I would just pick out something from each of the other three to share with you. For 'The Rood Screen', the St Dunstan's late medieval wills point to there being a depiction of some kind of Christ as the 'Man of Sorrows', and this emphasis on Christ's humanity and his terrible sufferings during his Passion is an important feature of lay piety during the 15th and early 16th centuries. I have touched on the growing use of choirboys in monastic churches in earlier blogs, but for St Dunstan's and 'The Choir' banner, Beth had used evidence from the churchwardens' accounts to demonstrate their presence, as well as that of a (positive-type) of organ, which allowed the church to use polyphonic music. Thirdly for the 'Saints' banner, I thought I would mention St George, not least because you can then include a dragon, and as Beth had also noted from the late-15th-century churchwardens' accounts, the church possessed a streamer (banner) depicting this dragon.
Moving on from student experience, research and outreach with an external partner, my second event is Dr Ben Marsh's lecture last night on 'Gateways to Empire: Figuring Out Kent's Black Histories, c.1550-1800'. Getting into this online presentation through Teams caused problems for some people, so apologies and if you did have difficulty and you are interested in this topic and maritime Kent more broadly, the essay collection, including Ben's contribution will be published by Boydell in late September. The Canterbury Christ Church University bookshop will be more than happy to help you and the website is: https://bookshop.canterbury.ac.uk/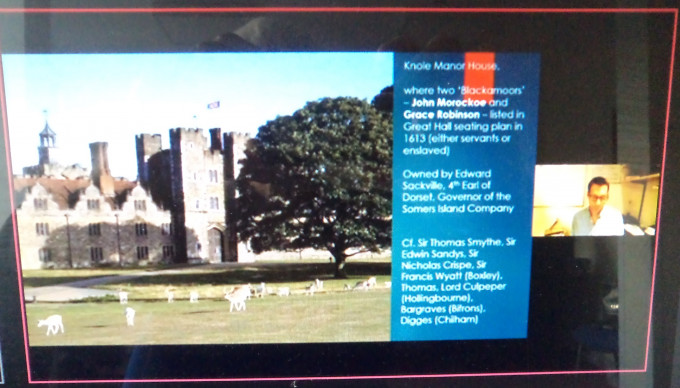 As throughout this academic year, I'm extremely grateful that Diane acted as the producer for this event – very many thanks Diane, you are incredibly generous to give up your time to yet again captain the Starship Fynden. Also, many thanks to Toby Charlton-Taylor for being on hand in case we had any IT difficulties, Toby's help has similarly been invaluable this year.
To come to Ben's talk, this has given the Centre a chance to work with the University of Kent again (an external partner within academia) to bring to a broad audience more on Kent's Black histories, being a continuation of links developed as part of Tudors and Stuarts 2019 (Dr Miranda Kaufman) and Tudors and Stuarts 2021 (Dr Onyeka Nubia). Furthermore, being an editor of Maritime Kent through the Ages and having worked with Ben on his earlier Kent People's Histories project, it has been great to revive this association. For 'history from below' involving both Black and White individuals and communities needs to be studied fully as a way of understanding the past, as well as the present, the Centre in this case facilitating knowledge exchange and the potential for impact. In the first instance this comes through audience engagement and asking questions/offering comments etc, but also through the Centre's web pages (we are very grateful to Matthew Crockatt for all his hard week on these over several years) where footfall and the downloading of resources provided demonstrates their value to external (and internal) communities, although currently they are under threat and may disappear this summer.
Moreover, when exploring such histories, it is necessary to include those further up the social scale, and these intersections and relationships, both horizontally and vertically in Kentish society, were also part of Ben's lecture. Thus, through his nuanced analysis of what he and Professor David Killingray, his co-author for the chapter, have found concerning people of colour resident in early modern Kent is that "These residents had adapted and settled beyond ports to constitute a fragmented but accepted and recognisable part of local communities …. [For they] included runaway servants, seamen, artisans, preachers, and teachers. [Consequently,] The historical experiences of people of colour reveal not only their plight, but also their initiative in building networks, families and livelihoods in Kent, which helped to undermine the legal and cultural frameworks that so frequently hemmed them in."
Even though this constitutes Ben's and David's conclusion, it is a useful starting point for a brief summary of Ben's talk yesterday. For one of the points that Ben wished to bring out was that people in Kent, both in the coastal communities but also inland on the estates of wealthy landowners, were intimately involved in the trade networks in Africa, and the Americas which included the trade in African slaves as well as provisioning and the transporting of raw materials from the plantations, such as sugar, tobacco and other goods. So while the county does not include the ports usually associated with the triangular trade in the 17th and 18th centuries, such as Bristol, Liverpool and Glasgow, the trade in some form probably touched almost everyone in Kent.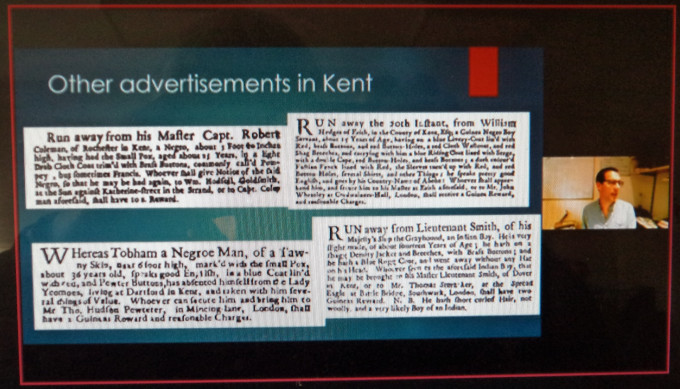 As Ben explained, looking at the beginnings of this involvement that included the arrival and presence of increasing numbers of people of colour in Kent, albeit initially the numbers were small, there are two key periods, the 1590s to the late 1610s and then from the 1660s and '70s. An example of one of those involved in the trade during the first period is Sir Thomas Smythe, who would become MP for Sandwich alongside his multiple trading ventures, while for the latter John Bargrave and others within the family capitalised on their Atlantic trade connections. Such fortunes were often ploughed into the growing number of country seats of the Kent gentry, but this commerce also helped to fund the naval and other port facilities, especially shipbuilding in the Thames and Medway estuaries, as well as provisioning, Deal and Dover bring the last ports before ships sailed for Africa.
In addition to looking at the involvement of these Kentish merchants and financiers, Ben drew on the evidence of what we know about the Black sailors and others who found their way to Kent. Although records such as parish registers can be useful, he focused on various notices in newspaper columns that listed those who had runaway from masters or from ships. These notices often provide a snapshot, offering information about the person's skills, such as knowledge of languages or craft skills, ideas about appearance and sometimes recent history. Thus, as Ben said, we glimpse people in motion, where they might go to, what they might seek to do, as well as where they have come from. This to a degree brings this summary back to Ben's and David's conclusion about how at least some of these people of colour negotiated their way through the challenges of living in Kent.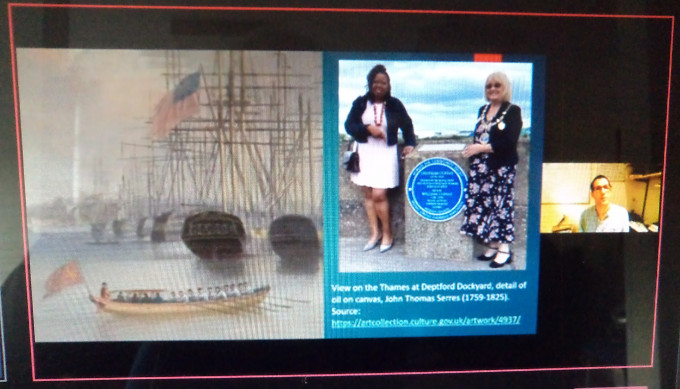 After his fascinating lecture, Ben answered a range of questions posted by audience members, finishing with an outline of his current project on the Juxon family, including the Restoration archbishop William Juxon. One of the angles he is taking is the meaning – today and in the past, of the heraldic arms displayed publicly in churches, on gates and on walls that for those in the late 17th and 18th centuries 'celebrated' their involvement in aspects of the slave trade.
So thanks Ben for such a great lecture which was an excellent way to launch the Centre's new 'Maritime Communities' project that we intend will have a variety of strands, but more on that in the autumn. Rather next week I shall bring news of the series of lectures in mid/late September on 'Kentish Saints and Martyrs' that had to be postponed last year.
Finally, as I promised the chairperson of the Allen Grove Local History Fund, administered by Kent Archaeological Society, this is now open until 30th September 2021 for grant applications from individuals, groups and societies for their local history projects. Further details and an application can be found here: https://kentarchaeology.org.uk/grants-and-prizes and those wishing to submit an application should do so to Allen Grove Fund Secretary, 5 Greensand Road, Bearsted, Maidstone, Kent, ME15 8NY, and as a contact, please email allengroveadmin@kentarchaeology.org.uk