Canterbury Castle, Pageant and St Mildred's church
Today saw most of the medievalists from Canterbury Christ Church at the city's castle for the first Medieval Pageant and Family Trail day under the leadership of Professor Louise Wilkinson. This initiative came after the very successful Magna Carta family day last summer, and, judging from people's comments, this is likely to become an annual event leading up to the great St Thomas anniversary in 2020.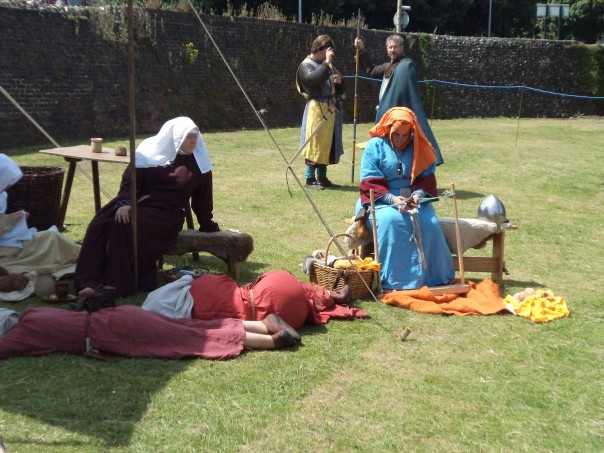 But to return to events today, Canterbury Castle was one of the venues where children (and adults) could get their Family Trail card stamped, design their own shield, see members of Milites de Bec, who had set up their medieval encampment in the castle grounds, and explore the castle inside and outside the great keep. Over 850 people, young and old, took advantage of this opportunity and there were some very imaginative shields produced by members of the public. To guide shield designers, Professor Wilkinson had provided charts explaining what particular designs had meant to medieval people, how different colours symbolised different attributes and she also provided a number of examples to get people thinking and designing.
Helping Louise were several students (undergraduates and postgraduates), Harriet and Abby spending much of the day offering information about the castle and watching out to make sure everyone was safe as they explored the castle. They were ably aided by Andy, while the other Andy was stationed at the castle entrance to stamp Family Trail leaflets and offer information about what was taking place at various times throughout the day. In the afternoon they were joined by Dr Diane Heath, who like many of the other medievalists had spent much of last week at the International Medieval Congress at Leeds. Diane's specialism is the history of the medieval bestiary, and her paper at Leeds had been very well received. Others who had given papers at Leeds include two of Louise's postgraduates Harriet and Andy, as well as Louise herself and one of her colleagues in the School of Humanities Dr Leonie Hicks. Leonie was at the castle today where she gave two talks to people gathered around a rather splendid tree. As a Norman specialist, she was able to give visitors insights into the castle's early history and how it had been used as a prison for many centuries during the Middle Ages. Indeed, as the sheriff's headquarters and the place where the king's justices sat in judgement, it was one of the main targets of the rebels in 1381, the documents held there burnt in an orgy of destruction.
To provide even more variety Dr Michael Bintley, also from the School of Humanities and a specialist in medieval literature, gave a reading from a Middle English romance called 'Bevis of Hampton'. This early fourteenth-century romance tells the tale of Bevis's dragon slaying exploits and the episode Mike recounted concerned how Bevis came close to death in the course of an exhausting four-day battle with a dragon. The dragon drenched Bevis with its venom and the hero is only saved through divine intervention, which means he is able to rally his strength sufficiently to slay the dragon. To demonstrate his success he cuts out its tongue and shows it to the local townspeople as evidence of his victory. Like Leonie's talk, people were very interested in Mike's recital and both answered questions for quite some time from members of the audience after their respective performances.
The Milites de Bec were also very popular, and, in addition to a spot of sword fighting – always exciting, others were weaving or making a variety of objects. Members of the group had also taken part in the Medieval Pageant that had set off from Westgate Towers and taken in many of the city's landmarks. The pageant had been greeted by various 'kings' and 'queens' along the route and 'Queen Eleanor' was especially passionate as she addressed the crowds in the Whitefriars area of the city from her balcony. There was talk of a dragon but sadly I missed it if it was there, but hopefully I'll catch up with it next year.
Having set up everything by 9am, although the main rush of visitors came later in the morning and then again in the afternoon, it was good to see people still coming in at 4.55pm, although by that time the 'knights' had almost packed up their tents for the day. If you missed them, they will be at Dover Castle in the near future and if you are interested do find out more, do look at the Dover Castle website. And being near to St Mildred's church, which was also on the trail, we were able to direct lots of people to this fantastic medieval church where again the young and old could get involved in more designing. In keeping with the church setting there were lots of fantastic stained glass windows on show and several children were keen to show off their creations when they came to the castle afterwards.
St Mildred's had been the location of a talk on this area of Canterbury during the Middle Ages yesterday evening when the packed church had heard about the earliest history of Worthgate Ward through to the Reformation. As an area sandwiched between the archbishop of Canterbury's manor and Hundred of Westgate to the west and the king's Donjon manor to the east, this ward inside and outside the city wall was subject to complex rights of jurisdiction and lordship, making it perhaps the most fascinating of the city's six wards. Moreover, as the location of two markets: the wagon market and the timber market, its commercial significance was similarly important. The talk provided an assessment of how and why the ward and parish had apparently been established in this particular way, including the role of St Augustine's Abbey in the religious life of the area – the abbey's first church dedicated to St Mildred and its subsequent establishment of St Margaret's, St Mary de Castro and St John's that may have been used to subdivide the first large parish as the population grew in the twelfth and thirteenth centuries.
Having explored ideas about jurisdiction and topography, the two final sections of the talk examined the people who had lived in the area during first the High Middle Ages before turning to the later medieval period. Among those from the ward in the earlier period was Christina who married William le Noble c.1206. She had inherited land from her mother which meant she was probably a very desirable woman in the marriage market but in later life, perhaps during widowhood, she seems to have struggled. As a way of trying to secure her and her daughter's future, she granted all her lands to her son-in-law on condition he paid the seven marks she owed to Samson of Leicester, ten marks to Isaac the Jew and one mark to Isaac's son, eighteen marks to the Jews of Canterbury, 60s to Canterbury Cathedral Priory, and provided he gave the two women food and clothing for life and two hen each year annual rent.
A woman from the later Middle Ages was Katherine Welles, although she may have been more attached to her first husband James Aylond because she wanted burial next to him in 1512. However, she did remember her second husband, bequeathing £6 13s 4d from the sale of certain property after her death to St Mildred's to be used to hire a carver to make as many pews as possible, and on each pew end she wanted him to carve 'three Welles' and Richard Welles' name. However it is the bequests to Christine her granddaughter that would seem to give an insight into the mind of this St Mildred's matriarch. She decreed that Christine would only get 2 featherbeds, a mattress, 2 blankets, 2 trawners, 2 pillows, a coverlet and quilt, half Katherine's sheets, 2 tablecloths, 2 towels and 2 great brass pots with 3 small ones, 2 brass pans and 5 laton candlesticks, 3 basins with a ewer; 12 silver spoons, a flat piece, a salt cellar without a cover and 2 masers bound with silver gilt, as well as the money from sale of a house as her dowry provided she was obedient to her father and agreed to the husband he picked, if not and she obstinately went behind his back to marry another, either in secret or openly, she not get anything from her grandmother.
Such sources do provide interesting insights, although as with all times of evidence they need to be used with caution, taking account of how, why and for whom they were produced. Wills did not feature much in Early Medieval Kent, 800-1220 (Boydell, 2016) but I thought I would mention that the book launch for this final volume in the Kent History series will be taking place on Monday and involving Diane Heath, amongst others, from the Christ Church Centre – more on this event next week.