The failure of the Garden Bridge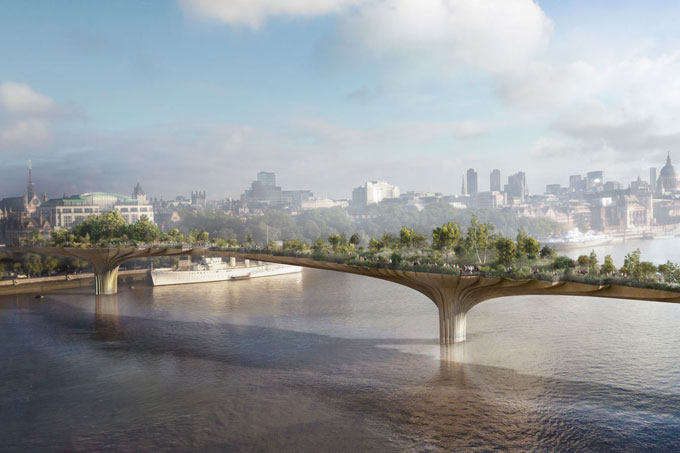 Max Stafford explains why Sadiq Khan's decision to scrap the controversial Garden Bridge project is more than cheap political point-scoring.
Yesterday's announcement that London's Garden Bridge project had been cancelled did not come as a major shock. It had been controversial right from its conception in 2013 (when actress Joanna Lumley suggested it to then-mayor Boris Johnson). The termination of the project was attributed to the Mayor of London, Sadiq Khan's, earlier decision to remove his support for it. However, though its abandonment was not a huge surprise, its political repercussions are no less notable.
The predicted total cost of building the bridge was £200m, with additional annual running costs of £3m. The financial sources proposed in order to meet the £200m capital spend broke down to £140m from private donations (half of which had already been raised) and £60m joint funding from both the Government and Transport for London (TfL).
In April, a review by Dame Margaret Hodge (a former chair of Parliament's Public Accounts Committee) recommended that the project be scrapped. Her report, commissioned by Khan in September 2016, concluded that 'It would be better for the taxpayer to accept the financial loss of cancelling the project than to risk the potential uncertain additional costs to the public purse if the project proceeds.' Khan used this, along with Hodge's criticism of the bridge's procurement process, in order to issue a public statement removing the mayoral guarantee to underwrite the annual running costs.
It is against this troubled background that yesterday's announcement must be set. Indeed, this was the focus of the London Evening Standard's scathing editorial yesterday (criticising Khan for '…cheap political point-scoring…' in his removal of the mayoral guarantee). In mitigation, one must consider Khan's position. Khan had already inherited an existing and successful environment policy (in operation since 2007) aimed at retrofitting all public buildings in London in order to reduce their carbon footprint. The Garden Bridge's contended environmental benefits could not hope to emulate this policy's potential. In an age where public spending is increasingly scrutinised by those such as Hodge, Khan's decision not to embark on a costly and environmentally-questionable development, which many have criticised as a Johnson vanity project, seems much more logical than the editorial was willing to admit. Considered alongside the recent Grenfell Tower disaster, which will surely lead to even greater criticism of contentious public expenditure (especially when that spending is publicly labelled an opulent frivolity by large parts of the electorate), it becomes hard to see any other fate for the Garden Bridge than the one it succumbed to yesterday.
Previous mayors have been criticised for building contentious architecture. Boris Johnson, for instance, was very critical of Ken Livingstone for building skyscrapers that the Conservative labelled 'phallocratic'. Khan has become the first Mayor of London to make an architectural mark by not building something. This is, however, far more than a footnote in London's architectural history. It is a test case which has made demonstrably clear that if you want something done in London you have to work with, and not against, the mayor.
Max Stafford is a PhD candidate in Politics and International Relations at Canterbury Christ Church University. His doctoral research is funded by a University scholarship and looks at the leadership of mayors in London, New York City and Amsterdam.