Green cities eat and drink pollution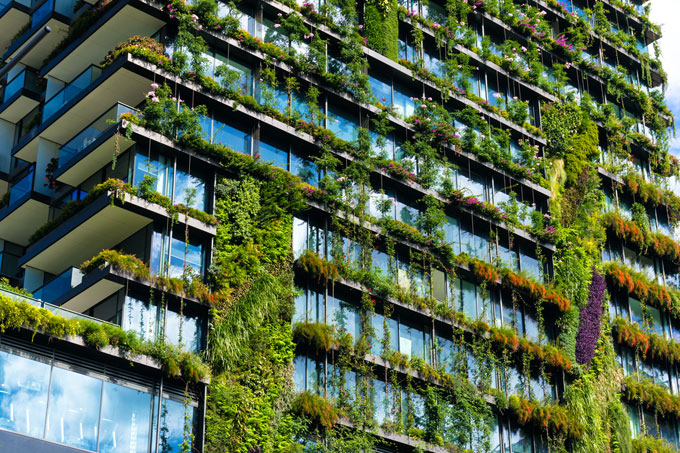 Peter Vujakovic, Professor of Geography in the School of Human and Life Sciences, reflects on the planned 'Forest City' in China and the importance of green cities around the world.
It is great to see two stories this week envisaging innovative ways of urban living, and both at such different scales. At one extreme is the plan to build the world's first 'pollution-eating' city in China – the 'Forest City' in Luizhou. The spectacular plans involve buildings covered in 40,000 trees and almost a million other plants. It is predicted that up to 30,000 people will eventually live in the city. According to reports, the plant life is expected to absorb almost 10,000 tonnes of carbon dioxide and 57 tonnes of pollutants per year and produce 900 tonnes of oxygen a year. The design is the brainchild of architect Stefano Boeri who has experience of developing nature-based buildings, including a 'Vertical Forest' of 900 trees in Milan.
At the local scale, the Hampton Court Flower Show has showcased a garden project that seeks to insert a 'slice' of forest into the urban landscape; using native species such as hawthorn and crab apples, 'London Glades' attempts to mimic the forest ecosystem within the city. It even includes mounds of rotting wood, so important for biodiversity, but so often seen in negative terms as 'messy' by the public. Regeneration of industrial sites is at the heart of several of the gardens, including Martyn Wilson's, who seeks to inspire people to appreciate the way nature re-claims abandoned land.
Greening the city is an idea on the rise. Green roofs and even green walls are becoming commonplace in our cities. Areas of amenity grass with low biodiversity value are being replaced by herb rich wildflower meadows – good on the eye and great for wildlife. Many districts in the UK are adopting 'green infrastructure' projects, in which the need to link green patches is recognised and habitat corridors and stepping stones are created across towns and cities, using abandoned railway lines, 'wilding' road verges and encouraging businesses to get involved.
Canterbury Christ Church University is part of this movement, seeking to use its green spaces – 'pocket habitats' – to best effect. Our 'bioversity initiative' has created habitat patches of value in themselves, but which also act as 'stepping-stones' to other green areas across the city. The university's initiative includes wildflower patches, designed to help important pollinators such as bumblebees and hoverflies to move across the city, an orchard of rare apple varieties and Kentish cobnuts, as well as its own hop garden – supplying the key ingredient for the university's green hop 'Green Chapel Ale'!
Peter Vujakovic is Professor of Geography in the School of Human and Life Sciences and is Chair of the University's Biodiversity Working Group. He lectures on green infrastructure within the Geography and Environmental Sciences degree programmes and has published research on landscape and ecology.