Dr Alexander Kent, Reader in Cartography and Geographic Information Science, comments on Apple's changing portrayal of Crimea.
According to Apple, Crimea belongs to Russia. Or at least it does if you are using the US technology giant's Maps or Weather apps inside Russia's borders. Last week, Apple informed the State Duma (Russia's lower parliament), that the "inaccuracy" on the company's maps had been removed. Russia later confirmed that Apple had "brought the applications on its devices in compliance with the requirements of the Russian legislation". Google has already agreed to portray Crimea as Russian territory when accessing Google Maps from inside Russia.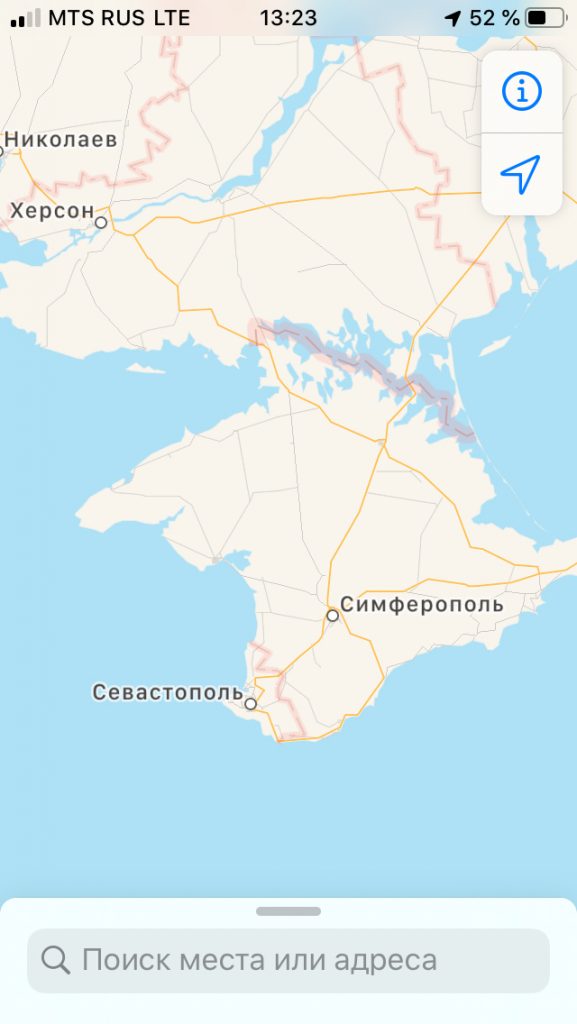 Using a thicker line to separate Crimea from Ukraine may be cartographically subtle, but geopolitically it is a hugely significant move. Maps are expected to be definitive and immutable statements of fact, yet nation-states have long defined territories on their maps according to their own rules. This ranges from the use of unique symbologies in the topographic mapping of national landscapes (e.g. Ordnance Survey) to irredentism: claiming territories belonging to other states based on ethnic, historical, or other grounds (e.g. Argentina and the Falkland Islands).
The emergence of multi-national technology corporations as providers of detailed global mapping has changed the way we use maps. Apple has invested heavily in mapping since launching its Maps app in 2012, capturing street-level data on foot and acquiring 3D imagery and Lidar data. Confident in the transformational power of technology, Apple CEO Tim Cook said on a visit to China in December 2017, "You get in the arena, because nothing ever changes from the sideline". But in Russia's case, Google and Apple have been the ones to change.
What makes the current development particularly significant is the pressure that Russia has placed on US corporations to make maps which conform to its controversial world view. Russia's annexation of Crimea in 2014 remains unrecognized by the wider international community, including the EU and the US. Responding to Apple's move via Twitter, Ukraine's Minister of Foreign Affairs, Vadym Prystaiko, urged the corporation to "please, please stick to high-tech and entertainment. Global politics is not your strong side".
In response to condemnation of the move, Apple said "Our intention is to make sure our customers can enjoy using Maps and other Apple services, everywhere in the world". The problem is that maps are not meant solely for enjoyment; the move appears to have attracted more global attention than the opening of Russia's $3.7 billion bridge in May 2018 to provide a direct road link to Crimea.
This week, Apple announced that they were re-thinking their policy on showing disputed territories in their Maps app. If we accept that the world according to Apple – and to the other mapping giants – should present competing portrayals of national territory depending on where they are accessed, we will enter very murky waters. New technology may enable faster and more accurate methods of capturing and updating spatial data around the globe, but as Apple and its competitors are realizing, mapping the world is the easy bit.
Dr Alexander Kent is Reader in Cartography and Geographic Information Science and Immediate Past President of the British Cartographic Society. He is also Editor of The Cartographic Journal and lectures on maps and geopolitics on the Geography programme with Professor Peter Vujakovic.