If I had told the March 2020 version of me that I would be writing a full cycle of seasonal coaching walks, I wouldn't have believed it. Or, in fact, most of the last year. However lets not look back, lets focus on now: Welcome to our final coaching walk, using the natural seasonal shifts as prompts for our thinking.
As I write, the view out of my window is a snowy scene, a picture postcard winter. Snow is much less common here than its place in our childhood memories would suggest, so I am delighted with the serendipity of my timing. I am just back from my short walk out in it and, whilst it was bitingly cold and somewhat treacherous on the pavements, it was still a refreshing and reflective opportunity.
Winter can conjure up images of hiding, scarcity and retreat, long periods of darkness and loss. But what if we were to view it with a different lens?
Winter is challenging to the natural world, but not fatal; if it were we would not be here. As humans we have evolved to protect ourselves from its harsher elements, inside our centrally heated homes or outside in our insulated clothing. Have we perhaps lost our connection to its purpose, its meaning? The opportunity to recover and rest, face harsh elements with courage and emerge stronger? Let's use our coaching walk today to reconnect.
We start, as ever, with a moment to settle into our walking space. If your walk is going to be out in the elements, perhaps use your piling on of layers, hats, scarfs, boots etc. as that opportunity – do it mindfully, notice how each thing feels against your skin, express gratitude for each item and how it will protect you once you step outside. If your walk is inside due to lockdown or simply the cold, then we can repeat a similar ritual – look around mindfully, notice what elements of your home are protecting you from the outside and express a moment of gratitude.
And then take a step. It might be small and tentative, like mine were today on the icy pavements. Winter is not a time for large exaggerated movements, rushes of energy or explosive displays of momentum. We want to conserve our energy to see us through the scarcity of the season, and our walk can reflect that.
Look up and around you. What do you notice about the way nature prepares and responds to winter? Find something that is a wintery item and explore its metaphor for you. Ask yourself, "How does this represent my winter, and how do I feel about that?" If you aren't sure, use this rather ordinary winter photo of mine: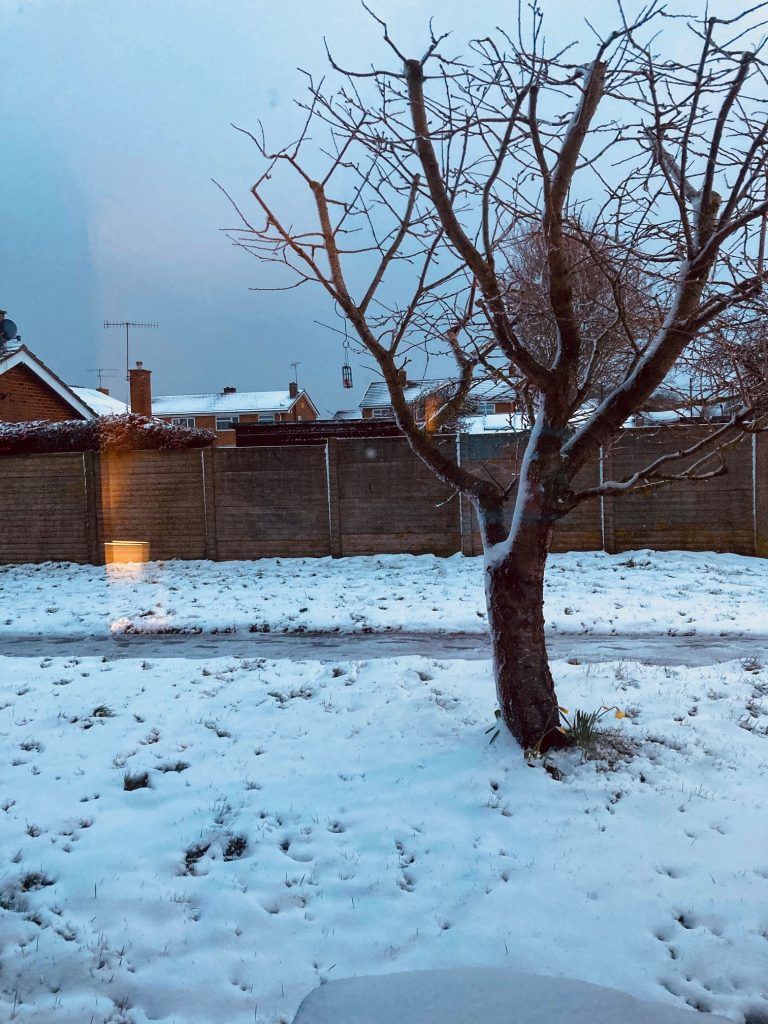 What do you notice? The tree's bare branches holding the weight of the snow? The yellow daffodils determined to share a splash of colour? The hanging bird feeder, the cleared path, the grey sky, the twilight haze, the lamp reflected in the window? What do they mean in metaphor to you?
I see a stoic cherry tree, having suffered a spate of blackfly earlier in the year, courageously and resolutely holding firm to its frame, buoyed briefly by the visiting starlings when they come to feed. I can connect to that – this year has thrown us many challenges, but I am still here, my similarly stoic core knowing that this too will pass and if I just focus on keeping myself strong, healthy and secure along with the occasional moment of joy, then I will be ok.
What is your winter story? Perhaps these questions prompt something for you:
Without the rich abundance and flashy colour of the other seasons around us, what do we notice is at the core of what we need to stay alive and safe?
In our work, in our lives, what will help us flourish in lean times?
What benefit would a period of hibernation and self-care bring, and what might it look like?
Hibernation and rest is important, but what might you instead be hiding or retreating from that deserves your attention?
Winter, of course, is not just about holding on… earlier in winter we have festivals and joy, celebration and warmth, reflection and family: Christmas, Saturnalia, Hanukah, Yule, Hogmanay and others. And, of course, some more contemporary traditions such as the many Boxing Day or New Years Day icy sea swims (plunging into freezing water is apparently good for you…); I'll happily leave that particular experience to others. And for some this is their first winter so they may not be quite sure what to make of it yet…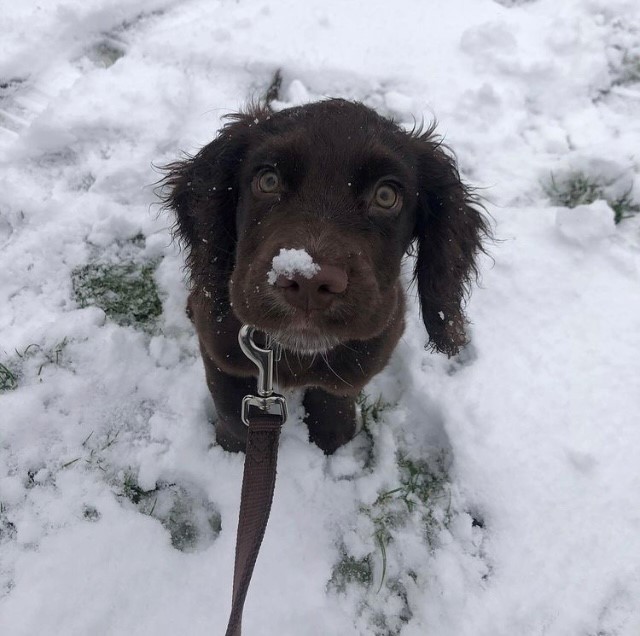 I'll just leave him there. Happy Wintering!
Juliet Flynn, People, Culture and Inclusion team