Throughout the month of February, we are hosting a series of 10 minute Daily Wellbeing Pauses for staff. They include a mix of topics and ideas and are an encouragement for you to take a moment out of your busy day and focus on yourself and your wellbeing.
The energy each time varies – from chilled meditation through to jumping around with the kids; if you want to explore the full schedule then here is our planner: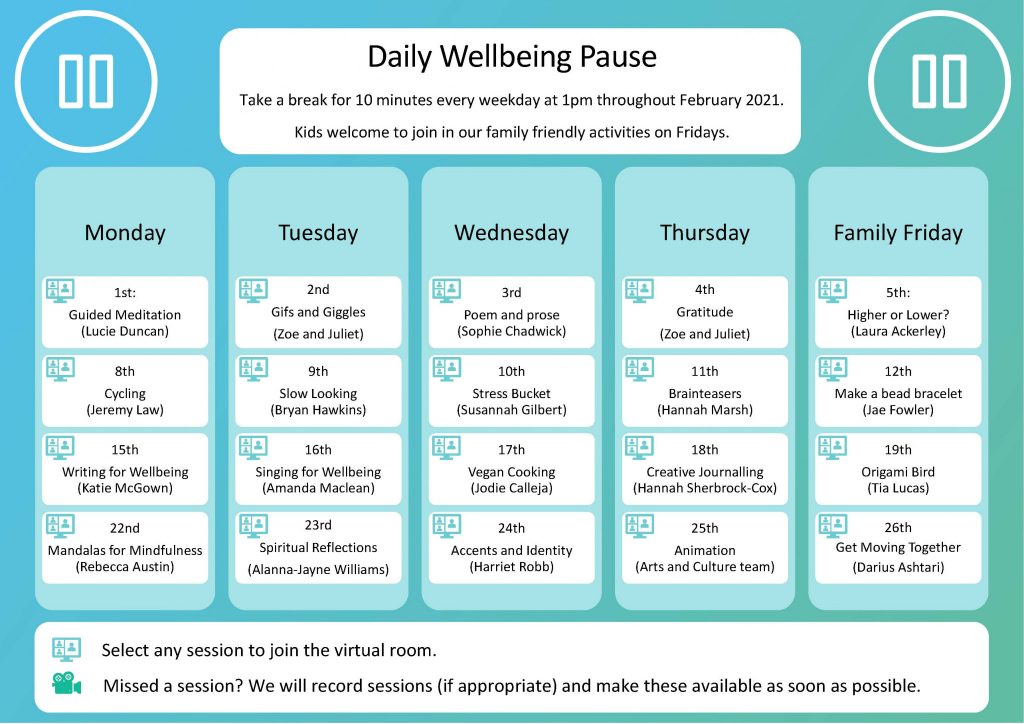 So that's the "what", I want to reflect back now on the "why". Why did we decide to make this project happen and why is it important? We all work incredibly hard, and at home there can be less cues about taking a break; it's easy to keep staring at the screen long past the moment where we are productive, and we risk affecting our health.
When we don't prioritise our wellbeing we can react badly to difficult situations, erode our resilience, suffer physiological symptoms, and frankly not always be a nice person to be around.
Simple practices like fresh air, food, connecting with others, meditation, walking and gratitude can make a huge difference – both in the moment and long term. Still though we often tell ourselves "ah but I'm too busy…".
To that we say….
Our challenge to you today is simple: Find ten minutes and give yourself a break.
We would love to have you join one of our daily sessions designed to prompt you to pause when you need it, or you could use your time to watch a recording of a session you missed, there are some brilliant ones. Or make your own pause, whatever works for you.
I recently had the privilege of meeting a lady, Sally-Anne Airey, who lives and works in the French Alps. She is passionate, too, about the power of the pause and has made a series of videos with beautiful mountainous backdrops, one of which we share here, as an alternative pause.
However you choose to pause, to refresh, renew or reenergise, we hope you give it the priority today that it needs.
Juliet Flynn, People Culture and Inclusion team