A former housemate bought me this picture many years ago, when I was an avid cycling commuter in London, and it now hangs in my office. (It's a quote by James E. Starrs, author of The Literary Cyclist: Great Bicycling Scenes in Literature).
I have to admit I can't think of any 'great bicycling scenes' in literature – I'll have to read the book one day to find out what they are; but I do know that in my life story, cycling has played a lead role. I've always loved being on two wheels, right from the get go, when as a small child I got my first bike and couldn't wait to get rid of the stabilisers!
Following the onset of persistent knee pain several years ago, and then a confidence-shattering cycling accident on holiday in France in the summer of 2016, I wasn't cycling at all, something I now realise was making me feel a bit glum. At the end of March 2019, after a particularly difficult couple of months emotionally following the death of a close family member, I bought my now beloved orange and black Brompton, and oh what a joy this bicycle is! (Yes, all the hype about them is justified).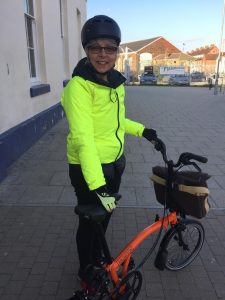 Despite smaller wheels, it still makes for a speedy ride – except up hills – and I love how it folds. It has become a constant companion as I've gone back to commuting to work on it, and when I'm using it socially or for errands etc, take it everywhere with me.
Being on my Brompton reminds me just how true this quote really is!
If you like cycling why not join CCCUBUG, the University's Bicycle User Group? Email me, Maz Hamilton on bug@canterbury.ac.uk for more info.
Maz Hamilton, Sustainability and Futures Initiative Co-ordinator