As we enter our eigth week of working from home, our daily Staff Development Blog Series this week will focus on the theme of "Working Well". Today the Health & Safety team would like to ask you the question – "Is your home office (or the space you have designated as your office) working well for you?".  
As well as the physical set up of your desk, this question also encompasses the wider aspects of office working, such as taking breaks and resting your mind (if, like me, that's something you need to do on occasion) and having enough fresh air in your home office.
Many of us had never worked from home before so we have had to be very creative in how to set up our 'home office' in a short space of time. How we take our breaks has also changed – there is no staff common room at home and no kitchenette where you might, by chance, meet a colleague.
We would like to celebrate your creativity, so please share with us your pictures of how you have set up your own home office and what you do in your regular work breaks at home. Take a photo, send it to health.safety@canterbury.ac.uk , (no later than Wednesday 13th May and if you wish to remain anonymous please let us know) and we will share and celebrate your creativity in Friday's blog "A celebration in pictures of CCCU working safely and well at home".
In the meantime, take a look at our Head of Health & Safety's not so great workspace below and see if you can identify the six changes that had to be made.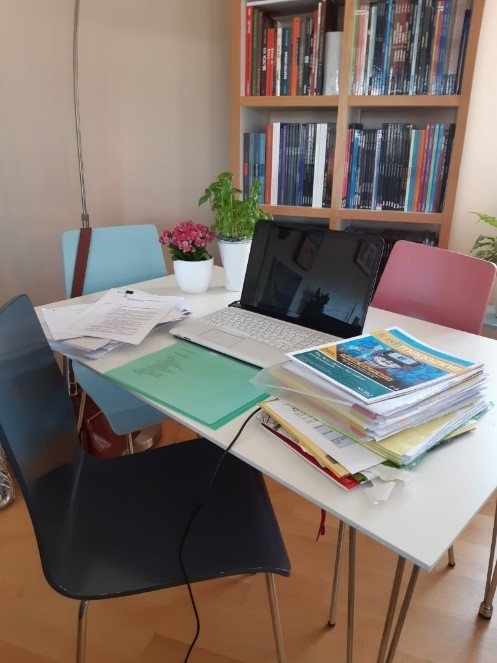 So, what has worked well for me? Following the "Essential Guidance for Remote/Home Workers" and completing the H&S checklist for Remote, Home Working, enabled me to achieve a home office set up that works well for me. I have since revisited the guidance, to make sure I maintain the best set up, and will continue to do so as it helps me to review if any adjustments are needed.
Furniture and Equipment
Unfortunately, for some unknown reason other than, perhaps, to test my resolve, my chair decided it no longer wished to support me in a safe manner and developed an irreparable fault. Recognising my own reputation for injury arising from less than suitable chairs, "making do" until back in Rochester House was not a sensible plan. To obtain a replacement chair, I followed the steps outlined in the Covid-19 FAQ 'How should I best set up my working environment at home?' and, having obtained approval from my Head of Department and followed the protocol for visiting campus during lockdown, I ventured out to North Holmes Road. For those who need to collect DSE and IT essential equipment from campus I can confirm, from my experience, that the system in place to collect equipment is working well – thank you to the Security team for making this an easy, safe, stress free visit.
Keep moving
To keep me from staying in one position, I have taken to moving location for meetings and this works well for me. This does, however, mean I keep unplugging the various cables connecting my laptop to my monitor and has made it particularly important that I follow the checklist and check my cables as part of my morning start up routine. Revisiting this, too, is a good reminder for me of checks that should be regularly undertaken.
Managing Stress
It has sometimes been stressful for me to adapt to remote working, having to learn new ways of accessing our shared documentation and getting familiar with the different communication channels (only today I found myself in the wrong Microsoft Teams meeting!). Talking to my Health & Safety colleagues, however, has made me realise I am not alone in experiencing difficulties and it was a comforting reminder that we are all on this learning journey together. My laptop, too, has colluded with my chair in an attempt to thwart my "working well". Whilst my laptop has been able to outwit me it is, however, no match for our great IT Support team to whom I want to send a big thank you for dealing with my questions with expediency and great patience, as well as showing me solutions and work arounds that have kept my anxiety at bay and allowed me to keep working well.
Taking breaks
After a few hits and misses to find new routines, things are now working well for me. Whilst in Rochester House I consciously made trips to the kitchen, not only to fuel my insatiable appetite for regular caffeine (which I do try to offset with water consumption), but also to keep moving. What I hadn't consciously realised, until working from home, was the importance of the social interaction that took place there, that also gave my mind a break from the work in hand – which I now know is equally as important for me as uncoiling myself from my sitting position. Whilst they don't replace the lovely conversations that I used to have with colleagues, below are a couple of ways I have been giving my mind, as well as my body, a rest during my mini breaks.
Please don't forget to forward your pictures too, so that we can join together on Friday in celebrating CCCU working well at home.
Alison Moyes, Health and Safety Officer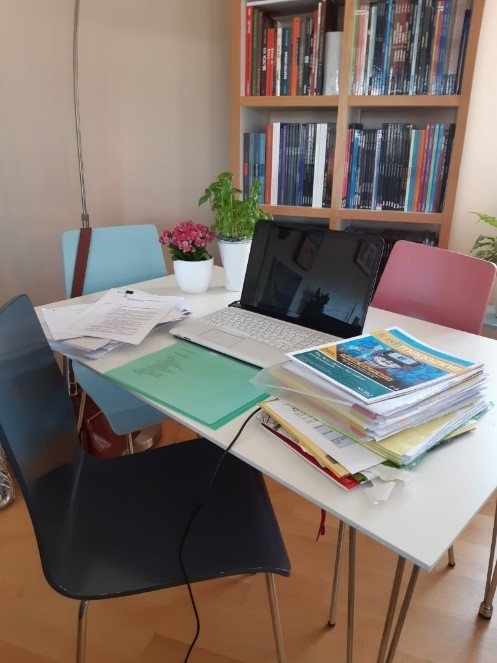 Did you find the 6 changes that needed to be made to the desk set up?
Answers:
1. Keyboard out of reach (leaning will potentially put strain on back, neck and arms)
2. Chair has no backrest (adding a cushion will provide back support)
3. Trailing cable (potential trip hazard, as well as potential for injury arising from falling equipment/documents)
4. Non-essential paperwork limiting space (think about your ergonomic working zones)
5. Screen too low (potential for straining neck)
6. No separate mouse (see the "If I need to order IT equipment for working from home how do I do it?" FAQ for how to obtain a mouse and other DSE equipment for homeworking)