Hello CCCU community and friends!
On the 20th of February, Savannah, Sophie and Gabbie got together to take on the CCCU Applicant Day. We were on a mission: engage with as many people as possible, spread the word about our Learning and Teaching project, and show everyone exactly what we can do here at Partners in Learning.
The stage was set.
We had colourful flyers, a pin-board designed by the students outlining the nine key principles of the Strategy, an interactive counter poll, plenty of sweets and chocolate…we even got to wear Learning and Teaching strategy t-shirts (made by one of our very own team members!).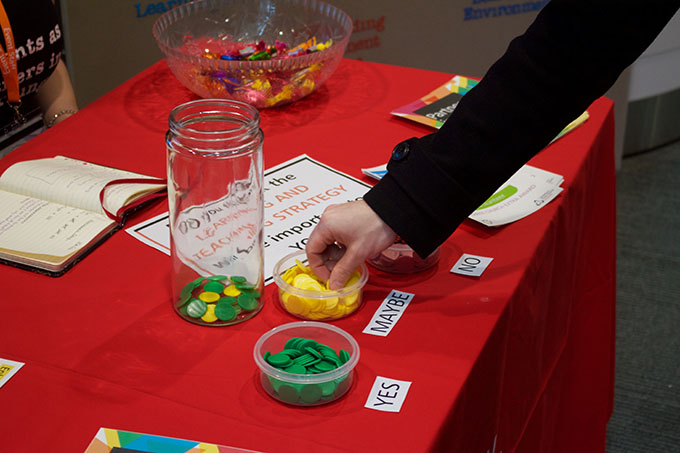 We asked the Team members to reflect on their time at the Applicant Day.
We got a lot of positive feedback:
The applicant day was an amazing experience and a great way to get face to face interactions with people and the poll/sweets was a great way to get people involved as it was interactive and different from most other stalls that were around us.
…we had a fun and colourful board with the 9 principles of the strategy dotted around it and a Prezi of the strategy playing in the background. Students were very engaged and we received 39+ direct interactions with the poll and 60+ interactions using leaflets.
…all those that interacted asked questions or took leaflets and there was a good amount of time to engage on a more personal level with students.
As well as some constructive feedback (which we will use to help make the next open day even better):
I feel like some kind of training would be useful as it was very difficult to explain such a vast strategy in the tiniest amount of time and I feel that this particular Applicant Day was a good way of working out how to do that so that it is easier for everyone else in the future.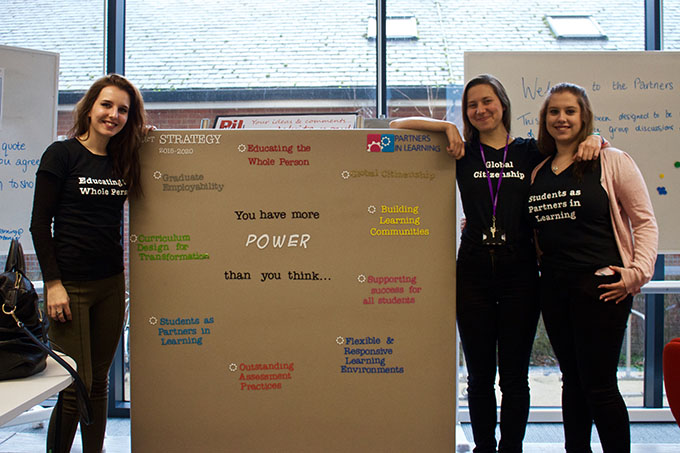 Overall, the Applicant Day was a great way to spread the word about our project. It also gave students the opportunity to gain experience in creative collaboration, working within a team environment, communication, organisation and project management.
Until then,
Happy learning!
The Partners in Learning Team