'Picture This' Workshop 11th November, 2017
'Picture This' is a web-based project run jointly by Canterbury Cathedral Archives and Library, the University of Kent, and the Centre for Kent History and Heritage (CKHH) at Canterbury Christ Church University, available on the Cathedral's website https://www.canterbury-cathedral.org/heritage/collections/picture-this/ . The aim of the project is for researchers at the two universities to write short and accessible pieces about medieval and early modern items in the Cathedral's collections for everyone to enjoy. The co-ordinators of the project are Cressida Williams, Head of Archives and Library, Stuart Palmer from University of Kent, and Diane Heath from CKHH.
On Saturday 11th November, we held a workshop at the Cathedral Archives and invited our researchers to come and examine various medieval and Early Modern books, manuscripts, rolls, seals and maps. After a short set of introductions, we set out to investigate this veritable 'smorgasbord' of delights. A happy buzz of conversation ensued as Kent and Christ Church researchers examined twenty-five items from the thirteenth to the seventeenth centuries for the first hour. After observing the two minutes silence for Remembrance Day, we broke for refreshments after which we each chose the item we wanted to work on for 'Picture This.' The photograph shows us making our various ways towards our selections. The next two hours were spent taking notes and photographing a chosen leaf or item (with permission from the Archive staff) and, of course, yet more discussions over shared interests.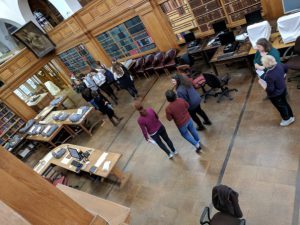 Postgraduates gather in Canterbury Cathedral Archives.
Items which provoked intense analysis from CCCU researchers included a beautiful and predominantly emerald-green depiction of a pastoral idyll, the Barton Farm map (CCA-DCc-Map/49). This map was chosen by Christ Church researcher Janet Clayton, partly for its depiction of the deer park and its expensive fence (which Janet pointed out would have cost more than the deer), and partly over whether it was possible to narrow its current dating of 1550-1650. Both CCCU PhD postgraduate Abby Armstrong and Fleur Eden (our former CCCU undergraduate now reading for her MA at Kent) chose seals to examine. Abby selected a seal of Eleanor of Castile, the first wife and consort of Edward I, whom Eleanor married aged thirteen, and who accompanied her husband on his military campaigns and on crusade (her daughter Joan was born in the Holy Land in 1272). In one of Eleanor's seals from the British Museum, her heraldic symbols of the Castle and Lion (for Castile and Leon) are clearly visible. Her symbols are also seen on common seals granted to towns in Edward I's reign until 1290 as this one (now in Royal Maritime Museum, Greenwich) from Melcombe Regis depicts as flags on a ship. Abby's choice reflects her research interests in thirteenth-century royal women and will be a welcome focus on the female in 'Picture This.'
Fleur Eden picked another royal seal, a terrific one of Henry IV (lugs still in situ) which is attached to an Exemplification for Joan de Mohun in 1399. This deed allowed her agreement with Canterbury Cathedral Priory to go ahead (it had previously been approved by Richard II and the Priory needed the new king's approval), so that income from Joan's manor at Selgrave could fund her chantry in the Crypt. Medieval material culture, regime change, and female agency will make for a fascinating article for 'Picture This . . .' from Fleur.
Lily Hawker-Yates, who was awarded an Ian Coulson Award recently, selected the frontispiece of a wonderful book for her 'Picture This'; Sir Walter Raleigh's History of the World (1621). This third edition is an indication of the popular demand for the book despite the ban placed on it by James I/VI, 'for being too saucy in censuring Princes.' Unsurprisingly, Oliver Cromwell was a fan of the book.
Harriet Kersey has nearly finished her PhD at CCCU, so her article will follow her thesis submission. Harriet has chosen an illustration from Holinshed's Chronicles (1577) a multi-authored Elizabethan historical compendium. The scene depicts the three weird sisters, 'feiries' who prophesied the regicide King Macbeth of Scotland would come to an untimely end. The story forms the exhilarating opening scene in Shakespeare's Scottish play. Shakespeare is believed to have used the 1587 unillustrated edition of Holinshed, so it will be fascinating to compare this earlier book's depiction with Shakespeare's witches.
Dean Irwin, who has just started his PhD at CCCU on medieval Anglo-Jewry, selected Thomas Heywood's book on 'The Exemplary lives and memorable acts of nine . . . worthy women of the world' (1640). Dean will focus on one of the three Jewesses (Deborah, Judith, and Esther) who, together with three Gentiles (Boudicca, Penthisilaea, and Artimisia) and three Christians (Elphlida, Margaret of Anjou and Elizabeth I)were discussed by Heywood as nine muses. Heywood's list provides a widely diverse set of women whose behaviours and virtues Early Modern women were encouraged to consider.
Among the other gems of the collection which we hope shall feature in future 'Picture This' presentations, are a gorgeous velvet-bound indentured book from Henry VII's library (the other parts still exist in The National Archives and Westminster Abbey), a mortuary roll from 1337 for the Bishop of Ely (with the exciting idea of mapping its entries), and a sheet of incantations. This last item caught the eye of Kate Rudy, visiting from St Andrews University, as it is a fascinating medieval talisman. In sum, this project encapsulates the spirit of co-operation and shared research interests producing fruitful primary source-based research. It is a delight to work with the Cathedral Archives and University of Kent on this project which brings such amazing works to wider attention. Many thanks to the Archives staff for giving up a Saturday morning to open the Archives for us and to all the researchers who also gave up their time to join us.
DEH