I thought it was time I gave you more information about the Medieval Canterbury Weekend 2022 which will be up on the Centre's website very shortly. Thus, I thought I would use this week's blog to preview the talks and speakers for you.
However, before I come to that I thought I would just mention that at the Kent Archaeological Society Fieldwork conference last Saturday there were two presentations in which the CKHH is involved. Firstly, because I felt 25 minutes was hardly time enough to cover the breadth and depth of the scholarship in Maritime Kent through the Ages, I took the opportunity instead to outline how and why the project had come about. I then provided a breakdown of the volume, highlighting how we had borrowed the format of three thematic sections from The Maritime History of Cornwall: Defending the Coast, Trade and Industry, and Maritime Communities, but had them extended to a fourth section of Case Studies to showcase previously unpublished doctoral research, as well as the research of established scholars. Consequently, the volume has articles from a geographer, historians, archaeologists and literary scholars. To think about how we might extend this very firm base, my third section detailed the ideas that had been forthcoming during the Roundtable session a fortnight ago. The main addition that came from the audience on Saturday was the value of including an article on Whitstable harbour in the Victorian period.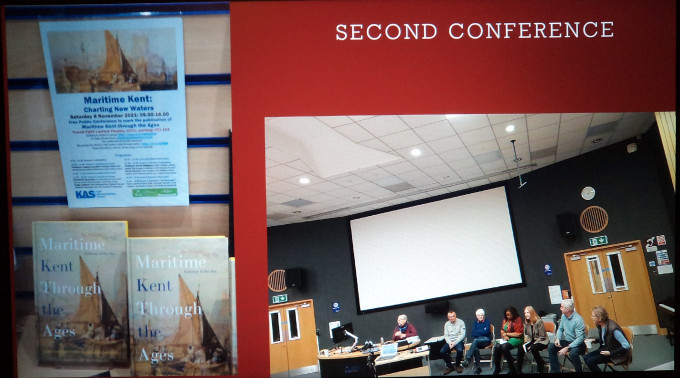 The second of these presentations on projects in which the CKHH is involved was given by Dr Andrew Richardson on the Lossenham project. Andrew being an archaeologist and it being the Fieldwork conference mentioned the Centre's work with volunteers on the documentary history, but his primary focus was the archaeological work that has been undertaken on the site over the last year or so. As he said, this is a landscape project looking at various aspects of the Rother Levels which means taking in the lowland area between the Hexden Channel and the River Rother and the parishes on the upland to the north, and east to west from the Isle of Oxney towards Bodiam. At the centre of all of this is the Carmelite friary of Lossenham and the earthwork of Castle Toll to the east. In addition to four trenches on the site of the friary, most of the archaeological work has comprised using techniques such as thermal imaging, electrical resistance geophysics, metal detecting, magnetometry and a series of bore holes. The results have been very encouraging which has helped regarding planning the work schedule for next year. Additionally, the project has given over 125 people the opportunity to be involved and even though most are from the local area, there are volunteers from across Kent and Sussex and even as far away as Yorkshire.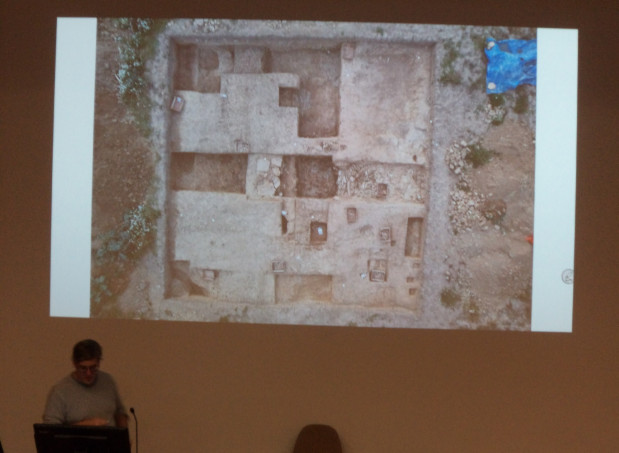 Keeping with the idea of people getting excited about history and archaeology, I thought I would tell you about the over 20 events that we have lined up for the Medieval Canterbury Weekend 2022 which will take place between the evening of Friday 29 April and mid afternoon of Sunday 1 May. Regarding our speakers, we have a mix of people who have been to Canterbury in the past, those who were scheduled to come in 2020, and people who have not been involved in these History Weekends before. As always, the Weekend will include guided tours and we are again fortunate that Cressida Williams will provide a special display in Canterbury Cathedral Archives & Library, Professor Paul Bennett will lead one group around St Mildred's church, a medieval gem, before leading a second tour around Eastbridge Hospital, another of the city's marvellous surviving medieval buildings. As the third option, I'll offer two tours around St John's Hospital, perhaps the oldest hospital in medieval England.
Turning to our speakers, it is a great pleasure to welcome back Professor Caroline Barron who will explore how London responded to Thomas Becket and how his life and legacy influenced the life of this great medieval capital. Another popular speaker who has spoken before is Dr Marc Morris and this time he will be delving back into the early medieval period prior to the arrival of Duke William of Normandy. For those seeking more on early medieval England, do check out Dr Mike Bintley's presentation. Imogen Corrigan is another favourite and next year she will take us to meet the Master Masons who both designed the cathedrals and ran these construction sites, which seems entirely fitting in the shadow of Canterbury Cathedral; while Dr Diane Heath will show her audience that dragons weren't all bad and explain that these much maligned fantastical creatures had a good side.

Keeping with fantastical animals and medieval monsters, we are fortunate that Professor Sophie Page, who was due to speak in 2020, can come to Canterbury in 2022 where she is due to explore 'real' monsters at the boundaries of the human, the animal and the demon. The idea of strange places is something Dr Sarah James will be exploring when she draws on pilgrimage narratives to provide us with ideas about how pilgrims from Western Christendom saw and experienced the island of Cyprus, that 'crossroads of the Byzantine world'. Another who almost made it in 2020 was Dr Chris King and it will be excellent to welcome him to CCCU for the first time so that he can give of his expertise concerning urban housing in late medieval England and how variable it was depending on the prosperity and social standing of those living there. From the same period, for those interested in maps Dr Catherine Delano-Smith, as the head of a Leverhulme-funded research project, will take her audience on a journey of discovery regarding the enigmatic Gough Map (or perhaps better to see it as a series of maps) that offers tantalising ideas about how medieval people envisaged place and space.
This brings me to speakers for whom the Medieval Canterbury Weekend is a new venture altogether and keeping with funded research projects, we are very fortunate to have coming to Canterbury Professor Andrew Prescott and Dr Helen Killick who are part of the AHRC-funded project to locate those who took part in the Peasants' Revolt of 1381. Equally, it is great to have Dr Ryan Perry and Dr Hannah Schühle-Lewis who will offer a fascinating assessment of the development of the London Guildhall library which started life as a bequest by Richard Whittington, albeit this lecture is not going to involve cats! However, for Professor Mark Bailey stories about cats might have changed history, although sadly there presumably were not enough of them to decimate the rat problem, for he will offer an analysis of the impact of the Black Death and other fourteenth-century disasters on society post 1350.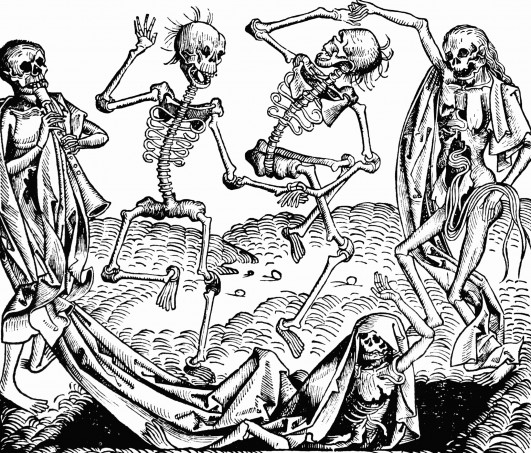 For those interested in medieval kings and queens, we are delighted to welcome Dr Tracy Borman from the Historic Royal Palaces to discuss her favourite medieval monarchs, while Dr Joanna Laynesmith will take an in-depth look at Elizabeth Woodville, whose stained glass image can be seen close to the Martyrdom in Canterbury Cathedral. Moreover, even if Isabella de Forz wasn't quite royal, she was certainly aristocratic and led a fascinating life, and it is excellent that one of the next generation of scholars, Dr Harriet Kersey, will be speaking on this most powerful of later thirteenth-century women.
The MCW 2022 will also be welcoming two further new scholars, and, as Dr Dean Irwin would say, how can it be complete without a lecture on medieval Jews. We will put this right next year because Dean will be speaking on the Jewish community as residents in medieval Canterbury and their relationships with their Christian neighbours. In addition, it is great that Dr Lily Hawker-Yates can guide us through that fascinating poem 'Sir Gawain and the Green Knight' as she focuses on the Green Chapel, thereby taking her audience into areas glossed over in the recent film – so come and find out more! In addition, both Dean and Lily benefitted from the Ian Coulson Memorial Postgraduate Award fund and, as in previous years, the purpose behind the Medieval Canterbury Weekend 2022 is to raise money to enhance this Fund and thus help to provide more opportunities for postgraduates to research Kent history topics.
Finally, albeit it will be the opening lecture of the Weekend on the Friday evening, Dr David Rundle will demonstrate that early Tudor Canterbury was not a cultural backwater for the Renaissance had indeed arrived! Consequently, with all these great speakers and fabulous and varied topics we hope you will want to come back to Canterbury's 7th History Weekend. As an alternative for those not sure or for whom this isn't feasible, we will be livestreaming the talks and you can book that way, however, do note that we will NOT be recording. Full details will be available very shortly, I hope, including information about bulk buys and special school tickets. Once this happens, I'll let you know.