Medieval Canterbury Weekend – building partnerships
I thought I would begin by mentioning a very productive meeting Dr Diane Heath and I had on Monday with Lyndsay Ridley, the General Manager at The Canterbury Tales, regarding arrangements for our first joint venture as part of the Medieval Canterbury Weekend 2018: www.canterbury.ac.uk/medieval-canterbury
This venture will be a child-friendly story-telling event on Friday 6 April, starting at 3pm in the Medieval Story Garden (behind St Margaret's Church/The Canterbury Tales), where those present will "hear Chaucer's Tales as they have never been told before". This is an exciting addition to the Centre's Weekend programme of talks and guided tours, and will give Diane, who will join the 'medieval' story-teller, a chance to meet the children, parents, grandparents etc, and explain a little about the Weekend to those who are interested. Details of this event and how to book will be appearing on the Weekend's webpages very shortly, so please do keep checking if this looks exciting because spaces are limited.
In addition, we are continuing to talk to Waterstones about holding a free puppet show – poor Saturn the Dragon who has lost his roar – which will be another venture with The Canterbury Tales on the same day, Friday 6 April, but in the morning. STOP PRESS – This has now been confirmed, details will be available shortly for this free event for young children and accompanying adults.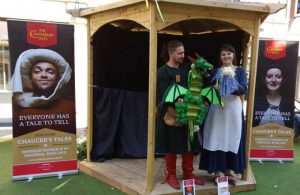 Saturn the Dragon – testing his roar
Not that this was the only productive meeting Diane and I had this week, because also last Monday we met up with Martin Crowther, who worked for a considerable time for the Museums Department of Canterbury City Council organising workshops, other activities and events for different age groups, and is now freelance. Martin is a friend of the Centre and we wanted to take advantage of his expertise for the 'Medieval Faversham' exhibition we are creating for the Faversham Town Council's new Heritage Centre in Market Street in Faversham (opposite the town hall). As well as having lots of great ideas concerning how we might engage people through other senses than sight alone – talking tins and smells roulette, Martin was extremely helpful regarding practical matters on display boards, the best ways of fixing materials, the importance of lighting, and what types of objects as replica artefacts might be appropriate for such an exhibition. We also discussed how to engage different age groups, the value of events such as Family Days, and how the exhibition might be deployed to enthuse audiences to undertake creative activities beyond the visit. Although we are still very much at the planning stage, we will have our talking tiles soon and ideas for the various display boards are gradually coming together. Again – watch this space!
Wednesday was an even fuller day because first of all I met up with Dave Stevens, the Community and Schools Liaison Officer for Educational Life about the possibility of one or two of its young reporters attending events at the Medieval Canterbury Weekend. This, too, was a very positive discussion because we could see how this might work using Dave's wide range of contacts, especially regarding the feasibility of the Weekend attracting interest from sixth formers. He also told me about his media work for the charity and how he is seeing a growing interest among schools for the reporting of their sporting, musical and cultural exploits. This may similarly work for a sixth former coming to the Weekend if they are thinking of going to study history at university and want to develop their reporting and writing skills. Consequently, I am looking forward to hearing from him again soon, and/or one of the Canterbury schools he works with.
Then it was a quick dash to Augustine House to Dr Sara Wolfson's Employability Workshop where those undergraduates who are interested in doing employability placements in April were due to meet prospective 'employers'. As it happened I was on a table next to Martin Crowther, who is looking for a student to help him with his heritage workshops at Dover Museum and Tunbridge Wells, while on the other side of the room I spied Dr Andrew Richardson of Canterbury Archaeological Trust. In my case I'm looking for a student to help research and plan a temporary exhibition on aspects of maritime Kent for the Centre's conference (with the Maritime Museums, Greenwich, and Kent Archaeological Society) in late June. Potentially this could be an extremely exciting and fun project, and quite a few of the students came to ask about it and appeared to go away interested, so it will be fascinating to see how many of these turn into applications for the job.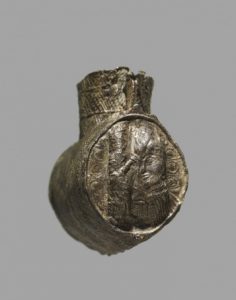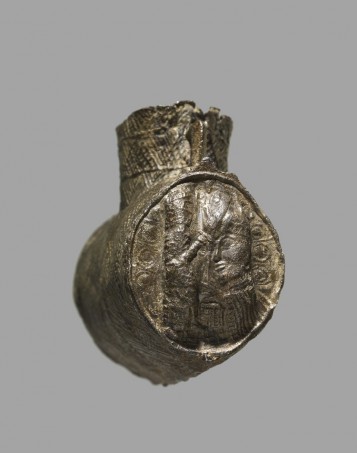 Pilgrim badge – showing St Thomas [Museum of London collection]
Having left slightly before it finished, I just about got back to campus in time to teach a module where we were looking at how members of Thomas Becket's entourage constructed narratives about events leading up to his murder, that is starting with his return from exile in early December 1170. This ability to deconstruct such chronicle sources is an invaluable skill for the historian and we concluded the seminar by applying similar ideas to visual representations of the murder using such diverse material culture as seals, reliquaries, contemporary manuscript illustrations and late 15th-century woodcuts in Caxton's The Golden Legend.
Then it was a mad dash over to Canterbury City Council offices because the Heritage Meeting there, organised by Councillor Robert Thomas, had begun at 2pm and I arrived part way through Professor Louise Wilkinson's presentation on the city's plans for the 2020 Becket celebrations. Apart from initiatives coming from groups within Canterbury itself, including the idea of reviving the 'Thomastide Week', perhaps the most exciting development is the desire to collaborate with Lincoln, which will also be celebrating its own great anniversary in May 2020 concerning St Hugh. There are several other links between Thomas and Lincoln such as Stephen Langton, the archbishop behind Becket's Translation, who was a Lincolnshire man and St Hugh's dedication to St Thomas. Moreover, Lincoln has an excellent track record of attracting funding, and organising excellent exhibitions, and the idea of holding shared events, including an exhibition, is coming along well.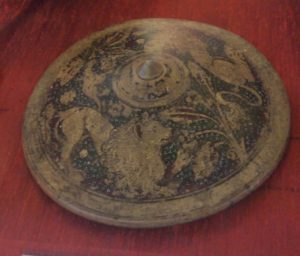 Wooden cover from a medieval mazer – Canterbury Heritage Museum.
Louise's was not the only presentation, and we heard about the English Historic Cities initiative, the level of progress regarding 'The Canterbury Journey' project at the cathedral, the new visitor experience at English Heritage's property in Canterbury, St Augustine's Abbey, and continuing work on the plan for Canterbury's World Heritage Site. Other active organisations who reported were The Canterbury Tales – celebrating 30-years in the city this year; the Marlowe Theatre for its new trust status and its gradually developing plans for the ex-Canterbury Heritage Museum; the University of Kent that included its team of conservation architects, and the Green Pilgrimage project that has EU backing. This latter looks very promising regarding Becket and 2020 and after the meeting broke up most people stayed behind to talk and make contacts. From a personal point of view and, bearing in mind what I had been doing in the morning, two of the most interesting were the Maritime Whitstable Museum project – Maritime Kent exhibition; and the Green Pilgrimage, not least because this involves sustainability – more on this in future reports.
I left with Louise and headed back to Canterbury Christ Church for the History Staff and Postgraduate seminar (organised jointly by Dt Leonie Hicks and Dr Simon Prince). This week it was given by Dr Charmian Mansell of Exeter University who is working as part of the Leverhulme-funded Women and Work in Early Modern England project under Professor Jane Whittle. Some of you may remember that I reported on a talk Jane gave at the University of Kent last March: https://blogs.canterbury.ac.uk/kenthistory/canterbury-and-international-womens-day/ where she outlined her preliminary findings. Consequently, it was good to hear how the project was progressing and to hear about another focus, this time women as servants. Like Jane, Charmian has worked extensively on church court depositions, looking at cases of defamation, and testamentary, matrimonial and tithe disputes in the dioceses of Exeter, Gloucester and Winchester (counties of Devon, Cornwall, Gloucestershire and Hampshire) for the period 1550–1650.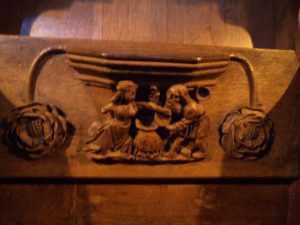 Domestic conflict – misericord in Bristol Cathedral
Among the aspects of female servanthood she is investigating are length of contract, times of hiring, the type of work undertaken and the age of servants; and she is setting this within an examination of the importance of patriarchy within the early modern household, especially in relation to the idea of the domestic servant. As she noted, for an investigation of this nature there are problems regarding the use of the sources because whereas men are probably more likely to be delineated as servants, women are more often labelled according to their marital status by the clerks at these courts. Nevertheless, by looking carefully at the narratives told by deponents, it is possible to pick up a lot more female servants than first appears, as well as discovering more about their working lives. For example, Charmian has found that even though the household was the most likely location where such servants would have worked, as measured by references in the depositions, that is in their master's/mistress's own household, this was only slightly more frequent than outside the household – in other households, in the street, in the church, in the field. In addition, when examining the category of work these female servants were engaged in, the highest number of cases involved the running of errands, closely followed by household or domestic work, with the third highest being husbandry.
In some way these findings might have been expected in dioceses that were predominantly agrarian, and especially pastural, with few medium/large towns beyond the three cathedral cities, albeit Bristol was presumably growing at this time in response to its role in overseas as well as coastal trade. Moreover, the high incidence of running errands offers a very wide range of reasons why the female servant was outside her own household and would, one presumes, have been seen as a particularly suitable task to entrust to such servants, even though most of the time they worked within the home. And, as shown in the illustration 'Tittle-Tattle' (BM Research Collection: 1973,U.216), it was such encounters outside the household that were especially fruitful places for the exchanges that might quite easily lead to a defamation case or one involving disputes over matrimony.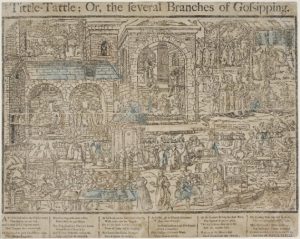 Tittle-Tattle [from the British Museum Research Collection: 1973,U.216]
As part of the Royal Historical Society's initiative to bring the work of early career researchers to new audiences at other universities, Charmian's time at Canterbury Christ Church was a great success, and it was excellent to see her presentation of this detailed and wide-ranging project that is providing new data about the lives of women workers in Tudor and Stuart England. Furthermore, as Dr David Hitchcock remarked afterwards, it would be exceedingly interesting to compare these findings with those for Norfolk, Suffolk, Essex and Kent, but, as he also said, that would be a mammoth task! However, what might be worthwhile would be to compare this project's findings to those of Professor Stephen Gunn's ESRC-funded project to look at coroners' inquests produced across England in the sixteenth century: https://blogs.canterbury.ac.uk/kenthistory/centre-events-in-canterbury/
Finally, I just want to mention that the new 'Picture this …' came out this week and it features an intriguing seal which seems to offer a representation of the Westgate before Archbishop Sudbury's new gate. In other words, this is the one that had Holy Cross church above the gate and was the one that Henry III would have entered through when he came as a child to witness the Translation of St Thomas of Canterbury in 1220. If this sounds interesting, here is the link to Mary Berg's analysis: canterbury-cathedral.org/heritage/archives/picture-this/the-seal-and-the-gate/  Indeed, if you haven't explored the 'Picture this …' series before, I definitely recommend it. It is organised jointly by the Canterbury Cathedral Archives and Library with Dr Stuart Palmer (University of Kent) and Diane Heath at the Centre here at Christ Church – as you can see here postgraduates from both universities had a great time at a 'Picture this …' workshop led by Diane, Stuart and Cressida Williams (archivist at Canterbury Cathedral) last autumn: https://blogs.canterbury.ac.uk/kenthistory/picture-this-workshop-11th-november-2017/