Canterbury and International Women's Day
Even though you might say that all historians interrogate the evidence to uncover the past, this becomes ever more challenging when it concerns the lives of those below the aristocracy in pre-modern society.
Standing buildings, artefacts and documentary sources all have a part to play in this investigation, as was discussed by archaeologists, cultural historians and drama specialists at a meeting held at Canterbury Archaeological Trust's premises yesterday. For it is only through an informed understanding of what people did, how they used objects, how they used spaces, how they interacted with each other, that we can begin to put the pieces of the jigsaw together. Moreover, it is important not to stop there but instead to explore earlier societies where possible in the same way. For the investigators, the balance between different forms of evidence will change over time, a rough rule of thumb being that the further back in time you go the greater the availability of archaeology compared to documentary sources. Yet whatever the proportion this is the way forward, such a holistic approach very much yielding a two plus two equals five scenario. Furthermore, and without lessening the cultural engagement of people of all ages with such disparate evidence, any creative response on their part will be enriched tremendously by knowing what they are looking at – its context in time and space.
In this harsh economic climate, where heritage and the arts are under intense pressures to pay their way, finding the means to engage individuals and groups is, of course, challenging. Yet innovative approaches at particular museums, and certain historic houses and sites are paying dividends, bringing in new as well as building on existing audiences. Modern technology – from smart phones to 3-D printer modelling – are playing their part, but at the heart of these developments are well-organised displays that tell interlinking stories about the long-term development of a building, street, neighbourhood, village or town, thereby bring comprehension, satisfaction and enjoyment to diverse and disparate audiences. Consequently, good museums remain relevant to 21st century audiences. Hence the importance of securing the future of the Museum of Canterbury – see https://www.ipetitions.com/petition/save-canterbury-heritage-museum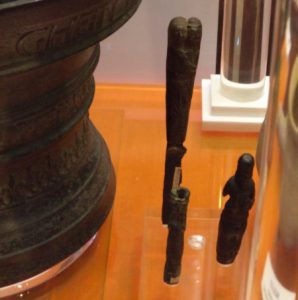 Late 16th-century knives, Canterbury Heritage Museum
Allied to these observations, I want to turn to a lecture I heard yesterday about an investigation of working practices in south west England during the later 16th and 17th centuries from a gender perspective, and thus especially appropriate in a week that celebrated International Women's Day. This Leverhulme-funded project: https://earlymodernwomenswork.wordpress.com/ based at the University of Exeter is using three types of documentary evidence: coroners' reports, church court records and quarter sessions to explore the counties of Cornwall, Devon, Somerset, Wiltshire and Hampshire. Professor Jane Whittle's preliminary findings were very interesting, but listening to her yesterday I was struck by how helpful it would be if she and her team were also looking beyond the documentary sources in their exploration of how and why particular work activities were carried out in terms of gender differences. For example, she noted that the historiography frequently states that hay making was done by women but that she had evidence of male involvement, even though women hay makers outnumbered men in the records. Thinking about the south west, and to be honest elsewhere, this makes perfect sense because hay making comprises a number of different tasks, is heavily weather dependent, and a disastrous hay season can spell catastrophe for livestock farmers in the coming winter. Consequently, and especially in a region of higher than average rainfall and where livestock farming is critical, it was essential that as many people as possible were involved in ensuring the hay was made and gathered as speedily as possible.
For academics and others, one way of finding out about these practicalities is to visit and talk to those involved in museums that concentrate on farming in that particular region. Kent has its Kent Life Heritage Farm Park: http://kentlife.org.uk/about-us/ but I have not been there for several years so instead I'm going to mention one of my favourite rural museums, the Weald and Downland Museum at Singleton to the north of Chichester: http://www.wealddown.co.uk/ . The beauty of this Museum, in addition to its stunning location, it that is offers visitors an experience of a wide range of rural buildings from different historical periods. This is important because buildings range in their adaptability, but by looking at how buildings were used in the past in an authentic setting, visitors of all ages can learn about people's experiences of living in the countryside over the centuries. Such time-depth is critical because it demonstrates change, but also continuity, whether we are looking at cooking practices, charcoal making, sheep shearing, or hay making where this all started.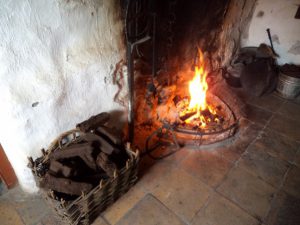 Ulster Folk Museum – peat blocks as fuel
I was also fortunate enough to attend another lecture this week, one on Wednesday evening given by Rebecca Warren who is nearing completion of her PhD at the University of Kent. For her doctorate, Rebecca is investigating the Church during Oliver Cromwell's Protectorate, but her focus at the Canterbury Historical and Archaeological Society's meeting was on the situation in Kent during the 1650s. For those not familiar with developments and changes in the 1630s and 1640s, she provided a clear and concise assessment of what took place nationally. For example, she discussed the changes associated with the position and form of communion tables/altars and associated rails and the ejection/installation of particular clergy depending on their views vis-à-vis the government's position at that particular time.
As a result, as she pointed out, when Cromwell took over the Church in 1654 it was in administrative chaos, due in large part to the previous dismantling of the diocesan structure and the large number of vacant parish livings. Cromwell's solution was to set up the Triers based in London whose job it was to interview all those men who sought one of these livings to check that they were, indeed, suitably godly and, perhaps, just as importantly, able to preach. It is the Triers' registers that are at the heart of her thesis, and, coming to the evidence for Kent, she noted that between 1654 and 1659 there were 140 approvals for clerical livings in the county. Her two case studies related to Canterbury and Sandwich, but I'm just going to mention poor James Burville who seems to have had a particularly unfortunate time. He was one of the Six Preachers based at Canterbury Cathedral, an office that began when the New Foundation was established in 1541, and he also ministered at Little Mongeham and Northbourne. However, it was at Little Mongeham where things went horribly wrong because having been appointed in the 1640s, and thus was suitably one of the godly, he found himself ejected in 1655 following the intervention of certain soldiers who had objected to his particular use of the Lord's Prayer and the Ten Commandments.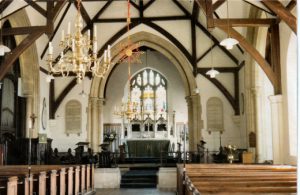 Plaxtol church – the only Kent church built during the Interregnum: http://www.plaxtolhistory.org.uk/page42.htm
Rebecca concluded by outlining just how effective the Triers had apparently been during what must have been a difficult period and from as even more challenging starting position. Furthermore, she noted the added complication of the presence of 'gathered congregations' who as Independents stood outside the official system. Canterbury, as you might expect, was home to such congregations and it is very fortunate that one of their registers survives in Canterbury Cathedral Archives and Library. It is a fascinating document and offers important insights into non-conformity from the mid 17th century. Thus again the lectures this week have been extremely interesting, as well as opening up new lines of thought on the history of Canterbury.