Maritime Kent – from Faversham oysters to Dover castle and Hythe fishermen
In some ways a great deal has happened this week and in other ways very little, a sort of treading water time before various decisions are made and implemented. On a positive note it is now two weeks to the Maritime Kent through the Ages conference and some of the final arrangements are being put in place for Richard Holdsworth's keynote lecture on Friday 22 June: 'Kent, the Royal Navy and the Defence of Britain' at 7pm [wine reception from 6.30pm]. All welcome, booking not required.
In addition, there are still spaces available for the main conference on Saturday 23 June, starting at 9.55 am [Reception from 9.30]. I'm sure this will be a great occasion because as well as internationally known scholars such as Professor Maryanne Kowaleski (Fordham University, New York); we have experts on Kent, including Dr Gillian Draper and Dr Chris Ware; and well-known specialists such as Jon Iveson (Dover Museum). Canterbury Christ Church is well represented – Dr Chris Young who will provide the topographical and environmental coastal context for the rest of the day, and Dr Martin Watts who will draw on his knowledge of Kent's modern maritime industries. Unfortunately, Dr Sandra Dunster (Greenwich University) has had to pull out but we are very lucky that Gill Wyatt has agreed to step in and she will discuss aspects of family and island mentalities in relation to Elizabethan Thanet – islands being a very important aspect of Kent's maritime history and heritage. If this sounds interesting – coastal communities, trade and industry, defending the coast, do please come along. Booking is available at http://canterbury.ac.uk/maritime-kent and by phone to 01227 782994 or email artsandculture@canterbury.ac.uk and it is also great to report that this is a joint venture involving the CCCU Centre, the Royal Museums Greenwich, and Kent Archaeological Society. If you don't get a chance to book beforehand and want to be a part of this, please do come and pay on the door – all welcome.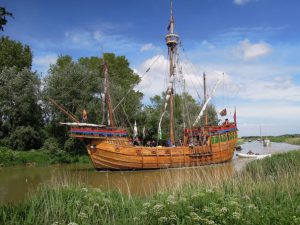 The 'Matthew' in Sandwich creek (photo Keith Parfitt)
Staying with the idea of coastal communities, Phase II of the 'Medieval Faversham' exhibition is picking up some momentum and in addition to working out what other topics should be covered on the extra exhibition boards and pop-up banners, Dr Diane Heath has also been costing materials and staffing for the 'Young Medievalists' Corner' that we hope to have on the three Saturdays in July – 7th, 14th and 21st to coincide with Faversham's Open House Days, organised by the Faversham Society. Diane Heath has considerable experience in this field and she has put forward some exciting children's activities that draw on the town's history and heritage – a great example of learning through play. To support these activities financially, the Centre is seeking a Swale Heritage Grant. I hope I can report on the Centre's success before the end of the month, because, from the Council's remit, this project would appear to fit Swale's aspiration to improve the cultural offer to residents and visitors alike, especially the young, through heritage activities.
Still keeping with this Kent maritime theme, even if somewhat tangentially, I met up with someone yesterday who several years ago researched and published a book on the history of Dover Castle. She has considerable insight into the workings of the castle having lived in there because of her husband's official duties. However, the purpose of our meeting was to discuss her current project that brings together Canterbury and Barham through lordship and landholding of a certain aristocratic family. Such opportunities to share knowledge and insights into archival research and Kent's fascinating history are rewarding in themselves, and hopefully this project will go from strength to strength.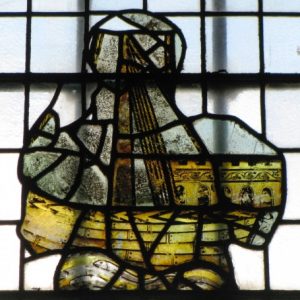 Ship and eels at Cliffe at Hoo (photo Imogen Corrigan)
Finally, for this short blog this week, I'm going to stay with maritime occupations and mention a couple of things that I have just gone back to as I respond to the readers' reports for an article on 'Fishermen and their families in late medieval and Tudor Kent' that all being well will come out in The Routledge Research Companion to Marine and Maritime Worlds, 1400–1800: Oceans in Global History and Culture in 2019. The first is that although it is difficult to be sure exactly how the fishing communities developed in Kent, it seems that at many of these coastal places what might be called a fishing settlement came into being, which was or would become distinct from the local (agricultural or trading) settlement. To explain what I mean I will give a few examples: at Dover the families of fishermen, at least in the 11th and 12th centuries, apparently congregated at the east end of the town, under the castle cliff, and worshipped at the parish church of St James, while the other townsfolk attended the cluster of parish churches around the ancient minster church of St Martin le Grand. Something similar may have occurred at Whitstable, the parish church, dedicated to All Saints, at the centre of the settlement was inland on higher ground, while the fishing community was seemingly located to the north and north-west close to the sea shore, including much of what would become Whitstable Street (leading to the Horsebridge). If William Hasted was right, the church linked to the fisheries in this area became the parish of Seasalter, the first church perhaps very close to the low-lying shore. Other evidence of this physical division comes from wills, for example, many of the fishermen at Hythe and Folkestone had lodges, said to be at the Stade or seaside, while their counterparts at New Romney and Lydd seem to have had cabins, at Romney Helmes [Greatstone] and Dungeness respectively. Interestingly, Harold Fox in his study of Devon and Cornwall similarly found the development of separate communities even though the terrain in the West Country of high cliffs and coves is very different compared to much of Kent's coastline where cliffs are rare and low-lying tidal marshes and gently shelving beaches are commonplace.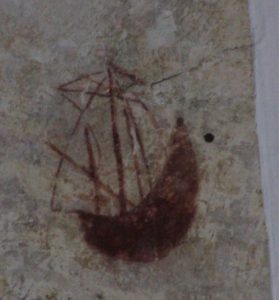 Ship at Littlebourne (photo Imogen Corrigan)
The other thing I'll just mention are the medieval fishing seasons, the autumn dedicated to herring, and, because it is a migratory species, the fishing fleets needed to be able to follow the shoals as they came south through the North Sea and into the English Channel. The fishermen and their quarry can be tracked by looking at the timing of the various fishing fairs from Newcastle (beginning on 1 August), Whitby (25 August), the first of the great fairs at Scarborough (15 August -29 September), Grimsby (13-20 September) to the second great fair at Great Yarmouth (late September to mid-November).  Then as far as the Kentish, especially the Cinque Port fishermen were concerned, they could fish for herring locally from late November. For example, in the late 15th century Thomas Risdale of Hythe continued to fish for herring in the Channel. Yet herring were not the fish he was interested in because between the feast of St Edmund, king and martyr [20 Nov] and Christmas he also went line fishing. Although he referred to the fishing season before Easter as 'lentfare', some of his contemporaries saw it as beginning on the feast day of the Purification of the Virgin Mary [2 Feb] and extending until Easter. After Easter the tramel fare began, which for some ended about the feast day of the Nativity of St John the Baptist [24 June] and was followed by the Scarborough Fare for cod and herring, while others continued to fish locally until Michaelmas [29 Sept].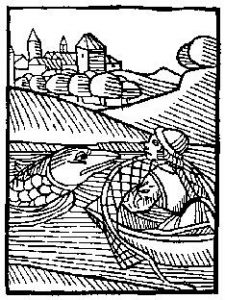 Fish meets man (see: http://www.clipart.co.uk/ )
I think such evidence is fascinating in itself, but also highlights the importance of diversification within work patterns, as well as ideas about what was being consumed at the tables of ordinary townsfolk, the fishermen's artisan neighbours, in the late Middle Ages. And next week I hope to bring news of another coastal town – Folkestone, as well as some details about speakers for the Tudors and Stuarts History Weekend 2019.