Magna Carta and the Faversham Custumal
This time next week the Tudors and Stuarts Weekend will be just about to start, which means there will be quite a lot to do next week – all those things that can only be done just beforehand – consequently this may be the last post until after it is all over.
Matters all seem to be in hand and next week will see a meeting of the student helpers, as well as sorting out of the final ticket sales through the website (it will close at noon on Thursday) before we move to tickets sold (cash only) through the temporary Box Office in Old Sessions House foyer. This will operate throughout the Weekend for all events where tickets are still available. The chance to attend extra events in this way worked extremely well last year and I am hoping people will again take the opportunity between Friday 31 March and Sunday 2 April. For those still unsure, please do look at the Centre's website for the photos from last year: https://www.canterbury.ac.uk/arts-and-humanities/school-of-humanities/medieval-canterbury-weekend/medieval-canterbury-weekend.aspx as well as details of what is on offer in 2017.
The Centre is also busy concerning upcoming events after the Weekend, which include the 'Family and Power in the Middle Ages' conference, and three evening lectures jointly with the Friends of Canterbury Archaeological Trust [FCAT]. These will focus on various aspects of Canterbury's medieval past – chronologically: Anglo-Saxon burials and Norman defensive ditches (Dr Richard Helm), Nigel a monk at the time of Becket (Dr Diane Heath), and being a pilgrim in 15th-century Canterbury (me). Working with the Canterbury Cathedral Archives and Library, Professor Louise Wilkinson will be part of the celebration in May of William Urry's historical works, and June will bring two further conferences. The first will commemorate the June 1942 Baedeker raid on the city and the destruction brought by these devastating fire bombs, the second on tithe will draw on experts such as Professor Christopher Dyer, Drs Benjamin Dodds, John Bulaitis and Paula Simpson, as well as Elizabeth Finn from the Kent County Archive service. Details of all of these will be on the Centre's 'Future Events' page very shortly, but for now the Baedeker Raid details are at www.canterbury.ac.uk/baedeker and that for Tithe at www.canterbury.ac.uk/tithe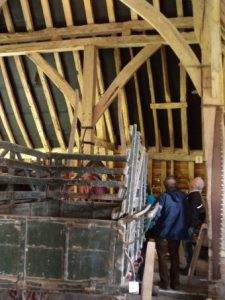 Study day, Agricultural Museum, Brook in 2013
In the lull before the Weekend John Bulaitis and I attended a Trustees meeting of the Agricultural Museum, Brook on Monday and today Louise Wilkinson and I visited Faversham to meet with a former mayor Nigel Kay and Louise Bareham, Town Clerk, as well as Hannah, Faversham's new Tourist Officer. After events in Canterbury, these meetings were like a breath of fresh air, because it was great to be in the company of those who are passionate about their history and how this can be told through artefacts, historic buildings and documents to a broad range of audiences. This appreciation of the need to give these sources a context rather than seeing them as disconnected items was very refreshing, and this morning we had a very fruitful discussion about the range of projects that could engage schoolchildren, students and adults of all ages using connected episodes in Faversham medieval past. The town is immensely fortunate because in addition to its important collection of charters, including a later version of Magna Carta, it has its custumal and other town books. In some ways this is not surprising because as a Cinque Port (linked to Dover, its head port) civic record keeping was seen as critical. For their size, these towns have magnificent civic archives as they fought for greater autonomy from their respective lords. In Faversham's case, this was primarily the local abbey but it was not the only religious institution that had power in the town and St Augustine's Abbey held the advowson of the town's parish church of St Mary of Charity. As a result, in c.1300 the local incumbent found himself caught up in the power struggle between St Augustine's and the archbishop that led to bloodshed in a skirmish in and around the church over the burial of one poor soul.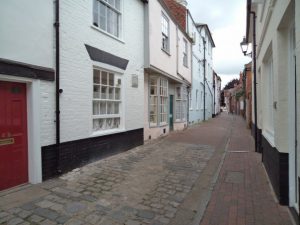 Middle row, Faversham
As well as the town's custumal, studied by Justin Croft for his doctorate about twenty years ago that remains a brilliant piece of scholarship, there is an excellent collection of 15th-century wills. One of the very interesting aspects of these wills is the early use of English from the mid-century in many cases. Some mention property in the town, and other assets owned by testators, but they also give some excellent ideas about the various lights, images and altars in the parish church, including some unusual cults such as St Sithe, Master John Shorne and Our Lady of Gesyn (Bedlam). Indeed there were several lights and images dedicated to St Mary including Our Lady of Pity, Our Lady in the Nave, the Assumption of Our Lady, Our Lady in the Choir, and, of course, Our Lady of Gesyn. I still think it is valuable to think about such devotions with respect to the painted pillar, and it is feasible other paintings now lost would have echoed this Marian theme and/or that of the holy family. Even though women were only a small minority of the will-makers: twenty-four out of a total of 143, it is perhaps not surprising that they were on average more likely to support these Marian devotions and a third of the bequests to Our Lady of Gesyn were made by female donors. And just as an aside, it is worth noting that Faversham is amongst those places known to have supported a Boy Bishop.
Finally, I just thought I would share with you some extracts from a review of Early Medieval Kent, 800–1220 (Boydell, 2016), that Professor Maryanne Kowaleski (Fordham University) very kindly sent to me today. She and I share an interest in medieval maritime communities and most specifically another Cinque Port, this time Hythe. At present, she is completing an article on medieval ship names and their links to religious expression that sounds fascinating. However, to return to the review in The Medieval Review, firstly it shows that the book has crossed the Atlantic, which is promising in itself. However it is great that Dr Courtney Konshuh (University of Saskatchewan) believes that 'the book in total is an extremely valuable collection for the early medieval period, useful for those interested in Kent in particular or in the application of regional studies to other areas of England.' As well as being 'an excellent volume with strong, cohesive ties between the articles and conclusions that resonate across many of the articles. The entire book gives a sense of how church and state operated in tandem, steering the development of Kent through a period of upheaval and conquest, and allowing Canterbury to maintain its primacy in the English Church.' She also notes that 'Diane Heath explores the development of monastic culture from 597 to 1220 at the twin foundations in Canterbury, focusing on material culture produced over these centuries, including buildings, manuscripts, liturgy and cults of saints.' As you will know from the blog last week, Diane is a Research Fellow in the Centre and her new project focuses on the cathedral crypt animal sculptures that she wishes to see illuminated as an educational tool as part of the 2020 Becket Translation anniversary celebrations. On this positive note, I'll finish here and hope to see some of you at the Tudors and Stuarts Weekend next week.