Lambarde, Baedeker and Tithe at Canterbury
Being back in Canterbury this week, I am now turning my attention to future Centre events, especially those due to take place in the next couple of months.
However, before I get on to these I thought I would mention Archaeology's annual 'Lambarde Lecture' that is due to take place on Wednesday 26 April in Old Sessions House, CCCU. As Dr Andy Seaman said last night, a wine reception will precede the lecture starting at 5.30pm and I believe that there will be a small photographic exhibition in the Old Sessions foyer to accompany the lecture, which will include material on teaching archaeology at Canterbury Christ Church. Professor Tim Champion (University of Southampton), who is also currently a Visiting Professor at CCCU, will be giving the lecture under the title 'The Making of the Southern British Landscape: a Prehistorian's View'. Professor Champion is an internationally known expert, having lectured as a Visiting Professor at Michigan and Zimbabwe among his other appointments. He is a Vice-President of the Royal Archaeological Institute, having previously served as President of the Prehistoric Society. His primary research interests are the later prehistory of western Europe, and in particular the Iron Age of southern England. Recently he has focused his attention on the archaeology of Kent, where investigations in advance of development, including those by Canterbury Archaeological Trust in Thanet, to the north of the Channel ports and elsewhere, have transformed our understanding of the region. If this sounds interesting, please consult the website at: https://www.canterbury.ac.uk/arts-and-humanities/events/arts-and-humanities/soh/professor-tim-champion-the-making-of-the-southern-british-landscape-a-prehistorians-view.aspx
and do come along next Wednesday to hear what promises to be an extremely interesting lecture.
Keeping with the archaeological theme, there are three evening lectures coming up in May, June and July organised jointly between the Centre and the Friends of Canterbury Archaeological Trust. The first on Thursday 11 May at 7pm in CCCU, Newton [Ng07] is my talk on 'Pilgrimage experience in late medieval Canterbury', looking at what a late medieval pilgrim might have experienced during his/her stay in the city as well as while visiting St Thomas' shrine and other sites in Canterbury Cathedral. Then on Thursday 8 June, also in Ng07 at 7pm, Dr Diane Heath (Canterbury Christ Church University) will explore the life and works of an extraordinary monk in 'From martyrdom to Magna Carta …' The life, poetry and fate of Nigel Wireker monk of Canterbury'. Finally, on Thursday 6 July – same time and place – Dr Richard Helm (Canterbury Archaeological Trust) will provide a summary of recent findings from excavations close to the Augustine House site under the title, 'Roman cemetery to Norman castle: recent excavations at Rhodaus Town, Canterbury'. Again, if any of these sound interesting, do come along you will be most welcome.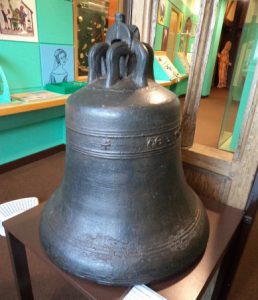 Bell from St Mary Bredin, Canterbury, dated 1505
Turning now to the Centre's two conferences that are scheduled for June, the first of these concerns the anniversary of the Baedeker raids on Canterbury in 1942. Working with Cressida Williams from the Canterbury Cathedral Archives and Library, Dr Martin Watts has organised a half-day conference for Saturday 3 June, which will take place in Old Sessions House. The foyer will have an exhibition of photographs showing the devastation in Canterbury following the raid, using material in the Cathedral Archive collection. Martin will be joined by Professor Kevin Ruane, Paul Bennett, who as an archaeologist in Canterbury is following in the footsteps of those who excavated many of these bomb sites, and Jordan Newton, an undergraduate who has made a special study of this event in the city's history. Although spaces are limited, Paul will lead a walk around parts of Canterbury in the afternoon to give participants a feel for the level of destruction, which continues to have an effect on the city's landscape even 75 years on. If you are interested in attending this conference, or want further details, please go to the website at: www.canterbury.ac.uk/baedeker
A fortnight after this on Saturday 17 June, the Centre will welcome to Canterbury one of the most distinguished medieval historians in the country if not worldwide. Professor Christopher Dyer (University of Leicester) is well known for such books as Standards of Living in the Later Middle Ages (1998), Making a Living in the Middle Ages (2002), An Age of Transition? Economy and Society in England in the Later Middle Ages (2005), and more recently A Country Merchant, 1495–1520 (2012), among a plethora of other books, chapters and articles. Consequently, the Centre is very fortunate that Professor Dyer will be one of the two medievalists speaking at 'Tithe through the Ages: the Historian's View'. He will be joined by Dr Benjamin Dodds (University of Durham), who is an acknowledged expert on the subject and who has used tithe cases to great effect in his analysis of peasant farming practices during the Middle Ages.
This conference, also scheduled for Old Sessions House, will open with a talk given by Elizabeth Finn of the Kent Archives Service. Some of you may remember Elizabeth spoke at the 'Names' conference at Canterbury Christ Church last autumn on the Kent section of the Manorial Records project. This time she will outline the history of tithe and the tithing system, as it was undertaken in England from medieval to modern times, to provide those attending with sufficient background knowledge to enjoy the chronological sessions during the rest of the day. For by focusing on tithe, these historians will show just how useful such records can be to historians interested in social, economic, political, religious and cultural issues – in other words historians of every sort, and especially those who see the value of exploring local and regional history as a way of looking at 'the big picture' – from micro to macro.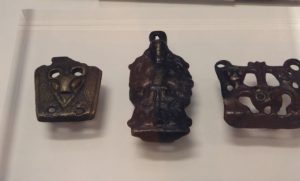 'Viking' style horse furniture, found at Barham. Canterbury Heritage Museum
The two afternoon sessions will examine tithe cases in the early modern and modern periods. Again, two of the speakers have given lectures at Centre conferences in the past. For the early modern session, Dr Paula Simpson (Trinity College, Cambridge), who previously spoke at the 'Thirsk' conference, will be joined by Stuart Morrison, a doctoral student from the University of Kent, working on London tithes. Dr Simpson's work on tithe disputes in the diocese of Canterbury during the sixteenth century has highlighted, amongst other issues, the importance of custom and traditional modes of behaviour. This might involve, for example, the singing of catch songs using derogatory refrains against the vicar's wife if she was known as a 'chider and a brawler'; or also at Alkham, references to 'cuckold's horns' at 'The Greyhound' in Dover, perhaps relating to the innkeeper's wife, which similarly drew on ideas regarding the use of rough music to chastise members of a community. Consequently, it will be extremely interesting to contrast her work on a rural county full of small towns with Stuart's research on tithing in the capital, a thriving metropolis and a far cry from Kent, 'the garden of England'.
In the final session, Dr John Bulaitis (Canterbury Christ Church University) will continue the theme of resistance and revolt by taking his audience into the modern period. Firstly, he will draw out the implications of changes to the tithing system in the nineteenth century for tithe payers, before looking in more detail at what would become the death throes of the system, albeit it was an exceedingly violent end! Some of you will have heard Dr Bulaitis before regarding 'the Battle of the Ducks', and he has continued to explore this fascinating topic, expanding his research to bring in the national picture, although Kent remains central to his analysis. Indeed, he intends to publish on this topic, firstly an article and then a book, so for readers of the blog I'll keep you informed of these future developments. However, in the first instance, this is looking to be a fascinating conference and more details are available at www.canterbury.ac.uk/tithe
Finally, I just want to mention a lecture I attended last night given by Dr Ali Bonner from Cambridge as part of the series organised by CCCU's archaeologists. This was a fascinating reconstruction of the theological landscape in fifth-century Britain using, in particular, textual analysis of the few surviving manuscripts and our knowledge of the texts circulating at that time. Following in the steps of Robert Markus and using such manuscript sources, Dr Bonner has explored what she calls 'heresy versus tradition' that was being debated and in some ways fought over with regard to competing theological ideas during this important early period in the history of Christianity in western Europe. There isn't space here to do justice to her analysis, but if you are interested in this topic her book on the subject will be out shortly.