Just to let you know, Dr Ben Marsh's presentation on 'Gateways to Empire: Figuring Out Kent's Black Histories, c.1550-1800' is now all set up forTuesday 20 July at 7pm on Teams Live Events. I'll put the link in next week's blog and then again the week after. Don't worry if you have not used Teams before or don't have it on your device, that's not needed because you can watch it anonymously on the web and I'll provide instructions next week. It is going to be fascinating, so please do save the date and time.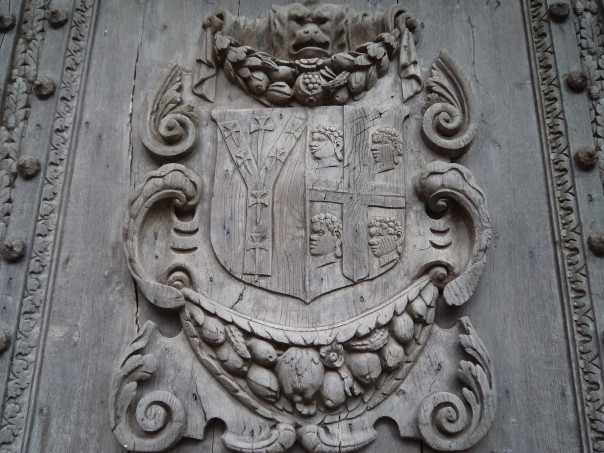 Before I come to the meeting of the Kent History Postgraduates, I just thought I would let you know that Dr Diane Heath and I with Diane's daughter and dog had an excellent walk in Blean woods last Thursday when we joined Dr Sam Vale. As he said afterwards, the conversation ranged widely but perhaps not surprisingly Diane has chosen to focus her written piece for him on two animals – the ant and the bear. For even though we only saw the former in large numbers, it appears to be a good year for wood ants, there is a delightful carving of the bear's head embedded in a tree stump, and bears do eat ants. I'm still thinking which aspect to take, but it was fascinating watching Sam as work during the walk as you can see from the photos.
On other Centre matters, having finalised the text and designs of the St Dunstan's church history pop-up banners, they have now gone off for printing and hopefully we will be able to present them to the church roundabout the time of the anniversary of the execution of Sir Thomas More, that is next week. So more on that shortly because it would be great to see the Centre's work displayed in a second of the city's churches.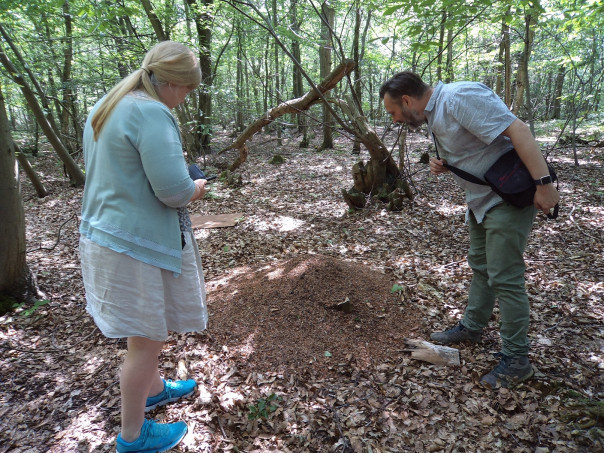 On a more maritime theme, I have been and will continue to be busy indexing Maritime Kent through the Ages well into next week, to be followed by Dr Claire Bartram's IHR Centenary Project meeting at Dover on the Thursday. Similarly keeping with water, I was down in the Brede valley last Saturday with Dr Andrew Richardson about an extension to the Lossenham project. Moreover, it was great to catch up with an old friend from Romney Marsh Research Trust days, not least because the Lossenham project will build on the work of RMRT, as well as that by Archaeology South East on the Bretts Lydd gravel quarries. Although this is all at an early stage, but I thought I would just say that the idea is to extend the project to bring in this neighbouring river system, which will offer a complementary aspect to the Lossenham multi-disciplinary community history and archaeology project.
Currently, there are people working on both of these main aspects of the Lossenham project for many among the wills sub-group are busy looking at the PCC wills (as mentioned in the blog before) and my 3rd series of palaeography workshops has now reached its half-way stage, while the first of the summer archaeological excavations got under way last week. Indeed, on the way back from the Brede we stopped off in Lossenham so that Andrew and Annie Partridge could discuss the plan for the Sunday. As a non-archaeologist, I thought the trenches looked very promising because the team has found evidence of medieval walls and there have been some interesting finds including glass, pottery and floor tiles.
Then moving from radio to television, I had a long discussion this week with someone from the BBC about the impact of the Black Death on ordinary people – history from below, which will be the subject of a programme to be made fairly soon. For even though the manorial court records for Kent do not let you explore in detail the effects at family level that are feasible for somewhere such as Walsham-le-Willows in west Suffolk, the level of donations received at Becket's shrine indicate that for large numbers of people their response involved going on pilgrimage, and to Canterbury. Consequently, we explored this aspect of medieval life and more broadly ideas about why and how piety and charity mattered to people, as well as topics such as contemporary texts on the Art of Dying (well), frequently seen pictorial representations of the Last Judgment (as in most parish churches), and the place of drama, especially plays like Everyman, in people's perceptions of how they should live (and die). I'll let you know if I hear anything more about this programme.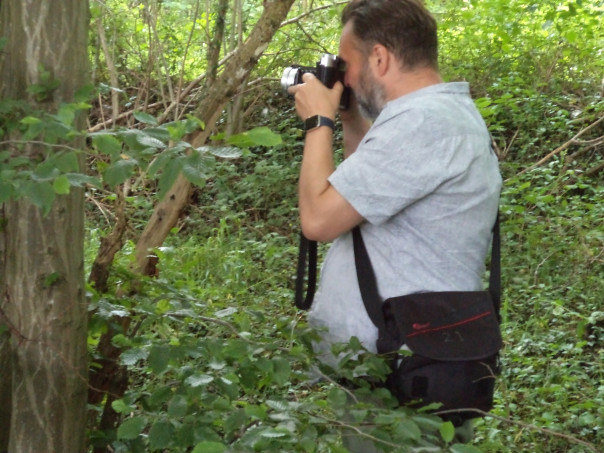 Turning now to the Kent History Postgraduates, only a few people were able to join the catch-up meeting yesterday because most were busy in paid employment or on holiday, but this did mean we could hear more about what people have been doing and everyone's work generated considerable discussion, comments and suggestions. Of those who were there, Janet is currently still recovering from a fall and even though she is making great progress, she is not working on her research project, but will be again very shortly. Nonetheless, it was great to see her at the meeting and she was able to offer several suggestions to others.
Of the four others, I'll start with Maureen who has been working on her Upgrade Review piece on the history of the chases and parks of medieval Tonbridge. In exploring their composition and use, she has been examining a piece of research recently published in Archaeologia Cantiana, the annual Kent Archaeological Society's journal. This concerns environmental archaeological discoveries along the A21 between Tonbridge and Pembury and for Maureen specifically the team's pollen analysis, with its implications for the tree cover nearby and the incidence of arable and pastural farming. For Maureen believes the area was within South Frith and she is keen to explore whether their analysis can be extrapolated for the whole area or is only applicable very locally. Janet was the only person who has looked at such evidence in the past – for her own work at Scadbury, consequently she suggested a number of avenues Maureen might explore, while I know some pollen analysis of this sort was undertaken on the Romney Marshes by researchers from RMRT. Maureen is going to explore all these avenues, and he has also located a document at The National Archives from the reign of Henry VII that has implications for South Frith's destruction even before the Dissolution. Consequently, Maureen is very busy.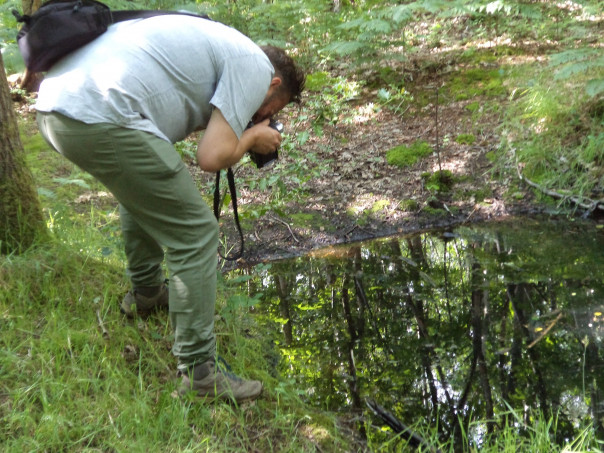 Another person who is very busy is Jane, who has recently gone through the same Upgrade process, as well as presenting at the University of Kent's MEMS Fest (see last week). Since then, she has been in correspondence with Christopher who was in her panel about the archaeological reports compiled some time ago following work around Tonbridge Station – the site of Tonbridge Priory. He is going to help Jane try to get hold of these reports because they may offer valuable material about the priory buildings. Additionally, Jane has another online conference coming up soon, the Leeds International Medieval Congress where she will be giving a presentation on late medieval women's wills. This, too, sparked considerable discussions and all agreed that her choice of a husband and wife who were corrodians would offer a valuable contrast on the grounds of gender.
Following his presentation on Cuxton a fortnight ago, Pete has been exploring further the village's extent as we can understand it from Domesday. Of particular interest is the recording of the (water)mill, the presence of salt marsh but absence of woodland, in what today is a highly wooded area. As a result, Pete has again been looking at maps and he is getting more interested in the landscape and other aspects of the village's development through to the 20th century – its industrialisation and more recently de-industrialisation. So watch this space for more on Cuxton!
Moving forward in time, Jacie has been busy analysing the questionnaires from her volunteers for her chapter on families and food in WWII Kent. She has been looking specifically at family size, the role of the father, and the different perceptions of those who were adults compared to those of children. Although still at a preliminary stage, her assessment of the role and influence of siblings looks promising. Again, this all sparked considerable debate and amongst this Pete introduced Jacie to the testimony of a local landlady and her dealing with the Canadians stationed nearby, who seem to have been major benefactors to the villagers.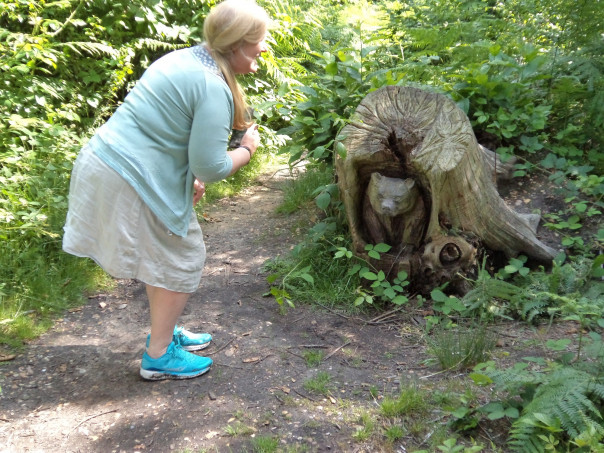 As I hope you can tell, this was a highly productive session, and everyone went away with new avenues to explore and new proposals to test. Moreover, I was able to mention the work of this group at a meeting concerning the Faculty's Research Strategy, thereby showcasing the group's inter-disciplinarity and its strong co-operative ethos.