Folkestone, Faversham and Canterbury – medieval saints and other matters
Now that we are in March, I thought this week I would start with news of the book launch next Thursday which features Gender in Medieval Places, Spaces and Thresholds, and among the three speakers will be Professor Louise Wilkinson, who attended the conference at CCCU this publication came from and Dr Diane Heath, one of the three editors and the contributor of a chapter on 'tombscape'. If that sounds intriguing, please do come along to the CCCU bookshop at 5pm. Copies of the book will be on sale at a special CCCU Bookshop discount. We will be having a wine reception, too, courtesy of the School of Humanities and organised by Professor Jackie Eales. Here is a link to this and other events taking place as part of International Book Day: https://blogs.canterbury.ac.uk/studentnews/celebrating-academic-book-week/#.XHjwF_vMLGw.twitter
Towards the end of March we will be celebrating one of Kent and Canterbury's great antiquarians, William Somner. This is a one-day conference with exhibition on Saturday 23 March. Like many scholars of the 17th century, he had many and diverse interests, and he was equally a keen collector of ancient documentary sources, some of which can only now be found in his collections The Antiquities of Canterbury, probably his most famous book. This day will reflect his varied academic interests, some of which today might be viewed as coming within the orbit of Heritage and Cultural Studies. Therefore, if this, too, sounds intriguing, do check out the webpage at https://www.canterbury.ac.uk/william-somner and we shall be delighted to welcome you.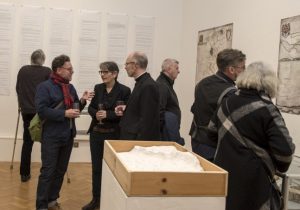 Opening the Eanswythe exhibition at Folkestone [photo supplied by Lesley Hardy]
Another event that I mentioned last week which is currently taking place in Folkestone is the 'Finding Eanswythe' exhibition at the Sassoon Gallery, Folkestone Library. I understand from Dr Lesley Hardy that the opening evening was very successful and that she is delighted with the many exhibits, including historic maps and photographs showing the community archaeological dig, led by Dr Andrew Richardson (Canterbury Archaeological Trust) to explore the St Eanswythe watercourse. Other parts of the exhibition feature the work Lesley and Dr Ellie Williams (Archaeology at CCCU) conducted at the parish church of SS Mary and Eanswythe, as well as that of 'young Folkestone archaeologists', whose work covers one wall of the gallery.
Although not until May ie after the Tudors and Stuarts History Weekend on Saturday 13th and Sunday 14th April [ https://www.canterbury.ac.uk/tudors-stuarts ], but keeping with the Heritage theme, the Centre will be heavily involved in the 30 year anniversary celebrations for Canterbury's UNESCO World Heritage status. This site comprises St Martin's church, St Augustine's Abbey and Canterbury Cathedral, the whole brought together through the re-establishing of Roman Christianity in England by St Augustine of Canterbury from 597. There will be several events to mark this milestone, including a two-day conference on Friday 24 and Saturday 23 May, but as a prelude to this Paul Bennett, Visiting Professor of Archaeology in the Centre, will give a lecture on Wednesday 8 May at 6pm [wine reception from 5.30pm] in Old Sessions, CCCU entitled 'The Canterbury World Heritage Site – an archaeological perspective'. Paul is eminently qualified to do this because Canterbury Archaeological Trust has conducted numerous excavations, as well as architectural surveys of the standing fabric, and he can bring a holistic perspective to the discussion surrounding these internationally important linked locations. For further details about the conference, see: https://www.canterbury.ac.uk/arts-and-humanities/events/arts-and-humanities/ckhh/celebrating-30-years-of-unesco-in-canterbury.aspx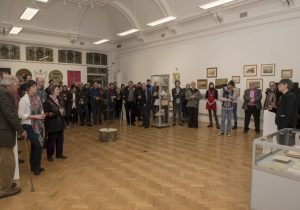 Lesley addresses the audience at the exhibition's opening [photo supplied by Lesley Hardy]
Before I come to the main event I'm reporting on this week, I thought I would mention that Louise Wilkinson and I had an exciting meeting with Paul Bennett and Annie Partridge, who undertakes the education and community engagement work at Canterbury Archaeological Trust, and Cressida Williams, who runs Canterbury Cathedral Archives and Library. In part the discussion was about the Medieval Pageant in various locations in Canterbury on Saturday 6 July, but the main topic was a proposed series of events under the umbrella of Becket 2020 that will feature Kentish saints. To a degree, this has grown out of the idea that the cathedrals should work together, not least because several have major saintly anniversaries in 2020, but within a regional context the county is especially rich for the number of saints remembered, and this has the potential to involve much of Kent, and thereby bring collaboration between Canterbury-based organisations and county organisations, not least Kent Archaeological Society. Although only in its infancy, the consensus was that we would aim to have something like a three-week exhibition, free and open to as many people and groups as possible. It would be staged initially at CCCU and involve student participation, the project dovetailing well with expertise from all the contributory institutions.
The exhibition would run from about late August to early September 2020 to maximise opportunities for schools to visit and engage with materials in the first weeks of the new academic year. To mark the end of the first phase of the exhibition, we are proposing to have a one-day conference, again probably at CCCU, and thereafter the exhibition would hopefully travel around the county to such places as Dover, Rochester, Maidstone, Faversham, Tonbridge and Thanet. Because Kent is so rich regarding its saintly heritage, we thought a thematic approach as a way of grouping the many saints together might be the best approach. Consequently, we are anticipating having three main strands to the exhibition and conference: female Anglo-Saxon saints; episcopal saints from Canterbury and Rochester; post-Conquest lay and clerical saints, with a fourth strand that explores medieval sainthood: how did you become a saint, how vital were relics, cults and saintly heritage – was legacy important? As things progress, I'll keep you posted about developments.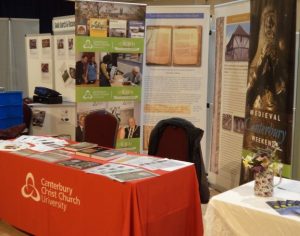 The Centre's stall just before the Heritage Fair opened
Now after yet another busy week I want to turn to the Faversham and Swale Heritage Fair, organised by the Faversham Society, that took place today on Saturday 2 March at the Alexander Centre in Faversham. Diane Heath and I had a stall amongst all the other heritage organisations that represented groups in and around Faversham, and some people who stopped to admire our display were puzzled about our presence. We were happy to explain that we were there because we had provided Faversham Town Council with an exhibition on 'Medieval Faversham' last summer, were now working with Faversham's 'Museums Together' group, and our primary purpose was to introduce people to the type of history and heritage events that the Centre organises for the public, staff and students. Consequently, we were showcasing our History Weekends, the 4th of which will be taking place in April, our other conferences and workshops, including William Somner, and our publications, such as the Medieval Gender book [see above], Early Medieval Kent, and Later Medieval Kent. In addition, we explained that we use these events to boost funds for the Ian Coulson Memorial Postgraduate Award fund, which is helping CCCU postgraduates who are studying Kent history topics. Some people stopped to say how much they had enjoyed the Centre's events in the past, and were keen to pick up Tudors and Stuarts 2019, and Somner leaflets. Lots of 'new' people chattered and then picked up leaflets, too, and our stack of these was much depleted by the end of the day – a successful outcome!
Equally successful were the talks Diane and I gave in the morning, and these also drew people to our stall having heard first about Faversham: Archbishop Cranmer's 'troublesome' town, and then Faversham Abbey's 'book of the dead'. Because we couldn't leave the stall altogether, Diane didn't hear my talk and I didn't hear hers, but I thought I would just give you a few details here.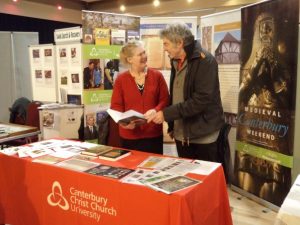 Diane discusses Faversham's importance in Early Medieval Kent
Starting with the evidence from the Prebendaries' Plot about the religious strife in the early 1540s at Faversham, I think it is worth noting that the very conservative [Catholic] vicar Clement Norton had a strong support base among the parishioners of Faversham, including what appears to have been a tight group of leading citizens – several from among the jurats and those who had served as mayor or churchwarden. Yet, not everyone agreed with the vicar and among the depositions it was reported that he told John Tacknal, Deacon's wife and Lambe's wife that they must not say their paternoster in English anymore 'for he knew not how soon the world would change'. Nonetheless, the Dean and Chapter at Canterbury (an equally polarised group) and the new holders of the advowson at Faversham were keen to introduce reformist [Protestant] preachers to show the vicar and his supporters the error of their ways. The two visiting preachers noted were John Scory from Canterbury Cathedral and John Bland, the vicar from Faversham's neighbour at Davington. Indeed both men were keen to do this and among the topics witnesses remembered were Bland's attack on the mass as the means to save sinners, for instead he said it was 'in remembrance of Christ's passion'; and in one especially colourful tirade he was reported as saying that 'the sight of the image of St Michael with the balance was enough to bring a man to the Devil'.
Taking direct action was another tactic in this battle for the souls of Faversham's people. For example, the vicar was reported as having taken the Bible out of the church, and this is presumably the Great Bible in English which the churchwardens would only just have purchased. Meanwhile, Scory sought other targets, saying that if he had his way in Faversham he would sell off or pawn the church's presumably prized copes, chalices, gold and jewels to aid the poor.
Bringing this evidence together, it is perhaps not surprising that Cranmer was deeply concerned about where the Reformation was going, or rather not going at Faversham. Moreover, seeking to force the pace of religious change for which support was decidedly patchy was bringing the reformers into direct conflict with conservative forces, the parish becoming a battleground. Consequently, I concluded that bringing it into the present day, even though 21st-century Britain is not caught up in a religious war in the same way, perhaps what is happening as we head towards the end of March can give us an inkling of what it meant to tear the nation apart and thus provide some insights into early 1540s Faversham and its surrounding area.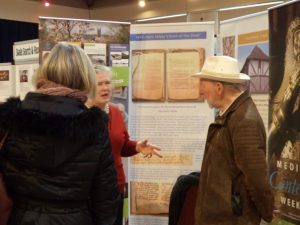 Diane discusses Faversham Abbey's Martyrology
Even more briefly, but this is not reflection on how interesting Diane's audience found her presentation, the 'book of the dead' or the abbey's Martyrology is a book that lists the death days of all the saints and martyrs and how they died. As Diane said, they were remembered in the prayers of the monks on each anniversary of their death. These saints were not only heroes and heroines of persecution, they were imbued with the Holy Spirit. To their stories of miracles, piety, and bravery were added a calendar with the names of local people who had supported the Abbey, investing their names with blessings simply by being written in the same book as the saints and commemorated with them each year.
Thinking about the book's 'biography', the final folio has a note that the last four members of the Faversham Abbey community were housed at Westminster monastery in 1557 after it was re-founded by Queen Mary I. Consequently, this Faversham Abbey book, made between 1350 and 1400, shows the beginning and the end of the abbey and how Stephen and Matilda enjoyed over five hundred years of monastic remembrance of their generosity. As a final touch, this manuscript, now at the Bodleian Library, Oxford, is in excellent condition with original medieval covers and leather tabs. Its original flyleaves, used to protect the book, were re-used from a twelfth-century liturgy, a communal prayer book, with the Ave Maria added. So this treasured book of prayers for the dead is also bound with prayers, and Diane speculated that it seems to have been far less a working document and far more something that was kept on or near the high altar in the abbey church.
Thus, we had what I think was a very fruitful day and next week we have the book launch to come – it would be great to see readers of the blog there, you would be most welcome.