Having had a number of meetings this week about prospective Centre events for 2018, I thought I would just mention them before reporting on the last of the Kent History postgraduate seminars for this academic year.
Although in the early stages of planning, the intention is to have a 'Maritime Kent through the Ages' conference. I know I mentioned this some time ago but it, and hopefully an edited book on the same theme, took a step forward when I met up for a discussion with Professor Maryanne Kowaleski, who is currently in England from the States on a research trip. As, probably, the foremost medieval maritime historian who has worked extensively on the economic and social history of English port towns in the Middle Ages, it is excellent to have her active support. Kent is not the first county to envisage such a county history, and Maryanne has already contributed to such histories of Devon and Cornwall. This will be a joint project and will involve people from all three universities in the county, and one of the leaders will be Stuart Bligh, Head of Research and Information, at Royal Museums Greenwich, who has a special interest in Kent's modern maritime history.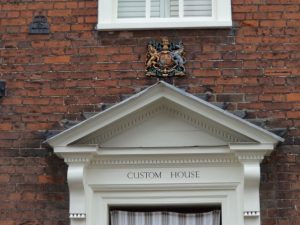 The custom house at Faversham.
Currently, we are still working on matters of timing for the conference, the two possibilities are early March or June 2018, as soon as I have more information I will report it in the blog because it should be a very exciting and interesting day. Even though I have not studied maritime trade specifically, I have done quite a lot on medieval fishing and the wealth of archival material available for Kent is remarkable. Moreover, archaeological excavations at various places along the north Kent coast and the southern marshes, the latter undertaken in large part by Archaeology South East and the Romney Marsh Research Trust (now defunct but a prolific publisher in the 2000s) have greatly expanded our knowledge, as seen for Lydd, for example, that has revealed excellent results. Similarly, Keith Parfitt's (Canterbury Archaeological Trust) work on the 13th century fishing community at Townwall Street, Dover, was a landmark publication. Consequently, having been fortunate enough to work on both the Lydd and Dover publications, I know just how valuable it is to bring together documentary historians and archaeologists. Dr Gillian Draper, too, has demonstrated the value of a multi-disciplinary approach with respect to her work on New Romney, Rye and latterly Grange on the Medway estuary. Thus, the auspices are good to bring together this knowledge for a countywide study.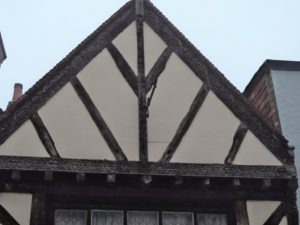 Bargeboads in Canterbury.
The second meeting relates to the Centre's role as organiser for the Kent History Federation's 1-day conference on Saturday 12 May at Canterbury under the theme 'Tudor and Stuart Canterbury'. As one of those at the meeting commented afterwards, he was not sure this was an interesting time in the city's history but having listened he realised that it did indeed have considerable potential. In fact, it was a time of momentous change right across all aspects of society and this is reflected in the built environment, whether we are talking of churches, houses, commercial premises (shops, inns) or even the city wall – a section blown up by parliamentary forces. Therefore, after a very fruitful discussion, the schedule for the conference seems to be coming together nicely, and prospective speakers for the morning lectures and guides for the afternoon tours are beginning to be identified. Again, as soon as I have more concrete proposals I will flag this up because it will, I hope, be of interest to any readers who belong to local history societies affiliated to the Kent History Federation – it will be advertised on the Federation's website.
Finally turning to the Kent History postgraduates' seminar, on Wednesday for the first time and much to my trepidation we used Skype because Lily Hawker-Yates was in the Lake District. Consequently, I should first like to thank Josie Butterly and Sam Panayiotou for setting it up for me and making contact with Lily! We have formulated a system whereby two of the postgraduates lead the seminar as a way of providing practice regarding presenting and being able to discuss their topic from a range of approaches. For those who comprise the audience, too, this method appears to work because it introduces people to different periods and topics, and having to think thematically, in terms of the presenters' material, and, equally, how their research questions might be appropriate for other topics. So, what did we discuss on Wednesday you may ask?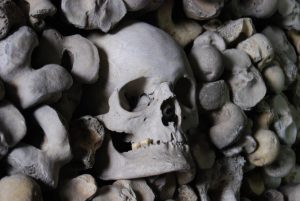 Skull and long bones at St Leonard's church, Hythe (photo Imogen Corrigan).
Well Lily was the first presenter and she gave us a taster of a prospective conference paper she is intending to give next year. She has entitled it 'The (Literary) Burials of Hengist, Harold and Vortimer' and she is exploring how early and post Conquest poets and chroniclers, such as Nennius, Geoffrey of Monmouth and Wace, wrote about the burials of martial kings that may refer to tumuli in the landscape. In other words, she is interested in the construction of a literary tradition that understood the importance of landscape in the national story of Britain, which drew on ideas of pagan versus Christian, barbarians versus civilization, profane versus sacred, usurper versus rightful king, and villain versus hero. Thus, where and how these men were buried mattered not only to their followers but also to their successors – for posterity. Now Vortimer sought burial 'in the old manner', wishing his burial mound to be a warning to the Saxon invaders due to its position on the cliff top, according to Nennius (having much in common with Beowulf), but his wishes were disobeyed and the Saxons returned. In contrast, according to the near contemporary Carmen de Hastingae Proelio (The Song of the Battle of Hastings) Harold's mangled body after Hastings was similarly interred under a mound or cairn on Duke William's orders to guard against invaders. In death, therefore, both men had the potential to 'serve' their country, but whereas Vortimer's traditional, pagan desire was wrongfully thwarted with predictable disastrous results, the pro-Norman Carmen 'denied' Harold a Christian burial and condemned him to hell outright, as well as setting him up as William's eternal servant as the guardian of the shore, and William's new kingdom.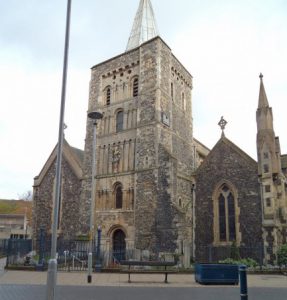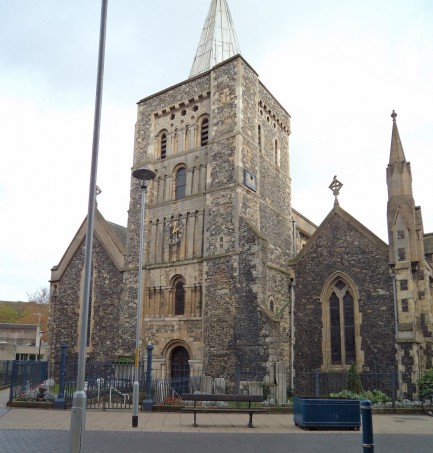 St Mary's church, Dover.
Lily's presentation sparked considerable discussion and we then turned to Kevin Field's talk on his findings regarding medical provision at three rural poor law districts in east Kent during the 19th century. Kevin's particular focus was the actions of the various district surgeons and their relationship with the Guardians of the different workhouses. As he showed conditions for the poor differed considerably between the different Unions. In part, this seemed to relate to the varying levels of prosperity of the populations expected to contribute to fund such provision, a reflection in many ways of the farming regimes possible in these different areas. Thus, the richer farmland of Eastry was better able to support its poor than the far smaller wooded area of Blean. Nevertheless, at times the level of medical provision seems to have been appalling, something that was recognised at the time if the newspaper reports are an accurate measure of public opinion. Kevin also drew on the Guardians' minute books to explore how these men viewed the position and how they sought to balance the workhouse's accounts. Letters are another source that Kevin has investigated and he showed us a couple of examples, as well as discussing how the Guardians' and their surgeons sought to deal with cholera epidemics and other acute problems.
The evidence Kevin has gathered provoked a lively debate about attitudes towards disease and the poor, as well as the role of surgeons in the community. Kevin is intending to use this material for one of chapters in his MA and he certainly has tapped into a rich vein of evidence. Consequently, after almost two hours all the postgraduates agreed that it had been a very interesting and contrasting seminar and we will reconvene in September when it will be led by Janet Clayton and Jacie Cole.