From violent repression to tempered enthusiasm: what next for Catalonia?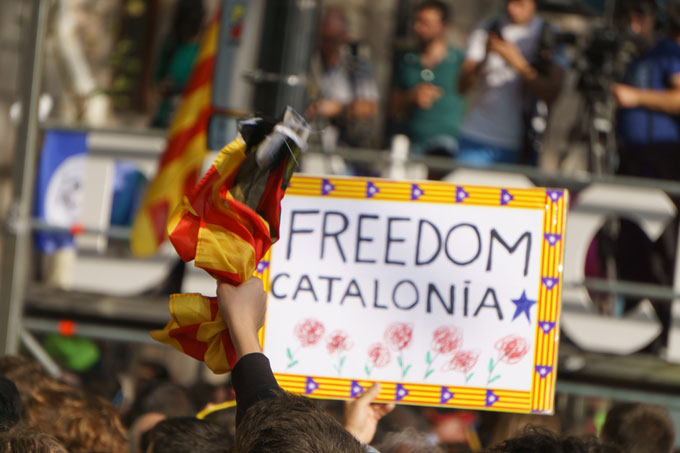 Paul Anderson asks what next for Catalonia, Spain and the EU following this weekend's events in the Spanish region?
The results are in. Over two million Catalan voters (from 5.3 million) have voted in favour of seceding from the Spanish state in a referendum, declared illegal by the Spanish authorities and marred by shocking scenes of violence.
Indeed, Sunday 1 October 2017, the day when the constitutional crisis between Catalonia and Spain that has festered since 2010 reached a point of no return, was a sad day for Catalan, Spanish and European democracy. Videos and images of police officers dragging voters out of polling stations, confiscating ballot boxes, attacking unarmed civilians and firing rubber bullets and tear gas at groups of citizens, dominated broadcasts around the world. By 8pm, when polling stations officially closed, more than 800 people had been admitted to hospital.
In recent weeks and days, as was pointed out in a previous blog, the Spanish Government has stepped up efforts to prevent the referendum – which is legally prohibited by the Spanish Constitution – from going ahead. Raids on Catalan government offices, the arrest of public officials, the closure of numerous pro-referendum webpages as well as the seizure of 10 million ballot papers, however, did not prevent Catalans from attempting to vote. From the 2.26 million votes cast, a massive majority (90%) voted for independence. Turnout, however, was under 50% and this, coupled with claims of electoral irregularities, has been seized upon and peddled by anti-independence forces.
The heavy-handed approach taken by the national police and Guardia Civil was condemned by many in Catalonia and Spain as well as a number of international news outlets and political leaders including the Belgian prime minister and EU politician Guy Verhofstadt. In the UK, the response from the British government was rather muted, save a Tweet from foreign secretary Boris Johnson praising Spain as 'a close ally and a good friend, whose strength and unity matters to the UK'. Others, however, took a stronger position – Jeremy Corbyn, Nicola Sturgeon and Vince Cable explicitly condemned the violence, and called upon the Spanish Government to seek a negotiated solution.
Such a solution seems unlikely. Spanish Prime Minister, Mariano Rajoy, defended the actions of the police forces and put all blame on the shoulders of the Catalan government for calling such an illegal vote. The Catalan government, on the other hand, hold Rajoy and his government wholly responsible. They have called for his resignation, backed by anti-independence, but pro-referendum advocates including Barcelona mayor Ada Colau and Podemos leader Pablo Iglesias. There is no obvious way forward.
The Catalan government, buoyed by the results of the referendum, look set to proceed with a unilateral declaration of independence (UDI). Such a move will be unrecognised by Madrid, and may even result in the suspension of Catalan autonomy and more police officers, or even the army, on the streets.
The Catalans, many of whom were vociferous in their criticism of the EU yesterday and its pact of collective silence over events unfolding in Catalonia, will look to the EU to serve as mediator.
As Catalan government officials pointed out on Sunday evening, the events of the day could no longer be considered 'an internal affair of a member state', and warranted some form of European adjudication. Catalonia may replace Brexit as Europe's latest headache.
A UDI, however, is risky business. While a proportion of the international community was willing to denounce the aggressive actions of the police on Sunday, few will be willing to support a unilateral and un-negotiated secession.
Constitutional reform is often treated as taboo in Spain, but clearly the time has come to enact some form of change. Yet, the prospect of significant constitutional change, the federalisation of Spain or a negotiated referendum on secession seem far beyond reach. Moreover, for a significant number of Catalans, such reform will be simply too little, too late. Opinion polls have shown a consistent majority in favour of constitutional and territorial change, but the recent escalations have catapulted many indifferent or unsure Catalans firmly into the independence camp. There may be no going back after yesterday's vote.
The 1 of October 2017 marks a new, albeit dark and stained chapter, in the history of Catalonia and Spain. The international community already seems united in calling for some form of compromise, but with both sides claiming the moral high ground, this looks unlikely. For the foreseeable future, a cloud of uncertainty will hang over Spain, Catalonia and Europe with one thing remaining certain: it will not be politics as usual.
Paul Anderson is a PhD candidate in Politics and International Relations. His primary research focuses on constitutional politics, federalism and independence movements.